Bright Stars, Broadway Melodies
A theater critic pays a holiday visit to Manhattan with Los Angeles eyes.
By Jonas Schwartz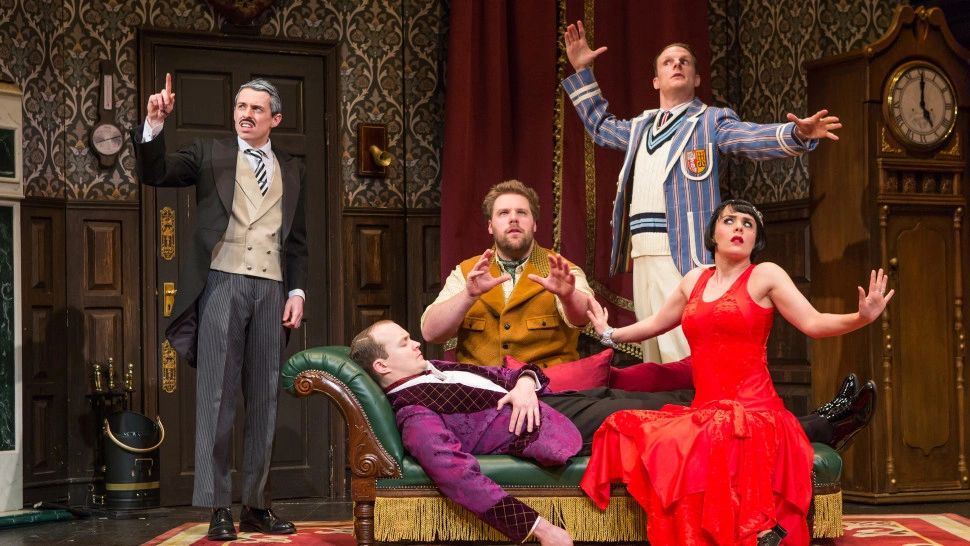 Jonathan Sayer, Greg Tannahill, Henry Lewis, Dave Hearn, and Charlie Russell in "The Play That Goes Wrong"
Photo by Jeremy Daniel

As the holidays approach, Los Angeles travelers will fly across the country to colder but merry weather of Manhattan, land of the Rockefeller Center Christmas tree, Macy's festive windows, and chestnuts roasting on every corner. A trip to New York would not be complete without a journey to the Great White Way for a Broadway show. For full price, one can catch the blockbusters like Bette Midler in
Hello, Dolly!
, or the Tony bonanzas
Hamilton
and
Dear Evan Hansen
. But, for those on a budget, several quality shows can be found either at the TKTS window (located at West 47th Street & 7th Avenue) or by printing out discount vouchers from TheaterMania.com (full disclosure, this reviewer is a critic for the TheaterMania.com, as well as ArtsInLA) under the
discount tickets section
, then either order tickets online or go to the box office window and purchase those tickets, sometimes for as much as 40 percent off for orchestra seats. The advantage of TKTS is the excitement of standing in a line with fellow theater fans and chatting, as well as that the discounts are usually 50 percent off ticket prices. The advantage of going to TheaterMania is one does not always want to stand in line in 30-degree temperatures, or below, for hours listening to strangers prattle on; and most important, the tickets available are only for that evening's performance and, if there's a matinee, the next day's matinee. Yet if you purchase tickets through TheaterMania, you can order (or go to the box office) and get tickets for any date available, not just the next 24 hours.
So now the question is what to see. Both TheaterMania and TKTS feature the following shows this Christmas season, which this reviewer caught recently on the Broadway stage.
The Play That Goes Wrong
, at the Lyceum Theatre (149 W. 45th St.) earned every imaginable award for its booby-trapped set. A blockbuster hit in London and now New York,
The Play That Goes Wrong
stabs you in the funny bone over and over. A community theater troupe of talentless actors performs a putridly stale murder mystery, and, spoiler alert, everything goes wrong. Actors forget lines, the set collapses, props are in the wrong place or have been swapped out for inappropriate substitutes, actors bang into each other, and a stagehand takes over for a lead role even after the original actor has returned to the stage, leading to a brawl. The comedy lacks the organization and genius of Michael Frayn's
Noises Off
. The jokes have no foundation on which to hang. It's just a list of crazy events without revealing who these actors/crew are and why they're so incompetent. Nonetheless, the laughs are hearty and the cast is game for anything and everything it encounters. A collapsing second floor cluttered with furniture and two panicking actors, sliding slowing toward the audience, is a major highlight.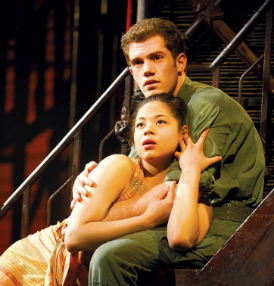 The revival of the long-running
Miss Saigon
arrives from London with much of its cast intact. Much of the cast and crew,
previously reviewed
, has transplanted to NY at the Broadway Theatre (1681 Broadway). Eva Noblezada is still devastating as the doomed Kim. Her voice cuts through the songs, and her courage and pain bleed into the audience. Billy Bustamante, the Monday night understudy for the Engineer, lacks actor JonJon Briones's fire and perfect balance of humor and menace. Bustamante has a strong voice, but his performance is too heightened to capture the Engineer's tightrope walk of half fool/half snarling dog. As he did in London, Alistair Brammer brings no passion to the tragic Chris. Unlike his London counterpart, who turned the villainous Thuy into a fully formed person, Devin Ilaw lacks energy. The rickety sets and that famous helicopter transfer the audience to the muggy, crowded chaos of 1970s Saigon. It is recommended to choose a night on which both Noblezada and Briones perform together. Their perverse sibling-like relationship is riveting.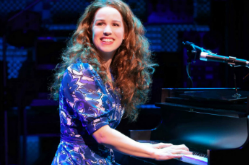 The Carole King biography
Beautiful
at the Stephen Sondheim Theatre (124 W. 43rd St.) continues to delight. Unlike many jukebox musicals, most of the songs reveal the songwriting process instead of shoehorning themselves into the script as a "spontaneous" character song that usually falls flat. Chilina Kennedy has King's smoky voice pegged and brings the insecure but loving King to life. She and Evan Todd have wonderful chemistry as the married songwriting duo behind "One Fine Day," "Will You Still Love Me Tomorrow" and "The Locomotion." As the secondary couple, Kara Lindsay and Ben Jacoby are hilarious as Cynthia Weil and Barry Mann. Filled with a cornucopia of hit songs,
Beautiful
says it all.
At the Broadhurst Theatre (235 W. 44th St.), the Fox animated musical from 1997 has arrived in the flesh as
Anastasia
, with an enhanced score by Stephen Flaherty and Lynn Ahrens (
Ragtime
and
Seussical
) and a new book by Terrence McNally. The songs are slight compared to the bombastic
Ragtime
and not very memorable. However, the tale of the Russian girl who may or may not be the late daughter of the slaughtered final Tsar and Tsarina Nicolas and Alexandra Romanov continues to bewitch audiences. Christy Altomare steals the show as the timid girl who finds her confidence pretending to be the princess, only to discover her amnesia may be hiding a royal past. London star Caroline O'Connor brings her showstopping styles to the ribald countess. Aaron Rhyne's three-dimensional projections on layered blank slates sends the audience to regal Paris, the snow-covered mountains of Russia, and the post-Revolutionary streets of the new Soviet Union.
New York is whatever city you want it to be. For the shoppers, foodies, museum lovers, and theater buffs, Manhattan can bring snow-covered joy to the LA traveler seeking an East Coast Christmas. That trip can only be enhanced by seeing a hit show on Broadway.
November 2017

Eva Noblezada and Alistair Brammer, photo by Michael Le Poer Trench.
Chilina Kennedy, photo by Joan Marcus.
Christy Altomare and Derek Klena, photo by Matthew Murphy.