The Children
Manhattan Theater Club/Royal Court Theatre at Samuel J. Friedman Theater
Farinelli and the King
Belasco Theater
Reviewed by David Sheward
The year ends with two emblematic productions for Broadway:
The Children
, presented by Manhattan Theater Club as part of its subscriber season, and
Farinelli and the King
in a commercial limited run at the Belasco. Both are transfers from London complete with British casts. We Yanks are supposed to salivate over these shows because of their snob-appeal pedigree. Both feature exquisite acting, but only
The Children
connects to its audience on a level deeper than stagecraft.
Farinelli
stars one of the finest actors in the English-speaking world, Mark Rylance, but his breathtakingly realistic technique is in service of an overly familiar, underwritten play.
There are no actual kids in Lucy Kirkwood's
The Children
; the title refers to adult offspring and possible future generations of the three characters, all in their 60s. The setting is a remote cottage in a very possible near future where a nuclear accident has devastated Britain. (Miriam Buether's askew set parallels the disastrous outlook for the world of the play.) Retired married scientists Robin and Hazel are coping with rationed food, electricity, and bleak prospects. Rose, a former colleague of the pair and lover of Robin's, pays them an unexpected visit. To reveal anymore would lessen this deceptively simple plot's impact. Suffice it to say that Kirkwood structures her compassionate, heart-wrenching treatise on social responsibility with such craft, you become wrapped up in the interrelations of this trio without even realizing they are symbols of modern society, poised on the brink of annihilation yet struggling to redeem itself.
James Macdonald's direction keeps the action on a credible level with a welcome lack of showy theatricalism. This subtlety is echoed in the acting, particularly by Deborah Findlay as Hazel. She keeps the character's bottled-up rage well-corked, allowing it to burst out in short spurts and then pushing it back down. We see all of Hazel's anger, love, and finally fear mixed together through Findlay's eloquent expressions and gestures. Ron Cook is equally understated as Robin and convincingly conveys his sorrow over the scientific tragedy and Robin's resolve to make it right. Francesca Annis as Rose is a little too reserved in the
Masterpiece Theater
style for my taste, but she does limn the interloper's conflicted attitudes toward her hosts with depth.
Though this production is definitely praiseworthy, it raises a red flag. Manhattan Theater Club brought it over directly from its Royal Court Theatre run with the British ensemble. MTC's previous production at the Friedman this season was
Prince of Broadway
, a plotless musical revue, and the next show will be a revival of Shaw's
Saint Joan
. Hopefully MTC is not abandoning presenting new American plays on Broadway.
Like
The Children
,
Farinelli
has an intriguing concept, but here the execution is wanting. Based on historical events in the 18th century, the play focuses on the strange relationship between the mentally erratic Spanish King Philippe V and the heralded castrato Carlo "Farinelli" Broschi. The unhinged monarch was soothed by the dulcet tones of the high-voiced singer who became a member of his court. Like
The Madness of King George III
, the play traces a royal's bizarre behavior and how a civilian attempts to cure him. But unlike George's dramatist Alan Bennett who skillfully constructed an intricate portrait of power and insanity,
Farinelli
's author Claire Van Kampen is a first-time playwright, and she fails to develop her premise beyond some keen acting opportunities for her husband, Mark Rylance (who plays the king) and staging possibilities for director John Dove.
We get the familiar tropes of court intrigue, backstage politics, a few speeches in praise of high musical art, and a hastily stuck-in romantic triangle, but there are no real stakes here. It's never fully explained why we should care if Philippe is deposed, if the gorgeously voiced singer stays or leaves the court, or if the queen acts on her attraction for Farinelli.
Fortunately, Rylance delivers his usual magnificent work, delivering Van Kampen's somewhat clichéd dialogue as if it were Shakespeare and imparting Phillipe's shattered sensibilities with a combination of humor and pathos. His debate with a goldfish, which opens the play, is priceless. Sam Crane captures the tortured Farinelli's struggle between his craft and living a normal life. In an arresting stroke of staging, the castrato's singing is done by famed countertenor Iestyn Davies (alternating with James Hall at certain performances) in identical costumes to Crane's (Jonathan Fensom designed the luscious period sets and clothes). The musical interludes are beautifully staged by Dove with two performers expressing the gorgeousness of Handel's arias and the inner turmoil of the artist. With the candlelit atmosphere and period instruments expertly played, these moments are superb mini-concerts.
Farinelli
makes for an entertaining historical curio, but not a full dramatic experience like
The Children
.
December 23, 2017

Describe the Night
Atlantic Theater Company at Linda Gross Theater
Twelfth Night
Fiasco Theater at Classic Stage Company
Reviewed by David Sheward
Mixing myth, urban legend, conspiracy theory, and historical fact, Rajiv Joseph creates a weird tapestry of truth and lies in his new drama
Describe the Night
at the Atlantic Theater Company. Set in various parts of the former Soviet Union and Europe over nearly a century of political turmoil, this overwhelming saga asks hard questions about the relationships between government and media, regular citizens and dictators, and how people manage to live through decades of upheaval. As in his
Bengal Tiger at the Baghdad Zoo
and
Guards at the Taj
, Joseph depicts individuals caught up in the tide of history, swept along by fanciful and real events.
Shifting back and forth between regimes and locales,
Night
traces the difficult and slippery path trod by writers and journalists through the dark forest of various forms of Russian tyranny. Real Stalin-era figures such as Odessan novelist Isaac Babel and Soviet secret police chief Nikolai Yezhov are connected with the fall of the Berlin Wall and the 2010 plane crash that killed the entire top level of the Polish government. In fascinatingly poetic and detailed dialogue, Joseph links the various epochs, demonstrating how the truth can be twisted to suit the purposes of whoever happens to hold the reigns of power, be it Stalin, Putin, or—by extension—our current US president.
The title derives from the opening scene in which the idealistic Babel and the brutish Yezhov become unlikely friends while presenting their alternative impressions of the night after a battle in 1920 Poland, the same area where the plane crashes 90 years later. By a series of coincidences, Babel's journal, a symbol of artistic freedom, passes from hand to hand right up until Putin's regime. The plot stretches credulity—some characters live to be older than 100—but in Joseph's shadowy world, it doesn't matter. This is a dreamscape of epic proportions enveloping theatergoers with Joseph's storytelling magic as it stuns with unrelenting anger at authoritarian monsters.
Yet none of the multilayered characters is completely good or evil; each has a mixture of both. Babel is a gentle soul but also launches an affair with his friend Yezhov's wife, Yevgenia. In turn, Yezhov commits numerous atrocities as Stalin's stooge and also lovingly seeks to shield his wife and granddaughter from government purges. Vova, who closely resembles a certain Russian president, is a thug, but also a damaged child seeking his mother who abandoned him. Giovanna Sardelli's subtle and sleek staging emphasizes this ambiguity, as do the shaded performances, particularly Danny Burstein's charming but wary Babel, Zach Grenier's bearish Yezhov, Tina Benko's delicate yet steely Yevgenia, and Max Gordon Moore's brutal, insecure Vova.
Meanwhile, Classic Stage Company is presenting another
Night
but it's not as complex nor intriguing. The company hosts Fiasco Theater's staging of Shakespeare's
Twelfth Night
. My only previous experience with Fiasco was its intimate and clever small-scale version of
Into the Woods
, so I was looking forward a new take on this oft-produced comedy.
Unfortunately, the unimaginative direction by Noah Brody and Ben Seinfeld, who also play Count Orsino and the clown Feste respectively, never rises above the level of a competent college production. The concept seems to have been to plunk the dizzy lovers of the Bard's Illyria down in a New England fishing village so the cast could warble atmospheric sea shanties between scenes. There is not much spark between the various victims of Cupid's arrows, and those with comic roles push their zany shtick too hard to elicit any honest laughter. Too bad this is just a so-so
Twelfth Night
after such a brilliant take on
Woods
.
December 14, 2017
The Parisian Woman
Hudson Theatre
Reviewed by David Sheward
It seemed like the perfect set-up. A political comedy-drama written by the creator of Netflix's
House of Cards
starring the elegant Oscar nominee Uma Thurman in her Broadway debut. That's why it's a pity that
The Parisian Woman
, the first major Broadway show to tackle the Trump administration, is such contrived claptrap. Listed in the program as "inspired by" Henry Becque's 1885 play
La Parisienne
, Beau Willimon's uneven script has the creaky feel of a century-old potboiler.
Willimon peppers his overboiled plot with pointed barbs directed at the Orange President, which draws appreciative laughs and some applause from the sympathetic New York audience (the play opened in 2013 at South Coast Repertory and has undergone some rewriting to reflect current events). Yet popular progressive sentiment fails to save this
Woman
from soapy suds and unconvincing characterization both in the writing and acting.
Thurman plays Chloe, a Washington socialite not above using her considerable charm and sex appeal to advance the career of Tom, her tax-lawyer husband. When a federal judgeship opens up, Chloe schemes to secure it for Tom. The pursuant twists and turns among the political elite fill the show's 90 minutes. At first Chloe and Tom appear to be a ruthless power couple whose only goals are achieving power and influence—not unlike Frank and Claire Underwood, the main characters of
House of Cards
. But in order to advance the storyline, the author has them undergo a 180-degree personality change midway through, and suddenly they're altruistic liberals out to thwart the regressive agenda of the new prez. More unbelievable reversals follow, plus ridiculous dialogue such as, "Do you really think so little of me?" and "It's a miracle what we have; to be so free together."
Director Pam MacKinnon won a Tony Award for breathing new life into
Who's Afraid of Virginia Woolf?
, but she fails to make these cardboard figures believable even though her staging is smooth and sleek (Derek McLane's attractive D.C. sets help). Thurman and Josh Lucas are beautiful to look at but cannot overcome the impossible switcheroo demands Willimon has placed on them. These are glittering shells rather than flesh-and-blood people. Martin Csokas does make a hissable high-level Trump insider, though it's hard to believe Thurman's character would ever become involved with this guy, even to gain political advantage. Blair Brown has moments of authenticity as a Republican power-broker, and Phillipa Soo from
Hamilton
briefly breaks through the melodrama to create a credible young idealist abused by the machinations of the other characters.
Today's off-stage drama, leaving us reeling after every news cycle, is much more exciting and scary. Willimon was forced to suspend production on
Cards
when his leading man Kevin Spacey was slammed with allegations of sexual harassment, and before the play opened Thurman tweeted she might have damning material against disgraced film producer Harvey Weinstein. An in-depth examination of either of those incidents would have made a more compelling evening of theater than
The Parisian Woman
.
November 30, 2017
The Exterminating Angel
Metropolitan Opera
Reviewed by David Sheward
Existentialist angst is not your usual fodder for the opera stage, but Thomas Ades's
The Exterminating Angel
, based on Luis Bunuel's classic 1962 film, explores the terrifying territory of lost identity and purpose. Now at the Metropolitan Opera after a world premiere last year at Salzburg and a production in London, this disturbing work challenges notions of traditional musical staging.
The libretto, by director Tom Cairns and the composer, follows the original screenplay by Bunuel and Luis Alcoriza. The setting is the home of Edmondo and Lucia De Noble, where a glitzy dinner party attended by the cream of Mexico City society is about to take place. But the dazzling affair takes a bizarre turn as almost all of the servants flee in terror, and after dinner the guests find themselves unable to leave. Days pass and the formerly elite attendees descend into madness and savagery as food runs out, their tuxedos and ball gowns become rags, and bodies turn dirty and smelly. An elderly gentleman expires, and a pair of lovers commits suicide in a closet. Finally, the survivors are able to break the spell of confinement, but the streets outside are just as full of chaos. The partygoers are a microcosm of upper-crust society, including an opera diva, a conductor, a doctor, and a countess. But art, wealth, and titles are no protection when the characters must confront their inner terrors.
Ades's modernist score emphasizes the darkness at the core of Bunuel's vision. Even during the brighter moments when the guests exchange frothy chitchat as they enter, the music stirs and rumbles. There are occasional brief forays into Spanish-influenced, flamenco-like tones, but the prevalent leitmotif is ominous. Within this limited palette, Ades delivers a gripping musical vocabulary of foreboding.
Likewise, Cairns's staging manages to maintain tension even though there is no ultimate resolution. Yes, the guests are finally released from their hellish predicament, but there is no relief when they flee to the outside world, and there is no explanation for their inertia. The pacing flows smoothly as Hildegard Bechtler's stark, sleek set revolves slowly, and the action builds to a harrowing climax of despair as the guests spill into the city and an enormous chorus erupts into further panic.
Soprano Audrey Luna reaches vocal and dramatic heights as the temperamental opera singer. Joseph Kaiser and Amanda Echalaz capture the anxiety and nervous bluster of the hosts. Sophie Bevan and David Portillo as the suicidal lovers infuse an especially intense duet with passion and despair. The rest of the stunning company—which includes Alice Coote, Christine Rice, and John Tomlinson—conveys the bleakness of Bunuel's view of the human condition.
November 17, 2017
People, Places, and Things
National Theatre/Headlong at St. Ann's Warehouse
Reviewed by David Sheward
The first 20 minutes of Duncan MacMillan's
People, Places, and Things
at St. Ann's Warehouse after a smash-hit London engagement, display the most bracing collaboration of playwright, actors, director, and designers in recent theatrical memory. At first, it appears we are watching the final act of a revival of Chekhov's
The Seagull
. But the actor playing Nina seems a bit unsteady on her feet. She is slurring her words and lurching as she moves. She slips and asks the actor playing Constantine if he remembers shooting a seagull and laying at her feet "earlier in the play." She catches herself, realizing she has broken the performance's delicate fabric of illusion and then does so literally by ripping down a gauzy back curtain. Immediately James Farncombe's jagged lighting design and Tom Gibbons's heart-throbbing soundscape explode, attacking our senses as Bunny Christie's stark-white, hospital-like set shifts into several different locales at once. With shattering precision, director Jeremy Herrin choreographs the the actor's subsequent smash-up.
Images swirl and scatter like fragments of a dream, all from her bleary point of view, similar to the staging in
The Incident of the Dog in the Night-Time
, another London-to–New York transplant featuring a set by Christie. Through strobes and deafening backbeats, we can barely perceive that she has entered a club, gotten even more drugged out and drunk, and crash landed in a rehab center where a patient is ranting in the reception area. As the inebriated thespian—we eventually learn her name is Emma, or is it?—Denise Gough launches into a tour-de-force monologue, pleading with her mother on her iPphone to dispose of all the drugs in her apartment while battling to stay conscious.
The remainder of this harrowing play's two hours lives up to this devastating beginning. Without sentiment or shame, MacMillan leads us on Emma's soul-churning journey to sobriety, realized with daring imagination by Herrin and his inspired team. The story is told through the actor's eyes, and when she sneaks a hit of cocaine or endures the agonies of withdrawal we feel it too, as Christie's elastic set breaks apart and the lighting and sound re-create her altered sensibilities. The clear-eyed script is refreshingly cliché-free. Emma is not a noble victim or a valiant warrior; she's nasty, difficult, and too clever by half, fighting her therapist and fellow recovering addicts every step of the way. Most rehab stories end with the protagonist as either a tragic corpse or an energized saint. MacMillan takes the more realistic middle path, depicting the messy steps to becoming a functioning human being.
Gough, who won an Olivier Award for her London liming in this role, brilliantly portrays the whirling kaleidoscope of Emma's psyche—her distinct intelligence, her narcissism, her defiance of the 12-step program, and, finally, her vulnerability as her last defense is dropped and she must confront the underlying causes of her excesses. The rest of the ensemble is equally incisive, especially Barbara Marten who creates three distinct women: Emma's doctor, therapist, and in a devastating turn her unforgiving mother. Later this season, Gough will re-create her Harper Pitt in the Broadway transfer of the National Theater's
Angels in America
. If this performance is any indication, it should a dazzler.
November 3, 2017

Time and the Conways
Roundabout Theatre Company at American Airlines Theatre
Measure for Measure
Public Theater/Elevator Repair Service
A Clockwork Orange
New World Stages
Reviewed by David Sheward
Experiments with time, space, and staging can illuminate or obscure a playwright's intent. Three current productions on and Off-Broadway juggle traditional concepts with varying results.
The most conventional of the three is Roundabout Theater Company's revival of J.B. Priestley's
Time and the Conways
. This is the first time the time-tripping British family drama has been seen on Broadway since 1938. Priestley had written several plays exploring in heavily ironic terms how seemingly unimportant acts can have devastating effects. Stephen Daldry's surrealistic interpretation of Priestley's
An Inspector Calls
, wherein an upper-middle-class family is indicted for lack of social responsibility by a mysterious policeman, proved a huge hit on both sides of the Atlantic in the 1990s.
Rebecca Taichman's production of
Conways
for Roundabout Theater Company is far less way-out than Daldry's nightmarish vision, and the impact is not as devastating, yet it still produces a sting of recognition and sadness. The story is relatively simple: A contented bourgeois clan in an English provincial town looks forward to a bright future as World War I ends and daughter Kay celebrates her 21st birthday. The twist comes in the second act as we jump forward almost 20 years to 1937. Not surprisingly, each of the six Conway offspring and their flighty mother are leading miserable lives. For the third act, we double back to Kay's party in 1919. All their rosy predictions ring hollow since we know the dismal outcome. Kay and her sanguine elder brother Alan may have a chance at happiness, since both have a glimmering of the second-act vision.
Taichman's direction is tight and measured, though she allows some of the cast to limn their upper-crust cluelessness a bit too broadly. There is an arresting coup de théâtre between the two eras as Neil Patel's golden-hued living room (brightly lit by Christopher Akerlind) recedes into the back of the theater to be replaced by a melancholy, blue version descending from the flies. The 1919 version of the set can be glimpsed through the windows creating a visual equivalent of Priestley's vision of the past and the present overlapping each other.
As the matriarch, Elizabeth McGovern gets top billing and the only solo curtain call because of her
Downton Abbey
fame. She delivers a creditable portrait of the impulsive, child-like Mrs. Conway. But the bulwark of this production is Charlotte Parry's conflicted Kay, the only sibling aware of the crushing demands adulthood can bring. Parry intensely charts Kay's struggle to comprehend the vagaries of life, and her final moments of attempting to reconcile youthful optimism with mature reality are heartbreaking. There are also moving moments from Gabriel Ebert's compassionate but weak Alan, Steven Boyer's blustery son-in-law, Brooke Bloom's disappointed radical daughter, and Anna Baryshnikov's life-affirming yet doomed Carol, the youngest. Though the ironic storyline is predictable, particularly in the third act, this is
Time
well spent.
Elevator Repair Service takes a more radical approach in its breakneck rendering of Shakespeare's
Measure for Measure
. ERS has previously tackled such literary giants as Fitzgerald, Hemingway, and Faulkner in imaginative realizations of these authors' classic works. In this bizarre production at the Public, they take on the Bard for the first time, armed with projections of the text and a caffeinated pace. Director John Collins imposes a meta sensibility, throwing out conventional staging. He assumes we know the plot of the publicly moral and privately corrupt Angelo forcing himself on the virginal Isabella in return for her brother Claudio's life. (Given the recent revelations about Harvey Weinstein, these scenes are particularly relevant.)
With the words of the script rapidly scrolling on Jim Findlay's utilitarian set, the cast races through the dialogue striking exaggerated stereotypical poses and posturing in mock "Shakespearean" style. Some speak with stagey British accents like Monty Python characters on amphetamines. The idea may be to comment on overused methods of Elizabethan stagings, and there is a sort of fascinating slickness to the approach, but it negates the wit and the still-relevant sharp commentary on government hypocrisy. Yet just as Collins's quirky concept wears thin, the speed-freak patter slows down during the jailhouse scene between Isabella and Claudio (a stunningly real Rinne Groff and Greig Sargeant). She has to tell her brother he must die because she's refusing Angelo's vile offer. Speaking deliberately and slowly on old-fashioned French telephones, they connect on such an honest level, it's as if they're in a different production. The contrast with the self-conscious previous scenes increases the emotional resonance and temporarily brings a stunning authenticity to this
Measure
, but the rest is a showy, if interesting gimmick.
The message is also lost amid flashy direction in the stage version of Anthony Burgess's groundbreaking dystopian novel
A Clockwork Orange
, now at the multiplex theater New World Stages in a transfer from London's West End. Alexandra Spencer-Jones's highly stylized staging employs sleekly choreographed mayhem and fisticuffs to Emma Wilk's ear-splitting soundscape incorporating classical musical and '90s pop tunes. The all-male ensemble displays impressive pecs and abs as they go through their perfectly timed gut punches and kicks to the groin. Jono Davies, who also serves as fight captain, exudes a raw, nasty charisma as Alex, the rancid-souled teen transformed via a government experiment into a law-abider, ending up as out of place as the title oxymoron. It's entertaining and flashy, yet Burgess's themes of free will versus social safety are lost among the biceps and jetés. It's an attempt at combining a Chippendales revue with
1984
, but only the former emerges strongly.
October 15, 2017
Red-Letter Plays:
In the Blood and Fucking A
Signature Theater Company at the Pershing Square Signature Center
Michael Moore: The Terms of My Surrender
Belasco Theater
Reviewed by David Sheward
As the last millennium ended, when Suzan-Lori Parks penned her
Red Letter Plays
—two theatrical riffs on Nathaniel Hawthorne's classic novel
The Scarlet Letter
—the horrifying issues of alienation, racism, misogyny, and class oppression that they raised were prevalent. Then we had a black president, and for a few brief moments, it seemed we really were living in a post-racial world. Or, at least, the more extreme manifestations of these nightmares appeared to be laid to rest. Now almost 20 years since these pieces were written, those same demons have crawled out of their hiding places. Their resurgence in the Age of Trump makes the Signature Theater Company's tandem revival of both works especially moving and relevant.
In the Blood
(1999) and
Fucking A
(2000) create modern variations on Hawthorne's Hester Prynne, demonized and branded with a red letter "A" for adulterer by her Puritan fellows for bearing a child out of wedlock. The parallels in contemporary society of castigating female sexuality are strongly and equally developed in the two pieces.
Blood
's Hester LeNegrita is condemned to a life of poverty for bearing five children by a quintet of fathers.
Fucking A
's Hester Smith exists in a dystopian world where she is forced to perform abortions because of a minor crime.
Both productions sock you in the gut with their visceral and violent imagery, but I would have to give a slight edge to director Sarah Benson's imaginative interpretation of Parks's vision with
In the Blood
. The characters are symbolic and derived from Hawthorne's originals (Chili for Chillingworth, Hester's first love, and Reverend D. for Reverend Dimmesdale, the minister who betrays her), but Benson and a sensitive cast makes these allegorical figures into living, breathing people.
The physical production is also arresting. The script calls for Hester and her brood to be living under a bridge. Benson and her set designer Louisa Thompson have re-imagined the setting as a combination abandoned subway stop and garbage dump. Refuse periodically spews out of a giant tube which the family repurposes as toys and furnishings. At the back is a curved wall used as a slide by the kids, but it's also impossible to climb to the street, so Hester can literally never get the financial "leg up" she keeps saying is all she needs. Saycon Sengbloh is luminous and heartbreaking as the downtrodden Hester. In a clever casting move specified by Parks, the five children are played by the same adult actors who portray the unwed mother's faithless lovers and friends, and Jocelyn Bioh, Michael Braun, Russell G. Jones, Ana Reeder, and Frank Wood give equal depth to their dual assignments.
Jo Bonney's staging of
Fucking A
emphasizes the allegorical aspects of Parks's script, which takes on a more Brechtian tone. The characters directly address the audience, they sometimes speak in a bizarre invented language called Talk, there are harsh Weill-like musical numbers, and the actors double as musicians. Though we are always aware we are sitting in a theater and never identify with the people stage as much as we do with those from
In the Blood
, Parks's prescient insights are particularly haunting. Christine Lahti's Hester is forced to clean up the messes made by the upper class, first as a cleaning woman and then as an abortionist. Marc Kudisch plays a Trump-like duplicitous mayor. Brandon Victor Dixon is Hester's son Boy, who escapes prison and is labeled a monster ("Better a monster than a boy," he claims, echoing the rage of minorities driven into the pipeline-prison system.) The cast, which also includes Joaquina Kalukango as a no-nonsense prostitute and Elizabeth Stanley as the Mayor's desperate wife, provides piercing perspective on damages wrought by misogyny and class oppression.
Meanwhile on Broadway, filmmaker-provocateur Michael Moore takes a more direct approach to challenging the status quo and the results of the recent presidential election. "What the fuck happened?" he asks as soon as he steps on the stage of the Belasco Theater in his one-man man
The Terms of My Surrender
, following clips of the Trump triumph accompanied by ominous music. In the following two and half intermissionless hours, Moore preaches to the choir on the current dark political climate, taking occasional detours to relive past insurrections and play game-show parodies with the audience. The show is a combination standup comedy routine, rant, memoir, and cozy chat. As in his documentaries
Bowling for Columbine
,
Fahrenheit 9/11
, and
Sicko
, Moore builds his arguments against the current administration with deceptively comforting humor and startling statistics. ("That can't be true," said one woman behind me when the star revealed that 53 percent of women voted for the Donald.)
Moore is not a Broadway-caliber comic and he mocks his lack of musical skills with a refreshing self-deprecation, but his delivery is sincere and his expressions and timing produce laughs. (Watch as he lovingly caresses a bag of chips.) Director Michael Mayer delivers a smooth evening, with strong visual support from Andrew Lazaro's projections and video design. There are a few surprises saved for the final curtain, but this is mostly a familiar call to arms for Moore's left-leaning fans.
September 17, 2017
Prince of Broadway
Manhattan Theatre Club at Samuel J. Friedman Theater
Reviewed by David Sheward
No one can deny the incredible track record of Harold Prince, the winner of a record 21 Tony Awards and the director and/or producer of almost 50 Broadway shows over six decades. His innovative stagings of such landmark works as
Cabaret, Company, Follies, Sweeney Todd, Evita
, and
Phantom of the Opera
(to name just a few) revolutionized American musical theater. Having said that, his highly anticipated career retrospective,
Prince of Broadway
, now in a limited run from the non-commercial Manhattan Theater Club after an earlier version played Japan, is perfectly enjoyable but not the stunning blockbuster we've come to expect from Mr. Prince.
The show is basically a series of numbers from 17 of Prince's productions, loosely strung together by first-person narration by David Thompson (presumably based on interviews with and quotes by the subject), shared by the high-caliber nine-member cast. Unlike previous helmer hoedowns such as
Jerome Robbins' Broadway
and
Fosse
, the material doesn't flow smoothly or fit together neatly. That may be because those previously mentioned productions celebrated the works of single choreographers—creating evening-long pieces with a unified vision and theme of movement, whereas
Prince
is a jumble of mostly solo or small-scale singing vignettes from a multitude of sources. There are 35 book-writers, lyricists and composers listed on the title page of the Playbill.
Thompson's narration provides scant context and fails to tie together the wildly divergent selections or answer such questions as "What is Prince's aesthetic? And what do all these shows have in common other than the fact that Prince was involved in their creation?" Despite the solid production by Prince and his choreographer and co-director Susan Stroman and top-drawer design elements (particularly Howell Binkley's lighting), the structure resembles a random "And-Then-I-Directed-or-Produced" pageant. One similar number follows another, and the pace slackens considerably in the second act, especially when two static songs set in prison (from
Parade
and
Kiss of the Spider Woman
) are placed next to each other.
To be fair, one doesn't go to the theater for a documentary or a lecture in stage history, and there is much to relish even if the overall package is not greater than the sum of its exemplary parts. Tony Yazbeck has a spectacular dance solo from
Follies
(fantastic choreography from Stroman). Emily Skinner corners the market on wry regret with "Send in the Clowns" and "Ladies Who Lunch." Chuck Cooper delivers depth as Tevye, Joe from
Show Boat
and
Sweeney Todd
. Brandon Uranowitz is a delightfully decadent Emcee from
Cabaret
. Bryonha Marie Parham conveys the poignancy of Sally Bowles from
Cabaret
and the joyful sass of Queenie from
Show Boat
. Karen Ziemba pours reams of subtext into her Fraulein Schneider and Mrs. Lovett. Kaley Ann Voorhees displays a lovely soprano in vignettes from
West Side Story
and
Phantom
. Michael Xavier and Janet Decal are zesty and zippy in "You've Got Possibilities" from Prince's short-lived
Superman
musical.
There is so much potential here. Too bad the experience was like leafing through a photo album (remember those?), or to use a more up-to-date reference, clicking through a series of YouTube videos that happen to pop up when you type "Harold Prince" in the search engine.
August 31, 2017
A Parallelogram
Second Stage Theater at the Tony Kiser Theatre
Reviewed by David Sheward
Bruce Norris's
A Parallelogram
, now at Second Stage Theater after productions at Chicago's Steppenwolf Theatre Company and Los Angeles's Mark Taper Forum, certainly has a flashy gimmick, which director Michael Greif employs with just the right touch of subtle spectacle in his crisp staging. Through means of a device resembling a TV remote, the central character Bee is able to rewind or flash-forward through moments of her life, reliving and altering her actions, but she discovers the ultimate outcome remains the same. These adjustments are cleverly accomplished thanks to Rachel Hauck's flexible set, Kenneth Posner's suggestive lighting, Matt Tierney's electronic sound design, and Greif's smart supervision. But this is not just the stage equivalent of that 2006 Adam Sandler movie
Click
, which features a similar premise.
Bee has plenty to reconsider in her jumbled life. There are cracks in her relationship with her current live-in boyfriend Jay, who has left his wife and two small children for her. She has an unfulfilling job as a manager of a Rite-Aid and is beginning to be drawn to JJ, her hunky Latino handyman. And, through the means of her fast-forward device, she learns the whole world is in for major trouble. Can she make a positive change, or is it all futile?
Norris asks, "Would we change if we knew the truth about ourselves and how our lives turn out? Is it possible to make a real difference in this crazy, self-destructive world?" That's a powerful theme, and the playwright affords fascinating explorations of this existential dilemma, but the central shtick of redoing scenes gets repetitive long before the evening ends. There are also several holes in the plot. Bee is brought her magical remote by a future version of herself who pops up in various guises, sometimes visible to others, sometimes not. The reasons for Bee 2's retro visits to her younger self are never made clear. But is the whole thing a hallucination? Even if it is, in order for us to care about the outcome, there must be some internal logic within the illusion.
Fortunately, the adept four-person cast brings much shading to these confused characters. Celia Keenan-Bolger's Bee has warmth and humor as she struggles to find her way out of a philosophical maze. Stephen Kunken gives a hilarious spin to Jay's self-absorption, launching into breathless monologues defending his narcissistic behavior, pausing for a split-second to allow Bee to have her say, and then either continuing or running out of the room to watch the football game on TV. Anita Gillette is sharply wry as the various future Bees, and Juan Castano has a welcome charm as JJ, a relatively small role that could have been thrown away.
Norris has previously presented complex and layered puzzles in his plays, examining in depth such vital topics as racism (
Clybourne Park
), sexuality (
The Qualms
), sexual politics (
Domesticated
), and social responsibility (
The Pain and the Itch
). But
Parallelogram
comes across as a one-joke sketch stretched out to two acts.
August 6, 2017
Pipeline
Lincoln Center Theater at the Mitzi Newhouse Theatre
Reviewed by David Sheward
Theatergoers may feel as if they are back in high school when they enter Lincoln Center's Mitzi Newhouse venue for
Pipeline
, Dominique Morisseau's searing close-up of the public school system and its failure to serve minority youth. Set designer Matt Saunders has transformed the back wall of the intimate space into a blank white cement canvas not unlike the drab interior of an urban hall of learning. As the play begins, Justin Ellington's jarring soundscape and Hannah Wasileski's video projections take us inside a bleak secondary institution where the main character Nya, an African-American English Language Arts teacher, is slowly unraveling as her son Omari struggles to stay afloat at a private school upstate. Though there are moments of melodrama, Morisseau delivers a piercing and powerful indictment of educational breakdown.
Omari is at a crisis point. He has assaulted a teacher, and Nya battles to prevent him from being expelled—or worse, incarcerated. (The title refers to the view that public schools are a conduit to prison for too many African-American males.) Pressure mounts on Nya as she clashes with the establishment, her estranged ex-husband, a potential new love, and her students. In one intense sequence, Nya's personal and professional spheres collide when she teaches Gwendolyn Brooks's grenade of a poem "We Real Cool" and she imagines her son living the razor-edged lines depicting black drop-outs who "lurk late, strike straight," and "die soon."
Morisseau creates a startlingly realistic world in which societal preconceptions corner young people into back alleys of despair. The production is tightly directed by Lileana Blain-Cruz and unflinchingly acted by a spot-on ensemble, particularly Karen Pittman as the disintegrating Nya; Heather Velazquez as Jasmine, Omari's fierce Latina girlfriend; and Tasha Lawrence as Laurie, Nya's bombastic white colleague. Namir Smallwood captures Omari's rage and intelligence. Jaime Lincoln Smith brings humor and bite to Dun, the school security guard who seeks romance with Nya. Morocco Omari is solidly supportive as Xavier, her former spouse.
But there are serious flaws here. Clocking at 90 minutes, the script has little fat, but there are areas where the story is too lean. Omari's parents often mention his current altercation is his "third strike," but we never learn about the previous two offenses or their context. Likewise, the rift in Nya and Xavier's marriage is glossed over. More details on these vital plot points would have increased the impact. Nya herself is a bit thin, despite Pittman's best efforts to provide subtext. She is defined by her relationships with the men in the play rather than having a strong vision of herself. As a result, two supporting characters—Jasmine and Laurie who have more clearly defined character throughlines and grittier, less clichéd dialogue—emerge as more compelling. Despite these clogs,
Pipeline
explores a vital topic and should be seen.
July 25, 2017
Marvin's Room
Roundabout Theatre Company at American Airlines Theatre
Reviewed by David Sheward
Most plays get broader when they move to Broadway, but
Marvin's Room
, the 1990 comedy-drama about a family coping with death and disease, has grown more intimate in its first production on the Main Stem. The late Scott McPherson's touchingly dark piece premiered in regional productions at the Goodman and Hartford Stage and then at Playwrights Horizons in 1991 before a commercial Off-Broadway run (a financial impossibility these days). Tragically, McPherson died of AIDS at age 33, not long after the play opened. That NYC production won the Drama Desk Award for Outstanding Play (a rarity for an Off-Broadway production), and I recall David Petrarca's polished staging as hitting the comic notes with a professional sharpness.
Anne Kauffman, who directs the current Roundabout Theatre Company revival now at the American Airlines Theatre, has sacrificed some of the laugh lines for a more naturalistic tone. At first, this seemed to be an error. The quite moments appeared to be lost in the vastness of Laura Jellinek's open-ended set depicting several locations in breezy, beachy Florida. But gradually, the small scale of the performances and the direction draw us in, causing us to listen carefully and become more involved with the people onstage.
Those characters are heartbreakingly sad and hilariously eccentric. Like the protagonists of the novels of John Irving and Anne Tyler, they find themselves in tragic situations but see the humor in them. McPherson perfectly balances both sides of the human equation in his lifelike portrayal.
The casting is another factor in the show's success. Lili Taylor and Janeane Garofalo resemble each other facially and stature-wise, so they really do seem to be the estranged sisters Bessie and Lee, reunited when Bessie is diagnosed with leukemia and must reach out to her sibling as a possible bone-marrow donor. Bessie has been selflessly caring for their elderly father (the Marvin of the title) and Aunt Ruth, both of whom have a multitude of medical issues. But Lee has troubles of her own with a failed marriage, a burned-down house and two troubled sons, also potential donors for their Aunt Bessie. The collisions and conflicts within this quirky clan make up the action of the play as Bessie must transition from caregiver to patient and Lee attempts to straighten out her messy life.
The opening moments set the mood of unhappy circumstance leavened by comic observation. Bessie is getting blood work from a fumbling doctor (a funny Triney Sandoval) who drops hypos, swats at cockroaches and chastises the receptionist who happens to be his brother. All of this while Bessie must face the possibility of a fatal disease. Taylor subtly limns Bessie's calm grace and acceptance of the comic and tragic overlap. Garofalo doesn't push Lee's clueless narcissism, so that while we may not entirely sympathize with the character, at least we can understand her. In the same vein, Celia Weston wisely downplays Ruth's batty behavior (her obsession with a TV soap opera got many appreciative chuckles). As Lee's troubled teenage son Hank, Jack DiFalco is not the raging terror he could have easily been, but a boy in pain. All the choices in this tender revival reveal an involving and human story, unmarred by overdrawn theatrics. Like the family at the end of the play, it feels as if we are in Marvin's room rather than watching actors in a theater.
July 18, 2017
Fulfillment Center
Manhattan Theatre Club at NY City Center Stage II
Reviewed by David Sheward
Abe Koogler gives the interconnected-lives format a quirky spin in his play
Fulfillment Center
, now at Manhattan Theatre Club's studio space at City Center. The title is an ironic reference to the giant New Mexico warehouse where two of the characters are employed by an unnamed Amazon-like service. Neither they nor the two other people in the play are finding fulfillment in their work or relationships in an America where jobs and love are temporary and tenuous.
Suzan (the indispensable Deirdre O'Connell) is a 60-ish former folk singer with physical and financial challenges. She barely manages to keep up at filling orders at the warehouse as she attempts to scrape together enough cash to get her car fixed so she can drive to a friend's home in Maine. Her supervisor, the much younger Alex (a lovably dorky Bobby Moreno) wrestles with high managerial expectations and his conscience over saving the pathetic Suzan's job. Meanwhile, Madeleine (a hilariously sharp-edged Eboni Booth) has left New York City to move in with Alex, cannot stand her new desolate surroundings, and panics when he brings up the possibility of marriage.
To relieve her doubts and anxiety, Madeleine drinks too much and embarks on a hook-up with John (a laconic and spooky Frederick Weller), a handsome but scraggly drifter she meets online and who just happens to live in the same campground as Suzan (that's the interconnected part, get it?). The emotional lives of all four seem as blighted and empty as the nowhere town of the setting. But Koogler and director Daniel Aukin inject this sad quartet with a desert-dry humor.
In a series of brittle, two-character scenes on set designer Andrew Lieberman's bare strip of a playing space, the dialogue and staging pop and fizz like freshly opened summer sodas. A reconciliation between Alex and Madeleine becomes a riotous verbal duel over sandwich choices. The contrast between Suzan's chatty neediness and John's repressed longing boils over in a frightening yet touching encounter in the front seat of John's truck. Though
Fulfillment Center
runs less than 90 minutes, it is stuffed with such meaty moments and is a filling offering.
June 22, 2017
1984
Hudson Theatre
Reviewed by David Sheward
While it is not a direct response to the young Trump administration, the bracing and horrifying stage adaptation of George Orwell's classic dystopian novel
1984
arrives on Broadway at a startlingly appropriate time. Though it was published in 1949, the trends Orwell was spotting in political and social life are even more prevalent nowadays. The newspeak and shifting truth perpetrated by Big Brother, the tyrannical leader of a repressive future state, are shockingly similar to the "fake news" and "alternative facts" surrounding us today. The denizens of Airstrip One, the decimated remains of London after an atomic conflict, are mesmerized by their TV sets just as anyone you see on a New York City subway is locked in an embrace with their smartphones. "They won't look up from their screens long enough to know what's happening," warns Winston Smith, the tragic Everyman hero of the tale.
There have been film versions produced in 1956 and in the titular year, as well as a limited-run Off-Broadway production in 1987. This new edition, adapted and directed by Robert Icke and Duncan MacMillan, has had four British stagings and arrives on the heels of the controversial Central Park
Julius Caesar
depicting the assassination of a Trump-like figure and the resultant political chaos as a fascist Marc Antony rises to power. That production is a picnic compared to this nightmare vision of the alternative future.
The familiar plot of Winston and his lover Julia vainly attempting to thwart the authoritarian dictates of the pervasive party remains. But Icke and MacMillan have rewritten it as a sort of dream, framing the action with a meeting of a group of intellectuals from even further in the future discussing the merits of the original book (here it is Winston's diary) and debating if it is real or not. This tension between reality and illusion pervades the script as scenes are repeated several times with slight, disturbing variations; Chloe Lamford's initially bland yet cozy set comes apart and reconfigures; Natasha Chivers's frightening lighting blazes on and off' and Tom Gibbons's blaring soundscape assaults our eardrums. The idea is to makes us as unsettled and unsure as Winston as he faces the monolithic power of Big Brother.
That impact is fully revealed in the final section of a harrowing, intermissionless 100 minutes in one of the most realistic depictions of torture I've ever seen presented on any stage. Winston's final degradation and capitulation to the state is presented to us like a Soviet show trial in a stunning coup de theatre. The lights are brought up and we become complicit witnesses in Big Brother's final victory as Winston pitifully cries, "Someone stop it. Make them stop!" The future-historian device, which reappears at the end, somewhat lessens the shattering impact, but this production remains devastatingly memorable.
Tom Sturridge plays Winston like a sleepwalker occasionally waking up to his terrifying surroundings. You can feel his pain, horror, and rage as his lethargy is slowly shrugged off and he realizes what an inescapable trap he's in. Olivia Wilde's Julia is simultaneously seductive and innocent, a wild animal and a frightened little girl. As the party official O'Brien who oversees Winston's destruction, the reliable Reed Birney is chillingly ordinary, a shark with a quiet smile. His is the bland, calm face of Big Brother's world and it's frighteningly familiar. He is watching us indeed.
June 22, 2017


The Whirligig
The New Group at Pershing Square Signature Center
Building the Wall
New World Stages
Reviewed by David Sheward
Hamish Linklater is one of our most versatile actors, enlivening sitcoms and Shakespeare. He's one of the few who has not abandoned the latter for the former, appearing regularly on New York stages after finding success on the small screen. He now has written
The Whirligig
, at the Pershing Signature Center in a production from The New Group, displays a performer's instinct for juicy, conflict-stuffed scenes. There are flaws in construction, but overall, it's a worthy effort.
This is one of those plays that opens with a group of seemingly unrelated characters drawn together by a central crisis. Gradually, we find out they have been interconnected for years and their apparently random, innocent-at-the-time actions have led to the defining crisis. The seams are showing and Linklater is guilty of oversimplification. In his world, a single day or event can lead to a tragic outcome. That seldom happens in reality, but he makes up for this error with engaging dialogue and heartbreaking pathos.
The focus of this whirligig of dysfunction is the fatally ill twentysomething Julie, who has returned to her home in the small Massachusetts town of Pittsfield after years of substance abuse. Her parents, former best friend, drug dealer-boyfriend, high-school English teacher, and assorted others gather around her deathbed, wrangling over their guilt and dealing with blighted relationships. The first act spends too much time going over the past while the superior second act shows us these conflicts in flashback rather than telling us about them.
Director Scott Elliott and a solid cast valiantly attempt to keep the rehashing as vital as the flashback scenes where the seeds of Julie's addiction are planted. Julie is actually the least interesting character since Linklater gives her minimum stage time. Everyone else seems to have more fascinating problems. In fact, the high point of the play is a funny, off-kilter exchange between Kristina (a stingingly caustic Dolly Wells), Julie's frustrated mom, and Trish (a quirky Zosia Mamet), the girl's stoned best friend. Grace Van Patten fills in the missing spaces in Julie's psyche and Norbert Leo Butz infuses Michael, her alcoholic actor father, with the appropriate rage, narcissism, and regret. Noah Bean as Trish's put-upon husband and Alex Hurt and Jonny Orsini as a pair of conflicted brothers create in-depth portraits, while veteran Jon DeVries makes the most of the peripheral Mr. Cormeny, who mostly sits on a barstool and drinks.
Robert Schenkkan is also guilty of rehashing in his new play
Building the Wall
. Written in a rush of anger after the presidential election, this two-hander imagines a dystopian future as a result of Trump's anti-immigration policies. In a 2019 maximum security prison, African-American historian Gloria questions white detention-center runner Rick on his role in a massive racist crime. Director Ari Edelson gives the work a taut edge. James Badge Dale makes Rick a believable three-dimensional being, in over his head, rather than a monster bigot. And while Gloria is mostly a sounding board for Rick, Tamara Tunie imbues her with individual details. But neither character changes or learns anything new. Much of their dialogue consists of previous actions, statistics, headlines, and talking points. You can almost hear Schenkkan saying to himself, "Better put in some personal stuff, so they don't sound too much like talking heads." Yet despite the shortcomings, our interest is held for its 80 minutes.
The playwright has previously created affecting work on American history such as the Pulitzer Prize–winning
Kentucky Cycle
(a fictional saga spanning two centuries) and the Tony-winning
All the Way
(a fact-based account of the early LBJ presidency). But here he has allowed his passion to overrule his dramaturgy, and we get the theatrical equivalent of a hastily drawn political cartoon.
May 27, 2017
War Paint
Nederlander Theatre
The Little Foxes
Manhattan Theatre Club at the Samuel J. Friedman Theatre
Reviewed by David Sheward
The new musical
War Paint
and the revival of Lillian Hellman's
The Little Foxes
(1939) featuring alternating leading ladies represent more than just two spectacular rounds of dueling divas—though that would be reason enough for rejoicing. Both productions afford fascinating takes on the shifting role of powerful women and how they are portrayed in popular media.
Hellman's Southern melodrama is set in 1900 when women had to use charm, subtlety, and sexuality to achieve prominence.
War Paint
profiles two pioneering titans of the cosmetics industry who shattered glass ceilings from the 1930s into the '60s, but still meet male resistance. Attitudes about female empowerment have significantly altered, as well. Hellman's avaricious Regina Giddens is a hissable villain, as rapacious as her cutthroat brothers in her quest for material wealth. She is countered by her teenage daughter Alexandra, who slowly realizes her mother's cravenness and vows to fight it at the final curtain. Helena Rubinstein and Elizabeth Arden, the heroines of
War Paint
, are portrayed as admirable and courageous, even if they are almost as implacable as Regina and just as unscrupulous in their business practices (though they do stop short of Giddens's negligent homicide). In addition, I found both productions tremendously satisfying.
War Paint
has largely been greeted as an opportunity for theater fans to worship at the feet of its super-size stars, Patti LuPone and Christine Ebersole, who give their usual spectacular performances, while the show itself has been criticized as uneven and lacking in spark. We don't know whom to root for, whine its detractors: Both women are portrayed as ruthless and remote, so it may as well be a PBS documentary. Yes, Doug Wright's book is inspired by Ann Carol Grossman and Arnie Reisman's TV doc
The Powder and the Glory
and Lindy Woodead's book
War Paint
, and it doesn't take the traditional Broadway musical route of asking the audience to identify with its protagonists. Instead, Wright, composer Scott Frankel, and lyricist Michael Korie present their characters warts and all, just as they did in the equally unconventional
Grey Gardens
.
Wright offers a fascinating history of 20th-century fashion and makeup, as well as an insightful character study, directed with speed and style by Michael Greif. The incomparable decades-spanned designs are by Catherine Zuber (costumes), Angelina Avallone (makeup), and David Brian Brown (wigs). The score is sharp, funny, and intricate, employing the musical vocabulary of its various eras to convey rapid changes and emotional depths.
Rubinstein, a Polish Jew, and Arden, a farm girl from Ontario, remade themselves into queens of beauty and business, and were at each other's throats for 50 years. They never actually met, so opportunities for clashes are limited. But, just as Schiller invented an encounter between Elizabeth I and Mary, Queen of Scots, for
Mary Stuart
, Wright fabricates a greenroom tête à tête for his ladies near the final curtain. LuPone and Ebersole milk this climactic scene for all it's worth, each dripping with contempt and then gradually admitting grudging admiration for the other.
Before this they command the stage separately but equally. LuPone's Rubinstein is a defiant force of nature, a bejeweled battleship. The Slavic accent is a bit thick at times, making Korie's lyrics somewhat blurry, but the star's magnetic charisma, unique vocals, and impeccable timing cut through the fuzziness to establish a figure as strong and memorable as Evita or Mama Rose. She's not afraid to show Rubinstein's unattractive drive for immortality in offbeat numbers such as "Forever Beautiful."
Ebersole's machine-gun delivery and empathic acting capture Arden's elegant façade and her tough-as-nails interior. In ballads such as "Pink," reminiscent of several of her numbers in
Grey Gardens
, Ebersole delineates the executive's regrets and anger as Arden is forced to sign away her company and her worth is reduced to her signature color. John Dossett and Douglas Sills offer sturdy support as their right-hand men, but the show belongs to its two divas.
Laura Linney and Cynthia Nixon forge a similar partnership in Manhattan Theater Club's revival of
The Little Foxes
, alternating between the lead role of the domineering Regina and the supporting one of her pathetic alcoholic sister-in-law Birdie. (I saw Linney as Regina and Nixon as Birdie.) Director Daniel Sullivan provides a rip-roaring production dripping with melodrama and histrionics, but never going over the top into camp territory. Linney's Regina is a monster of deceit and narcissism, stunning in her beauty (Jane Greenwood's gowns and Tom Watson's hair design are particularly flattering) and seductive in her use of feminine wiles. Watch as the smile fades from her face and her eyes narrow into slits when she is thwarted and must switch from honey to venom to achieve her ends. This is no victim of sexism as Stockard Channing played her in a feminist interpretation for the 1997 Lincoln Center revival.
Similarly, Nixon asks for little sympathy as Birdie, the dipsomaniac aunt shoved into a corner. She doesn't overplay this desperate woman's loneliness but conveys the intense lengths she goes to to mask it and her brief moments of self-awareness and honesty made possible by drink.
Richard Thomas as Horace—Regina's ailing, conscience-stricken spouse—provides a fiery curtain speech as he denounces his wife, while Michael McKean and Darren Goldstein are suitably wily as the grasping Hubbard brothers. The audience utters an audible gasp when Ben states the Hubbards and their kind "will take over this country some day." Hellman's warning of corporate greed trumping the common good is coming true, and she accurately saw that women will be on both sides of the fight.
April 19, 2017
Present Laughter
St. James Theatre
Amélie
Walter Kerr Theatre
How to Transcend a Happy Marriage
Lincoln Center Theater at the Mitzi Newhouse Theatre
Reviewed by David Sheward
Kevin Kline and Kate Burton in
Present Laughter
Photo by Joan Marcus

Charm and whimsy are the main ingredients in three recent theatrical offerings on and Off-Broadway. Each has its own unique tastes and flavors—one is a reliable old favorite, the second a delightfully frothy new dessert, and the third a strangely interesting soufflé of emotions, ideas, and observations on modern life.
The most charming and familiar of this trio is Noel Coward's
Present Laughter
(1939), an autobiographical romp centering on Garry Essendine, a comically vain British stage star, not unlike Coward himself, as he prepares for a whirlwind theatrical tour of Africa and untangles a web of friends, lovers, and crazed fans. I missed the first two American Broadway stagings with Clifton Webb (1946) and Coward himself (1958) since they were put on before I was born, but I did see it with productions starring George C. Scott (1982), Frank Langella (1996), and Victor Garber (2010). Kevin Kline, still dashing and trim at nearly 70, makes a joyously pompous Garry. He is full of funny, over-the-top bits meant to convey Garry's inflated ego and tendency to histrionics. Watch as he puffs up like an offended pigeon when accused of overacting or when he stops to check out his thinning hair in front of a hall mirror, even when answering a frantically rung doorbell.
But Moritz von Stuelpnagel's uneven direction makes this production not nearly as dizzying a knockabout farce as Scott's self-directed show or the highly sexualized almost-orgy Scott Eliot made of the Frank Langella version. This is more along the lines of Nicholas Martin's mildly amusing 2010 Victor Garber edition for Roundabout Theatre Company, fun but not wildly so. There are several fits and starts as the comic engine of Coward's intricately constructed plot warms up in the first act. It isn't until the hilarious second act when Garry must juggle two lovers, his former wife, a jealous husband, a kooky stalker, and a dignified titled visitor that the action really gets going. After that pinnacle of merriment and confusion, the engine runs down and the evening ends on an anticlimactic note.
The reliable Kristine Nielsen nearly steals the show as Garry's sarcastic secretary. She matches Kline gesture for gesture and expression for expression. Kate Burton, who made her Broadway debut in the 1982 production as the ingénue (here played winningly by Tedra Millan), returns with dry wit as Liz, Garry's former but still loving wife. Ellen Harvey does a delicious deadpan as the chain-smoking Swedish housekeeper. Not quite as successful are Bhavesh Patel (overplaying the nutty adoring fan), Cobie Smulders (lacking allure and passion as the temptress Joanna), and Reg Rogers (using the same Cowardly Lion/Snaggletooth voice he's employed in numerous other roles). David Zinn's stylish set and Susan Hilferty's gorgeous costumes provide the perfect atmosphere for this light entertainment.
Equally bubbly, but with an emphasis on whimsy rather than charm, is
Amélie
, the new musical based on Jean-Pierre Jeunet and Guillaume Laurant's 2001 French hit film. The title character is sort of like Garry. She's a dreamy waitress at the center of an odd assortment of friends, but instead of complaining about their eccentricities, she performs secret good deeds for them. Director Pam MacKinnon proves she is as adept at staging enchanting adult fables as she is at enlivening dramas such as
Who's Afraid of Virginia Woolf?
and
A Delicate Balance
. The Gallic bon-bon features a sweet score by Daniel Messe and Nathan Tysen, a tidy book by Craig Lucas, and an enchanting lead performances by a spritely Phillipa Soo. The boyishly endearing Adam Chanler-Berat makes a sweetly offbeat love interest. A versatile ensemble delivering memorable work includes Tony Sheldon as a reclusive artist, Paul Whitty as a friendly fish and an amorous plumber, Randy Blair as Elton John-like rock star and a struggling writer, and Alyse Alan Louis as a daffy hypochondriac.
Present Laughter
's David Zinn designed the candy-colored costumes and the adorable set suggesting a fantasy version of Paris, lit like a Renoir by Jane Cox and Mark Barton. At a fast 100 minutes,
Amélie
is a sweet and tasty crème brûlée of a show.
Sarah Ruhl's awkwardly-titled
How to Transcend a Happy Marriage
starts out as neither whimsical nor charming. The audience is greeted by the carcass of slaughtered goat hanging over the smart contemporary set designed by (who else?) David Zinn. The first act unravels like a tacky sex farce as two straight couples voyeuristically discuss a charismatic temp worker who lives in a triad arrangement with two men and kills her own meat (hence the animal corpse). They invite the threesome (or throuple) over for New Year's Eve for bicurious games. Sexual and spiritual complications follow in the deeper second act. The characters gain dimension, and the proceedings acquire a fantastic, whimsical, and yes, somewhat charming tinge as the participants consider the serious consequences of their salacious actions and the tempting temp undergoes a magical transformation. The play becomes much more than a dissertation on the trendy topic of polyamorous arrangements, addressing the very nature of family.
Director Rebecca Taichman and an adept cast handle the transition with dexterity, shifting from naughty jokes to existential sorrow to communal joy. As George, one of the straight wives and the play's confused narrator, Marisa Tomei paints the stage with a palette-full of emotional colors—bright comic reds, deep sad blues, and fascinating purples when they get mixed together. It's a startlingly affecting performance in a surprisingly effective play that transcends categories.
April 3, 2017
The Glass Menagerie
Belasco Theatre
Sweeney Todd
Barrow Street Theatre
Man From Nebraska
Second Stage Theatre
Reviewed by David Sheward
"Yes, I have tricks in my pocket, I have things up my sleeve," says Tom, the melancholy narrator of Tennessee Williams's beloved
The Glass Menagerie
. "But I am the opposite of a stage magician. He gives you illusion that has the appearance of truth. I give you truth in the pleasant disguise of illusion." In the new Broadway revival, the seventh since its 1945 premiere, director Sam Gold has stripped this delicate memory play of the magic Tom evokes. The stage is bare, the walls of the Belasco Theatre are exposed, there are few props, and Adam Silverman's lighting is as unforgiving as the naked light bulb that exposes Blanche DuBois's true age.
Unlike John Tiffany's 2013 haunting, surrealistic dream vision, Gold offers a raw, unvarnished retelling of Williams's autobiographical tale of the fantasy-ridden Wingfield family and the brief, heartbreaking visit by a charismatic Gentleman Caller to the painfully shy daughter Laura. Tiffany's staging stressed the script's ephemeral memory aspect but also brought out the deep love among the Wingfields. The deep affection among the family is here thanks to soulful connections between Joe Mantello's layered Tom and Sally Field's somewhat clownish, rage-filled Amanda, the desperate mother. But Gold's inconsistent, concept-driven direction obscures this bond, as well as Williams's themes of comforting lies versus harsh reality.
Why have a drenching onstage rainstorm during the Gentleman Caller dinner scene when you've established a minimalist, no-frills aesthetic? Why have that sequence accompanied by a contemporary song when the rest of the score evokes the time of the play, the late 1930s to early '40s?
To add to the confusion, Gold has cast Madison Ferris, an actor with muscular dystrophy, as Laura, whom Williams describes as having a limp. Ferris exudes a confident air even as she is helped in and out of her wheelchair and moves with difficulty by herself. This is totally contrary to Williams's depiction of Laura as a pathetic creature who can't even sit through a typing course without being ill. This Laura can take care of herself, a choice that diffuses the impact of the tender encounter with Jim O'Connor, the Gentleman Caller, played as a shallow narcissist by Finn Wittrock.
It's understandable that Gold would want to try a startlingly different tack, since the play has been done so often and Williams's original intent was to shake up theatrical conventions. I have previously seen the play three times on Broadway (with Julie Harris, Jessica Lange, and Cherry Jones). I've seen it Off-Broadway (Judith Ivey), in summer stock (with Maureen Stapleton), in regional theater in Philadelphia (Geraldine Fitzgerald), in community theater, Off-Off-Broadway, in film (Gertrude Lawrence and Joanne Woodward), and on TV (Katharine Hepburn). (I have not yet seen the restored 1966 broadcast with Shirley Booth.) So a fresh approach is admirable, but why blast away all the poetry?
Stephen Sondheim and Hugh Wheeler's magnificent musical horror show
Sweeney Todd
is as gritty as
Menagerie
is gauzy, and a radical staging shift does not diminish its power. Harold Prince's original 1980 production was set in a giant factory. In 1989 Susan L. Schulman placed it on a crowded London street. In 2005, John Doyle moved it to an insane asylum, and last summer's Glimmerglass version was played out in a 1950s town hall. A new production imported from London places the thrilling tale of a throat-slashing barber and a cannibalistic cook in its most logical setting—a meat pie shop—and the results are deliciously devilish. Designer Simon Kenny has transformed the Barrow Street Theatre into a cozy eatery with audience members crowded into shared tables and benches, munching on Mrs. Lovett's delicacies before the show starts.
Like Sam Gold, director Bill Buckhurst has stripped
Sweeney
down—there are only eight actors and three musicians—but he has not attempted to deconstruct it. Buckhurst uses the intimate setting to create a terrifyingly close experience, having the actors move around and on top of the tables. It's like being trapped inside a closet with a razor-wielding maniac (Amy Mae's lighting, with the instruments hidden behind gratings, makes the atmosphere particularly spooky). At one point, the deranged Sweeney screams "Move!" to a theatergoer so he has enough room to strangle a victim.
That bloodcurdling command is uttered by Jeremy Secomb, a holdover from the British production and probably the most frightening Sweeney you'll ever see. His rumbling baritone and imposing physique are accompanied by a thousand-year stare, which he fixes on certain patrons. Siobhan McCarthy captures Mrs. Lovett's jolly amorality with precise comic timing. Two other Brits, Duncan Smith and Joseph Taylor, create memorable impressions as the vile Judge Turpin and the spritely Toby. Among the fine American players, I especially enjoyed Betsy Morgan's double turn as the addled Beggar Woman, and the boisterous rival barber Pirelli. Music director Matt Aument and his trio manage to impart the lushness of Sondheim's complex and gorgeous score.
Tracy Letts's
Man From Nebraska
at Second Stage begins minimally but gradually takes on the weighty subjects of faith and finding your place in the universe. The opening scenes depict late-middle-aged businessman Ken Carpenter and his wife, Nancy, on a typical Sunday, with very little dialogue: attending church, eating out, visiting Ken's elderly mother in a nursing home as the TV blares, driving home, going to bed. But suddenly Ken bursts into sobs and cries, "I don't believe in God anymore." The rest of the play follows Ken as he searches for meaning in a meaningless world. Letts's script is packed with subtext, brought out by an insightful cast and director (David Cromer). As he did in last season's
The Humans
, Reed Birney as Ken creates a shattering and affecting portrait of a man suddenly without moorings. Annette O'Toole is equally heart-wrenching as his alienated spouse. The playwright is best known for the Pulitzer Prize winner
August: Osage County
, which was something of a massive melodrama about a large dysfunctional family right out of Shepard and Albee-ville. He achieves more devastating effects by tightening his focus onto one
Man
adrift.
March 12, 2017
Sunset Boulevard
Palace Theater
Everybody
Signature Theatre Company
Reviewed by David Sheward
Most Broadway revivals of classical musicals featuring the original stars have been museum pieces vainly attempting to re-create the first incarnation's magic. The resurrections of Yul Brynner in
The King and I
, Carol Channing in
Hello, Dolly!
, and Angela Lansbury in
Mame
are examples of this waxwork genre. Fortunately, Glenn Close's returning to her Tony-winning role of the demented silent-film diva Norma Desmond in
Sunset Boulevard
two decades later does not fall into this category of delusional retreads—which would have been ironic since Desmond is foolishly striving to revive her faded cinema stardom. Not only has Close deepened her interpretation, but Lonny Price's new staging, imported from London, is an imaginative stripped-down retake of Trevor Nunn's gargantuan 1994 edition.
Andrew Lloyd Webber's synthetic score and the simplistic book and lyrics by Don Black and Christopher Hampton still fail to approach the noir nightmare vision of Hollywood created in Billy Wilder's legendary 1950 film. But with Price's more intimate staging, Close's magnificent performance is even more striking. She is no longer competing with a massive set. Designer James Noone has placed a spooky soundstage around the onstage orchestra with grainy projections of vintage film premieres adding to the ghostly atmosphere. Perhaps inspired by Sondheim's
Follies
, Price has added a ghost of Norma's younger self to haunt this tragic tale. Close also takes a cue from
Follies
and goes deeper into Norma's dementia both psychologically and vocally. She actually sounds like an aging star whose singing range has diminished, often going into a falsetto. At once a narcissistic monster and a frightened child, Close's creation is so much more than an above-the-marquee turn, it's a shattering portrait of dashed fame, endless ego, and voracious lust. Like a boa constrictor, she grips her victim, the young writer Joe Gillis, and never lets go. She's also totally convincing when Norma makes her claim that "With One Look" she can manufacture any emotion.
While Close is the engine that drives this vehicle, Michael Xavier, as Joe, actually has more stage time. He displays an impressive voice and physique and knows when to take center stage and when to give the spotlight to the star. Fred Johanson makes for a frightening Max, Norma's looming butler keeping up his employer's fantasies (though he does resemble Ted Cassidy as Lurch on
The Addams Family
a bit too closely). His magnificent bass gives an eerie tone to "The Greatest Star of All." An able chorus gives dimension to multiple supporting roles, with Nancy Anderson and Katie Ladner particularly vivid as struggling cinema workers.
Obie-wining playwright Branden Jacobs-Jenkins (
An Octoroon, Inappropriate, Gloria
) also revitalizes old material—really old material. His
Everybody
, now at the Signature Theatre Center, takes the 15th-century allegorical play
Everyman
and transforms it into an intense meditation on modern mortality and morality. In the original, the titular symbolic figure is summoned by God's messenger, Death, to give an accounting of his life to his creator. He is allowed to bring a companion along the journey from which there is no returning. Characters representing Friendship, Family, and Possessions turn him down. Only Love will make the trek as all earthly connections disappear.
Jacobs-Jenkins gives this relic a modern twist and adds the somewhat gimmicky element of having five of the roles assigned at random at every performance. This could have come across as a shallow parlor trick, but director Lila Neugebauer and her sharp company endow these abstract concepts with weighty detail, as does the playwright, making an intellectual exercise into a visceral experience. The grandmotherly Marylouise Burke is a delightfully unexpected Death, Jocelyn Bioh miraculously transforms from a friendly usher to the ominous voice of God, and Chris Perfetti is a compassionate Love. Brooke Bloom, Michael Braun, Louis Cancelmi, David Patrick Kelly, and Lakisha Michelle May take up the remaining roles. At the performance attended, Cancelmi made a moving Everybody, Bloom was a sassy Friendship, and Kelly was a riot as Stuff, Everybody's material possessions.
Both productions show that even dusty plays and musicals can have new life if the right cast and director get to work.
February 21, 2017
Jitney
Manhattan Theatre Club at Samuel J. Friedman Theatre
Reviewed by David Sheward
It's hard to pick one, but
Jitney
is probably my favorite in August Wilson's decade-by-decade, 10-play cycle of the African-American experience in the 20th century. It's kind of the underdog of this mammoth collection, and maybe that's why I like it best. There are no star parts. There are no flashy elements of mysticism, which can be found in
The Piano Lesson
and
Gem of the Ocean
.
Jitney
was one of Wilson's early plays, written even before his breakout hit (
Ma Rainey's Black Bottom
). It was the first Wilson play to premiere in NYC in an Off-Broadway theater (Second Stage in 2000) and is only now making its Broadway debut, in a dynamic revival from Manhattan Theatre Club.
While other Wilson works contain powerhouse central roles and have attracted big names such as James Earl Jones and Denzel Washington (
Fences
), Whoopi Goldberg (
Ma Rainey's Black Bottom
), Phylicia Rashad (
Gem of the Ocean
), and Brian Stokes Mitchell and Leslie Uggams (
King Hedley II
),
Jitney
is a true ensemble piece with the dramatic weight almost equally distributed among its nine characters—the original won Drama Desk and Obie awards for the entire company. The setting is a run-down Pittsburgh car-service station in 1977 (David Gallo, who designed the 2000 version, returns with a different but equally arresting and detailed environment).
Taxis don't travel to this section of the city, so residents rely on unlicensed cabs for transportation. Becker, who runs the station, provides moral support as well as wheels. He's an unofficial leader of the community, finding jobs for nephews and cousins attempting to get their lives in order and organizing his fellow businessmen to protest a city plan to tear down their buildings. But while he's a figurative father to the neighborhood, his own family is in ruins. His son Booster is being released from prison after 20 years, and their strained reunion is one of many threads in the vivid tapestry of the play.
The drivers and their steady clients come and go, telling stories and dreams, and living out their personal narratives, which sometimes cross over each other. There's gossipy Turnbo, constantly inserting himself in others' dramas; alcoholic Fielding, barely scraping by on his fares and subsisting on visions of the past; wily Shealy, using the station's pay phone to run his numbers operation; and fiery Youngblood, a Vietnam vet struggling to hold down three jobs to support his girlfriend Rena and their infant son.
There are flaws—obvious exposition and a silly subplot involving jealousy and secrecy between Youngblood and Rena. But Wilson creates a rich, fully inhabited group portrait of a community struggling to define itself in the shadow of bureaucratic and corporate white America. The symbolism and poetry are subtle, and the characters are brilliantly alive.
Director Ruben Santiago-Hudson, who won a Featured Actor Tony Award for Wilson's
Seven Guitars
, brings out more humor than Marion McClinton did in his 2000 staging. Costume designer Toni-Leslie James's splashy 1970s outfits for Shealy draw audience guffaws with his every entrance. The more serious moments are equally intense. A minor dispute over a cup of coffee can escalate into near tragedy. A confrontation between father and son becomes an earth-shattering debate over the black man's dignity and how to achieve it.
John Douglas Thompson, one of our best actors in classical roles, turns in his usual stellar work as Becker, skillfully displaying the man's strength and his heartbreak. Brandon J. Dirden is a worthy opposite as his struggling son Booster. Anthony Chisholm, a veteran of the 2000 production, is deeply affecting as the tippling Fielding, particularly as he recounts a dream about his estranged wife. Michael Potts captures the anger underneath Turnbo's pettiness; and the reliable Keith Randolph Smith makes a wise Doub, a driver who shares his wartime experiences with Youngblood. André Holland and Carra Peterson clash and connect with conviction as Youngblood and Rena. Harvy Blanks and Ray Anthony Thomas provide comic support as Shealy and Philmore, customers with woman trouble.
Since Wilson's death, in 2005, few African-American playwrights have gotten their work produced on Broadway—interestingly most have been women. Katori Hall, Suzan-Lori Parks, Lydia R. Diamond, and Danai Gurira have had one or at the most two shows on the Main Stem, and Lynn Nottage will make her belated Broadway debut this spring with a transfer of her play
Sweat
from Off-Broadway. Wilson's voice remains one of the most important in all American theater, but it speaks volumes that he is the sole African-American author to have had a consistent presence on the country's main commercial stage for the past three decades. We should be grateful that
Jitney
has driven onto New York's most popular theater thoroughfare and more audiences will be exposed to it, but more productions from new young authors of all races will truly reflect our national psyche.
January 19, 2017
The Present
Sydney Theatre Company at the Ethel Barrymore Theater
Reviewed by David Sheward
The box office draw of radiant Cate Blanchett may be the reason
The Present
, Australian playwright Andrew Upton's adaptation of Chekhov's first untitled play, in a production from Sydney Theatre Company, is now on Broadway. But the double-Oscar-winning star is just one shining jewel in a mostly dazzling show full of farcical humor, heartbreaking pathos, and pointed political observation. Clocking in at three hours, the comedy-drama has its slow points; the third of four long acts is especially lead-footed. Yet the intense and witty moments more than make up for the snooze-inducing snatches.
Usually when a classic work is translated into a modern setting, it feels mismatched, like the proverbial square peg in a round hole. But Upton, Blanchett's husband, has managed to fit the late-19th-century work, unpublished until long after Chekhov's death under the title
Platonov
, into a contemporary slot without shoving or straining. We are still in Russia, but rather than the original pre-Revolutionary era, it's post-glasnost with the oligarchs in charge rather than the tsar. In celebration of her 40th birthday, the vivacious Anna Petrovna (Blanchett) has gathered a group of friends to her late husband's estate for a festive weekend. Chief among the celebrants is Mikhail Platonov (the charismatic Richard Roxburgh), a failed but still vibrant intellectual approaching middle age who attracts all the women at the party.
Like their country, everyone at the gathering is in a state of upheaval. Their emotional turmoil parallels the national state of confusion as the rigid Communist structure gives way to chaotic quasi-capitalism with Anna attempting to play influential elderly suitors against one another as she eyes Platonov. Mikhail performs a similar romantic juggling act, barely balancing Anna, his wife Sasha, and Sophie and Maria, the respective romantic partners of his two best friends Sergei and Nikolai.
This plot summation makes the play sound like a riotous farce, but it's also a sharp portrait of the shifting state of Russia. Anna's dead husband, referred to as The General, and his contemporaries represent the ruthless former regime, while the younger guests are the confused and displaced inheritors of a broken system. John Crowley's sharp staging expertly blends comedic and melodramatic elements. The polished performances of the Australian cast allow us to differentiate among the myriad characters and keep their complex relationships straight.
In addition to Blanchett and Roxburgh, I particularly enjoyed Chris Ryan's comically insecure Sergei, Susan Prior's conflicted Sasha, and Marshall Napier's blustering Ivan (Sasha's alcoholic father). The action flags after intermission when we discover a drunken Platonov seated centerstage bemoaning the mess he has made of his and everyone else's life. One by one, his fellow guests approach him to restate their individual problems and then wander off into the night. This gets repetitive really fast, but fortunately, the final scene, where all the conflicts come to a crashing conclusion the next morning, regains the dizzying pace of the earlier sequences.
The title refers to both senses of the word—a gift as well as the current time. Though it has its flaws, this
Present
is a stunning evening of theater and an insightful examination of how echoes of the past can influence how we live now.
January 9, 2017
Othello
New York Theatre Workshop
Reviewed by David Sheward
The moment you enter New York Theatre Workshop for Sam Gold's searing production of
Othello
, you know it will be a startlingly different interpretation of Shakespeare's tragedy of the noble Moor. Set designer Andrew Lieberman has reconfigured the normally spacious playing area into a tight, claustrophobic army barracks. Mattresses and macho gear like nudie magazines, snack food bags, and electric guitars are strewn everywhere. There's even an actor's actual artificial limb by his bedside. Audience members are crammed like sardines into uncomfortable wooden bleachers to view this tense drama of jealousy, manipulation, and power. Jane Cox's striking lighting employs headset flashlights and floodlights to create an eerie, battle-torn atmosphere.
In Gold's unsparing staging, Othello and his followers are modern American and English soldiers occupying a Middle Eastern territory. Parallels are drawn between the Bard's themes of racism and misogyny and contemporary issues of the same conflicts along with imperialism and cultural oppression as the self-hating, Cockney, Caucasian Iago (a brilliantly devious Daniel Craig) is driven to distraction by the merits and advancement of the foreign, dark-skinned Othello (David Oyelowo in a powerhouse, career-defining performance). You could infer similarities to Trump and Obama, but that's up to you.
Regardless of the political implications, the production has the impact of a gut punch. Iago and Othello are engaged in a wrestling match to the death, which sometimes becomes literal (kudos to fight director Thomas Schall). Craig captures the broiling rage of Iago and his insidious drive to spread lies and "fake news" about Desdemona's fidelity. This is an Iago akin to Richard III in his quest to destroy anyone who has what he doesn't. His envy of Othello's happiness in marriage and career inspires him to infect the Moor with the same disease. Many only know Craig as James Bond, but his performance here—and in Broadway productions of
A Steady Rain
and
Betrayal
—displays a subtle craft unseen in the 007 franchise.
Oyelowo matches Craig in intensity and masterfully calibrates Othello's descent into uncontrolled madness. He begins as the assured general, confident in his military ability and his love for Desdemona (a charming and spirited Rachel Brosnahan) despite the heated disapproval of her bigoted father Brabantio (an appropriately indignant Glenn Fitzgerald). His doubts, fed by Iago's lies, gradually take over Oyelowo's noble visage, twisting it with fury and turning him into an inhuman monster. His humanity returns with devastating force at the final denouement when the truth of his wife's faithfulness and his ensign's deceit trigger a howl of despair that seems to come from the pit of hell.
Even the supporting roles are fully fleshed out. Marsha Stephanie Blake is a flinty Emilia, Finn Wittrock is a valiant but flawed Cassio, and Nikki Massoud makes a heartbreaking Bianca, a role usually thrown away. Special mention to Matthew Maher, whose comic timing and honest limning give depth to the normally buffoonish Roderigo. At one point he crawls out of a footlocker. I'm not sure how this was accomplished, but it was just one arresting moment in a landmark production.
December 29, 2016
Falsettos
Lincoln Center Theater at the Walter Kerr Theatre
Guillaume Tell
Metropolitan Opera
Reviewed by David Sheward
Two current operas—or one opera and a sort of opera—provide New York audiences with contrasting musical experiences. Technically
Falsettos
isn't really an opera, even though it is sung-through with only a line or two of spoken dialogue. But it does evoke high emotions for the modern age despite it's being close to 25 years old. The Metropolitan Opera's production of Rossini's
Guillaume Tell
, almost three centuries old, offers more traditional musical thrills, and at over four hours it's quite the challenge for the non-buff, but its rousing third act is well-worth the wait.
The new production of
Falsettos
for Lincoln Center Theatre isn't that much different from the original 1992 Broadway production. Both are directed by James Lapine, who collaborated on the non-spoken book with composer-lyricist William Finn. The show is a pairing of two one-acts—
March of the Falsettos
and
Falsettoland
—both presented Off-Broadway in 1981 and 1990, respectively. They follow the chaotic domestic relations of Marvin, a gay man who bursts out of the closet, leaving his wife Trina and son Jason to move in with the younger party boy Whizzer. Trina later marries Marvin's psychiatrist Mendel and the makeshift extended family, which also includes Marvin's lesbian friends Dr. Charlotte and Cordelia, faces a crushing blow when Whizzer develops AIDS. Set decades before gay marriage, this chamber musical chronicles the painful journey of Marvin from frivolous boyhood to a messy maturity. All the male characters deal with maturity issues, hence the falsettos reference in the titles.
Once again, Lapine moves the nearly three-hour show at a quick pace, skillfully balancing its lighter and darker elements, and Finn's rich, complex score comes across brilliantly. The new cast, bouncing around David Rockwell's building-block set, gives as deep performances as the originals. At first, Christian Borle is stingingly entitled as the self-centered, neurotic mess Marvin. But as his character grows in compassion, the limning becomes more shaded. Likewise, Andrew Rannells's Whizzer branches from a shallow boy to a tragic figure. I didn't think anyone could top Barbara Walsh's marvelously manic Trina from the original, but Stephanie J. Block equals her dizzying confusion and desperate neediness, particularly in the hilarious "I'm Breaking Down," Trina's comic lament at losing her husband to another man. Brandon Uranowitz makes Mendel lovably nebbishy. Anthony Rosenthal delivers an impressive Broadway debut as the precocious adolescent Jason, and Tracie Thoms and Besty Wolfe are an adorable couple as the lesbians next door.
This new
Falsettos
doesn't provide any stunning new insights into the material, but it offers a heartfelt portrait of an unconventional family struggling to find a way to live and a glimpse at a time when such unions were beyond the pale of mainstream America (and, with our new radically conservative president, may be again).
Another Lincoln Center production also focuses on a family in crisis.
Guillaume Tell
, Rossini's last opera, receives its first Metropolitan production in more than 80 years. It is probably best known for its overture, which was employed as the theme for the
Lone Ranger
radio and TV series. In recent weeks, the production made offstage headlines when an audience member sprinkled the ashes of his late opera-loving mentor in the orchestra pit during intermission, causing a police investigation and the cancellation of the performance. The powerful work deserves notoriety on its own rather than for these associations. Pierre Audi's bizarre production places the 14th-century story of the archer forced to shoot an apple off his son's head in an abstract dreamscape (George Tsypin's minimalist, weird sets feature upside-down cows and boulders). In addition to the set are kooky, distracting staging concepts. One of the strangest is having the decadent court of the tyrant Gessler got up by costume designer Andrea Schmidt-Futterer in black leather and top hats and forcing the downtrodden townspeople to do the can-can.
But all this eccentricity is forgotten in the climactic third act, which culminates in that famous feat of archery. Gerald Finley is a manly, heroic Tell, matched by the rumbling bass of John Relyea. John Osborn and Marina Rebeka deliver gorgeous duets and solos as the prerequisite star-crossed lovers. Opera or almost-opera, Lincoln Center delivers prime examples of both.
November 10, 2016
Plenty
Public Theater
Love, Love, Love
Roundabout Theatre Company at the Laura Pels Theatre at the Harold and Miriam Sternberg Center for Theatre
Les Liaisons Dangereuses
Donmar Warehouse at the Booth Theatre
Vietgone
Manhattan Theatre Club at City Center Stage I
Reviewed by David Sheward
Janet McTeer and Liev Schreiber in
Les Liaisons Dangereuses
Photo by Joan Marcus

Two current Off-Broadway productions provide a 70-year historical overview of narcissistic British behavior and the decline of that country from envied empire to self-absorbed ruin. David Hare's 1978
Plenty
at the Public traces the crackup of the country from World War II into the 1960s through the scattered and destructive choices of its neurotic but charismatic heroine. Mike Bartlett's 2010
Love, Love, Love
at the Laura Pels in a Roundabout staging picks up where
Plenty
leaves off, taking us from the mod Beatles era into the 21st century.
Love
chronicles the tsunami-like romance of Kenneth and Sandra, a Baby-Boomer Everycouple, who destroy everything and everyone in their path and are meant to represent all of the crimes committed by their heedless generation. Both playwrights are angry at their native land and score stinging points, but Hare's impassioned indictment retains the ring of honest dramaturgy in spite of a less-than-stellar production, while Bartlett's heavy-handed bash has all the subtlety of a sledgehammer.
Plenty
holds a special place for me. The American premiere directed by the playwright at the Public's Newman stage was one of the first plays I saw when I moved to New York in 1982. I still remember Kate Nelligan's impassioned yet calibrated performance as the complicated Susan Traherne, shattered by her country's postwar banality after serving as a courier in the French resistance. Romanticizing her wartime exploits, Susan stumbles through a series of unfulfilling jobs and relationships, paralleling Britain's national identity crisis after losing its position of world dominance.
Seeing the play in the same theater raises personal memories but also unfavorable comparisons. David Leveaux's muted new staging seems to exist primarily as a star vehicle for Rachel Weisz, who is in love with Susan's theatrical breakdowns and takes every opportunity for a diva display. Thus she becomes a weepy victim rather than the complex architect of her own downfall (as Hare and Nelligan saw her in the original). Instead of connecting with the character and the situation, Weisz is saying, "Look at me act!" There are physical sparks between Weisz and Corey Stoll as Brock, her diplomat husband, but no emotional connection, making his self-sacrifices hard to believe.
The limning and bonds among the cast in
Love, Love, Love
may be more convincing, but Bartlett's script is less so. Like Susan, his protagonists Kenneth and Sandra are colossal egotists, wrecking lives in order to pursue their individual ends. Divided into three acts, this dark comedy follows them as they careen from a summer of free love in 1967 to suburban opulence in 1990 to retired self-indulgence in 2010. Bartlett has a way with witty, sharp jabs, but, unlike Susan, his characters are symbols of social and political positions rather than flesh and blood. (His earlier play
Cock
suffered from the same cardboard depictions.) Kenneth and Sandra's selfish actions lead up to a screaming confrontation with their estranged daughter Rose. In the third act, she gets to deliver a big condemning monologue blatantly indicting her parents and their peers for all of her woes and those of her country. Though Zoe Kazan performs this speech with honest passion, we can hear the playwright talking instead of Rose.
Bartlett pushes his creations to fit his political theses rather than letting them develop organically and consistently. Would Kenneth and Sandra, the feckless flakes of Act One, become the financially prosperous executives of Act Two? (We never do find out how either of them makes money after dropping their pseudo-hippie personae.) Would the alcoholic, unreflective Sandra of the entire play suddenly become capable of responding with self-awareness and insight to her daughter's harangue in the show's final minutes?
Fortunately, Michael Mayer delivers a fast-paced, wickedly entertaining production—the on-target period sets and costumes are by Derek McLane and Susan Hilferty—and Richard Armitage and Amy Ryan give outsized, eye-catching turns as the explosive main couple.
Janet McTeer and Liev Schreiber play a similarly combustible duo in another British production. Like
Plenty
,
Les Liaisons Dangereuses
had a sensational New York production in the 1980s (with the sleekly serpentine Alan Rickman and the lusciously lascivious Lindsay Duncan), and this new edition from Donmar Warehouse must fight the memory of its predecessor. Many critics have given it a thumbs down, finding Josie Rourke's less ferocious production several grades below Howard Lindsay's elegant, intense original. More than a few scribes have also called the broodingly naturalistic Schreiber miscast as the sleekly artificial Vicomte de Valmont.
But I thoroughly enjoyed this remounting, taking place in designer Tom Scutt's derelict museum with cast members gradually removing all the discarded art works between scenes, suggesting the decay of the pre-Revolutionary French society that Valmont and the equally malevolent Marquise de Merteuil dominate with their deadly sexual games. Schreiber is a charming cad whose tasteful veneer hides his brutal interior. Rourke takes a decidedly feminist approach to the material, staging Valmont's carnal conquests for what they are—assaults. She almost makes us sympathize with the villainous Marquise who says to Valmont she was "born to dominate your sex and avenge my own." McTeer gives us even more cause to identify with her by providing a multilayered portrayal of this stylish viper. At first she is deliciously evil, playfully enumerating her principles of deceit with little hand gestures. But this seductive surface gives way to the needy woman underneath when Valmont genuinely falls in love with one of his conquests. McTeer drops her silky voice an octave at precisely the right moment and her small movements become clawing attempts to suppress her suppressed genuine longings for Valmont. Yes, this is a slow-starting
Liaisons
, but once it gets going, it burns and consumes.
Finally, the only American play I recently encountered considers the immigrant experience from a decidedly unusual angle. Qui Nguyen's
Vietgone
at Manhattan Theatre Club chronicles the refugee journey of his South Vietnamese parents after the fall of Saigon through a broadly comic lens rather than via the usual noble, tear-jerking tropes. Rap music, ninja movies, African-American slang, and Twitter are added to mix in this crazy collage. It's broad, tragic, funny, satiric, and serious all at once in May Adrales's cartoonish and clear-eyed production featuring another sizzling star pair: Raymond Lee and Jennifer Ikeda.
November 3, 2016

The Front Page
Broadhurst Theatre
Reviewed by David Sheward
If you think of the new revival of Ben Hecht and Charles MacArthur's
The Front Page
as an all-star baseball game, then Nathan Lane is the closing relief pitcher, hurling perfect comic strikes with every throw. He doesn't come on until the last few innings, and his team has been flagging with a few walks but not many solid base hits. Director Jack O'Brien has not given his cast the proper pacing for this frantic 1928 farce of foul-mouthed scandal-sheet scribblers cracking wise and chasing scoops in corrupt Chicago. This comes as a surprise since O'Brien is such an adept hand at large-scale ensemble pieces such as the musical
Hairspray
, the conflation of two
Henry IV
plays, the three-evening
The Coast of Utopia
, and a London stage adaptation of
His Girl Friday
, the 1940 movie version of
Front Page
that transformed the original into a romantic comedy by switching the lead character's gender to female.
That central relationship is between ace reporter Hildy Johnson (John Slattery of
Mad Men
) and his ruthless "anything for a story" editor Walter Burns. Just as Johnson is about to chuck his ink-stained-wretch status for a well-scrubbed fiancée (the charming Halley Feiffer) and a cushy New York job in advertising, Burns pulls him back for the biggest byline ever, covering the escape of unlikely convicted cop killer Earl Williams (rabbit-like John Magaro).
Hecht and MacArthur based this knockabout romp on their own raw experiences as newspapermen with two dozen denizens of the sleazy side of the fourth estate and various hangers-on trouncing through the courthouse press room (appropriately squalid set by Douglas Schmidt). Burns enters late in the action and is meant to be a capper to the mad media circus. But, in the current staging, the preceding one hour and 45 minutes is only intermittently rollicking, and Lane delivers a much needed jolt with his amazing timing, phrasing, and reactions. (Watch his body slump as he attempts to move a huge roll-top desk or his face contort into a galaxy of horrified disgust at a hack writer's poetic drivel.)
As Hildy, a game Slattery anchors the action for much of the show and valiantly attempts to keep up with Lane, but Slattery pales once his co-star steps onto the field. The remainder of the large company is perfectly acceptable but rarely reaches Lane's Olympic-level antics. Those who come closest are Dann Florek as a pompous, platitude-spouting mayor; Micah Stock as a dim-bulb cop on a psychology kick; and Jefferson Mays as that would-be rhymester, a fussy proto-Felix Unger, prissily spraying disinfectant. Sherie Rene Scott achieves genuine pathos as the proverbial hooker with a heart of gold, and Robert Morse earns guffaws in the cameo role of a nebbishy messenger. Lewis J. Stadlen and Dylan Baker register the strongest among the crowd of Hildy's fellow newshounds. John Goodman goes for Foghorn Leghorn cartoonishness as a goofy, good-ole boy sheriff. They're a strong team, but Lane is unquestionably a star among stars.
October 26, 2016
Nat Turner in Jerusalem
New York Theatre Workshop
Reviewed by David Sheward
"I tire of metaphor. We are talking in circles," cries lawyer Thomas R. Gray to Nat Turner, the leader of an 1831 slave revolt, toward the end of Nathan Alan Davis's earnest but drawn-out play
Nat Turner in Jerusalem
, now at the New York Theatre Workshop. Gray could have been speaking for me. The dry work so repetitively examines the motives behind Turner's infamous insurrection involving a small band of his followers killing more than 50 white citizens of Southampton, Va., that it feels long even at 90 intermissionless minutes.
We are in Tuner's prison cell the night before his execution. Gray, an itinerant lawyer, is bent on extracting from the condemned man the names and plans of similar conspirators. With the information, the financially strapped Gray can collect a fortune as well as a place in history and the goodwill of the nation. But the prisoner refuses to comply, instead preaching of hearing voices from God and attempting to make Gray understand the crushing injustice the charismatic Turner wished to correct. There are alternating scenes between Turner and his simplistic guard (played by the same actor as the lawyer) where the latter offers a more pragmatic view of events.
There is a potentially engrossing play here. Turner and his bloody, abortive attempted revolution have been fodder for rich dramatization—including a novel by William Styron and the upcoming film
Birth of a Nation
. Davis's premise is promising and rooted in a fascinating scholarly debate. Gray recorded and secured a copyright for Turner's confession and published it, claiming it was in the rebel leader's own words. But Gray's accuracy has been challenged, and the play imagines what really transpired between the two men.
There are a few chilling moments offering startling parallels to contemporary America. "Do you know what happens when white people get scared?" Gray asks Turner, sounding uncannily like a 21st-century observer commenting on police abuse of African-Americans. But Davis keeps returning to same points and dragging out the final confrontation. Megan Sandberg-Zakian attempts to inject variety into the proceedings by moving set designer Susan Zeeman Rogers's simple platform into different positions along a strip of playing space with the audience seated arena style on either side.
Phillip James Brannon captures the title character's intelligence and passionate anguish, but he has been directed by Sandberg-Zakian to hit his dramatic high notes early in the evening and has nowhere to go. His final exit before the gallows has little impact since he's been close to screaming all night. Unburdened by such heavy theatrics, Rowan Vickers delivers more shaded and complex work in his dual roles of Gray and the surprisingly sympathetic guard.
October 3, 2016
The Encounter
John Golden Theatre
Reviewed by David Sheward
What was that blowing in your ear? Did it send a chill up your spine? Was it a real whisper of air or just the sound of one? Simon McBurney and a brilliant crew of technicians provide such auditory thrills in
The Encounter
, that rare Broadway event: a solo show that opens minds rather than celebrating individual personalities or showcasing a star's facility with accents and quick costume changes. Inspired by Petru Popescu's book
The Encounter: Amazon Beaming
, the piece ostensibly focuses on real-life National Geographic photographer Loren McIntyre's 1969 mind-altering journey into the Amazon rain forest where he meets up with the primitive Mayoruna tribe or "Cat People." The Mayoruna are constantly on move, escaping from the civilizing forces of the white man. The photog's perceptions of time and space bend and twist as he follows the tribe deeper into the forest. The tribe's chief, who seems to be able to communicate with McIntyre telepathically, relays that they are going back to their "beginning," a possible reference to death, to preserve their identity.
This could have been a simple action-adventure tale with McIntyre as a Harrison Ford–type hero caught in a trap with suicidal maniacs and scheming for a daring rescue. But McBurney, who also directs the show, adds layers of meaning and dimension. He begins with deceptive casualness, strolling onto Michael Levine's sound-studio set while the house lights are still on and the audience is testing out the headphones found on their seats. Almost offhandly, he introduces the concept of reality being a shared illusion. "We're all here on what we agree is a Saturday night at 8 p.m. in New York City," he says without even batting an eye, and then launches into McIntyre's bizarre journey, employing Cheese Doodle bags, unstrung videotape, and other found material to create an immersive soundscape. The voices of academics, journalists, philosophers, and commentators dart in and out of the tale, along with occasional visits by McBurney's little girl asking her daddy for nocturnal drinks of water and stories as he reads the book that will become the play we are watching.
Gareth Fry and Pete Malkin's sound design envelops us completely as McBurney draws us in, aided by Paul Anderson's evocative lighting. We're watching a live podcast, and the sounds create the mesmerizing environment. McIntyre begins to doubt his place in the universe when he loses all his possessions—including his camera, clothes, and even his sense of identity as the tribe keeps moving and ritualistically burns everything it owns.
As artistic director of the innovative British theater company Complicite, McBurney has challenged our notion of what a play is and should be in such genre-shattering works as
Mnemonic
and
A Disappearing Number
. Here he forces us to question our reality as he breaks down the familiar conventions of theater, eventually transforming McIntyre into a wild beast trashing the set. The creator-performer daringly submerges himself into an alternate universe of sound and sensation, taking venturesome theatergoers on a wild ride.
September 30, 2016
Sweeney Todd and The Crucible
The Glimmerglass Festival
Fidelio
Caramoor Festival of the Arts
Reviewed by David Sheward
Zoie Reams, center, as Tituba in
The Crucible
Photo by Karli Cadel/The Glimmerglass Festival

Opera and theater merge and meld in two offerings at this summer's Glimmerglass Music Festival in Cooperstown, N.Y. Stephen Sondheim and Hugh Wheeler's 1979 Broadway bloodbath
Sweeney Todd
receives a confused staging, while Robert Ward's 1961 operatic adaptation of
The Crucible
, Arthur Miller's drama of the Salem witch trials, succeeds with a more straightforward production.
It's hard to erase the memory of Harold Prince's elaborate original
Sweeney
, which evoked the horrors of the industrial revolution by setting the story of the murderous title barber and his cannibalistic companion Mrs. Lovett in a giant factory. John Doyle gave it another imaginative spin in 2005 by placing the story in a mad house and having the patients act out the gruesome tale in a grim music therapy session. In the current Glimmerglass iteration, Christopher Alden takes a leaf from Doyle's book with a similar play-within-a-play model and the actors moving chairs around to suggest the shifting scenes. This
Sweeney
is situated in a 1950s rural British town hall where the locals are putting on the show after munching on Mrs. Lovett's infamous pies.
It's a perfectly valid basic concept—exposing savage appetites beneath suburban primness—but Alden piles on too many distracting elements and weakens the terrifying story's brutal impact. Halfway through the first act, Andrew Cavanaugh Holland's appropriately tacky set flies apart and the staging gets so busy it's hard to tell what's going on. A male chorus member in drag as a charwoman throws a bucket of blood every time Sweeney slashes a throat. Three choristers don elaborate papier-mâché bird heads and flap their wings during "Green Finch and Linnet Bird." Sweeney and Mrs. Lovett put on traditional Pearlie costumes of London street entertainers for the classic Act 1 climax, "A Little Priest." All distractions from Sondheim's gorgeously clever score.
Bass-baritone Greer Grimsley has the right rumbling tones for the bloodthirsty Sweeney, but he lacks the acting chops to convey the torment of the character's losing his wife and daughter that drives him to such evil deeds. Conversely, Luretta Bybee displays a Cockney comic flippancy perfect for Mrs. Lovett's cheerful amorality, but she lacks the vocal power to fully put over the complicated music. Plus, there's little chemistry between the two leads.
Conductor John DeMain leads a magnificent orchestra, and the chorus does particularly well in delivery and enunciation given the challenge of Sondheim's intricate lyrics, but this
Sweeney
is more of a muddle than the desired horror fest.
Glimmerglass artistic director Francesca Zambello's production of
The Crucible
tells its story with less fuss and more power. Ward's complex symphony-like opera won the 1962 Pulitzer Prize and is frequently performed nationwide but rarely in New York. Perhaps that's because the original nonmusical is put on with some frequency, including a dazzlingly innovative Broadway reinvention by Ivo van Hove just this season.
While the Glimmerglass cast is given to a bit more melodrama than suits me—theater has more room for subtlety than opera does—this
Crucible
burns with a passion. Zambello and conductor Nicole Paiement mine Miller's drama and Ward's score for their emotional riches without unnecessary flourishes. Neil Patel's haunting set and Mark McCullough's spectral lighting create an atmosphere of forbidding danger where susceptible minds might well spy witches lurking. Brian Mulligan vocally and dramatically conveys the anguish of John Proctor, the conscientious farmer who defies his hysterical fellow townspeople. Jamie Barton's Elizabeth Proctor is equally effective; the mezzo-soprano skillfully limns her conflict between martial loyalty and doubt over her husband's motives. Ariana Wehr makes for a formidable Abigail Williams, the spiteful ringleader in a campaign of finger-pointing. There are also heart-touching moments from Helena Brown's Rebecca Nurse, Zoie Reams's Tituba, and Maren Weinberger's Mary Warren.
Jay Hunter Morris possesses a towering vocal instrument, but, as the presiding Judge Danforth, he practically twirls his mustache while sentencing innocents to the gallows. Likewise Frederick Ballentine's Reverend Parris and Michael Weller's Thomas Putnam come across as hissable villains rather than frightened men cowering behind superstition. But overall,
Crucible
produces real chills while the more overtly terrifying
Sweeney
raises few hairs.
Another summer arts venue, Caramoor Festival for the Arts in Katonah, N.Y., recently presented a hybrid performance: a concert of Beethoven's sole opera,
Fidelio
, with minimal staging. Most musical scholars cite the soaring love story as sonically sublime but dramaturgically weak. Of course, opera plots are notoriously short on credibility, but even by their standards,
Fidelio
requires a significant suspension of disbelief. The brave Leonore disguises herself as a boy named Fidelio in order to work as a guard in the prison where her husband, Florestan, is being unjustly held captive by the cruel governor Don Pizarro. To add to the bizarre plot, the head jailer's daughter Marzelline has fallen in love with the cross-dressing heroine.
"The script is ridiculous but the music is glorious," said one audience member at intermission. Perhaps that's why a concert staging is a more appropriate presentation than a full-on theatrical one. As with all opera, the music is primary over plot, and conductor Pablo Heras-Casado delivered a stunning rendition of Beethoven's vision of transcendent love triumphing against adversity. The cast couldn't have been better. The magnificent Elza van den Heever's clear soprano reached heavenly heights in her dual role of Leonore and Fidelio. Paul Groves made the most of Florestan's extended aria at the top of the second act, but this opera belongs to the soprano. Alfred Walker was darkly menacing as the governor, while Kristinn Sigmundsson as Rocco, the chief jailer and Georgia Jarman as his flirtatious daughter provided admirable comic support and sturdy vocals.
August 9, 2016
Troilus and Cressida
Delacorte Theatre
Reviewed by David Sheward
This summer's free Shakespeare in the Park season has consisted of two of the Bard's most difficult works for contemporary audiences. The first offering was a misfiring
Taming of the Shrew
, which attempted to balance the piece's inherent sexism with an all-female cast and jiggering of the script. The second piece, the notoriously unwieldy
Troilus and Cressida
, is much more successful but unfortunately only has a brief run after its official opening was postponed due to the injury of a major cast member.
Troilus and Cressida
's main problem is its sprawling storyline, split between the battlefield and the bedroom. Set during the protracted Trojan War, the title characters are a pair of Trojan lovers separated by the conflict while a battle of egos rages between the greatest fighters on the opposing sides, Achilles and Hector. Prince Troilus discovers his Cressida has been disloyal after she has been taken to the Greek side in an exchange of prisoners, and he rails against the faithlessness of women as he slaughters his enemies in combat. Meanwhile, his brother Hector, the epitome of a noble warrior, is ultimately vanquished by the conniving Greek Achilles. As craft conquers honor and fidelity is crushed, the play ends with the lecherous Pandarus, Cressida's pimp-like uncle, succumbing to venereal disease and the cynical Thersites, a lowly Greek soldier, cleaning up the mess.
Director Daniel Sullivan overcomes the unwieldy nature of the play with a tight, modern-dress production employing Uzis rather than swords and shields. Parallels are drawn between America's military involvements and the ancient squabble over Helen of Troy's romantic habits. The love match between the title characters takes a back seat to literally explosive battle scenes and military intrigue.
The army brass dominates here with the grudge match between Bill Heck's restrained Hector and Louis Cancelmi's blustering Achilles taking center stage. (Cancelmi took over the role during previews when David Harbour was injured.) The homoerotic undertones in the relationship between Achilles and Patroclus (a sprite-like Tom Pecinka) are brought out in the open, and Pandarus (the delightfully lascivious John Glover) is a barely hidden closet case. John Douglas Thompson and Edward James Hyland bring bristling authority to the Greek generals Agamemnon and Nestor. Corey Stoller plays the manipulative Ulysses as a civilian-clad State Department official with a terrifyingly calculated manner. Max Casella's caustic Thersites and Alex Breaux's oafish Ajax provide comic relief.
Recent Yale graduate Andrew Burnap is a sturdy Troilus and Ismenia Mendes does her best to justify Cressida's abrupt change of heart when she switches sides. They make a lovely couple, but the spotlight here is on the battles, emphasizing Shakespeare's theme of the madness of war.
August 12, 2016
Cats
Neil Simon Theatre
Oslo
Lincoln Center Theater at the Mitzi Newhouse Theatre
Reviewed by David Sheward
Meow and forever,
Cats
is back. After a smash London premiere, the original NYC production of Andrew Lloyd Webber's feline phenomenon became the fourth-longest-running show in Broadway history, inspiring devoted loyalty among fans and disdain among naysayers. The rambling cat-alogue of frisky vignettes ushered in an era of Eurospectacles that were long on flash and glitter and short on substance (
Starlight Express, Miss Saigon
, etc. The latter is returning to Broadway next spring, God help us). I confess I never saw that original Cats staging live—but I did catch a PBS filmed version. The new production is largely the same with a few tweaks here and there. Trevor Nunn's staging remains as sleek and taut as an alley kitty skulking after a tasty mouse, and
Hamilton
's Andy Blankenbuehler has been brought in spice up Gillian Lynne's original choreography.
Derived from a book of poems by T.S. Eliot in a rare whimsical mood and chock-a-block with Lloyd Webber's pastiche ditties, Cats is the theatrical equivalent of sitting by the fire with Tabby and stroking her fur—for over two hours. Like Sondheim wrote in
Gypsy
"Some people can get a thrill/Knitting sweaters and sitting still…. But some people ain't me." The whisker-thin plot—if you can call it that—consists of a group of pussycats competing for the right to take a ride on a huge tire to the "heavyside layer," whatever that is, and start a new life, apparently after the customary nine have been used up. In between specialty numbers, the shaggy leader Old Deuteronomy goes missing for a few minutes, Grizabella the ex-glamor cat wanders around looking sad, and, after a big build-up about how nasty he is, the menacing Macavity scratches a few of his fellow felines. That's it for the storyline. Anybody for a warm saucer of milk?
I did enjoy a few individual numbers, particularly in the second act. Jeremy Davis exuberantly leads a merry, bouncy tour of sleeper cars as Shimbleshanks the railway cat, and Ricky Ubeda dazzles like a furry Liberace as the magical Mr. Mistoffelees. Christopher Gurr is adorably pompous as the rotund gourmand Bustopher Jones and the sweet doddering Gus the theater cat. British pop star Leona Lewis takes on Grizabella's showpiece aria "Memory." She has vocal power but no nuance, rendering what could have been a soaring epiphany anticlimactic. John Napier's oversized junkyard setting and anthropomorphic costumes still enchant, while Natasha Katz's dynamic lighting creates more drama and conflict than the wispy script.
Meanwhile, not all is shallow caterwauling in NY theater. As we enter into a new phase of the seemingly endless 2016 presidential campaign, Lincoln Center Theater presents a powerful theatrical reminder that political plays can be just as spectacular as high-budget musicals. J.T. Rogers's
Oslo
portrays the heroic and unheralded efforts of a Norwegian couple to bring Palestinians and Israelis to the negotiating table when U.S. attempts resulted in stalemate. Derived from real events in 1992–93, this three-hour epic is as gripping as a spy thriller and as absorbing as a Ken Burns documentary.
Currently playing at the Off-Broadway Mitzi Newhouse,
Oslo
will transfer to LCT's Broadway venue the Vivian Beaumont in the spring, just in time for the 2017 Tony Awards, offering an adult alternative to juvenile fare such as Cats. It's indicative of the Broadway theater scene that not only is this a rare instance of a nonmusical dealing with a serious political topic, it's one of only two new American plays announced for the current Main Stem season.
Bartlett Sher provides his usual exemplary direction, making clear a potentially confusing story with dozens of characters and story threads woven into a tapestry of international intrigue. Donald Holder's ghostly lighting, the eerie projections of 59 Productions, and Catherine Zuber's monochromatic costumes give
Oslo
the feel of a half-remembered black-and-white dream.
Jefferson Mays and Jennifer Ehle balance steely command with patient deference as the Norwegian facilitators. They are so restrained for most of the play that Michael Aronov and Joseph Singer as fiery Israeli officials nearly steal the show, but in a final devastating montage where the cast recounts the violent history of the region after the Oslo accords, Mays and Ehle deliver a shattering conclusion, equal parts despair and optimism. The rest of the large cast is uniformly excellent as well.
Ideally there should be room on Broadway for both
Cats
and
Oslo
, but it will be interesting to see which will draw the bigger crowds.
August 5, 2016
Iris
Bard Summerscape at Sosnoff Theatre, Fisher Center for the Performing Arts at Bard College
Reviewed by David Sheward
Pietro Mascagni's rarely performed 1898 opera
Iris
receives a magnificent production at Bard College's annual Summerscape Festival, revealing a hidden treasure overshadowed by the composer's politics and the similar
Madama Butterfly
by Mascagni's friend and one-time roommate Giacomo Puccini. Both works share a librettist; take place in Japan, a location of exotic fascination in the late 19th century; and center on an innocent young woman who meets her end due to the careless egotism of male seducers.
Iris
preceded
Butterfly
and was initially received better. Mascagni's sumptuous, lyrical score influenced Puccini, who he even borrowed the idea of a humming chorus. Mascagni's music remains fresh and enchanting, featuring innovations such as a teacup balanced on a violin to produce an eerie tinkling sound. But Puccini's later work featured more diva-centric arias and melodramatic moments, becoming a beloved choice of stars and audiences. Iris is more integrated and lacking in showstoppers, plus Mascagni's enthusiastic support of Mussolini alienated European and American opera bigwigs after World War II. So this lovely gem was confined to a back shelf.
Fortunately, director James Darrah and conductor–music director Leon Botstein have rescued the damsel from her dusty closet. Eschewing kimonos, elaborate wigs, and kabuki movement, set designers Emily Anne MacDonald and Cameron Jay Mock and costume designer Peabody Southwell have placed the story in a surreal, dream-like world where Iris is abducted from the simple home of her blind father by the pimp Kyoto and the rich young man Osaka who is enraptured by her innocent beauty. She is taken to Yoshiwara, the red-light district of Tokyo; the sets and costumes here resemble the futuristic milieu of Fritz Lang's sci-fi silent classic
Metropolis
. After rejecting Osaka's advances, Iris jumps into the sewer and perishes as she moves toward a beam of sunlight glistening in the darkness.
Soprano Talise Trevigne delivers a shattering, soaring performance in the title role. Her clear, liquid tones and her straightforward acting avoid the tear-jerking usually associated with
Butterfly
. Tenor Gerard Schneider lends great variety and range to Osaka's pleas for Iris's favors, and bass-baritone Douglas Williams makes for a devilishly attractive, dark-hued Kyoto (the characters were symbolically named for Japanese cities.) Matthew Boehler is piteously evocative as Iris's desperate father.
Darrah creates numerous stunning stage pictures, supplemented by Neil Peter Jampolis's lighting. These include the opening scenes in the heroine's garden, featuring a stage awash in brilliant color and falling petals; Iris's long, Alice-in-Wonderland descent into the sewer; and her final ascent on a mountain of trash toward the redeeming light. Let's hope that the long-neglected
Iris
rejoins the repertoire of major opera houses, for it has glorious music and many vocal opportunities.
July 27, 2016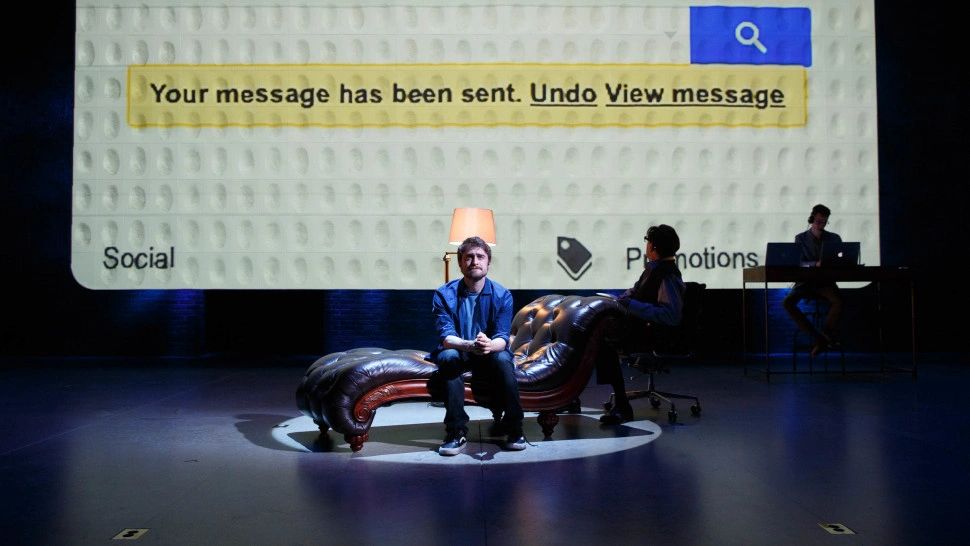 Privacy
Donmar Warehouse and the Public Theater at the Public Theater
Reviewed by David Sheward
Daniel Radcliffe
Photo by Joan Marcus

How many times have you gone to the theater and been asked to leave your phone on? This singular request occurs before the lights go down for
Privacy
, the new meta-play at the Public Theater, when artistic director Oskar Eustis's gentle voice delivers a set of instructions in the manner of an airline steward, requesting that ringers are switched off, but phones left open. There's even a huge illustrated card in the seat in front of you, just like the ones you're supposed to read before your flight takes off, to help along the luddites. It's an amusing beginning to an amusing evening. But the overall play is not an in-depth analysis of the ever-increasing and potentially dangerous role technology plays in our lives.
Created by playwright James Graham and director Josie Rourke, the work was previously presented in London at the Donmar Warehouse (where Rourke is artistic director) and revised for this American premiere. The slim premise focuses on an equally slim character called The Writer (played here by Daniel Radcliffe), attempting to be more open with his emotions after a bad breakup. He goes so far as to move from Britain to New York City because we Americans are so outgoing, and also the former lover just happens to have moved there. The Writer equates letting down his guard with joining the social media revolution, and his adventures in cyberspace form the slender thread of the plot.
This quest is really an excuse for a combination debate on issues of privacy and demonstration of tech wizardry. Graham and Rourke interviewed dozens of journalists, entrepreneurs, and politicians on the impact of digital media on our lives. Five versatile performers play the real-life commentators, acting as a 21st-century Greek chorus to the protagonist's journey as he orders from Amazon, joins Facebook and Twitter, uses ride share apps, seeks romance through dating sites, and even channels a video image of NSA whistleblower Edward Snowden reciting lines from Shakespeare's
The Tempest
(I suppose likening the Bard's magical isle to the unknown territory of the internet).
The audience becomes involved as characters ask us to use our phones to snap selfies, check our ranking as Uber customers, and step on stage to play potential dates for The Writer. Onstage "Research and Digital Associate" Harry Davies and projection designer Duncan McLean create the surprising and entertaining effects. At the performance attended, I heard one woman cry out, "That's my house," as images of ticket buyers' residences and their estimated worth flashed on the giant screen.
The proceedings are more fun than frightening, even when things turn somewhat sinister as the information gathered from the audience gets twisted into anti-government evidence (at the final curtain, Radcliffe requests we not give away any spoiler details). The final scenes feel more like
Saturday Night Live
skits—Rachel Dratch, an
SNL
alum, is in the company—and the desired chilling effect is lost.
Radcliffe, one of the few child stars to grow into a respectable legit stage actor, does his best to fill in the sketchy Writer. He conveys the necessary heartbreak, but the author has created a catalyst for conversation rather than a flesh-and-blood man. The supporting cast has an easier time delivering quick observations and zingers. Dratch, Reg Rogers, Michael Countryman, Raffi Barsoumian, and De'Adre Aziza juggle personae, genders, and accents with dexterity.
Privacy
raises numerous important issues about our media-crazed, totally public world but addresses them with parlor tricks rather than with serious thought.
July 23, 2016
Hadestown
New York Theatre Workshop
Reviewed by David Sheward
There was a while there when it looked as if the original American musical was on the intensive-care list. Jukebox tuners, British imports, and adaptations of movies dominated. But in recent years, innovative shows such as
Hamilton, Fun Home, Next to Normal
, and
Dear Evan Hansen
have revitalized the genre both on and Off-Broadway. You can add
Hadestown
, currently at New York Theatre Workshop, to the roster of imaginative fare engaging younger audiences.
Songwriter Anais Mitchell and director Rachel Chavkin, who also co-developed the piece, adapt the myth of Orpheus and Eurydice into a folksy, down-South tall tale of love versus commerce. In the Greek legend, minstrel Orpheus follows his dead beloved Eurydice into the underworld and, with his golden voice, charms the realm's dread lord into releasing her. In this retelling, Hades is a heartless industrialist who sings of building an immense wall around his underground factory, Hadestown, to keep poverty out. (Sound like a certain presidential candidate?) Here, Eurydice becomes a sex slave to Hades, selling her soul for the financial comfort her lover, the idealistic artist Orpheus, cannot provide.
Mitchell and Chevron also throw in elements of the story of Persephone, the goddess of the spring, who must join her husband Hades in his subterranean stronghold for Earth's six months of winter. Persephone is an enchanting good-time gal, spreading joy and moonshine during her stay above ground and rebelling when she must take the train to Hadestown. The two couples' star-crossed affairs clash in a heart-wrenching conclusion. A rumbling-voiced version of the messenger god Hermes narrates, and a trio of backup singers acts as a Greek chorus of Fates.
Mitchell's infectious score combines roots music, bluegrass, Dixieland, and pop for a heady and satisfying gumbo. Chavkin employs the same kind of intimate, environmental staging that distinguished her productions of
The Royale
and
Natasha, Pierre, and the Great Comet of 1812
.
Damon Daunno and Nabiyah Be display sweet voices as the doomed lovers, and Amber Gray is an entrancing Persephone. Chris Sullivan delivers a rowdy Hermes. Lulu Fall, Jessie Shelton, and Erica Sweany make for a sassy, close-harmony set of Fates. But the real star here is Patrick Page as the terrifying Hades. His basement-level bass shakes the foundations of the theater like an earthquake, sending shockwaves of evil charisma through the spines of every theatergoer. It's the most electrifying portrayal of a musical villain on or Off-Broadway.
July 11, 2016
The Crucible
Walter Kerr Theatre
The Father
Manhattan Theatre Club at Samuel J. Friedman Theatre
Reviewed by David Sheward
All is not as it appears in two recent Broadway openings. Dutch-Belgian director Ivo van Hove turns
The Crucible
, the oft-produced Arthur Miller witchcraft trial drama, inside out and Frank Langella takes a harrowing journey into dementia in the American premiere of French playwright Florian Zeller's
The Father
. Van Hove eschews a traditional, literal staging for a modern-dress allegorical setting. Zeller's work, translated by Christopher Hampton, purposefully confounds and confuses as it re-creates the experience of losing your grip on reality, which many experience as they advance in years. Both productions can be baffling and upsetting, but they push us into dark, scary places as all effective drama should.
This is the sixth Broadway
Crucible
, Miller's 1953 indictment of rigid politic conformity, employing the hysteria of colonial Salem as an example of unthinking fear overturning common decency. It is also a great favorite of community and academic companies (I even played the Reverend Parris, the sanctimonious spiritual leader of the community, in college). But forget about the usual pilgrim hats and wooden cabins you get with most stagings. As he did in his production of Miller's
A View From the Bridge
seen earlier this season, van Hove strips the play down to its essence. Unconcerned with props or period accuracy, the innovative director places the action in a drab schoolhouse (his frequent collaborator Jan Versweyveld created the imposing environment) and costumer Wojciech Dziedzic dresses the Salem residents as modern PTA members and students.
At the time of its opening, the play was seen as a metaphor for the ruthless Communist-baiting tactics of Sen. Joseph McCarthy and his ilk, but van Hove has broadened its scope so that its message can be applied to any repressive regime in any age. He has added special effects, Tal Yarden's frightening video designs, and a creepy, haunting score by avant-garde icon Philip Glass. The spooky turns are just frightening enough to suggest they come from within the minds of the characters who genuinely believe there are satanic forces among them. But the flying girl and shattering windows do not overwhelm the action.
At heart this is the story of rough but basically noble John Proctor, a simple farmer who refuses to falsely confess to witchcraft in order to save his life. Reed-thin Ben Whishaw is the last person you would think of for this role, but he infuses it with a solidity and weighty moral authority belying his slender frame. Sophie Okonedo is equally moving as his wrongfully accused wife, Elizabeth. Saoirse Ronan deftly provides the counterweight of selfish ego as Abigail Williams, the girl leading the cry of demonic mischief in order to cover up her carnal longings for Proctor. Ciaran Hinds is the heavy, imposing voice of authority as Judge Danforth, while as Reverend Hale, Bill Camp ably represents the quavering conscious of those who allow evil to be done in the name of expediency. The magnificent cast also includes Tavi Gevinson's rattled Mary Warren, Jason Butler Harner's self-serving Reverend Parris, Brenda Wehle's saintly Rebecca Nurse, and Tina Benko and Thomas Jay Ryan as the envious and malicious Putnams. All make this a fiery and scalding
Crucible
.
While
The Crucible
burns,
The Father
freezes as its central theme slowly creeps up on you. Florian Zeller's 90-minute play is just as frightening as Miller's work, but rather than political horror, Zeller examines the inevitable demise of the human mind. The premise is deceptively simple. Adrian, a formerly robust and domineering engineer now in his 80s, is deteriorating mentally as his put-upon daughter Anne must find a means for his care, either live-in help or a nursing home. The action is seen from Adrian's point of view as his gradual slipping down is dramatized in a series of increasingly bizarre scenes. The furniture in Scott Pask's elegant apartment setting constantly vanishes and reappears, different actors play the same people in Andre's life, and flashes of light like bursting synapses illuminate blackouts in a disturbing simulation of the protagonist's disorientation.
We don't know the difference between what is really happening and what is in Andre's mind. Information is changed, rearranged, and twisted. Is Anne living in London with her new boyfriend or in Paris with her dad? Did she just bring home a chicken for dinner or is it breakfast time? Is that her husband or Andre's doctor? We never know for sure, and neither does Andre.
Frank Langella, who has played such towering figures as Sherlock Holmes, Sir Thomas More, Richard Nixon, King Lear, and Count Dracula, is shatteringly small-scale as Andre, clutching desperately at his disappearing dignity. His transformation from grandiose tyrant to babbling infant is full of terror and pity. Kathryn Erbe is appropriately and beautifully restrained as the eternally patient Anne. Doug Hughes's staging is slick and smooth, but also deeply affecting as the rug is forever being pulled out from underneath the audience. It's a harrowingly real hour and a half on usually bouncing, fun Broadway.
April 19, 2016
Broadway and Off-Broadway Roundup:
Bright Star, Hold on to Me Darling, Head of Passes, Ironbound, Familiar, and Dry Powder
Reviewed by David Sheward
At the top of the second act of
Bright Star
, the onstage bluegrass band cuts loose for a brief hootenanny, which sets the audience to clapping and hollering. Unfortunately, it's the highlight of the show. The surrounding story and songs by comedy legend–banjo plucker Steve Martin and Grammy winner Edie Brickell offer a few sparks and smiles but not much more. The sappy plot is reportedly based on a true incident but comes across as soap-opera fodder.
There are two timelines. In 1920s North Carolina, brainy but poor Alice Murphy has a ill-starred romance with rich boy Jimmy Ray Dobbs, resulting in a pregnancy but no marriage. Twenty years later, Alice, now a literary editor, encounters a promising young writer just back from Word War II. If you have an ounce of sense or ever read a book or seen a movie, you'll predict how the two tales will merge before the final curtain. Director Walter Bobbie and choreographer Josh Rhodes provide innovative flashes, Carmen Cusack makes an impressive Broadway debut as Alice, and a regiment of Main Stem veterans such as Dee Hoty, Stephen Bogardus, Jeff Blumenkrantz, Michael Mulheren, and William Youmans earn their paychecks, but
Bright Star
fails to shine.
Off-Broadway another country-themed show bursts into intermittent flames. Kenneth Lonergan, one of my favorite playwrights, takes a hard look at our entertainment-obsessed culture in
Hold on to Me Darling
at Atlantic Theater Company. Timothy Olyphant of TV's
Justified
and
Deadwood
is hilariously self-centered and clueless as country-western superstar Strings McCrane, who foolishly attempts to chuck his celebrity lifestyle to return to work in the feed store in his Tennessee hometown. While
Bright Star
drips with familiar homilies and nostalgia for honeysuckled mythos,
Darling
is a razor-sharp satire of American shallowness, directed with just the right combination of winking parody and hard-edged reality by Neil Pepe. Jenn Lyon delivers a slyly multilayered turn as Nancy, Strings's biggest fan and later his avaricious wife. She shifts so subtly from innocent admirer to emotional vampire you barely notice the change.
Two more Off-Broadway attractions feature similar miraculous performances, but in works of varying merit. Phylicia Rashad perseveres through and finally conquers
Head of Passes
, Tarrell Alvin McCraney's rather mawkish rewrite of the Book of Job at the Public; while Marin Ireland dazzles as a wily Polish immigrant in Martyna Majok's clever but slightly flawed
Ironbound
, a co-production of Rattlestick Playwrights Theatre and Women's Project Theater.
Head of Passes
takes the familiar dysfunctional-family-reunion route in the first act and then veers into a tour-de-force monologue for Rashad in the second. She plays the domineering Shela, a religious matriarch whose faith is severely tested when her home and relationships are destroyed. Rashad rises above the familiar material and as does G.W. Mercier's collapsing set.
Majok's
Ironbound
has a more inventive premise. At one grim New Jersey bus stop (Justin Townsend did the brilliantly drab set), Darja goes through 22 years and a repetitive series of dead-end jobs and romances. Loose ends are tied up a bit too neatly, and a teen hustler character is extraneous. But, like Rashad, Ireland wrestles the flawed play to the ground and beats it into submission. Her Darja is crafty, pragmatic, tough, tender, broken, and indomitable all at once.
Danai Gurira deals with many of the same themes as Majok in
Familiar
at Playwrights Horizons: immigration, identity, the difficulty of sustaining relationships. The author, whose
Eclipsed
is currently a hit on Broadway, has a sure hand with dialogue and situation, but tends to tip a bit toward the sitcom and melodrama in this otherwise delightful comedy-drama about an Zimbabwean-American family coping with a stressful wedding and conflicts over their traditions and assimilation. Fortunately, director Rebecca Taichman and a solid cast—including Ito Aghayere, Roslyn Ruff, Tamara Tunie, and Myra Lucretia Taylor—keep the action moving at a rapid clip so that Gurira's occasional lapses such as an absurd reaction to a family secret and, as in
Ironbound
, a too tidy conclusion don't impair the overall experience.
To wrap up this roundup, we return to the Public for
Dry Powder
, Sarah Burgess's witty comedy of equity funds, leveraged takeovers, and economic imperialism. It's funny and clever, and Thomas Kail of
Hamilton
fame gives it a sleek staging, but Caryl Churchill covered this territory nearly 30 years ago in her
Serious Money
, as did Jerry Sterner in
Other People's Money
. The big revelation here is that financial managers are ruthless—surprise! The four-person cast does its best with the stilted yet well-spoken characters, but Claire Danes has a particularly tough time making Jenny, the empathy-impaired numbers whiz, more than a series of nasty quips. Unlike the previously mentioned Off-Broadway productions,
Dry Powder
doesn't rise above its limitations.
April 11, 2016
Hungry
The Public Theatre
Reviewed by David Sheward
Political thought and reaction is sadly missing from the American stage, few of our plays or musicals reflecting our raging national conflicts. The British tend to consider social and political context in their theater, but here not so much. One of the few exceptions is Richard Nelson, whose penetrating and subtle works often provide a double focus on the private and the public. From 2010 to 2013 he wrote a series of plays for the Public Theater, featuring the same cast, about the Apple family of his native Rhinebeck, N.Y. Each work took place on a significant day and reflected how the likes of Obama, Clinton, and Romney seeped into the Apples's troubles with death, senility, and sibling rivalry. There wasn't much "plot" in this quartet, just the family gathering, talking about current events, reading from old books and letters, and discoursing on the state of themselves and the country at large. Through arguments, anecdotes, and revelations on life, love, and work, Nelson captured the uneasy mood of an insecure and jittery America.
Nelson returns to this format with
The Gabriels: Election Year in the Life of One Family
, three works compressing his perspective in one political cycle from the primaries to election night. The first play in the trio,
Hungry
takes place on March 4 (also opening night). The larger event is the battle for the presidency—it's the Friday after Super Tuesday—but the Gabriels are more concerned with a memorial for son, husband, and brother Thomas, a novelist and playwright who died four months before. In the kitchen, Thomas's third wife, Mary (a moving Maryann Plunkett), is suppressing her grief and rage as she prepares his favorite meal for the family and copes with the needy Karin (deceptively quiet Meg Gibson), Thomas's first wife. ("There's another wife in between, we both hate her," Mary explains.) There's also Thomas's brother George (brilliantly simmering Jay O. Sanders) and sister Joyce (sarcastic Amy Warren), both struggling economically in low-paying jobs, as is Hannah (warm Lynn Hawley), George's wife. All are concerned about elderly mother Patricia (Roberta Maxwell in a sharp cameo), who is slowly losing her strength and memory.
As they discuss family difficulties, their disillusion with both political parties, and the loss of grace and elegance as exemplified by the dumbing-down of the nearby national park at the home of Franklin and Eleanor Roosevelt, the Gabriels become a microcosm of our unsettled society. Nelson's writing and his direction is almost invisible. It feels as if we are listening in on private confabs, an effect enhanced by the intimate set by Susan Hilferty and Jason Ardizzone-West.
The gestures are small and concise. The tone of conversation is quiet. But there are reams of subtext in those hushed tones and half-completed movements. I look forward to joining the Gabriels again for the next play, set to open in September, and listening in on our national conversation.
March 30, 2016
Eclipsed
Golden Theatre
Blackbird
Belasco Theatre
Reviewed by David Sheward
Sexual exploitation is a rare subject on Broadway, but two new productions are addressing this explosive topic. Both have honorable intentions, but only one totally succeeds while the other suffers from a strained starring performance. Danai Gurira's
Eclipsed
is stunning in its total approach to the sensitive topic, allowing humor to mix with pathos, while the brutal impact of David Harrower's
Blackbird
is lessened by Michelle Williams's bizarre reading of a damaged child-woman.
Eclipsed
had a smashing run Off-Broadway at the Public Theater earlier this season and has moved uptown mainly on the strength of its star, Lupita Nyong'o, who gave a luminous Oscar-winning turn in
12 Years a Slave
and also graces the back cover of the Playbill in a glamorous perfume ad. Ironically, she eschews the Hollywood routine as a downtrodden victim of war and sexism. But this is far from a one-woman show. The rest of the all-female cast is equally intense and moving.
The blighted principal setting (Clint Ramos created the appropriately ragged sets and costumes) is a ruined hut in the midst of war-torn Liberia. Three women bicker, gossip, and bond as they wait to be called to sexually attend to the unseen rebel commanding officer. Taken as carnal prizes in a bloody civil conflict, they have lost their homes, families, and even their names, referring to themselves only as Wife #1, Wife #3, and The Girl. Wife #2, who appears later, has sought another avenue out of this hell by becoming a soldier. The fifth character, Rita, is a peace worker struggling to help the end the women's degrading servitude. But Rita also has a somewhat melodramatic ulterior motive; she's searching for her abducted daughter. Her storyline is the only extraneous element in Gurira's otherwise well-observed script.
Nyong'o is heartbreaking as The Girl, detailing every step of her desperate attempts to escape her impossible plight, seeking to protect herself from the horrors around her. Watch as she joins Wife #2 in the army, rounding up young women like herself for the same fate. Nyong'o puts on the hard shell of a ruthless killer, but when confronted with imposing misery on others, she lets the emotional covering crack open, revealing the tender soul underneath. Saycon Sengbloh captures the wounded pride of Wife #1 who takes on the mantle of mother figure for both the wives and the commander. Zainab Busia brilliantly blusters and bristles as the warlike Wife #2 but also displays brief flashes of her buried humanity. Pascale Armand is a sparkplug of vitality as the spunky Wife #3. Akosua Busia makes of the most of the dramatic-device role of Rita.
Eclipsed
sounds like a dark devastating night in the theater, but Gurira and director Liesl Tommy have also injected plenty of leavening laughter, much of it derived from the women reading and commenting on a biography of Bill Clinton. These various elements and observations, along with Tommy's balanced direction, make for a multilayered portrait of women swept up in a tidal wave of despair and doing their best to swim rather than sink.
Blackbird
, a gut punch of a one-act, is not as richly varied. It had been presented Off-Broadway in 2007 by Manhattan Theatre Club with the same director (Joe Mantello) and lead actor (Jeff Daniels), where it gradually built to a crescendo of pain and loss. This new Broadway edition starts at a screaming pitch and has nowhere to go. Daniels plays Ray, a 50-ish office drone confronted with a ghost from his troubled past: Una, the young woman he had a "brief affair" with when she was 12. In the bland break room at the dental supply company were Ray now works (realized with grey corporate accuracy by set designer Scott Pask and lighting designer Brian MacDevitt), Ray and Una replay their twisted relationship, which ended in a jail sentence for him and a dysfunctional adulthood for her.
Mantello turns the decibel level all the way up, so the impact is not as devastating. Daniels modulates Ray's compulsive obsession somewhat, but Williams goes way over the top from her first entrance. She delivers a studied, actress-y performance with little honesty and too much hysteria. Only during her long monologue describing the characters' pathetic tryst are there moments of verisimilitude. Then we feel as if we are listening to a broken girl's plea for help rather than sitting in a theater watching a movie star dine on the scenery.
March 19, 2016
Angel Reapers
Signature Theatre
Reviewed by David Sheward
In such pieces as
Vienna: Lusthaus
and
Belle Epoque
, director-choreographer Martha Clarke is not concerned with telling a story, but with evoking a specific time and place. Fusing dance and theater, Clarke creates a third, hybrid form. Movement and dialogue convey the interactions and life-blood of communities. Her
Angel Reapers
, featuring text by Pulitzer Prize–winning playwright Alfred Uhry and traditional hymns and works songs as the score, portrays the Shakers—the religious sect so called because of their erratic, uncontrolled physical vibrations during worship services. (The work is now at Signature Theatre but was previously presented in 2011 at the Joyce Theater.)
The group's ecstatic gyrations were probably manifestations of their repressed sexual urges. One of the tenets of this offshoot from the Quakers was celibacy. They believed married couples should live chastely as brother and sister to avoid the original sin of Adam and Eve. That explains why their numbers gradually dwindled from 6,000 Shaker villages in the mid-19th century to only one in 2016.
Such suppressed carnality is a perfect vehicle for a dance piece, and Clarke devises fascinating moves of longing for her company of 11 actor-dancers. Bodies twist around each other and explode in rhythmic outbursts. There is a thin sliver of narrative with bits of storyline for each of the villagers. There's the historically accurate Mother Ann Lee, the sect's leader, who along with her brother William, sternly preaches abstinence. Brother Jabez burns for the caress of a male farmer, while the orphan Brother Valentine chafes under the enclave's harsh restrictions. When he runs away with an equally rebellious young woman and she returns in a worldly colorful dress, the contrast with the community's severe garb is startling. Donna Zakowska's costumes are particularly effective here.
Equally apt are Marsha Ginsberg's stark meeting-house setting and Christopher Akerlind's sun-drenched lighting. The company is intensely fluid and expressive, employing scant back history to convey three-dimensional people, especially Sally Murphy as the puritanical Mother Ann. Running at little more than an hour,
Angel Reapers
is a mood piece more suited for dance fans than theater aficionados who expect a more robust story with their choreography.
March 2, 2016
Hughie
Booth Theatre
Reviewed by David Sheward
"Jesus, what a dead dump," moans a melancholy Forest Whitaker as Erie Smith, the down-on-his-luck gambler assessing the seedy hotel he calls home in Eugene O'Neill's 1942 one-act
Hughie
. Unfortunately Erie could be describing Michael Grandage's lifeless revival, as well as Christopher Oram's appropriately funereal set. Whitaker, an insightful and moving actor on screen in such films as
The Crying Game, Bird
, and
The Last King of Scotland
, is vague and removed, mistakenly playing a tentative character tentatively. He speaks haltingly, frequently pausing in odd places as if searching for the next line. There were published reports of his being unsteady in delivery during previews and lurking by an onstage water cooler behind which a stage manager would feed him dialogue.
The star appears to have somewhat overcome the memorization problem, but he still hasn't solidified a through line for his role. The brief play consists of a run-on monologue in which Erie laments the unexpected death of the hotel's night clerk, the titular Hughie who served as Erie's combination lucky charm and sounding board. With Hughie gone, Erie has lost his confidence, hasn't had a big win in weeks, and is on the run from thugs out to collect his overdue losses. The only other character is the new desk jockey, an amiable cipher who occasionally responds to Erie's ramblings and gradually takes his predecessor's place as mascot. Like the pipe-dreaming drunks in O'Neill's four-hour epic
The Iceman Cometh
, Erie dissolves into despair when faced with the bleakness of his existence. Stripped of romantic delusions of money and Broadway glamour, he fears climbing the stairs to his empty hotel room. He recovers the false joy of living when the clerk takes on the role of a "sap" to listen to his daydreams of winning big stakes at racetracks and crap games.
It's a potentially powerful short play, but Whitaker is so shaky and insubstantial that Erie's desperate situation seems no more important than a toothache. The marvelous character actor Frank Wood manfully tries to bring life to the clerk, but even his one flash of emotion expressing a desire to burn down the city is weirdly muted. Grandage attempts to fill the gap by inserting dramatic shifts in Neil Austin's noirish lighting and Adam Cork's purple original music during pauses in the action. It's like switching channels between a Humphrey Bogart flick on TCM and live feed from a fleabag hotel. If you need the lighting designer and the composer to supply the tension, your show is in serious trouble.
O'Neill wrote the piece as part of an unfinished series of playlets called "By Way of Obit," focusing on characters dealing with the demise of close ones. It was not produced until after his death, in a Swedish production. Subsequent stagings have starred Jason Robards, Al Pacino, Ben Gazzara, and Brian Dennehy. The latter two wisely paired it with a second short play. Running barely more than an hour,
Hughie
makes for less than a full evening of theater, particularly with this limp staging and especially not at steep Broadway prices.
February 27, 2016
Buried Child
The New Group at the Pershing Square Signature Center
The Humans
Helen Hayes Theatre
Reviewed by David Sheward
The American family comes in for a drubbing in two productions: The New Group's revival of Sam Shepard's 1979 Pulitzer Prize–winning
Buried Child
and the Broadway transfer of Stephen Karam's
The Humans
, which could well win the same award for 2016. Both plays tear apart the idealized view of the nuclear clan, exposing the disillusionment and despair beneath the rosy exterior. Though the plays are written almost 40 years apart, their observations are startlingly similar. Shepard is more savage and Karam more compassionate, yet both are subtle and mysterious in their examinations of the terrors in everyday life.
Buried Child
premiered in San Francisco and then Off-Broadway in 1978. A revised version produced by the Steppenwolf Theatre Company played Broadway in 1996 (the playwright's long-overdue Main Stem debut). Gary Sinise's 1996 staging was ominous to the point of Hitchcockian suspense with a huge staircase right out of the mansion in Psycho dominating the set. In the current production, now playing at the Off-Broadway Signature Center, director Scott Elliott emphasizes the dark humor so that the grim revelations are more startling.
Derek McLane's deceptively simple set with its faded wallpaper and beat-up furniture suggests the ruin of the characters. The patriarch, Dodge, is confined to the couch, an alcoholic shell of his once-vital self. The family's decimated farm is suddenly sprouting huge vegetables. His delusional wife, Halie, indulges in fantasies of her dead son, Ansel, as an all-American hero, while their living children Tilden and Bradley are respectively damaged psychologically and physically. Into this decaying milieu comes Tilden's long-absent son, Vince, and his girlfriend, Shelly, for what they think will be a friendly visit. But no one recognizes Vince, and a horrifying secret is gradually revealed. Shepard leaves a lot unsaid. Who was Vince's mother? What trouble did Tilden get into in New Mexico? How did Ansel die? The buried child of the title doesn't answer any of these queries, but it symbolizes the devastated dreams and fake hopes of the family and American society.
Ed Harris's Dodge dominates the action, a weakened lion growling with an echo of diminished power, furious at his weakness. He finds the brutal comic punch in Dodge's fury. Amy Madigan, Harris's real-life, is appropriately pinched and repressed as Halie and expresses shattering anger as her illusions are destroyed. So does Rich Sommer's Bradley, a bully with the spine of a coward. Paul Sparks is heartbreaking as the diminished Tilden. We don't know all of this tragic figure's wrecked past, but hints can be found on Sparks's eloquent features. Larry Pine is hilariously befuddled as Rev. Dewis, Halie's ineffectual spiritual advisor and possible lover. As Vince and Shelly, Nat Wolff and Taissa Farming, young actors with mostly film and TV credits, fail to plumb the depths of Shepard's dark vision.
Shepard is merciless in his unraveling of the comfy American dream, while Karam shows compassion for those whose slumbers are beset with nightmares.
The Humans
, opening at the Helen Hayes Theatre after a hit Off-Broadway run with the Roundabout Theatre Company at the Laura Pels, takes a familiar template—a holiday gathering with too much drinking leading to too much truth—but gives it a ghostly twist.
The Blakes are victims of strange nocturnal horrors such as a faceless woman and an endless tunnel. They also obsess over apocalypse-predicting websites, natural and man-made disasters, and monsters in comic books and on TV shows. These are manifestations of their anxiety and inability to cope with economic and social pressures. Like the
Buried Child
family, their illusions have been exploded.
Joe Mantello's tight direction and the sterling, deeply felt performances from a magnificent ensemble of six are intact from the Laura Pels engagement. David Zinn's two-tiered set might have some sightline problems for those on the extreme ends of the narrow Helen Hayes Theatre house, but that is the only quibble for this stunningly accurate snapshot of how we live now.
February 17, 2016
Our Mother's Brief Affair
Manhattan Theatre Club at the Samuel J. Friedman Theatre
Reviewed by David Sheward
Late in Richard Greenberg's
Our Mother's Brief Affair
, the luminous Linda Lavin brilliantly delivers a long, quiet monologue about a seemingly small incident from her character Anna's past that has haunted and colored her entire life. You can hear the proverbial pin drop as Lavin carefully takes the audience into Anna's mind and skillfully explores how her cold, narcissistic nature, sterile marriage, and arms-length relationship with her emotionally stunted adult children was informed by ignoring a tiny request from her dying sister when they were girls. (The characters first appeared in Greenberg's
Everett Beekin
.) It's a beautiful, heart-stopping moment, but it's not enough to save an otherwise meandering, anemic work.
You would think the collaboration between Greenberg and Lavin would have been a match made in theater heaven. Lavin has been giving individual spins to acid-tongued, withholding matriarchs in several shows—from her Tony-winning turn in
Broadway Bound
to the tyrannical grandmother in
Hollywood Arms
to the manipulative mother in
The Lyons
. Greenberg has written complex explorations of American families wrestling with love and identity, such as the aforementioned
Everett Beekin, Three Days of Rain, The American Plan
, and
The Assembled Parties
. By the way, this is Greenberg's 11th collaboration with Manhattan Theatre Club.
Greenberg is once again portraying a compelling woman in the midst of a crisis played to a sharp-edged T by Lavin. But as in many of his previous works—both stronger and weaker—too many of the characters speak as if they had swallowed dictionaries. (Anna's daughter Abby describes New York City as having a sense of "apocalyptic intimacy." Huh?). In addition, Greenberg spends too much time telling rather than showing.
There is an overabundance of direct address to the audience by Anna's son Seth, flashbacks within flashbacks, plus action-stopping explanations for an obscure historical figure. This is probably the first Broadway show with live footnotes.
As she is lying on her deathbed—for the umpteenth time—Anna reveals to Seth and Abby that she had a short dalliance with a mysterious man while dropping off the adolescent Seth for viola lessons at Juilliard. The twist—and the footnotes—arrive at the Act One curtain when she adds the additional whammy that her clandestine lover was a heinous peripheral player in a real-life Communist spy scandal of the 1950s.
Is Anna's liaison the truth or a product of her trashy-romance-filled imagination—and what does it say about her blighted emotional life? That's the crux of the second act, but it's hard to care what happens because Anna is so unpleasant and her children, both gay incidentally, are so cold and bland (neither seems to be invested in finding or keeping a relationship). As noted, Lavin delivers her customary insightful work, adding eloquent facial expressions to Greenberg's dense dialogue, but even she cannot make up for her character's unrelenting narcissism. Greg Keller and Kate Arrington are similarly strapped by the narrow emotional confines of Seth and Abby, but they do their best with the limited raw material. In a dual performance, the reliable John Procaccino bring some light to Anna's lover and to her horrible husband. MTC artistic director Lynne Meadow gives the play an efficient but passionless staging.
Santo Loquasto's suggestive scenery and Peter Kaczorowski's autumnal lighting sets the right tone for this ruminative memory piece, which would have worked better as a short novel, where introspection can be king, rather than as a play, where action is necessary.
January 24, 2016
Noises Off
Roundabout Theatre Company at the American Airlines Theatre
Reviewed by David Sheward
Michael Frayn's
Noises Off
has turned into a reliable laugh machine. The British backstage farce premiered in London in 1982 and then transferred to a long run on Broadway the following year. A 2001 revival starring Patti LuPone also had a respectable stand. Now
Noises
is back for yet another New York engagement, this time from Roundabout Theater Company with an ensemble of stage vets emphasizing the human dimension of this knockabout yuk-fest. Director Jeremy Herrin, whose last New York credit was the massive, two-evening, Tudor-era historical pageant
Wolf Hall
, gets most of the necessary split-second timing right but also slides in a bit of character development.
The ingenious premise consists of running the same first act of a brainless, door-slamming sex comedy called
Nothing On
three times. First, it's a disastrous dress rehearsal for the show's regional tour, financed by fading sitcom star Dotty Otley who is playing an eccentric housekeeper. This sets up the intricate action of pratfalls, misplaced props, and mistaken identities, so it takes time for the action to get going. The second act of
Noises Off
takes place backstage during another performance of
Nothing On
, when multiple offstage dalliances have ignited jealousies and frazzled nerves. Everything that can go wrong does, and the hilarity increases as the mistakes pile up. The third act of
Noises Off
wraps it all up with a totally horrendous rendering of the show toward the end of the tour, when all semblance of order has broken down. The joke is that farce requires exquisite blocking, and watching it fall apart can be even funnier. (Frayn got the idea for the play while watching one of his shows from the wings.)
The missed cues and accidents are all in place, but the current director and company have added dimension to the stock characters. In the previous Broadway productions, their heinous behavior came across as mere triggers for mayhem. The director Lloyd Dallas has simultaneous affairs with the mousy stage manager Poppy and the buxom ingénue Brooke, while Dotty carries on with leading man Garry and then sets her cap for the witless supporting actor Frederick. Here the farceurs' foibles are more honestly arrived at rather than inserted to get laughs.
Andrea Martin's Dotty is a self-dramatizing drama queen grabbing the attention of younger men as she clings to illusions of a grand career. Megan Hilty makes a complete fascinating character of dumb-blonde clichés as the gorgeous but empty-headed Brooke, stuck in her memorized part no matter what mishaps are happening around her. Campbell Scott delivers a narcissistic and aggravated Lloyd, desperate to escape lowbrow hijinks and sink his teeth into Shakespeare. David Furr hilariously accentuates Garry's mental tick of not being able to complete a sentence, and Jeremy Shamos skillfully expresses Frederick's neuroses and need for acting motivation (watch as he fondles a box of props as if it would save him from the chaos surrounding him). Tracee Chimo makes the weepy Poppy into a lonely little girl, while Rob McClure gives backstage handyman Tim a magnificently overblown case of the jitters when he is forced to go onstage. Kate Jennings Grant captures the oversolicitousness of company gossip Belinda, whose attempts to correct the madness just makes things worse. Daniel Davis is riotously forgetful as the alcoholic Selsdon, missing lines and secreting whiskey around Derek McLane's complex set.
Noises Off
doesn't have much on its mind other than making audiences laugh. This production does that in spades but also gives us a group of real people falling down the stairs, slamming doors, and slipping on dropped sardines, which makes the antics all the funnier.
January 17, 2016