Travesties
Tom Stoppard
I've admired
Travesties
since I was in college. For its mashups of Joyce, Tzara, and Lenin's language and lore. For its multiple ingenious twists on, and parodies of,
The Importance of Being Earnest
. For the dotty, logorrheic ravings of elderly main character Henry Carr, painfully reconstructing an eventful but implausible WWI sojourn in Zurich. All impressive and laugh-out-loud funny, but nothing stuck to the ribs, you know? But thanks to the humanity director Patrick Marber and his superb cast have infused in the current Broadway revival, Tom Stoppard's Tony winning play finally makes me misty as well. Of course it will always smack of a precocious upperclassman's intellectual exercise. And yes, I suppose it does bring alive the conflict between art and politics, or if you like, between the interior life and the external. But the brilliant Tom Hollander showed me Carr's vulnerability for the first time, as he inhabited the lonely little man, on his last legs, desperately trying to invest his life with meaning through fabricated fancies of espionage and imagined hobnobbing with the great. For all the cerebral hijinks, the play has become for me a moving character study—a discovery I'm glad I made at a time of life when, like Carr, I have more behind me than ahead and I need to sort it all out. But I take away an even more important reminder: For me at least, ideas can never take the place of emotion in the theater. The art's in the heart.
—B.V.
April 28, 2018
The Red Lion
Patrick Marber
Patrick Marber's
The Red Lion
inspired me to reflect that there are many sport-as-life American movies, but precious few sport-as-life homegrown plays. We're such a sports-mad culture, and
Moneyball
and
Any Given Sunday
took us vividly into the belly of our national games. I wonder why so few stage plays attempt to do so. For its part, Britain brings out sport-as-life plays with some regularity, whether as musicals (
The Beautiful Game
) or straight plays (
The Changing Room
). Is that because they have so many variations to explore—soccer as well as rugby; pro as well as semi-pro? Or do hundreds-more years of sport history occupy a special place in their writers' hearts? Anyway, Marber plops us down into a semi-pro club's changing room, with sweaty crumminess that practically wafts up from the printed page. Into it march an elderly star of yesteryear, now reduced to ironing the players' "kit"; the foul-mouthed manager, deep in debt and personal chaos; and a young up-and-comer with moral scruples and secrets. What loyalty does each owe to their club, to themselves, to each other? How far will honor bend in the name of self-interest? See what I mean? This is sport-as-life just as surely as business-as-life is the real engine of
Glengarry Glen Ross
(which
The Red Lion
distinctly resembles in tone and particulars). Me, I'm a sucker for overarching metaphors, provided the foreground story is specific and engaging enough. Which Marber's is, I believe. Despite the unfamiliar athletic terrain, this could work stateside provided three killer actors agreed to play in it; preferably stars.
—B.V.
April 25, 2018
The Postman Always Rings Twice
Adapted by Jon Jory from the novel by James M. Cain
On a London visit in 2005 I was thrilled that my favorite crime novel of all time, James M. Cain's
The Postman Always Rings Twice
, was running on stage, though the never-published adaptation by Andrew Rattenbury was stodgy and overproduced. Jon Jory's new stage version is much more fleet of foot and exudes heat, though he changes—or rather, omits—the novel's ending, thus rendering the title meaningless. Upshot of both: Note to self: Avoid, or at least maintain low expectations for, adaptations of favorite works of fiction. Whoever first said "The book is always better" knew what they were talking about.
—B.V.
April 22, 2018
Seesaw
Book by Michael Bennett, lyrics by Dorothy Fields, based on the play by William Gibson
What I remember best about the run of
Seesaw
was the onstage appearance of then-Mayor John Lindsay during a Big Apple celebration number, so publicized it prevented the expensive, troubled musical from closing in a week, instead limping along at a loss from March to December of 1973. At the time, nothing I heard or saw about the musical remotely induced me to spring for a ticket. Here it is 45 years later, and finally exploring the show now confirms my worst fears, that it would simply graft some irrelevant musical numbers onto William Gibson's soapy and predictable two-hander about the short-lived love affair between an East Coast beatnik kook and an uptight Nebraska attorney. (The back of the album cover practically telegraphs how little the story had to do with all the exuberant goings on.) I didn't, I'll concede, bargain on the score by Cy Coleman and Dorothy Fields being so far below their usual high standard. As the only hit song goes, "It's Not Where You Start (But Where You Finish)," and
Seesaw
finishes at a distinct low.
—B.V.
April 19, 2018
Perplex
Marius von Mayenburg
Marius von Mayenburg's
Perplex
is an urban absurdist whatzit that perplexed the hell out of me. But I chuckled a lot too. It begins with Robert and Eva returning home from vacation to find the furniture's been moved, the cat's gone, all the plants have been changed, and the lights are cut off. Where are Judith and Sebastian, who were to watch over the place? The supposed house sitters come downstairs, treat the house like it's their own, and throw Robert and Eva out. With me so far? Shortly thereafter, Eva returns as the couple's au pair with Robert in tow, now Judith and Sebastian's surly eight-year-old. Perplexed yet? Wait till Robert shape-shifts into a Nazi youth and, later, a homosexual elk, while Judith transitions into a Viking and Eva into a volcano. (All pictured.) It reads like A.R. Gurney's
The Dining Room
as performed by four actors on an acid trip, searching for the meaning of life in a topsy-turvy world. Which sounds painfully familiar, actually.
—B.V.
April 16, 2018
Terror
Ferdinand von Schirach, translated by David Tushingham
There have been a number of plays which involve the audience in the act of voting to resolve a situation: Ayn Rand's
Night of January 15
; Jeffrey Archer's
The Accused
; and of course the musical
Mystery of Edwin Drood
. But none of them challenge the conscience like
Terror
, by Ferdinand von Schirach, in David Tushingham's translation.
Attorney-turned–first-time-playwright von Schirach presents a German court of inquiry in which both sides have stipulated to the facts: Using an air-to-air missile, a fighter pilot has shot down a Lufthansa airliner, which crashes killing 164 aboard, because the terrorist in the cockpit was sending it toward a football stadium and a 70,000-person sellout crowd—a decision explicitly prohibited by German law in the absence of a direct state order. To prepare for our vote, we hear from an Air Force officer, a representative of the passengers' survivors, and the pilot himself. Along the way, counsel offer historical examples and philosophical principles which variously celebrate the rule of law, the demands of individual conscience, and (most provocatively) the idea of preventing a "lesser evil."
I figured that to read the play I ought to try to consciously abandon any gut reaction or preconceived notions I might have, just as actual jurors and an audience would. This was a freeing decision. The play's arguments haunt me and, I suspect, will continue to do so. And since its issues may become frighteningly real any time soon, I recommend having the experience now. The Faber & Faber edition includes von Schirach's speech on living in a civilized society, delivered on the occasion of an award to Charlie Hebdo.
—B.V.
April 13, 2018
The Jail Diary of Albie Sachs
David Edgar
Through the true story of a young Jewish law student with dubious acquaintances—dubious by South African lights, anyway—David Edgar's
The Jail Diary of Albie Sachs
exposes that nation's erstwhile, odious (and little known here) 90-Day Act of 1964. Astoundingly, it permitted the government to indefinitely detail anyone for 90 days at a time, over and over again without trial; it further specified that (get this), after completing their sentence, political prisoners could be held in continuous detention anyway. Sachs's testimony is a classic of prison literature, and Edgar must have felt its horrors needed no heightening, because its treatment is decidedly understated: A great deal of first-person monologue confronts us on a one-on-one level, and young Sachs's encounters in prison are amiable as often as not, even with a fascist guard. (Those conversations convey the essential gentility of Sachs, who still lives and works in South Africa—he's worth reading up on.) While I was surprised that Edgar didn't rattle the bars, the reading experience was nevertheless chilling. I would think it impossible to leave this play less than outraged that such travesties of justice could have taken place, or without wondering whether it could happen here.
—B.V.
April 10, 2018
The Body of an American
Dan O'Brien
I think one would have to be made of stone not to be moved by Dan O'Brien's
The Body of an American
. (And I imagine that seeing it performed, with the right cast and director catching the difficult balance of drama and humor, could wipe one out totally.) O'Brien contrived it out of his unique relationship with Paul Watson, the war photographer who won a 1993 Pulitzer for that awful, memorable photo of Sgt. William David Cleveland's stripped corpse, trussed up and jeered at by Mogadishu crowds. Watson claims that from the moment of the click he heard and has been haunted by Cleveland whispering, "If you do this, I will own you….You watched my desecration, now here comes yours." But O'Brien—a playwright with his own personal and historical ghosts—was in turn haunted by Watson's memoir
Where War Lives
, and a long e-mail correspondence ensued in which the two men opened up to each other in ways intimate lovers often fail to. Their journey, ending with a face-to-face in the icy North, is candidly enacted by a cast of two who—and this is the amazing thing—share the roles of Dan and Paul and everyone else involved. It's an exciting notion, to have the actors simply alternate lines and roles, reflecting Dan's eventual realization of the extraordinary bond between them: "This is you speaking, though it might as well be me…. I felt like I knew you. Or I was you in some alternate reality." By extension, the play speaks to the connective tissue among us all.
—B.V.
April 7, 2018
Daytona
Oliver Cotton
Oliver Cotton's
Daytona
offers three meaty roles for senior citizens. Maybe too meaty; some of its speeches seem to go on and on unnecessarily in a melodrama that none too seamlessly weaves together family tensions and the legacy of the Holocaust. Joe and Elli, residents of Brooklyn in 1986, suddenly discover on their doorstep his brother and onetime business partner Billy, who in the 30 years since his disappearance has gained a new family and (non-Jewish) identity in the Midwest. As it happens, the three are all survivors of the camps, with shared histories that come to the fore when Billy announces that, just days ago on a Florida vacation, he spotted and murdered the most vicious Nazi tormentor of their imprisonment. A national manhunt is on; what should Joe and Elli do? And how should an eminently deserved act of vengeance resonate, decades after the fact? The hugely consequential theme of wartime retribution is always of interest, though to me it feels diminished here in the context of the personal triangle.
—B.V.
April 4, 2018
Children of Eden
John Caird
It's never played Broadway—never came closer than Paper Mill Playhouse—but
Children of Eden
has been one of the world's best known and most popular musical properties since it opened (and flopped) for the RSC in 1991, but quickly found favor with school and church groups drawn to its Story Theatre staging and Stephen Schwartz's propulsive pop score (less pastichey than
Godspell
, more folk/world-music than
Wicked
). Adding to its appeal is an ingenious focus on fundamental human questions, with John Caird's libretto interpreting the first nine Books of Genesis as the conflict between two irresistible impulses: to remain modest, unquestioning, innocent (and content), vs. to question, set out on adventures, explore and learn (risking misery). In act one, first Eve and then Cain are filled with "The Spark of Creation, as one of Schwartz's most exciting songs puts it, while Adam and Abel prefer merely to make their garden grow; Caird conjures up even more excitement than the original source material as Adam and Cain struggle desperately and Abel tragically intervenes. Act two passes the staff of life many generations forward from Adam to Noah, who cannot persuade God that His wretched children are worth saving. (The character of The Father makes the same appearances as in the Bible, and maintains the same stubborn silences too.) There's a glorious sequence as the animals arrive on the ark—right up there with "March of the Siamese Children," sez I—and it's hard for me not to think of the title song as the single most beautiful Schwartz composition ever. Serious but never solemn, joyous with no trace of camp,
Children of Eden
will endure.
—B.V.
April 1, 2018
The Robe
Lloyd C. Douglas
Many theater folk have probably never heard of The Dramatic Publishing Co. of Chicago, yet in their 128th year they remain a principal supplier of plays for everyday people—that is, high schools and community theaters. When I was a kid I knew them for their stage versions of popular movies like
Cheaper by the Dozen, One Foot in Heaven
, and
The Robe
; in latter years
Ordinary People
was big for them, and up till now with Aaron Sorkin's version pending, it's been Christopher Sergel's
To Kill a Mockingbird
that's ruled the stage. The adaptations are workmanlike rather than inspired, unchallenging scenically but unquestionably sincere; in
The Robe
, for instance, the characters in Lloyd C. Douglas's Biblical yarn dutifully troop in, execute their purpose to the plot and then troop out again. Yet the essential conflict between old doubt and new faith is portrayed with clarity and even moments of eloquence. I daresay many would find the output of The Dramatic Publishing Co. quaint (hell, even the company's name is quaint). But for thousands just starting out in their theatrical journey as artists or audience members, it's not
Hamilton
or
The Crucible
that marks their liftoff point but, most likely, a creaky bit of construction out of Chicago.
—B.V.
March 29, 2018
The Spoils
Jesse Eisenberg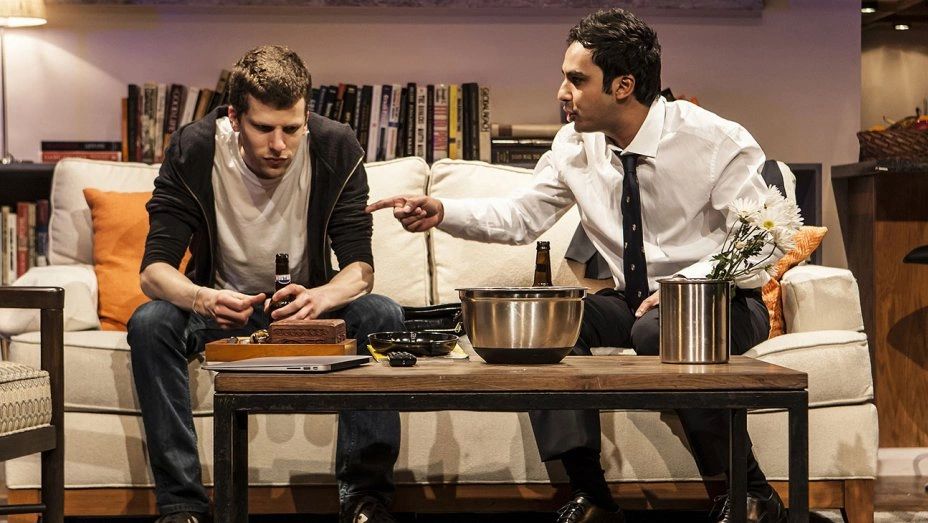 Photo by Monique Carboni

Someone must have approached Jesse Eisenberg and said, "See here, Jesse Eisenberg, you know those passive-aggressive, narcissistic but secretly insecure assholes you're always portraying? I'll bet you can't pen the ultimate version of that particular character type." And Jesse Eisenberg must have replied, "Why, I'll take that bet," and (possibly with a passing look at Mark Medoff's
The Wager
) came up with
The Spoils
, the portrait of a pathetic, lying Gen-X'er so toxic in his dealings with two male friends and the women who love them as to bring about appalling emotional chaos. I don't know how many miserable, deluded, unregenerate shits like the character of Ben there are out there, but I can only hope their number is small and shrinking.
—B.V.
March 26, 2018
Speed-the-Plow
David Mamet
Courtesy Geffen Playhouse
In
Speed-the-Plow
, David Mamet demonstrates what seems to me a pluperfect command of the values, behavior, and patois of Hollywood, which is to say of human industry in general. (Film is far from the only biz that takes as its mission to "make the thing everyone made last year. Make that image people want to see.") Few plays more fully understand how difficult it is to attain power and, once it's attained, how impossible it is to wield power in a way that remains true to our best instincts. When I first experienced it—can it really be 30 years ago? Yes it by God can—the laughs and frissons were frustratingly, periodically interrupted by the lumpen presence and flat line readings of the pop star cast in the female role. Now, after a few more productions and some time away from the text, I return convinced that it's a minor masterpiece. At the time of the Geffen Playhouse's 2007 take I noted, "In the inevitable showdown between God and Mammon for Everyman's soul, the audience holds its breath as if the fate of nations were at stake. This is first rate, scintillating stuff." I'll stand by that judgment.
—B.V.
March 23, 2018
The Cake
Bekah Brunstetter
Given the premise of
The Cake
—a religious-minded baker refuses to cater a gay wedding—you might expect it simply to fictionalize a few details from the Masterpiece Cakeshop case the way
Law & Order
does, and proceed as if ripped from the headlines. But if I may mix cooking metaphors, Bekah Brunstetter has different fish to fry. She's more interested in family than about litigation, less in accepting others' differences than in accepting oneself. Jen, a North Carolina gal in from the big city, is new to this lesbian thing and her upbringing still nags at her. Della, Jen's late mother's best friend and a virtual godmother, knows her Bible, but she also knows that something of the physical is significantly missing from her marriage. Each finds herself pitted against the love of her life, and forced to wonder about choices past and future in a play replete with bold theatrical devices smacked up against—and complementary to—strong naturalistic conversation. I first encountered Brunstetter—who's working on
This Is Us
but thank God keeps returning to the stage—through SoCal productions of
Be a Good Little Widow
and
Going to a Place Where You Already Are
; she is the real deal, and
The Cake
I'm sure will seal that deal with audiences all over the country going forward.
—B.V.
March 20, 2018
Three Hand Reel
Frank O'Connor stories adapted by Paul Avila Mayer
St Patrick's Day is an opportunity for us non-Hibernians to think about Ireland, and the three Frank O'Connor stories effectively adapted by Paul Avila Mayer into
Three Hand Reel
was my wearin' o' the green. Two one-time seminarian pals in love with the same woman, one now a priest, the other her husband...a tram inspector and a prostitute trapped together in a trolley car in the midst of Easter 1916...a tetched seacoast lad driven mad with desire for a schoolteacher indifferent to him while his ma looks on helplessly: three compelling narratives engaging the passion, religiosity, and patriotism of that land, told with an absolute minimum of blarney.
—B.V.
March 17, 2018
The Glass Mendacity
Maureen Morley and Tom Willmorth, with story credit shared with Doug Armstrong and Keith Cooper
Welcome to the world of
The Glass Mendacity
. "I have no tricks in my pocket," muses Mitch O'Connor as he smokes a cigarette on a fire escape, "or things up my sleeve, or wires running down my pant legs and back behind the flats where an accomplice is rigging smoke bombs." He promises to give us truth in the pleasant disguise of illusion, and "already tonight you've seen $27.50 disappear before your eyes, so I hope you like illusion." He takes us back to Belle Reve, the Dubois clan ancestral mansion, for a family battle royale over who will inherit when Big Daddy succumbs to his (cough, cough) spastic colon. Maybe crazy daughter Blanche, who thinks she slept with Napoleon and keeps quoting Hamlet to the annoyance of brutish husband Stanley. Or shy daughter Laura, who doesn't realize her glass collection is actually ice cubes, and who saw her high school hero play
Pirates of Penzance
all three times because the brace on her leg got stuck to the auditorium seat. It would suit sultry Maggie the Cat if her husband Brick won the prize, but isn't that drunken first-born actually a mannequin? Satire is best when it affectionately respects its target while taking advantage of every chance to poke holes in pretentiousness and coincidence, and that's what this Illegitimate Players (Chicago, Ill.) spoof does beautifully. I think a company could enjoy a windfall if it played this in rep with any of the three Williams classics mashed-up here, the only danger being that it might be impossible to approach the originals with a straight face thereafter. Giving the clever devils their due, it was penned by Maureen Morley and Tom Willmorth, with story credit shared with Doug Armstrong and Keith Cooper.
—B.V.
March 14, 2018
A Delicate Ship
Anna Ziegler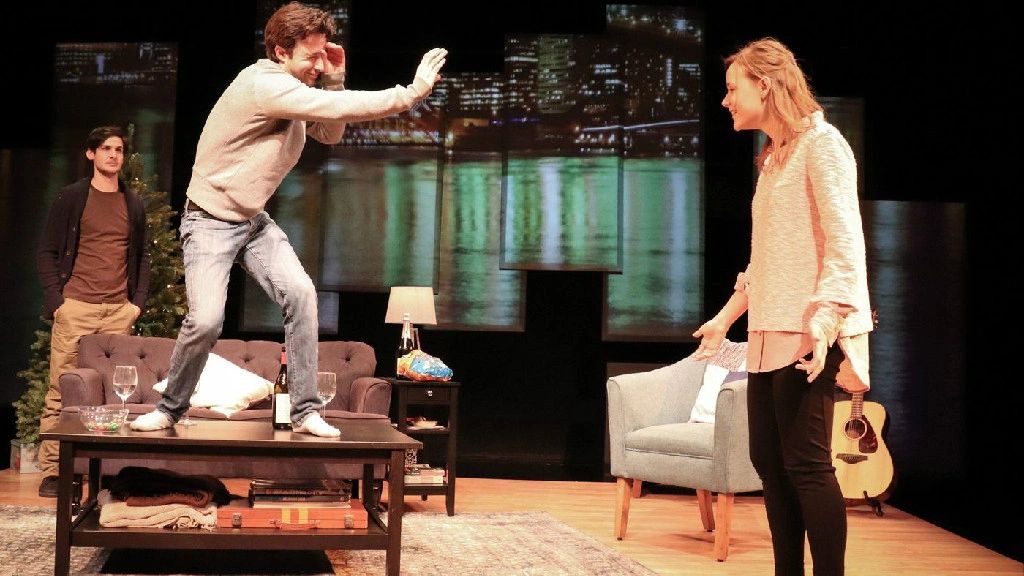 at the Road on Magnolia
Photo by Brian M. Cole

The Road Theatre Company in North Hollywood apparently has only five more performances of
A Delicate Ship
, and on the strength of the text (and the company, which I know well) I would urge my LA friends not to miss this one. Anna Ziegler impresses me more with each play I read—they're all so different, yet they share a distinctive poetic sensibility, and the capacity to locate equal portions of drama in the quotidian and the extraordinary.
A Delicate Ship
provides plenty of both in its dissection of an unexpected Christmas Eve spent among the three legs of a highly fraught romantic triangle, all thirtysomethings variously paralyzed by their past and present. And I do mean dissection, because beyond the surface good humor, some boozy reminiscence, a party game, and a moment of violence (all par for the course when two men are battling for the same woman), Ziegler also tears apart each character through direct address, poetic reverie, soliloquy, and a flash-forward. This strikes me as one of the most Cubist naturalistic plays I've ever encountered, and it stirred me the same way the great Cubist masterpieces do when their deconstruction of everyday reality suddenly hits me with what I've been missing.
—B.V.
March 13, 2018
Compulsion or The House Behind
Rinne Groff
The little-remembered 1950s controversy over Anne Frank's diary, its rights and meaning, inspires Rinne Groff's
Compulsion or the House Behind
. The word "Compulsion" refers to a well-known novel, film, and play retelling the Leopold and Loeb murders, for which bestselling author Meyer Levin changed all the names but fictionalized little else. Groff follows suit in creating bestselling author "Sid Silver" (amusingly, Levin's name for the Chicago reporter based on himself, investigating "Artie" and "Judd" on their crime spree). Silver/Levin discovers the diary in a limited printing, obtains a vague offer of rights from patriarch Otto Frank, and not only muscles it into publication but writes a NY Times rave establishing an instant classic. But Broadway producers reject and suppress Levin's stage adaptation of what has become less holy testimony than hot property, in favor of the now world-renowned version by a non-Jewish, Hollywood writing couple. Obsession, fueled by the conviction that the Franks' Semitic authenticity has been insidiously soft-pedaled, turns into mania and finally raving paranoia directed at Doubleday, producer Herman Shumlin, Lillian Hellman (who allegedly urged the play's Gentile-ification), and—in surely one of the worst PR ploys of all time—survivor Otto himself. Silver/Levin's personal crises are presented vividly while still bringing out the fundamental questions of ownership and moral responsibility. And it's partly told with marionettes. Neither hero nor villain, victim nor oppressor, Meyer Levin is a fascinating study in ambiguity at which Groff succeeds handsomely.
—B.V.
March 10, 2018
Working for the Mouse
Trevor Allen
I really hoped to enjoy Working for the Mouse, a first-person narrative of summers in service to Disneyland, mostly as Pluto. There are plenty of anecdotes of in-park and backstage happenings, but they don't add up to a shaped narrative because Trevor Allen's monologue fails to establish a personal journey or quest to run in parallel with the job stories: The character never changes or learns anything. For that matter, there's no real point of view on Disneyland and what it means to Trevor, just the peculiar notion of a straight man inexplicably dying to play Peter Pan and hang out with weirdos. As a one-actor tour de force, this strikes me as a far cry from
Buyer and Cellar
,
The Santaland Diarie
s, and
Fully Committed
, in each of which the main task is character revelation rather than straightforward reportage.
—B.V.
March 7, 2018
Completely Hollywood (Abridged)
Reed Martin and Austin Tichenor, additional material by Dominic Conti
While my back was turned, looks like the creators of
The Complete Works of William Shakespeare (abridged)
, which I remember as a jolly gloss on themes and characters in the canon, have created a cottage industry satirizing, to date, the Great Books, the Bible, American history, Dickens, and the entirety of Western Civ. On the evidence of Completely Hollywood (Abridged), further encounters with their output won't be in my future. They present a theatrical Cuisinart of what they deem Hollywood's 186 Greatest Films—
The Wolfman
is included,
Citizen Kane
is not,
Gandhi
is misspelled—that encompasses the sheer quotation of famous quotes ("Run, Forrest, run!"); tortured puns ("I coulda had class, I coulda been a Pretender"); and a thin storyline in which the three performers have each written a screenplay they want to peddle. I suppose there are opportunities for audience participation, as in this encounter with Oz's Scarecrow: "Pardon me, but that way's a very nice way. Or you could go that way. Of course, in Hollywood, ________________." But it's mostly Close Encounters of the Tired Kind, as when a chief meets a Kevin Costner type looking for the Fakawi tribe. "We're the Fakawi." "I have no idea." I had hoped to kick off Oscar night with mirth, but neither this script nor Kimmel's jokes amused me as much as The Onion, which headlined: Academy Honors Retiring Daniel Day-Lewis With Small Farewell Happy Hour In Dolby Theatre Kitchen. With a photo of DDL holding a red plastic cup and chatting with co-workers, two pizzas open on the counter.
—B.V.
March 4, 2018
Network
Lee Hall (based on Paddy Chayefsky)
Bryan Cranston
Courtesy National Theater

Network
is one screenplay-to-straight-play transposition that isn't just acceptable, it's practically necessary. Why? Because the thrust of Paddy Chayefsky's prescient argument about the impact of the media is more relevant, in the era of Internet, polar politics and mass anger, than ever; yet aspects of the 1976 film remain stubbornly stuck in that bygone era. So Lee Hall has jettisoned the far-fetched Sybil the Soothsayer, as well as the twitting of terrorists as radical-chic media whores (we see terrorism in a very different light today). At the same time, he's gone back to Chayefsky's drafts and notes, and made the commentary even more robust and timely than before. A smash at the National Theatre last fall,
Network
, its killer Ivo van Hove staging, and its inspired Howard Beale, Bryan Cranston, are sure to hit the States quite soon. Or at least, I'll be mad as hell if they don't.
—B.V.
March 1, 2018
But for Whom Charlie
S.N. Behrman
But for Whom Charlie
is set among the principals of and applicants to the Seymour Rosenthal Foundation, a literati-support concern established to expiate the sins of the father, a scuzzy movie tycoon. Theme—the conflict between authenticity and artifice in one's public and private lives—and witty dialogue are far more important to the venerable author of now-forgotten hit boulevard comedies than story. And alas, the meandery narrative works against the play's freshness date 50+ years on, even though that theme is ever-timely and permeates the work from first to last. Titular Charlie, for instance, the Rosenthal heir's college buddy, is the foundation administrator whose geniality covers up a viper's heart. The main antagonist is a wicked stepmother with enough surface charm to pull off multiple random seductions. And the most engaging character is an elderly roué who, riding on the rep of his sole long-ago distinguished novel, specializes in bilking foundations for a living. Interest in people's disguised selves is even woven into the best passages, like this provocative attack on psychoanalysis by the old phony: "They're always rooting, these psychiatrists, for antecedent causes for evil conduct. I don't think there was any antecedent cause for Iago. He was just naturally mean. This search for motives behind bad actions seems to me silly. It is based on the assumption that people are naturally good. It is an untested assumption. The history of the inhuman race contradicts it. Maybe people are just naturally bad. It is virtue that should be explained. That's where the hidden motive should be sought." I think those ideas are awesome, but dramatic that speech ain't, and to my ear it's stilted spoken aloud. Written for the brand new Repertory Theater of Lincoln Center, "Charlie" barely eked out its 47 subscription performances, a cup of weak tea just when our drama was poised to start serving up the hard stuff.
—B.V.
February 26, 2018
A Raisin in the Sun
Lorraine Hansberry
Claudia McNeil and Sidney Poitier in the 1961 film
Courtesy Columbia Pictures

If you're anything like me, an encounter with last month's exceptional PBS American Masters portrait of Lorraine Hansberry (well worth hunting down) will prompt an eager revisit to
A Raisin in the Sun
. After almost 60 years of film and TV productions and stage revivals, not to mention a torrent of tumultuous events pertaining to race, it really does retain extraordinary surprises and power. I'm struck by the skillful, even elegant way Ms. H. manages, in the course of a narrative about one specific Chicago family's coping with a financial windfall, to weave in so many different aspects of the African American experience: the hierarchy of classes; affinity or antipathy to one's roots; generational conflicts; another race's animus; and the slipperiness of the much-vaunted American Dream. But when you stop to think about it, doesn't that list of thematic elements actually apply to every American's narrative, whatever their ethnic or racial background? It reassures me yet again that the universal is best reached through an appeal to the particular. Back in the 1940s, much was made of the transposition of Philip Yordan's
Anna Lucasta
, about a lower-class family's reaction to a daughter's prostitution, from Polish characters onstage to Black characters on film, with no loss of relevance. In no way would I advocate for an alternative-race
Raisin
, but it's a marvelous thing, that such a meaningful clarion call for African Americans can at the same time speak directly to everyone, Black or white.
—B.V.
February 23, 2018