China Doll
Gerald Schoenfeld Theatre
Reviewed by David Sheward
"I'm too old for the game," moans Al Pacino as Mickey Ross, the billionaire wheeler-dealer at the center of David Mamet's
China Doll
. Pacino could be speaking for himself and the playwright as well as the character. This latest work from the one-time master of the blistering, testosterone-fueled style of American drama is flabby (meandering monologues) and undeveloped (sketchy storyline). The actor is delivering a faint suggestion of the brash Pacino schtick. It's like watching an early rehearsal of a first draft. One can only feel pity for director Pam MacKinnon who has previously shot new life into Albee's
Who's Afraid of Virginia Woolf?
and
A Delicate Balance
. Her imprint is barely discernible as the pacing is slow and the plot confused.
The title is confusing as well. The china doll could mean Mickey's girlfriend Frankie whom he frequently refers to as needing his protection. She, along with almost everyone connected with Mickey, is offstage at the other end of a Bluetooth connection. For most of the play, Pacino delivers one-sided conversations except for brief dialogues with Ross's bland assistant Carson (Christopher Denham does the best he can with this shadowy role.)
From what we can piece together, the about-to-retire Ross has purchased a new airplane and had it flown to Canada, with the British Frankie as sole passenger, in order to avoid American sales tax. But the pilot had to touch down in the US before moving on to Toronto, and Mickey is now on the hook for $5 million. The whole frame-up is engineered by New York's young governor—perhaps modeled on Andrew Cuomo—whom Mickey blasts as a rich hypocrite. This predicament gives Mamet the cue to have Ross launch several rambling speeches about the corruption of public officials and how being ruthless in business and politics is the sole path to wealth. (Spoiler alert: Apparently Mickey gets his comeuppance, but it's ambiguous.)
What is Mamet saying here? That all politicians are liars, all voters are fools, and the only way to get ahead is to lie, cheat, and steal? And that we should admire those cutthroats and pirates who have the honesty to recognize this and rob the rest of us blind? That's a perfectly valid, if extremely cynical viewpoint, but Mamet fails to make it compelling, as he has in earlier works. To compound the script's flaws, Pacino appears to be struggling with his lines at the performance attended (to be fair, it's a gigantic undertaking). He spends too much of the show sprawled on the attractive sofa in Derek McLane's cavernous penthouse setting, only occasionally rousing himself to the old Pacino intensity. Mickey may be exhausted, but the star shouldn't be.
After the curtain fell and the obligatory standing ovation was delivered, I felt a bit like Pacino and Mamet were laughing at us. Like Mickey and the slick salesmen of Mamet's
Glengarry Glen Ross
, they've taken advantage of the public's gullibility and charged top dollar for shoddy goods.
December 13, 2015
Dada Woof Papa Hot
Lincoln Center Theater at the Mitzi Newhouse Theatre
Steve
The New Group at the Pershing Square Signature Center
Reviewed by David Sheward
Now that same-sex marriage is the law of the land and many gay men are leading "heteronormative" lives complete with children and mortgages, how will they adjust to the excruciating rigors of monogamy, parenthood, and not constantly going to bars? That's the vital questions two new Off-Broadway plays are daringly asking (sarcasm intended.) Side note: There is a lesbian character in one of the plays, but she plays a supporting part and is not essential to the action.
Coincidentally Peter Parnell's
Dada Woof Papa Hot
from Lincoln Center Theatre and Mark Gerrard's
Steve
from The New Group opened within a few days of each other. Both shallowly portray a group of upper-middle-class gay friends, many of whom are unable to cope with long-term commitment and indulge in meaningless affairs. The acting, direction, and design are professional and precise in both cases, but the scripts wear thin long before their respective 90-minute running times click off.
Dada
focuses on parenthood and is a tad deeper than the jokier
Steve
, which overdoses on musical theater references and gimmicky supertitles. Both have moments of humor and pathos but are ultimately disappointing.
In
Dada
, Alan and Rob's marriage seems perfect on the surface. They have a lovely apartment (John Lee Beatty created the gorgeous sliding sets), a sweet prekindergarten-age daughter named Nikki, and apparently successful careers as writer and therapist. But Alan is frustrated by a shortage of journalistic work and Nikki's preference for Rob, her biological father. So he launches an affair with Jason, a much younger married gay dad with fidelity issues of his own.
The two daddies in
Steve
, Steven and Stephen—cute that they have almost the same name, huh?—face similar conflicts. Stephen compulsively trades sexually explicit texts with one of the couple's best friends Brian, and Steven retaliates by sleeping with an attractive waiter named Esteban. Meanwhile, Brian and his partner Matt are having a live-in threesome with their trainer, also named Steven. Do you sense a pattern here? The nearly identical names bit is stretched too much like many of Gerrard's other gags such as the endless quoting of show lyrics. Also in the mix is Carrie, the token lesbian of the group who is afflicted with cancer and may get a movie deal out of her blog. Steven, Matt, and Carrie met as singing wait staff in a Broadway restaurant and have abandoned their attempts at musical-comedy careers. The theme of crushed dreams and mourning for lost youth is an intriguing one, but Gerrard fails to develop it.
The playwrights have the worthy concept of showing that gay people can be just as screwed up as their straight counterparts when faced with the challenge of building a socially sanctioned life with one partner, but the protagonists of
Dada
and
Steve
are defined by their sexual impulses, and their psychological motivations are not sufficiently explored to get us to care about them. In
Dada
, Alan comes across as a whiny narcissist, and in
Steve
we get sketchy show fans. A good therapist would work wonders with these people. Since they can afford nannies, weekends on Fire Island, private schools, and fabulous NYC apartments, you'd think they would try one.
Despite the thinness of the material, directors Scott Ellis (
Dada
) and Cynthia Nixon (
Steve
) deliver polished, sparkling stagings, and the casts gamely try to infuse their roles with the subtext the authors fail to provide. In
Dada
, John Benjamin Hickey almost makes the kvetchy Alan bearable, and Tammy Blanchard illuminates her cameo part of a pushy actor with an attractive energy. The
Steve
crowd has more opportunity for fun including a preshow sing-along at a standup piano. As the main couple, Matt McGrath and Malcolm Gets search in vain for the lovers beneath the quips and the song lyrics. Ashlie Atkinson is more successful in defining the caustic Carrie, and the hilarious Mario Cantone at least gets to cut up as Matt.
November 30, 2015
King Charles III
Music Box Theatre
Sylvia
Cort Theatre
On Your Feet! The Story of Emilio and Gloria Estefan
Marquis Theatre
Reviewed by David Sheward
Three recent openings offer examples of the most prevalent types of Broadway shows: the British snob hit (
King Charles III
), the star-vehicle revival (
Sylvia
), and the jukebox musical, Lifetime-TV biopic subdivision (
On Your Feet! The Story of Emilio and Gloria Estefan
). The first is perfection. The latter two have their share of flaws endemic to their genre but still contain pleasures of a kind.
King Charles III
arrives from London on a wave of adulation including the Olivier Award, and it's all deserved. This is an ingenious political satire, acted and staged with just the right combination of passion and humor. Employing Shakespearean verse and referencing several of the Bard's royal dramas, playwright Mike Bartlett imagines a near future when Queen Elizabeth II has died and her son, patient Prince Charles (the brilliant Tim Pigott-Smith) will finally ascend the throne. But a constitutional crisis arises when Charles refuses to sign Parliament's bill curtailing freedom of the press. Machiavellian plots unfold as Prince William (a dashing Oliver Chris) and a Lady Macbeth–like Kate Middleton (the multidimensional Lydia Wilson) scheme to surpass the new king before his coronation. William's brother, a fun-loving Prince Harry (a strong Richard Goulding) provides another wrinkle. Tired of endless public scrutiny, he begs his dad to allow him to renounce his title and join his girlfriend Jess (flinty Tafline Steen), a radical art student, as a private citizen. Both plot threads examine the perilous role of the monarchy in the 21st century. Bartlett asks hard questions such as: Is England still England without a crowned head, however ceremonial, atop its government?
I was pleasantly surprised at Bartlett's clever and deft script, since I was less than enchanted by the last play of his I saw, the simplistic and condescending
Cock
, presented Off-Broadway in 2012.
King Charles
is light years away from that bisexual triangle comedy, where gay relationships were reduced to purely sexual connections. Government, media, history, and national identity are considered here in complex and fascinating detail. Rupert Goold's sleek production and the gradually deepening performances draw us in. At first these royals seem like caricatures and are greeted with audience laughter, but as the stakes grow higher, they take on the Shakespearean qualities of ambition and tragedy their dialogue suggests. Pigott-Smith is shattering as the Richard II–ish Charles, initially a buffoon but increasing in dignity as he battles for his convictions against the forces of convenience.
From sharp satire, we move to comfy comedy.
Sylvia
is a pleasant enough little number from the prolific pen of A.R. Gurney, the chronicler of the American WASP in such keenly observed works as
The Cocktail Hour, Love Letters
and
The Dining Room
. Originally presented Off-Broadway in 1995, Sylvia concerns Greg, a disaffected money-market salesman whose midlife crisis manifests itself in a borderline obsessive affection for the titular stray mutt he finds in Central Park. The gimmick is the pooch is played by an actor, and she communicates with the other characters in intelligent speech. (Barks are replaced with Hey-Hey-Hey.) Gurney affectionately depicts Greg's malaise and the anchor he finds in the Sylvia's unconditional love, much to the dismay of his practical and jealous wife, Kate.
This revival has its share of chuckles and pathos, but the four-person ensemble is wildly off-balance in a rare disjointed staging by the usually proficient Daniel Sullivan. The nominal star is Matthew Broderick, whose wife, Sarah Jessica Parker, played Sylvia in the original production. The once-charming Ferris Bueller and adorably nebbishy Leo Bloom of
The Producers
is now in a middle-age funk not unlike Greg's. In his last few Broadway outings such as
It's Only a Play
and the musical
Nice Work If You Can Get It
, Broderick has been stiff and dull, bordering on zombie status. He does show signs of life here, but a regular pulse is hardly enough to sustain a leading role. As if to compensate, Robert Sella overplays his three supporting parts—including a boorish fellow dog-lover Greg meets in the park, an alcoholic female friend of Kate's, and a transgender marriage counselor (this last one borders on the offensive).
The real star power is wielded by the two women of the cast: Tony winners Annaleigh Ashford as the canine female lead and Julie White as the put-upon spouse. The delightful Ashford has the showier role, flinging herself around David Rockwell's cartoonish set with abandon, but both are brilliant. White captures Kate's comic frustration with Sylvia's slobbering, pooping, and stealing her husband's affection without going overboard as Sella does. Because of the two actors' dynamism, the focus shifts to the interspecies rivalry between Sylvia and Kate, and away from Greg's male menopausal struggle. The most striking moment of the show comes at the end when Greg and Kate address the audience directly about their final days with Sylvia. White laughs to hide Kate's reluctant but real love for the dog, and then she pushes back tears. It's a beautiful ending. But Broderick's Greg barely registers.
On Your Feet! The Story of Emilio and Gloria Estefan
registers on the Richter scale, but not on the believability curve. This latest jukebox-bio musical is given a dance floor–worthy staging by director Jerry Mitchell and choreographer Sergio Trujillo, but Alexander Dinelaris's book is strictly by the numbers. There is one genuinely funny line about Swedish fans at an Estefan concert being so white they look like Q-tips, and only the Act 1 finale displays any originality. In order to get their potential crossover hit "Conga" played on mainstreams stations, Gloria and Emilio play it anywhere they can get a booking—including a bar mitzvah, an Italian wedding, and a Shriners' meeting (shades of
Bye Bye Birdie
). The partygoers at these various events joyously clash with audience members in the aisles in a riotous celebration.
Otherwise it's business as usual: the Estefans rising to the top despite personal hardships, then suffering a catastrophic setback, to finally triumph with Gloria belting out an inspirational number at a music award ceremony. All of these events are true, yet they could have been depicted with more wit and imagination. Despite the shortcomings, the rhythm will definitely get you. Ana Villafane becomes a Broadway star in a blazing turn as Gloria, re-creating her vocals but not imitating them. Josh Segarra is a sexy and compelling Emilio, Andrea Burns gives steely support as Gloria's disapproving mother, and Alma Cuervo is an endearing grandmother.
On Your Feet!
will get you on your feet,
Sylvia
will give you a few laughs, but
King Charles III
gives you a truly exciting night of theater.
November 8, 2015
Thérèse Raquin
Roundabout Theatre Company at Studio 54
The Humans
Roundabout Theatre Company at the Laura Pels Theatre
It's the Halloween season and two productions from Roundabout Theatre Company explore scary demons. The big star vehicle,
Thérèse Raquin
, is full of fake emotion, while the Off-Broadway intimate drama
The Humans
is truly terrifying in its portrayal of the bumps and creaks in the night we all hear and fear.
The first act of Helen Edmundson's stage adaptation of Emile Zola's classic 1867 novel,
Thérèse Raquin
, from Roundabout at Studio 54 really had me going. I was totally enraptured by Keira Knightley's nearly silent performance as the titular frustrated heroine, expressing her sexual and spiritual longing through body language and eloquent features. Thérèse is trapped in a passionless marriage to her bourgeois cousin Camille, first in a provincial backwater and then in a confining Paris apartment. Edmundson's conceit is that Thérèse can only react to the stifling conditions of her life and remains silent as the oafish Camille and his control-freak mother order her existence. That is, until Camille's dashing friend Laurent, a would-be painter, enters the picture. (Spoiler alert here if you have not read the novel or seen any of the numerous previous stage versions, including Harry Connick Jr.'s 2001 musical update
Thou Shalt Not
.) The connection between Thérèse and Laurent is electric, and they plot to eliminate Camille. The drowning scene on a real river is really scary; kudos to director Evan Cabnet and set designer Beowulf Boritt.
So far, so good, but in the second act Therese opens her mouth. Knightley and Matt Ryan as Laurent start overacting all over the place, and Cabnet turns a tragic tale of passion into an episode of
Dark Shadows
. The lovers become racked with guilt and imagine Camille's accusing ghost haunting them as Josh Schmidt's twisted sound design and Keith Parham's haunted-house lighting grow more ominous. There are some effective moments, mostly provided by Boritt's impressive set. Thérèse seems to be crushed by her all-black apartment as it descends from the flies, and she appears to soar when she meets Laurent in his attic, suspended above the stage amid a starry backdrop (Parham's lighting achieves the right romantic tone here). Gabriel Ebert's comically clueless Camille, Judith Light's well-meaning Madame Raquin, and Jeff Still, David Patrick Kelly, and Mary Wiseman as a trio of shallow family friends provide welcome depth. But they cannot rescue this scream fest from the spook house.
Thérèse
attempts to evoke genuine fear, but
The Humans
succeeds in doing so. Stephen Karam's new play starts out like a dozen other dysfunctional-family works. The Blake clan reveals harsh secrets on Thanksgiving as the turkey is served and the wine flows. What sets this haunting and heartbreaking drama apart is the subtle depiction of the nightmares that invade and twist the lives of everyday people. The six characters' fears for the future take various frighteningly familiar forms. Dad Erik obsesses over terrorist attacks and floods. Mother Deirdre forwards emails of dire scientific studies to her daughters: Aimee, a lawyer struggling with losing her lesbian lover, her job and her health, and Brigid, a young composer facing a dead-end career. The senile grandmother Fiona ("Momo") is lost to dementia, and Richard, Brigid's much older boyfriend, has recovered from depression but still has bizarre dreams. Still, those dreams are much less frightening than Erik's, which involve a faceless woman and a forbidding tunnel.
During 90 intermissionless minutes, an expert cast, directed with subtlety by Joe Mantello, conveys the petty conflicts and major tragedies of these frightened people, beset by the shifting and uncertain landscape of modern America. Lights switch off, weird sounds emanate from all over Brigid and Richard's spacious but crumbling Chinatown duplex (great set by David Zinn and sound by Fitz Patton), and the lives of the Blakes are gradually revealed as pitiful and desperate. The entire cast is top-rate with veterans Reed Birney and Jayne Houdyshell delivering their customary solid work. But Cassie Beck's Aimee is outstanding in this standout ensemble. Her shattered, scattered cellphone call to an estranged girlfriend is a heartbreaking moment in an intensely real performance.
Just after it opened,
The Humans
announced its transfer to Broadway next year. It will be fascinated to see if it this disturbing, unflinching look at the way we live now succeeds on the Great White Way.
Reviewed by David Sheward
October 30, 2015
Dames at Sea
Helen Hayes Theatre
Ripcord
Manhattan Theatre Club at City Center Stage I

Reviewed by David Sheward

A show doesn't have to be a masterpiece to provide an enjoyable evening of theater. Case in point: Two recent openings may not win a shelf full of Tonys or a Pulitzer Prize, but they kept me entertained for their respective two hours' traffic. Both
Dames at Sea
on Broadway at the Helen Hayes and
Ripcord
from Manhattan Theatre Club at its Off-Broadway berth at City Center employ familiar tropes. In the case of
Dames
, the director and cast execute cinema clichés with infectious charm, and in
Ripcord
playwright David Lindsay-Abaire expands on the familiar mismatched-roommates theme.
Dames
is an affectionate spoof of 1930s movie musicals. It was first presented Off-Off-Broadway at Caffe Cino in 1966 as a one-act with a then-unknown Bernadette Peters. The clever cameo was lengthened, knocked an "Off" from its credentials when it moved to the Theatre de Lys (now the Lucille Lortel) two years later, and made a star out of Peters. The piece is basically an extended sketch like the ones they did on
The Carol Burnett Show
, sending up every plotline in the book—including the unknown kid going on for the star, the gutsy troupe surmounting incredible odds to put on a show, and the innocent ingénue winning the hero from the scheming leading lady. The fizzy songs by composer Jim Wise and lyricists George Haimsohn and Robin Miller offer just as many pastiche references as the book does. Gershwin, Porter, Berlin, Warren, and the team of Desylva, Brown, and Henderson all get the tribute treatment.
It's as light as a soap bubble and just as lasting, sure to burst as soon as you hit the pavement outside the Helen Hayes. But while the hardworking cast keeps the bubble afloat,
Dames
is a delight. Director-choreographer Randy Skinner served as Gower Champion's assistant on
The Carol Burnett Show
and staged the 2001 revival. He supplies the same kind of polished production values and tip-top taps for this miniature from the same template.
The six-member company captures the archetypes with precision and humor. Eloise Kropp's plucky Ruby, Carey Tedder's earnest Dick, Danny Gardner's goofy Lucky, and Mara Davi's wisecracking Joan display amazing dance and comedic skills. John Bolton brilliantly doubles as the slave-driving director and the pompous ship's captain. But all are second bananas to Lesli Margherita's hilarious Mona Kent, the diva to end all divas. Margherita, the brainless ballroom-dancing mother from
Matilda
, can get a laugh just by walking across the stage with a ladder (the gag is Mona is off to fix her misspelled name on the marquee). The performer perfectly captures the narcissistic excesses of this spoiled star, covering up her lower-class roots with a ridiculous upper-crust accent. She opens the show with a boffo "Wall Street" (a knock-off of "We're in the Money"), sends up every torch song ever written in "That Mister Man of Mine," and perfectly pairs with Bolton on a witty satire of Porter's "Begin the Beguine." A dynamite dame in a dazzling
Dames
.
Just as
Dames
sounds like a rerun of
Carol Burnett
, Ripcord has the ring of an old
Golden Girls
segment. Grouchy Abby and good-natured Marilyn share a room in an assisted-living facility. The outgoing Marilyn is as pleased as punch with the arrangement, but ill-tempered Abby wants to be alone. They bet on who can make the other break her respective façade—first with Marilyn vacating or winning the bed by the window as the stakes. It sounds like sitcom fodder. But, as he did with his
Fuddy Meers, Good People, Rabbit Hole
, and
Kimberly Akimbo
, author David Lindsay-Abaire combines comedy with pathos for realistic depiction of life where the line between hilarity and heartache blurs.
Marilyn and her loving family maintain their quirky sense of humor even after we learn dark secrets of their shared lives. Abby is not just a comically nasty crone but also a deeply wounded woman who has come by her forbidding nature thanks to a series of devastating tragedies. Director David Hyde Pierce and the cast, led by a razor-sharp Holland Taylor as Abby and sweet-but-tough Marylouise Burke as Marilyn, tread a fine line between laughter and tears, achieving the perfect balance between the two. Slapstick is cheek by jowl with sorrow, and it works.
October 28, 2015
Otello
Metropolitan Opera at Lincoln Center
Reviewed by David Sheward
Barlett Sher's new production of Verdi's
Otello
for the Metropolitan Opera begins with a bang. Lightning strikes and Luke Halls's vivid video projections depict a violent storm at sea as Otello's ship battles the elements making for Cyprus and his fateful deception with the duplicitous Iago. But this dynamic opening is followed by static staging with the huge chorus standing nearly motionless as Aleksandrs Antonecko in the title role stolidly holds forth. It takes quite a while for the production to regain its momentum, thanks largely to Zeljko Lucic's powerful Iago and Sonya Yoncheva's magnificently sung Desdemona.
Antonenko does create a stirring presence in the later acts as the Moor is caught in the grip of uncertain jealousy. His tenor is largely strongly supported, though there were a few wobbles, but his acting does not match the unwavering intensity of Lucic or the impassioned fluidity of Yoncheva's rich soprano tones. Sher has chosen not to have his lead in dark make-up, thus eliminating Shakespeare's racial dimension and diminishing the character's alienation in an all-white society. (There have fascinating expressions of the play's racial politics such a production starring Patrick Stewart in the title role with all the other characters played by African-Americans.)
Es Devlin's set design also does not add to the tension. A series of transparent structures glides through a 19th-century seaport, supposedly reflecting the inner turmoil of the characters. Apart from one fascinating sequence as Otello eavesdrops on Iago and Cassio (a capable Dmitri Pattas), the see-through set pieces are not utilized to their fullest potential. Fortunately, Donald Holden's awe-inspiring lighting provides subtle commentary as in a climactic Act 3 confrontation between the Moor and the visiting dignitaries of Venice. A dazzling sunset erupts as the full extent of Otello's irrational behavior is revealed—a stunning moment in a vocally arresting but dramatically uneven production.
October 19, 2015
Cloud Nine
Atlantic Theater Company
Barbecue
Public Theater

The Christians
Playwrights Horizons

Reviewed by David Sheward

Theatrical conventions are shattered in three Off-Broadway productions as playwrights explore the hot-button topics of race, gender, and religion. Two are contemporary (Robert O'Hara's
Barbecue
and Lucas Hnath's
The Christians
) and one is more than three decades old (Caryl Churchill's
Cloud Nine
), but the latter is still the boldest and most innovative. Churchill's works have always turned expectations on their heads.
Cloud Nine
was her first transatlantic hit, running Off-Broadway in a Tommy Tune–directed production for more than two years after a London production. The author plays with sexual stereotypes by having women play male parts and vice versa. She further stretches boundaries by having dead people enter the action and 100 years collapse into 25 without any of the characters' batting an eye. She has played other weird tricks in later plays such as
Top Girls, Fen
, and
Serious Money
.
Here her theme is sex—both the activity and the biological differences in the human species. In the first act, a Victorian family represses all kinds of urges in a colonial African outpost. In the second act, the same family is only a quarter century older in modern London, and though the restrictive chains have been lifted, they are still tormented by their carnal drives. Churchill offers no easy answers nor observations, but compassionately charts the messy journeys of her confused Britons.
In James Macdonald's intimate revival for Atlantic Theatre Company, the audience is seated close to the cast on wooden benches in designer Dane Laffrey's in-the-round arena (and Gabriel Berry's costumes define the characters and their attitudes). It's a small, claustrophobic space, and you can feel the heat along with the characters. Seven versatile performers brilliantly play a variety of sexes, races, and persuasions. Brooke Bloom is particularly moving as an effeminate boy and then his own mother discovering the joys of self-pleasure. Izzie Steele, a Carey Mulligan lookalike, sharply conveys the desperate longings of two lesbians of different eras and a fiercely independent widow. Clarke Thorell is delightfully aggressive as a proper, pompous father and then a nasty tomboy of a girl.
Robert O'Hara also defies time and space in his examination of the impact of racism and homophobia in his plays
Insurrection: Holding History
and
Bootycandy
. In his newest work,
Barbecue
, at the Public Theatre, he takes a leaf out of Churchill's book but bends and twists it in his own way. The play is set in a public park (like the second act of
Cloud Nine
) where a lower-middle-class family stages an intervention to get a drug-addicted sister to enter rehab. But is it the family black or white? At first, we don't know for sure because alternate scenes feature both races. By switching from one to the other, O'Hara forces us to confront our prejudices. As the play progresses and additional layers of reality are added, our perspective shifts, and the author makes us consider the distortions imposed by media and pop culture. Kent Gash's direction is wildly funny, as are the performances by a company as boisterous as the
Cloud Nine
crew. Tamberla Perry and Samantha Soule are given the juiciest opportunities as two versions of the junkie sibling, and they run with them. Kudos also to Paul Tazewell's clever costumes, which subtly contrast the two families.
After sex and race, religion used to be the topic you were supposed to avoid in polite conversation. Lucas Hnath tackles this third rail of American discourse in his electrifying and scary
The Christians
. Just after the debts for his megachurch have been paid off, Pastor Bob announces he no longer believes in literal damnation and that God is all-forgiving to non-Christians, nonbelievers, and even Hitler. His congregation, his board of directors, and his wife slowly fall away as Bob continues to preach his personal vision, which runs contrary to the fire-and-brimstone stance of his rival Joshua, a former associate now starting his own ministry.
Hnath delivers a hard-hitting work on the necessity of hell for some people to do good. Like Dr. Stockmann in Ibsen's
An Enemy of the People
, Pastor Bob becomes an outcast for pursuing what he perceives as the best possible course for his community. But he's no unblemished saint. Hnath makes Bob a complex and flawed visionary, and Joshua is no fire-breathing bigot but a sincere advocate for his position. Andrew Garman and Larry Powell give multiple shadings to these two adversaries, and Emily Donahoe is stunningly compelling as a questioning parishioner. Complete with a choir, organ, stained-glass windows, and microphones, the action becomes a full-on Sunday service (the accurate setting is again by Dane Laffrey), staged with insight and power by Les Waters.
Like the previous two plays,
The Christians
covers a difficult theme in an unexpected format, offering new insights and provoking audiences to think differently—the goal of engaged and engaging theater.
October 19, 2015
Fool for Love
Manhattan Theatre Club at the Samuel J. Friedman Theatre
Old Times
Roundabout Theatre Company at the American Airlines Theatre
The Gin Game
John Golden Theatre
Reviewed by David Sheward
The fall Broadway season is in full swing with a trio of star-studded revivals of small-cast plays, each failing their author's intent by varying degrees. Sam Shepard's
Fool for Love
, Harold Pinter's
Old Times
, and D.L. Coburn's
The Gin Game
present dark visions of human connections and the clash of memory and personality. But only this production of Fool for Love approaches the play's full impact, though it falls short.
At
Fool for Love
, as the curtain rises on Dane Laffrey's desolate Mojave Desert motel setting, we know we're in Shepard country—a lonely place where cowboys and good ol' gals bluster to conceal their desperation. Three scruffy characters sit in silence for several seconds, but you can feel the tension. Nina Arianda and Sam Rockwell are May and Eddie, former lovers with a deeper, tragic bond. Gordon Joseph Weiss as The Old Man sits just outside the scene, not really there, but very present in the minds of the other two. May and Eddie have an explosive on-again, off-again relationship, which Eddie wants to renew as May is trying to get on with her life. She's awaiting Martin, a new gentleman caller, but Eddie refuses to leave. Fireworks supposedly ensue when Martin shows up and we learn the true nature of the lovers' link.
Director Daniel Aukin's production for Manhattan Theatre Club, transferred from the Williamstown Theatre Festival, has the right atmosphere of dusty anguish, abetted by Laffrey's sleazy setting, Justin Townsend's stark lighting, and Ryan Rumery's haunting sound design. But, despite solid performances, Arianda and Rockwell fail to generate the necessary lava-like temperatures to fully melt the audience's butter. Weiss is an arresting figure as the spectral Old Man, and Tom Pelphrey is perfect as the confused Martin, an ordinary guy who's wandered into an emotional minefield.
While
Fool
wants to be volcanic, Douglas Hodge's distractingly showy production of Pinter's
Old Times
for the Roundabout Theatre Company is frozen, literally. Christine Jones's bizarre set is dominated by a slab of ice that serves as a perfect metaphor for this chilly staging. Pinter's 1971 triangular drama concerns the slipperiness of recollection. Married Deeley and Kate entertain Anna, Kate's friend and roommate from their early days in London. As the weird evening progress, bits of the past slip out, and a hazy, uncertain puzzle emerges. We don't know what's true and what isn't. Did Deeley know Anna in the past? Is Anna dead? Did Anna steal Kate's underwear and were they more than just flatmates?
Hodge directs a leering Clive Owen, an overacting Eve Best, and an arch Kate Reilly to play the rivalries and power struggles right on the surface rather than burying them in subtext as in most Pinter productions. In addition to that hunk of ice, Jones's set features rock formations, a revolving living room, and an enormous backdrop of concentric circles, all of which remove us from the central action. The outsized environment seems more appropriate for a Wagnerian opera directed by Robert Wilson. Strobe lights and an intrusive rock underscore by Radiohead front man Thom Yorke further push us away from Pinter's subtle conundrum of a play.
The Gin Game
also disappoints. D.L. Coburn's Pulitzer Prize winner for 1978 returns to Broadway with two highly touted stars: James Earl Jones and Cicely Tyson. The casting might lead you to expect a powerhouse confrontation, but Leonard Foglia's staging offers a sitcom. Jones and Tyson are Weller and Fonsia, a pair of abandoned senior citizens playing gin in a depressing elder residence (wonderfully detailed set by Riccardo Hernandez). They attempt to become friends, but Fonsia's endless winning streak sets off Weller's explosive temper. The game is a metaphor for the mismatched couple's extended relationships with their now-absent families—Weller cannot deal with unexpected losses, while Fonsia cannot resist judging and controlling. It's no surprise these unpleasant people have no visitors. But Tyson plays Fonsia as a sweet old lady, only slightly showing her mean streak. Jones does not succumb to such tricks and makes Weller a sharp-witted but difficult codger whose inner grouch pops out at the slightest provocation.
As a result, Jones's Weller comes across a bully menacing Tyson's coquettish Fonsia, and we get an episode of
The Golden Girls
, complete with old-age jokes, rather than a slyly observed comedy of two lonely individuals unable to escape their self-imposed isolation. There are plenty of laughs, but
The Gin Game
, like the other recent openings, deserved to be dealt a better hand.
October 14, 2015
Spring Awakening
Brooks Atkinson Theatre
Daddy Long Legs
Davenport Theatre

Reviewed by David Sheward
Though the memory of
Spring Awakening
is still green—the original Broadway run of the electric rock musical ended only six years ago—Michael Arden's jagged and heartfelt rendition for Deaf West Theatre, transferred to Broadway after a Los Angeles engagement, makes it feel like a totally different, brand-new show. The juxtaposition of the story's 1891 setting and the intense, heart-pumping, contemporary score by Duncan Sheik and Steven Sater remains fresh, but the added element of a combined deaf and hearing cast gives
Spring
an extra jolt. Sater's book, derived from Frank Wedekind's original play, focuses on a group of German teens discovering sexual urges that the staid adult society pushes them to either ignore or repress—with tragic results.
Arden explains in a program note that 11 years before the publication of Wedekind's explosive play, the deaf community was dealt a serious blow at an education conference in Milan. The attendees passed a resolution advocating lip reading and attempting speech over sign language, forcing deaf students to imitate their hearing peers rather than developing communication skills of their own. The production has the oppressive adults not listening to the youngsters both figuratively and literally.
This conflict is most sharply felt in a classroom scene where a tyrannical schoolmaster (a chilling Patrick Page) forces his deaf pupils to speak Latin translations rather than sign them. He mocks their gestures and their imperfect voices with shaming brutality. The pressure to conform— whether in speech or sexuality—pervades Arden's production. Many of the roles are cast with deaf performers in period clothes while hearing actors dressed in modern duds provide their voices, acting as their caged modern selves trapped in the puritanical past. Dialogue is either signed or projected onto Dane Laffrey's industrial nightmare of a set, as words and signs meld and overlap through Arden's eloquent staging and Spencer Liff's poetic choreography.
Interestingly, the lead roles are played by unknowns, while Broadway, film, and TV vets take supporting turns. The main character Melchior, a rebellious student seeking to throw off the restrictions of his elders, is played by the vibrant Austin P. McKenzie, a hearing actor fluent in sign language. He makes this anguished rebel serve as a bridge between the hearing and deaf worlds. Melchior's equally distraught sweetheart, Wendla, is given passionate life by Sandra Mae Frank and sensitive voice by Katie Boeck.
Daniel N. Durant makes an intense Moritz, sort of a Sal Mineo to Melchior's James Dean, and Alex Boniello provides his pained vocals. Andy Mientus and Krysta Rodriguez, both breakout performers in earlier Broadway productions and the TV series Smash, are arresting as the smug Hanschen and the lost Ilsa. The adult roles are shared by the hearing Page and Camryn Manheim and the deaf Russell Harvard and Marlee Matlin. Page, Manheim, and Harvard have moments of impact, but the Oscar-winning Matlin is underused as Melchior's compassionate mother.
While
Spring Awakening
is a refreshing challenge to the rigid Broadway template (still firmly in place despite game changers like
Hamilton
and
Fun Home
), Off-Broadway's
Daddy Long Legs
is an unimaginative miniature employing almost every Main Stem cliché, musically and dramatically. Ironically, this two-hander also deals with a young protagonist searching for identity in restrictive era (in this case America in the first decade of the 20th century). Jean Webster's original 1912 novel has previously been adapted into lighthearted movie musicals with Shirley Temple (
Curly Top
, 1935) and Leslie Caron and Fred Astaire (1955). Composer-lyricist Paul Gordon and book author-director John Caird worked on a short-lived Broadway version of
Jane Eyre
, and Caird collaborated on
Les Miz
. Daddy employs the same kind of soupy romantic score and soapy libretto. The only unusual music can be heard during a brief section of a comic song about snobby New Yorkers.
The story may have been charming in 1912, but it lacks tension and surprise today. Jerusha Abbot, an orphan girl, writes letters to an unknown benefactor she assumes to be an avuncular old man, but he turns out to be her young suitor, the wealthy but noble-hearted Jervis Pendleton III. Fortunately, Megan McGinnis and Paul Alexander Nolan endow the two roles with wit and rich voice, making this postcard-sized show bearable for an overlong two acts.
September 30, 2015
Shaw Festival Roundup Part II
Shaw Festival
Reviewed by David Sheward
The Shaw Festival in Niagara-on-the-Lake, Ontario, celebrates the dense and witty plays of George Bernard Shaw, but it also presents modern authors who follow in his intellectual tradition. The contemporary playwright who probably comes to the closest to following Shaw's intellectual dramas of ideas is Tony Kushner. After
Angels in America
—his mammoth two-part exploration of the AIDS crisis and its impact on our political, social, and religious life—his most challenging work is the ponderously titled, rarely produced
The Intelligent Homosexual's Guide to Capitalism and Socialism With a Key to the Scriptures
. This massive drama runs a staggering three hours and 45 minutes, and covers labor relations, faith, love, money, suicide, and sexual and family issues. (The lengthy moniker is a reference to a Shaw pamphlet and a treatise by Christian Science founder Mary Baker Eddy.) Eda Holmes's intimate production in the Shaw Fest's 194-seat Studio Theatre makes us feel as if we were in set designer Peter Hartwell's lived-in living room along with the Marcantonios as they clash over the family Brooklyn brownstone and the fate of patriarch Gus (a solid Jim Mezon), a retired union organizer contemplating suicide as he struggles with Alzheimer's.
Each of his three grown children, their former and current partners, and Gus's sister Clio have issues of their own, paralleling the conflicted crises of America in the first decade of the new century. Though Kushner takes on multiple themes, his complex script never feels scattered and none of the characters or their concerns is shortchanged (unlike another Shaw Fest production,
The Divine: A Play for Sarah Bernhardt
, which fails to sufficiently develop its myriad plotlines). Mezon gives a shattering performance as a disillusioned radical whose ideals have been crushed by a materialistic society. Amazingly, the actor is on double duty as a director.
Down the street at the more traditional Royal George Theatre, the Festival is offering Shaw in a lighthearted vein with Mezon's merry staging of the playwright's
You Never Can Tell
. Given that it's Shaw's version of a romantic comedy, the usual boy-meets-girl conventions are turned on their heads, and though the play was written in 1897, it's as fresh and funny as if it were turned out today. In a quaint seaside town (charmingly designed like a checkerboard by Leslie Frankish), Valentine, a penniless dentist, falls in love with the independent Gloria Clandon, who spurns traditional marriage, while Gloria's eccentric, progressive family is uneasily reunited with its estranged father, the crotchety, hidebound Fergus Crampton. Marital mixups and intrigues proliferate, while the unflappable hotel waiter William acts as a sort of nonplussed master of ceremonies. That is until his son, a blustering lawyer, barrels in and resolves all complications.
Gray Powell, admirably volatile as Vito, the construction-worker youngest son in
Guide
, is equally energetic as the bubbly but more expressive Valentine. Peter Millard is a cool and composed William, while Peter Krantz bulldozes with vigor as his take-charge son.
My visit to the Festival was capped off with director Blair Williams's delightful rendering of Moss Hart's 1948 backstage tribute to a vanished Broadway,
Light Up the Sky
. Caricatures of then-famous theater folk such as Gertrude Lawrence, Guthrie McClintic, and Billy Rose (Claire Jullien, Steven Sutcliffe, and Thom Marriott, all delightfully over the top) carry on extravagantly in a Boston hotel suite during a disastrous out-of-town tryout. The first act is a bit slow with lots of exposition being laid down. We get introduced to the earnest young playwright, an older dramatist standing in for Hart, the producer's ice-skater wife, the star's brassy mother, a squawking parrot named Orson (after Welles, one presumes), and a truckload of partying Shriners. But once the groundwork is established, comic fireworks explode after the intermission. Hart's loving valentine to the crazy world of 1940s showbiz has long been a staple of the community and summer-stock circuit and shows its age. The hoary jokes creak at times, but Williams and his cast give it a shot of much-needed adrenaline.
From the heavy lifting of Tony Kushner to the frothy wit of Moss Hart and one of Shaw's lighter works, the Shaw Festival offers up comedy and drama with equal aplomb.
September 13, 2015
Shaw Festival Roundup Part I
Niagara-on-the-Lake, Ontario
Reviewed by David Sheward
The mission of the Shaw Festival, presented annually in the pretty little town of Niagara-on-the-Lake, Ontario, is not only to present the works of George Bernard Shaw and his contemporaries. The mission is also to present the works of modern playwrights who, like the great master, explore social issues in a complex manner. On a recent visit to the fest, I took in seven plays by Shaw and others, many examining women who challenge the restrictive roles forced on them by a male-dominated society—in Shaw's time and today.
The most striking staging was Peter Hinton's modern-dress
Pygmalion
. Known mainly as the source for
My Fair Lady
, this comedy of social manners is too often thought of as a cozy romance between the pushy phonetics professor Henry Higgins and the gruff but ambitious cockney flower girl Eliza Doolittle to whom he teaches proper English. But love is the least of Shaw's concerns as he takes apart the rigid British class system and the intolerable position women held in it. By putting the action in 2014–15 (much like the National Theatre's recent updating of Shaw's
Man and Superman
), Hinton shows the issues raised are still relevant. Women are no longer trapped in marriages as a means of advancement or escape, but class distinctions are largely as ironclad and impenetrable as ever. Between acts, videos on language and upward mobility document the new paradigms modern-day Elizas face.
The production includes gimmicky choices. Higgins's proper mother has been transformed into a trendy fashion designer, complete with a retinue of models and security staff, and Eliza's streetwise dad is made over into a reality-TV star. But the connection between Patrick McManus's bulldozer of a Higgins and Harveen Shandhu's scrappy Eliza is palpable and overcomes any such distractions. Eo Sharp's sets and Christine Poddubiuk's costumes create the perfect 21st-century setting for this updated classic.
Sweet Charity
may not seem an ideal companion to Shaw's brainy wordfest, but the 1966 Broadway musical is also about a woman attempting to free herself from a degrading dead-end situation. Based on Fellini's classic film
Nights of Cabiria
, Neil Simon's book takes an unflinching look at a hopelessly love-struck taxi dancer seeking a prince charming to rescue her from her sleazy dime-a-dance profession. In Fellini's original, the heroine is a prostitute and here she isn't quite, but she is forced to allow customers to grope her on the dance floor. Morris Panych's direction and Parker Esse's choreography are not as sharp and polished as your average Broadway show, but with the aid of Ken MacDonald's distressed subway-themed set, Charlotte Dean's kicky costumes, and Cameron Davis's period projections, they summon up the right gritty atmosphere for Charity's tale of woe. Panych and Esse blend just the right amount of razzmatazz with the material's neorealist roots for a show that is both heartbreaking and exhilarating. Several of the Cy Coleman–Dorothy Fields musical numbers display the influence of Bob Fosse, the creator and stager of the first production, with Esse adding touches of his own. Julie Martell makes for a lovably tough Charity, slowly revealing the soft center beneath her hard shell.
The inspiration for Michel Marc Bouchard's play
The Divine: A Play
for Sarah Bernhardt also involves a woman defying male authority, but it attempts to cover too many other topics to be totally effective. Bouchard's new commissioned work for the Festival is based on Bernhardt's 1905 visit to Quebec City. The city's powerful archbishop forbade her from performing her repertory, which the local church considered sinful. Rather than focusing on Bernhardt and her conflict between the restrictive religious leaders, Bouchard gives the spotlight to a melodramatic plot involving the two seminarians delegated to deliver the archbishop's letter of condemnation. One is a stage-struck aspiring playwright while the other is a victim of abuse by an older clergyman. In addition, there's the latter student's mother and brother who work in grueling conditions in a shoe factory. Between child labor, artistic expression, Canadian provincialism, and a dozen other themes, there's just too much going on. Whenever Fiona Reid's flamboyant Bernhardt is on stage, there is an electric connection between actor and script, but she is consigned offstage for too much of this confusing play.
At the other end of the attention-span spectrum, J.M. Barrie's 1910 one-act
The Twelve-Pound Look
runs a mere 35 tightly focused minutes and effectively delineates the conflict between self-determined women and inflexible males. When the briskly efficient female typist hired by a pompous newly knighted businessman turns out to be the fellow's ex-wife, a brief scintillating debate on marriage, materialism, and the battle of the sexes ensues with Patrick Galligan and Moya O'Connell as the main talkers battling brilliantly. Lezlie Wade's gem-like staging in the intimate Court House Theatre is a perfect cameo.
I'll cover the three remaining Shaw fest productions in my next review.
September 3, 2015

Stratford Festival Roundup
Stratford Festival, Stratford, Ontario
Reviewed by David Sheward
The theater experience changes when you visit a town where the stage is the main industry. There is a sense of community and celebration absent when patronizing most commercial productions. Instead of consuming a mass Broadway product, you're sharing the artisanal offering of passionate local practitioners. (Even Off-Broadway companies' seasons tend to be seen as containing potential transfers to bigger runs or possible prizewinners as opposed to pure dramatic expressions.) In the Canadian province of Ontario, several hours' drive from Manhattan, two well-established annual theater festivals—the Stratford in the town of the same name and the Shaw at gorgeous Niagara-on-the-Lake, offer the opportunity for playgoers to indulge in nonstop theater for its own sake with two and sometimes three performances a day. On a recent visit, I crammed in 11 shows in five days. My Stratford impressions are below and I'll take up the Shaw shows in the next column.
My theater marathon began at the impressive Festival Theater (my favorite venue of the seven attended) with a matinee letdown in the form of a rather sleepy staging by John Caird of Shakespeare's
Love's Labour's Lost
. This merry comedy of four academic male courtiers unsuccessfully resisting the romantic advances of the French princess and her three ladies-in-waiting falls victim to the trap of over familiarity. The capable cast led by handsome Mark Shara's Berowne and attractive Sarah Afful's Rosaline relies on flowery and forced line readings rather than establishing connections with each other. There is no chemistry between any of the four supposedly loving pairs, and so their witty declarations of amour fall flat. The supporting comic turns are equally stale; Juan Chioran's pompous Don Armado and Josue Laboucane's buffoonish Costard strike poses instead of believably pursuing the dairymaid Jaquenetta (Jennifer Mogbock in one of the few sincere performances, probably because she has little to say).
Matters improved that evening at
The Physicists
, Friedrich Durrenmatt's black comedy in a new Canadian translation by Birgit Schreyer Duarte. Written at the height of the Cold War in 1961, this dark play imagines a nuclear nightmare set off by three allegedly insane scientists in a Swiss asylum. When nurses begin turning up dead, the authorities intervene, and a complex plot combining elements of Agatha Christie, John le Carré, and Jonathan Swift is unraveled. The play premiered on Broadway in 1964, starring Jessica Tandy and Hume Cronyn. It's hard to imagine such a cynical satire on today's comfy Main Stem.
Miles Potter's sharp direction strikes just the right balance between outrageousness and verisimilitude. The world the characters inhabit is crazy, and the actors proceed logically within its terms, no matter how nuts their actions may seem. As the trio of afflicted physicists, Gearing Wyn Davies, Graham Abbey, and Mike Nadajewski are dazzling as they switch from goofily eccentric to coolly rational and back again, and Seana McKenna is riotously versatile as their Strangelove-like psychiatrist, transforming from flustered administrator to power-mad dictator without missing a beat.
The following day provided examples of smashing productions of oft-seen favorites, staged with imagination and flair. Martha Henry's
She Stoops to Conquer
makes clever use of Douglas Paraschuk's revolving set and doesn't attempt to "conceptualize" Oliver Goldsmith's 1773 farce of mistaken identity in a rambling country house. Henry delivers the antics in a straightforward, fun manner. Unlike the disconnected lovers in
Love's Labour's Lost
, Maev Beaty's Kate Hardcastle and Brad Hodder's Charles Marlowe shoot sparks toward each other, and their blazing dynamic is apparent despite the obstacles Goldsmith places in their way. Joseph Ziegler and Lucy Peacock make merry as the confused heads of the household, and Karack Osborn is a jolly Tony Lumpkin, the chief prankster.
Next was
The Taming of the Shrew
. Modern productions of this Shakespearean warhorse can cross themselves by trying too hard to repudiate its period sexism. Chris Abraham wisely tones down any apologies for the behavior of the chauvinistic Petruchio and emphasizes the unlikely love match between him and the headstrong Kate and the wild comic elements surrounding it. He begins by restoring the oft-cut prologue wherein the drunken Christopher Sly is duped into thinking he's a great lord and
Shrew
is an entertainment for his pleasure. Here Sly is a disruptive arts blogger refusing to turn off his cellphone, played with proper petulance by Ben Carlson who later turns up as Petruchio. This allows tasty insider jokes about both the Stratford and Shaw festivals and sets the right ungirdled atmosphere. Carlson as Petruchio and Deborah Hay as Kate are perfectly matched combatants, athletically tossing each other around during their jousts, and spectacularly romantic when their boxing gloves come off. The supporting clowns are among the best I've ever seen in these roles. Tom Rooney and Gordon S. Miller as the servants Tranio and Biondello nearly steal the show with the on-target tomfoolery. This Shrew provided a glorious and joyous ending to my two-day visit. (The Shaw Festival will be covered in my next review.)
August 31, 2015
Cymbeline
Shakespeare in the Park at the Delacorte Theatre
Reviewed by David Sheward
One of the most problematic of Shakespeare's late plays,
Cymbeline
is a fairy-tale fantasy full of cross-dressing heroines, lost princes, thwarted love, wicked stepmothers, and epic battles. The only way to treat the episodic, byzantine plot is to gently mock it. In a memorably awful 1989 staging at the Public downtown, JoAnne Akalaitis took it too seriously and made it into a bizarre nightmare. Andrei Serban's 1998 version in Central Park was an unashamedly epic tale featuring a moat and a scene-stealing Liev Schreiber as the villainous Iachimo. Barlett Sher's 2002 production for Theater for a New Audience was frankly theatrical and embraced the story's incredible coincidences and conventions. Daniel Sulivan's current frolic at the Delacorte in Central Park employs the basic principles as the better stagings: a troupe of actors telling the audience a far-fetched bedtime story.
The tale focuses on the plucky princess Imogen, who is launched on a twisted path when she in wrongfully accused of infidelity to her husband, Posthumous, by the conniving Iachimo. The titular Cymbeline is a relatively minor character, Imogen's noble father, the king of ancient Britain wed to a secretly scheming second wife, out to subjugate her stepdaughter. Imogen becomes even more Snow White–like when she hides in the woods with a poor all-male family and falls into a death-like sleep after drinking poisonous concoction prepared by the queen. After much chaos and bloodshed, the wicked are punished, and the good are reunited and rewarded.
Sullivan transforms this silliness into a joyous celebration of stagecraft and directs with infectious energy. Nine actors play all the roles (in one particularly funny bit, Teagle F. Bougere rapidly switches headgear when he realizes he must deliver a line as a different character). When not involved, they sit in full view, observing and waiting for their next cues. Audience members sit on Riccardo Hernandez's charming stage-within-a-stage set and participate in the action, heightening the presentational effect.
The small ensemble tears into its multiple assignments with relish. Lily Rabe endows Imogen with blazing courage and passion, and kicks up her heels in a brief bit as a bored cocktail waitress. Hamish Linklater is a gallant Posthumous and an equally clottish, cowardly Clotin, the Queen's oafish son. The show is nearly stolen by Raul Esparza's slick Iachimo, a Fosse-dancing devil who breaks into a delicious Rat Pack riff in a Las Vegas version of Rome (Tom Kitt composed the versatile original music). Kate Burton is marvelously evil as the Queen and stalwart as a grizzled male forest dweller. Patrick Page is a regal Cymbeline and provides laughs as a gravel-voiced Mafia type. Bougere, David Furr, Steven Skybell, and Jacob Ming-Trent also have fun with their many and varied assignments, as does the audience with this captivating staging of the normally convoluted
Cymbeline
.
August 15, 2015
Oklahoma!
Bard SummerScape at the Fisher Center for the Performing Arts
Reviewed by David Sheward
There is a homey, welcoming feeling as you enter the intimate Luma Theater in Bard College's Fisher Center for the innovative SummerScape production of Rodgers and Hammerstein's classic musical
Oklahoma!
. Friendly ushers greet you. Audience members are seated at long wooden tables with napkin holders and crockpots full of chili for a down-home meal during intermission. The denim-clad six-piece band is tuning up, greeting patrons, and looking like it's ready for an old-fashioned hoedown. But your eye may stray to the racks of shotguns on the wall of Laura Jellinek's town-hall set (based on an original concept by John Conklin), which could instill a slight sense of foreboding.
At first Daniel Fish's sunny, stripped-down staging offers few glimmers of disquiet. The folks living on and visiting Aunt Eller's farm are mostly good-natured and kind. They sweetly sing the classic songs "People Will Say We're in Love" and "The Surrey With the Fringe on Top" with a Country-Western twang in Daniel Kruger's flavorful new arrangements and are dressed by costume designer Terese Wadden in contemporary duds.
But then, close to the show's end, Fish throws in a startlingly violent twist not in Hammerstein's book nor Lynn Riggs's original play
Green Grow the Lilacs
that seems to come out of nowhere, and this warmhearted favorite becomes an anti-NRA commercial. I don't want to give away too much, but this new piece of staging involves the final confrontation between the good-natured cowpoke Curly and the sour-souled farmhand Jud, his rival for the beautiful Laurey. In Fish's radical rethinking of the show's final moments where frontier justice takes on a totally different tone than the comic bonhomie of the original, the characters transform from hearty neighbors to a cold coven out of Shirley Jackson's "The Lottery." It's too much of the director inserting himself into the event. Fish foreshadows his ultimate dark climax with frightening stagings of the scene in Jud's smokehouse (starting in total darkness and then shadowy video) and Laurey's dream ballet (a nightmarish, cross-gendered pop concert from hell). But the ending still feels imposed and wrenching rather than creepy and inevitable as was probably intended.
Aside from the bizarre finale, this is an enjoyable, ingenious, and fresh interpretation of a beloved classic with the audience cast as townsfolk, joining in on the rites and travails of the territory community. Everyday activities blend seamlessly with the familiar Rodgers and Hammerstein show tunes such as Aunt Eller mixing corn bread during "Oh, What a Beautiful Mornin' " and Laurey angrily snapping corncobs while she claims she's not in love in "Many a New Day." Damon Daunno and Amber Gray are attractive and appealing as Curley and Laurey, while Broadway veteran Mary Testa invests Aunt Eller with grit and wit. James Patrick Davis is an agile, eager Will Parker and Allison Strong wonderfully captures the flirtatious recklessness of Ado Annie. Benj Mirman gives a subtle spin to the peddler Ali Hakim rather than the usual broad comic relief. Mitch Tebo, John Carlin, and Mallory Portnoy make the most of supporting roles in this small ensemble.
The standout here is Patrick Vaill's complex Jud Fry. Usually played as a dangerous villain, Vaill expresses not only Jud's obsessive, psychotic tendencies but also his heartbreaking loneliness. Despite his antisocial behavior, you actually feel sorry for this Jud. Vaill achieves the ambiguity Fish wants to convey and would have been just as effective without the director's forced reinterpretation.
July 6, 2015
The Qualms
Playwright Horizons
10 Out of 12
Soho Rep

Reviewed by David Sheward

We don't always play well with others. That's the common theme of two Off-Broadway productions in which the characters clash but the actors mesh with near perfection. Bruce Norris's
The Qualms
is set at a beachside group sex party, while Anne Washburn's
10 Out of 12
takes place at an endless tech rehearsal for an avant-garde New York show. Both display how an odd man out can gum up the works and cause members of the entire temporary community to examine their motives for joining in. Both plays have flaws, but their casts and directors find the connections and passions within each.
In Norris's clever comedy at Playwrights Horizons, newlyweds Chris and Kristy join a club of veteran swingers for an evening of debauchery. But uptight Chris spoils the evening when his jealous anger at Kristy boils out in all directions, spewing lava-like rage on the fun-loving spouse-swappers. The couples clash and explode, finally quietly cleaning up the debris and sharing sex stories over banana pudding.
As he did in his Pulitzer Prize–winning
Clybourne Park
, Norris probes the explosive emotions just beneath the polite surface and records the fallout when they break through. In the earlier play it was racial tensions and prejudices getting the grilling; here it's sexual attitudes and repressions. The context seems a bit dated. I can recall "swinging" as a hot topic at the height of the sexual revolution in the early 1970s with TV comedy sketches about staid suburban couples trading car keys. There was a skit on trading bed partners in the nudie revue
Oh! Calcutta!
and even an Emmy-winning episode of
All in the Family
with Archie and Edith Bunker unknowingly inviting a pair of swingers (played by Vincent Gardenia and Rue McClanahan) into their Queens home.
Aside from the datedness of the concept, my central qualm with
Qualms
is the protagonist Chris. If he's such a tightly wound prude, what's he doing at this libidinous get-together in the first place. Norris offers the excuse that he's angry with Kristy from going to lunch with a former lover without telling him, but it seems a weak motivation for such a drastic step. Fortunately, Chris is played by Jeremy Shamos, who gave dimension to a similar asshole in
Clybourne
. He almost succeeds in making Chris's contradictory behavior plausible, but not quite. The rest of the ensemble, unburdened by such heavy demands, turns in wildly funny and touching performances, particularly Donna Lynne Champlin as the overweight, fun-loving Deb, and Kate Arrington as the airheaded Teri, particularly in a detailed monologue of a haphazard sexual history.
Norris creates hilarious conflict and dialogue, staged with just the right amount of increasing intensity by Pam MacKinnon, who also skillfully directed the domestic warfare in
Clybourne
.
Washburn's
10 Out of 12
at Soho Rep has similar fireworks with the cast and crew of a pretentious Off-Off-Broadway play enduring the stress of an interminable tech rehearsal. The title refers to the amount of hours that can be devoted to rehearsing under union rules. Audience members are given headsets so they can listen in on the snarky chatter of the stage manager and techies. Anyone who's ever done a show will get a giggle of recognition from the multiple slipups, delays, resettings, and arguments, but it's all a bit too "insider baseball" for nontheater types, and the premise wears a bit thin at two and a half hours.
There is a shattering scene in which longtime actor Paul unleashes a tantrum over what he regards as the deficiencies of the playwright and the director. His scene partner Ben calms Paul down with the observation that nothing in life is ever perfect, there will always be something lacking, and we have to do the best we can. It's a perfect evocation of the futility and love theatrical practitioners bring to their craft, beautifully played by Thomas Jay Ryan as Paul and Gibson Frazier as Ben.
Director Les Waters, sound designer Bray Poor, and lighting designer Justin Townsend make brilliant sense of the chaos of Washburn's Altman-esque script as endless sound and light cues pile up, creating a mosaic of impressions and a prismatic view of a communal experience.
July 6, 2015
Gloria
Vineyard Theatre
Significant Other
Roundabout Theatre Company at the Laura Pels Theatre
Reviewed by David Sheward
Two new, effective Off-Broadway shows defy expectations, but in different ways. Branden Jacobs-Jenkins's
Gloria
starts out as a fairly conventional office comedy with a bunch of twentysomethings bitching about their nowhere editorial-assistant jobs, but it then takes a bizarre turn and veers into uncharted territory. Joshua Harmon's
Significant Other
at Roundabout's Laura Pels space also covers the familiar ground of young people bemoaning their lack of purpose. In Harmon's case, the
cri de coeur
revolves around romance rather than career and, unlike Jacobs-Jenkins, Harmon has no great surprises up his sleeve. But he charts the protagonist's journey through the urban landscape of loneliness with such compassion and wit that the play becomes a compelling portrait of yearning youth.
With Jacobs-Jenkins, we've come to expect the unexpected. He turned racial clichés and tired theatrical templates inside out in his Obie-winning plays
An Octoroon
and
Appropriate
. The path
Gloria
takes is similarly twisted. We begin in the confining cubicles of a quartet of diverse drones at a major magazine. Their complaints detail the sagging fate of mass media over the past few decades. As the Internet overwhelms print, three of the four find themselves stuck at unfulfilling assistant positions; the fourth is a smiling college intern with no clear goals. The two main catalysts for action involve the early suicide of a once-popular singer and the pathetic housewarming party of the longtime, gloomy copy editor (the titular Gloria). Just as you think the author can't develop his premise any further than the end of the first act, a shocking event changes everything, and we are taken in a totally different direction.
The show's press agent has requested critics not reveal what that event is, but it allows the brilliant Jacobs-Jenkins to ruminate on several issues roiling throughout modern America. These include the corrosive effect of the Web on mass culture; the pervasiveness of violence and its traumatic afterburn on victims; and the cannibalistic nature of film, TV, and what's left of the publishing industry. Evan Cabnet directs with just the right amount of understatement, and the versatile six-person cast is nasty and moving in equal measure. Jeanine Serralles is particularly memorable as the Eeyore-like titular character, and when she gives a stunning monologue describing the explosive act that changes everyone's lives.
Gloria
is an insightful and thought-provoking portrait of how we live now.
Joshua Harmon is another young playwright with an impressive resume. His
Significant Other
is not as challenging as his acidic
Bad Jews
, a smash hit at the Laura Pels a few seasons back, but the new play is a tender and fun evening though the setup is familiar. His hero Jordan is a cute, engaging, clever gay young man in search of a boyfriend. He feels abandoned as all three of his female BFFs march down the aisle. With marriage equality now the law of the land, Jordan's kvetching could have come across as whining, but Harmon largely sidesteps the victim trope and emphasizes the universality of the difficulties of finding a soul mate—although he gives Jordan a hissy-fit monologue late in the second act, pointing out the ridiculous excesses of the hetero wedding industry.
Jordan could easily have become an entitled obnoxious neurotic, but Harmon's dialogue is so fresh and snappy, Trip Cullman's direction so compassionate and well-paced, and Gideon Glick's performance so endearing and layered, we weep and laugh along with him. Lindsay Mendez, Carra Patterson, and Sas Goldberg are a riot as the trio of girlfriends, while Barbara Barrie is luminous as Jordan's loving grandmother, an embodiment of Jordan's family.
June 28, 2015
Heisenberg
Manhattan Theatre Club at NY City Center Stage II
Reviewed by David Sheward
As I am not a serious science student, my only knowledge of Werner Heisenberg, the German physicist, is that he is a character in Michael Frayn's
Copenhagen
. So I walked into Simon Stephens's play at Manhattan Theatre Club's studio space in City Center, which bears his name, with little knowledge of the scientist's connection with the material. It turns out to be a tenuous one in a slight work rescued by two committed performers.
Heisenberg is never mentioned, but one of the characters explains his Uncertainty Principle—which posits, simply put, that if you try to measure an object's trajectory, momentum, or position, you will change those qualities. That character is Georgie (an electric Mary-Louise Parker), a 40-ish American woman living in London, and the brief play follows her growing bond with the 75-year-old Irish butcher Alex (a solid Denis Arndt) from chance encounter to romantic affection. Stephens appears saying if you try to examine or evaluate a relationship, you alter it. What an insight (sarcasm intended).
Heisenberg
is one of group of recent British imports including Nick Payne's
Constellations
and Jez Butterworth's
The River
of short length and little impact bolstered by star performances. Not much happens in the play's 80 minutes. Georgie meets Alex when she impulsively kisses the back of his neck at a train station. They go to dinner and become unlikely lovers. She asks him for a large sum of money so she can find her estranged adult son in New Jersey. There's a little conflict over this but he finally concedes and accompanies her. In their hotel room, they agree to continue seeing each other. That's it. Fine for a short story, but the play feels incomplete. For instance, we learn little about Georgie's relationship with the son or why he ran away from her, and the dynamics of the age difference between the two protagonists is hardly addressed.
Georgie is one of those vibrant, attractive kooks who seem to exist only in plays. She thinks nothing of telling her life story, which turns out to be a fabrication, to a total stranger. Why she lies at first is also never gotten into. She later gives Alex the real story. Alex is an equally clichéd counterpart, the isolated bachelor brought out of his shell by the quirky but exciting younger woman. The flimsy play is a disappointment, given Stephens's brilliant stage adaptation of
The Curious Incident of the Dog in the Night-Time
and his moving
Bluebird
, seen at Atlantic Theater Company a few seasons back.
Director Mark Brokaw gives this acting exercise its best possible production, staged tautly with audience members on both sides of a strip of playing space. The simple set is by Mark Wendland and telling lighting is by Donald Holder. Parker and Arndt give their roles weight and depth. Georgie could have been an obnoxious flake, but Parker makes her endearing. Arndt, a veteran of the Oregon Shakespeare Festival and several regional theaters, lends dignity and intelligence to a role that might have played second fiddle to the more eccentric Georgie. These two skilled actors prove a theatrical version of Heisenberg's principle: that by examining and enriching a thin play, you alter it for the better.
June 6, 2015

An Act of God
Studio 54
The Spoils
The New Group at the Pershing Square Signature Center

Reviewed by David Sheward

Stars of the hit TV series
The Big Bang Theory
have opened on and Off-Broadway in new plays. While both showcase the talents of the individual actors, the productions give off less than a huge explosion. Jim Parsons, four-time Emmy winner as the brilliant but bedeviling physicist Sheldon Cooper, stars as the All-Mighty in David Javerbaum's satiric semi-standup routine
An Act of God
at Studio 54, while Kunal Nayyar, the painfully shy Raj Koothrappali of
TBBT
, co-stars with Jesse Eisenberg in the latter's
The Spoils
presented by The New Group at the Signature Center.
God
is the first Broadway play inspired by a Twitter account, and it shows. Javerbaum, an Emmy-winning writer for
The Daily Show
, curates @TheTweetofGod where he posts 145-character zingers as if he were the Creator of the Universe. This popular account—1.75 million followers—led to a book and now a play. But this Act comes across as a collection of jokes rather than as a dramatic whole. The conceit here is that God is speaking through a charming TV star in order to lay down 10 new, less-restrictive commandments. The Lord is accompanied by two archangels: the contrary Michael who pleads with his boss to have more compassion for mankind, and the solemn Gabriel who quotes from the Bible to help illustrate God's points.
Not a bad idea for a 10-minute sketch, but Javerbaum has stretched it out to an hour and a half, and the premise hits its comic peak at the fifth commandment. There are several stinging lines, such as God's stern denunciation of sports fans who invoke his name when their team wins. But for every solid witticism, there's an equally leaden one such as the timeworn jibes about Florida resembling male genitalia and the crack about the rooster coming before the chicken or the egg.
Parsons is brilliantly dry as a humanistic deity, self-aware enough to realize his "mysterious ways" are the product of a deranged mind. He spends most of the evening on a couch in Scott Pask's celestial living room of a set and manages to infuse a stationary performance with conflict and tension, and he's actually tender and moving when Javerbaum attempts pathos as God discusses his "little superstar" Jesus. Joe Mantello performed a similar miracle when he directed Bette Midler in her sedentary solo turn as agent Sue Mengers in
I'll Eat You Last
a few seasons back. Christopher Fitzgerald and Tim Kazurinsky make admirable foils for Parsons's quixotic deity. But all that comic timing and sharp delivery do not rescue what is basically a lounge
Act
.
Jesse Eisenberg's play is a sturdier venture but still suffers from shortcomings. The actor-playwright must have real self-esteem and xenophobia issues. In each of his three plays—
Asuncion, The Revisionist
, and this latest one,
The Spoils
—he casts himself as a highly intelligent but narcissistic asshole who has difficulties connecting with a foreign character. In this case, Eisenberg is Ben, a rich film-school reject sharing his expensive NYC apartment with Kalyan (Nayyar), a Nepalese economics student. Despite his vulgar manner, Ben appears to be genuinely fond of his roommate, but when Sarah, his grade-school crush re-enters his life, the slacker sets out to destroy her impending marriage, and the well-meaning but naïve Kalyan gets caught in the crossfire.
Directed with high energy and precision by Scott Elliott,
The Spoils
, like
Act of God
, has more than a little sitcom in its structure. Eisenberg writes snappy dialogue, and his characters are well-observed, but it's difficult to care about the destructive Ben; and the plot, particularly some of Ben's extreme actions, strains credulity at times. Even though his character is obnoxious, Eisenberg endows him with a manic intensity and keen wit. Nayyar conveys Kalyan's desperation and anger beneath the friendly veneer. Erin Darke is compassionate but no pushover as Sarah, while Annapurna Sriram makes Reshma, Kalyan's bossy girlfriend, more than just a scold. Michael Zegen is particularly funny as Sarah's nebbishy fiancé Ted.
The title seems to refer to the gains awarded to white Americans of privilege like Ben who squander their wealth and comforts. Eisenberg tries for a measure of redemption for Ben at the end as Sarah recounts an admirable act she saw him perform long ago in their schoolyard. But it's too late. Any lofty theme or message is obscured—or spoiled—by the protagonist's vile behavior.
June 2, 2015
Man and Superman
NT Live
Reviewed by David Sheward
When Ralph Fiennes makes his first entrance in the National Theatre's production of George Bernard Shaw's epic comedy
Man and Superman
, he's talking a mile a minute and constantly in motion. He remains that way for the show's marathon running time of three hours and 40 minutes, which includes the usually excised "Don Juan in Hell" dream sequence. It's an athletic endurance test for actor and audience as Fiennes bounds about Christopher Oram's stark, sterile set and precisely spouts Shaw's brilliant arguments for the destruction of conventional morality. This challenging, riotously funny production is now being broadcast to cinemas worldwide as part of the NT Live series and theater- and filmgoers eager for a huge intellectual meal should partake.
First produced in 1905,
Man and Superman
was hailed as Shaw's most brilliant and controversial work. Fiennes plays Jack Tanner, a revolutionary philosopher determined to break down the repressive structures of Western society to create a new, freer one inhabited by the superior beings of the title, not necessarily those with capes, tights, and super powers. Chief among his targets is marriage, which he regards as a trap set by pregnancy-minded women to ensnare the creative life-force of the male. Determined to capture Jack in that unhappy state of wedlock is Anne Whitfield, the manipulative debutante whom Jack compares to a python. A subplot concerns the secret marriage of Violet Robinson to American Hector Malone, which allows Shaw to expound on his theories of class and morals.
After a conventional beginning in the study of Roebuck Ramsden, a stuffy representative of the British upper-middle class, Shaw breaks all theatrical boundaries and sets the characters on a mad chase across Europe with Anne in hot pursuit of the fleeing Jack. Along the way, they encounter an intellectual brigand named Mendoza and his band of socialist-minded thieves. This leads to the famous "Don Juan" portion with Jack, Anne, Ramsden, and Mendoza becoming figures from myth and opera in a metaphysical debate in hell over the nature of man, religion, heaven, hell, and wars between nations and the sexes.
Director Simon Godwin's decision to place the play in contemporary times at first seems unnecessary and gimmicky (the stylish modern costumes are also by Oram). But with only a few minor alterations in the dialogue (a delivered letter becomes a text and the automobile speeds are increased), the transposition works. Though the roles of men and women have altered drastically in the 110 years since the play was written, the elemental conflict between the genders remains, as do the basic questions Shaw raises about marriage, wealth, sexual relations, and the aspirations of humanity. Godwin wisely stages the action at a rapid pace so that it is never bogged down in talk.
Fiennes is one of the few international film stars who tackles the classics with any degree of regularity—I can't think of an American star of his stature who would dare take on this role—and he handles the complex repartee and physical demands with agility and poise. Indira Varma makes a formidable adversary as Anne, pleading innocence with a smile while scheming to advance her own ends. Tim McMullan is devilishly entertaining as the rascally Mendoza and the devil himself in Jack's dream. Nicholas Le Prevost is a convincingly rigid Ramsden who loosens up considerably in the underworld scenes. Faye Castelow is a determined Violet and Nick Hendrix a stalwart Hector. Ferdinand Kingsley is adorably forlorn as the puppy-dog-like Octavius, who moons over Anne and loses her to Jack.
This is a massive, funny, challenging comedy. You'll barely notice that nearly four hours have flown by. It's a great opportunity to see the best of London theater without purchasing an expensive plane ticket.
May 18, 2015
Fun Home
Circle in the Square
Something Rotten!
St. James Theater

Two of the biggest contenders for the 2015 Tony Award for Best Musical are polar opposites, but they demonstrate that when theater practitioners are playing at the top of their game, the results can be sublime whether the content is serious or silly.
Fun Home
is a jagged memory piece about a deeply dysfunctional family, while
Something Rotten!
is a screwy satire skewering Shakespeare as well as the conventions of musical comedy. The former will break your heart while the latter will break your funny bone.
Fun Home
was a hit during its limited run Off-Broadway at the Public Theater last season, winning almost every possible Best Musical accolade including the Lortel, the Outer Critics Circle, and the New York Drama Critics Circle awards. Based on Alison Bechdel's graphic memoir, the musical takes a zigzag tour through Bechdel's childhood, focusing on the impact of her coming out as a lesbian had on her family, particularly on her closeted gay father. Not exactly what you'd expect from a musical, but Lisa Kron's compassionate book and witty lyrics and Jeanine Tesori's rich music make the potentially intense tale warm, insightful, and, when appropriate, funny.
While a successful commercial engagement on Broadway will prove challenging, Home has become even an even deeper experience in its new environment. Ironically, it's also become more intimate even though it's now playing a much bigger house. At the Circle in the Square, the audience surrounds the action, so the performers seem even more like a real family sharing their secrets. Director Sam Gold and set designer David Zinn have adapted the action from the Public's revolving proscenium to the Circle's oval by employing trap doors to raise and lower furniture like figures in memory.
The cast is almost entirely intact from the Off-Broadway run. Michael Cerveris and Judy Kuhn have deepened their portrayals of the repressed parents, while Beth Malone seems more of a central voice setting the memories in motion as the adult Alison. Eleven-year-old Sydney Lucas still brings multiple layers to her Small Alison, and Emily Skeggs captures the awkwardness of first love as the college-age iteration of the heroine.
While
Fun Home
wants to make you feel and think,
Something Rotten!
only wants to make you laugh, and it succeeds like gangbusters. Written by a trio of Broadway neophytes—John O'Farrell and brothers Wayne and Karey Kirkpatrick—this lampoon lovingly sends up every musical as well as every Elizabethan comedy, tragedy, or history you could possibly think of (I filled three pages of a legal pad trying to keep up with all the references and finally gave up).
Brothers Nick and Nigel Bottom want to take the 17th century stage by storm, but a white-hot rival named Shakespeare is stealing the spotlight. Nick goes to a soothsayer (Nostradamus's brother, Thomas, get it?) to find out what audiences of the future will crave, and it's musicals. So the siblings stage the first-ever tuner while the Bard attempts to ruin it. It all sounds like an extended
Carol Burnett Show
sketch or that episode of
Gilligan's Island
where castaways put on a musical version of
Hamlet
, but it's brilliantly fleshed out by the authors and staged riotously and tightly by Casey Nicholaw.
The book gets weak in the second act when the initial premise runs out of steam, but it comes on strong with the Bottom brothers' climactic mock musical "Omelette," which will go down in Broadway history along with "Springtime for Hitler" from
The Producers
as one of the funniest shows-within-a-show ever. The cast of Broadway veterans constantly delights—Brian d'Arcy James commandingly klutzy as Nick; John Cariani adorably nebbishy as Nigel; Heidi Blickenstaff and Kate Reinders endearingly clever as their respective ladies; Christian Borle rock-star sexy as the Bard; and reliable clowns Brad Oscar, Peter Bartlett, Brooks Ashmanskas, and Gerry Vichi cutting up uproariously.
Reviewed by David Sheward
May 13, 2015
Airline Highway
Manhattan Theatre Club at the Samuel J. Friedman Theatre
Reviewed by David Sheward
Yes, we've seen these people before: desperate but lively outsiders congregating at a run-down hotel, or bar, or other common area, forming an unconventional family unit because their own relatives and society in general have rejected them. American theater has given many examples of the genre: O'Neill's
The Iceman Cometh
, Saroyan's
The Time of Your Life
, Williams's
Small Craft Warnings
, Lanford Wilson's
Hot L Baltimore
, and August Wilson's
King Hedley II, Two Trains Running
, and many of his other masterpieces. But though the inhabitants and visitors to the decrepit Hummingbird Motel in Lisa D'Amour's
Airline Highway
may seem familiar, they still touch your heart and get under your skin.
In Joe Mantello's exquisitely orchestrated production, now filling the final slot of Manhattan Theatre Club's 2014–15 Broadway season after a run at Chicago's Steppenwolf Theatre, these colorful but marginal denizens of the New Orleans party culture celebrate their fabulousness as they eke out a living providing pleasure to the tourist trade. Just as she did in her Pulitzer finalist play
Detroit
, D'Amour creates a mesmerizing mosaic by assembling dozens of fascinating details. In that earlier work, she captured a broad section of the vanishing American middle class through the travails of two underemployed suburban couples. Here her canvas is broader with portraits of several more characters—a loving makeshift club just barely scraping by and whooping it up as their unique NOLA world is slowly swallowed up by Costcos and strip malls.
The loosey-goosey plot follows 24 hours in the parking lot of a once-glamorous motel (designed with gritty realism by Scott Pask). The semi-permanent guests are preparing for the jubilant "funeral" of their beloved, still-living mother figure, the chronically ill Miss Ruby, a once vibrant stripper and club owner. There's Tonya, a middle-aged hooker with a drug problem; the cross-dressing and sassy Sissy Na Na; the forlorn Krista, currently homeless; incompetent but compassionate handyman Terry who harbors a crush on Krista; and Wayne, the easygoing manager who turns a blind eye to the group's shadier practices. In the midst of the various dramas comes the former Bourbon Street barker Bait Boy, now leading a "legit" life as the live-in boyfriend of an older Atlanta businesswoman.
Bait Boy brings along Zoe, the teenage daughter of his lover, who interviews the residents for a school project. This excuse for exposition is one of the play's flaws. But though she is being used as a dramatic device, Zoe, along with all the other characters, is a fully drawn, complicated figure, attracted to this glittering but chancy demi-monde.
The cast, almost all holdovers from Steppenwolf, creates an entire solar system of interconnected friends revolving around the extinguishing sun of Miss Ruby. You want to know these people and their stories, and these actors fill that need. Julie White, a New York addition, is particularly rich in her limning of Tonya. Watch as White silently reacts to the implied offer of a drug dealer. Tonia's entire history of drug dependence, bad choices, and resolve to change play on White's expressive face, in her limbs and her whole body, and all she says is "I'm fine."
K. Todd Freeman is an explosive Sissy, Caroline Neff an intensely needy Krista, Judith Roberts a bizarrely funny Miss Ruby, and Joe Tippett a seductive and destructive Bait Boy, all lonely travelers on this endearing and heartbreaking
Airline Highway
.
May 6, 2015
Doctor Zhivago
Broadway Theater
The Visit
Lyceum Theater
Finding Neverland
Lunt-Fontanne Theater
Reviewed by David Sheward


The 2014–2015 Broadway season has come to an end with a flurry of new musicals that opened just before the cutoff date for Tony Award eligibility. They all know what they want.
Doctor Zhivago
wants to be
Les Miz. The Visit
wants to be a Brecht-Weill punch to the gut.
Finding Neverland
just wants to make money. Only the third one is succeeding.
Based on Boris Pasternak's massive novel and David Lean and Robert Bolt's 1965 film adaptation,
Doctor Zhivago
is the latest in a long line of Euro pop–influenced tuners seeking to cash in on the record-shattering success of the first smashes in the field,
Phantom of the Opera
and
Les Misérables
.
Zhivago
's emulation of the latter show is apparent throughout, right down the same upturned-chairs motif in Michael Scott-Mitchell's stark set design. Only this time, instead of the French revolution, we're in the middle of the Russian one, and the saintly hero (Zhivago in place of
Les Miz
's Jean Valjean) has two antagonistic adversaries (the slimy Komarovsky and the fanatic Pasha) rather than one (Valjean's nemesis Inspector Javert).
Book-writer Michael Weller crams in enough plot twists for a decade's worth of Soviet soap operas, while the music of Lucy Simon and lyrics by Michael Korie and Amy Powers evoke the score of every other show of this genre, from
Chess
to
Love Never Dies
to
A Tale of Two Cities
. Only Maurice Jarre and Paul Francis Webster's "Somewhere My Love," the familiar theme from the movie, imparts honest emotion rather than clichés. Yet the song is basically thrown away, briefly sung by a chorus of wartime nurses. Unlike
Les Miz
, this show includes no comic relief (remember the avaricious Thenardiers?) except for one forced number in which the jokes involve vomiting and the toilet. Des McAnuff's frantic staging confuses rather than clarifies the action, despite constant projected supertitles announcing the dates and location as if we were in a train station.
Tam Mutu has a virile presence and singing voice, but there's not much chemistry between him and Kelli Barrett's sweet-voiced but too contemporary Lara. Paul Alexander Nolan's hysterical Pasha goes way over the top, while Tom Hewitt's subtler Komarovsky is the only compelling figure amid the endless carnage and upheaval. The Doctor's prognosis for a long run is not a good one.
Fake tumult pervades
Zhivago
, but actual mortality haunts
The Visit
. It's the last show by the late Fred Ebb and John Kander and will likely be the final star vehicle for the legendary Chita Rivera. "I'm unkillable," her character, the icy millionairess Claire Zachanassian, says, and the audience wildly applauds. That acknowledgement jerks us out of the dark world book-writer Terrence McNally, the songwriters, and director John Doyle have created and thrusts us into the nicey-nicey region of "up" Broadway musicals. And that's the show's whole problem. This visit is supposed to be a journey into the corrupt soul of mankind, and it winds up being a stroll down memory lane.
The original play, by Friedrich Dürrenmatt, details the return of Claire, the world's wealthiest woman, to her impoverished hometown. She promises to give the burg billions if the citizens will give her the corpse of shopkeeper Anton Schell (a bedraggled Roger Rees), the man who wronged her as a girl. Employing only black suitcases, a coffin, and yellow shoes symbolizing Claire's golden offer, and setting the story in designer Scott Pask's nightmarish depot environment, Doyle delivers an eerie, hypnotic production. But McNally, Kander, and Ebb emphasize the long-ago romance of Claire and Anton. They add ghost versions of the couple's younger selves (gorgeous Michelle Veintimilla and John Riddle) and transform Claire from an avenging angel into a slightly sardonic old darling. The authors are split between cynicism and sentiment, and the result is a middling porridge, neither too hot nor too cold, but not just right either.
But Rivera is the raison d'être of this show, and she elegantly conveys Claire's harsh history of abuse, neglect, and avarice. Though in her 80s, Rivera moves with grace and economy, her slightest gesture evidencing decades of experience. The same holds true for her voice, which she husbands with care, doling out each note like a precious drop of her very essence. When she dances with Veintimilla as her girlish self, it's heartbreakingly bittersweet. Rees adeptly depicts Anton's shabbiness and desperation—aided by Ann Hould-Ward's eloquently distressed costumes—but Anton is required to sweetly accept his fate with a smile in this version, a move not even an actor of Rees's skill can make creditable. Plus, Rees seemed unsure of his lyrics at the performance attended. David Garrison, Mary Beth Piel, Rick Jones, and Jason Danieley are suitably grasping as the townspeople, and Tom Nelis, Chris Newcomer, and Matthew Deming are fascinatingly spooky as Claire's entourage.
The Visit
may be a lukewarm entrée, but
Finding Neverland
is an overly sweet plate of melted ice cream. Based on Allan Knee's play and the 2004 film, this gloppy confection follows Scottish playwright J.M. Barrie as he draws inspiration from a widow and her four boys to create Peter Pan. The film appealed to adults and kids, but this musical version is strictly for the small fry. James Graham's book is loaded with ninth-grade gags, and the music and lyrics by Gary Barlow and Eliot Kennedy are generic and sloppy. I ran out of space on my notepad to write down all the awkward rhymes ("time/blind," "hide/survive," "leaving me/believe in me"). The biggest shock was Diane Paulus's juvenile staging. This skilled director has combined the wonder of theater with a mature sensibility in
Pippin
, but here the effects are theme-parkish and the actors mug up a storm, forcing tears and laughs instead of allowing them to flow naturally. As Barrie, Matthew Morrison does his best to create a believable throughline of character, as does Laura Michelle Kelly as Mrs. Davies, the charming widow. Kelsey Grammer stoops to sitcom shtick as the producer Charles Frohman and a dream version of Captain Hook. Unless you are 7 years old, don't bother trying to find this
Neverland
.
May 2, 2015
An American in Paris
Palace Theatre
Gigi
Neil Simon Theatre
It Shoulda Been You
Brooks Atkinson Theatre
Reviewed by David Sheward
Three recently opened Broadway musicals rely on old forms, but only one employs its source material with originality and charm.
An American in Paris
and
Gigi
are based on classic 1950s MGM movies set in the City of Light and starring Leslie Caron, while
It Shoulda Been You
retreads TV sitcoms.
Let's take the successful one first. The credits for
An American in Paris
say it was "inspired" by the 1951 Gene Kelly–Leslie Caron film favorite, which won the Best Picture Oscar over such weightier dramas as
A Streetcar Named Desire
and
A Place in the Sun
. Alan Jay Lerner's screenplay wrapped a simplistic story around the George and Ira Gershwin songbook, and legendary helmer Vincente Minnelli give it his unmistakable stamp of class and joy. Similarly, director-choreographer Christopher Wheeldon gives an elegant and intoxicating spin to Craig Lucas's new book. We are still in postwar Paris, but now the brutalities of the just-ended Nazi occupation seep into the basically silly plot of three pals in love with the same gamine girl, this time a fledgling dancer.
Though the romance is farfetched, the Gershwins's evergreen tunes (gorgeously adapted by Rob Fisher) and Wheeldon's ballet-informed dances—along with Bob Crowley's sophisticated sets and costumes, Natasha Katz's painterly lighting, and the evocative video projections of 59 Productions—create an inviting Paris that is fantasy and reality. Ballet stars Robert Fairchild and Leanne Cope not only dance the Kelly and Caron roles to perfection, they also sing and act with conviction, conveying the churning emotions of these love-struck dreamers. When they come together in the titular ballet sequence, it's as close to ecstasy as you'll get on the Broadway stage. Brandon Uranowitz, Max von Essen, Jill Paice, and Veanne Cox enliven their supporting roles.
Gigi
from 1958 also starred Caron, was directed by Minnelli and written by Lerner, and won the Best Picture Oscar over such darker nonmusicals as
Cat on a Hot Tin Roof
and
The Defiant Ones
. Lerner and his composer partner Frederick Loewe provided the original score to the film's sanitized adaptation of Colette's novel about the title heroine who is bred to be a French mistress but who would rather be a bourgeois wife. Unlike that of
An American in Paris
, the plot contains scant conflict, and while the songs from the film still enchant, the newer ones from a 1973 stage version add little. Heidi Thomas's adapted book is even more scrubbed up than Lerner's screenplay, and Eric Schaeffer has directed his company to play every line with exaggerated "ooh-la-la" broadness (Howard McGillin in the Maurice Chevalier role is particularly guilty of this Gallic mugging).
As Gigi, Vanessa Hudgens of the
High School Musical
films sings with brio, as does her leading man Corey Cott. She has plenty of spunk but no irresistible sparkle, while Cott exudes manly charm. They are closer in age than the originals of Caron and Louis Jordan, but there is no sexual tension between them. Broadway vets Victoria Clark and Dee Hoty provide much-needed vinegar as Gigi's worldly guardians. Catherine Zuber's gowns are ravishing.

It Shoulda Been You
is nominally a totally original musical—not being based on an old movie, novel, or play. But, Brian Hargrove's book uses hackneyed gags that went out of date 40 years ago, and Barbara Anselmi's music is generic but pleasant. Anselmi is also credited with the "concept," and five lyricists in addition to Hargrove are credited. This is definitely a case of too many cooks. Two families of stereotypes clash at a Manhattan wedding, and the guestbook reads like checklist of clichés: overbearing Jewish mother of the bride, alcoholic WASP mother of the groom, flamboyant wedding planner, panicky bride, goofy groom, etc. Sitcom-level plot twists proliferate as doors slam on Anna Louizos's two-level set.
I will admit the show is much better than when I saw it four years ago at New Jersey's George Street Playhouse. It's much tighter and shorter. Fortunately, director David Hyde-Pierce (Hargrove's husband) and a cast of polished professionals headed by Tyne Daly and Harriet Harris transform the second-drawer material into a tolerable 100 minutes. Special kudos to Lisa Howard as the plus-sized sister of the bride for creating a full-sized character in this tiny tuner.
Final verdict: cheers for
American
; a shrug of the shoulders for
Gigi
and
Shoulda
.
May 2, 2015
Hamlet
Classic Stage Company
Reviewed by David Sheward
Ever been to a wedding where you only knew one or two people, the reception never seemed to end, and you couldn't wait to get out of there? That's the feeling I got at Austin Pendleton's sluggish production of
Hamlet
for Classic Stage Company. This is a major disappointment: Pendleton is one of our most insightful directors and actors (his staging of
Between Riverside and Crazy
for Atlantic Theatre Company and Second Stage is a highlight of this season) and his lead is Peter Sarsgaard, a fine performer and a rare film star with a commitment to the stage classics.
But Pendleton seems to have based his entire concept on Hamlet's sarcastic remarks to Horatio about the "bak'd meats" from his father the Danish king's funeral "coldly furnish[ing] forth the marriage tables" for the ceremony uniting his newly widowed mother, Gertrude, to his hated uncle, Claudius, who secretly murdered the monarch to take the crown. The entire three-hour production takes place in set designer Walt Spangler's icy grey banquet hall with a conspicuous wedding cake upstage. I kept hoping someone would fall into it during a sword fight, but no such luck. As the tragedy unfolds, whenever an actor is not involved in a scene, he sits at one of the well-stocked bars on either side of the stage to knock back a few. I often wished I could join them.
It's not a bad idea to use the o'er-hasty marriage ceremony as the central metaphor for the production. It is the event that drives Hamlet to seek his revenge against Claudius and to examine all of his life choices. But there is so little passion among the participants, this claustrophobic party grows tiresome quickly.
Sarsgaard is an intelligent actor. His performances in
The Seagull, Uncle Vanya,
and
Three Sisters
(the latter two directed by Pendleton) offered fresh and surprising takes on Chekhov's conflicted heroes. Yet his melancholy Dane is all jittery poses and eccentric, choppy line readings. Almost everything he says is given a sarcastic edge. His few sincerely delivered observations are invariably followed by a dismissive laugh. Ultimately, this Hamlet is a spoiled teenager, stuck in his smartass phase.
Most of the cast is equally stale, flat, and unprofitable. Harris Yulin's dry Claudius is a tired old man, ready for bed. Penelope Allen goes in the opposite direction and overplays Gertrude's sorrow. Lisa Joyce is a beautiful but empty Ophelia. Glenn Fitzgerald's Laertes has a temper tantrum every few minutes. Only the reliable Stephen Spinella's Polonius gives a hint of an inner life, conveying the loyal but naive statesman's love of his family and a desire to serve his king. He's the only guest at this wedding worth sitting next to.
April 18, 2015
Wolf Hall, Parts One and Two
Winter Garden Theatre
Reviewed by David Sheward
King Henry VIII's annulment from Catherine of Aragon in order to marry Anne Boleyn and produce a male heir for the English throne has been told in plays, film, and TV from many points of view. Robert Bolt's
A Man for All Seasons
cast the event as a matter of conscience for Sir Thomas More, Henry's lord chancellor, who resisted the separation and lost his head.
Anne of the Thousand Days, The Other Boleyn Girl
, and Showtime's
The Tudors
emphasized the romantic aspect. In all of these iterations, Thomas Cromwell, More's successor as Henry's chief advisor, is seen as a Machiavellian villain coldly engineering Catherine's downfall and then Anne's when she also fails to give her king a son.
Hilary Mantel's wildly successful series of historical novels,
Wolf Hall
and
Bring Up the Bodies
, rethought that model and makes Cromwell the center of the story. Cromwell is seen not as a man lusting for power but instead as one doing what he thinks is best for his sharply divided country. By aiding Henry in defying the domineering Catholic Church, Cromwell seeks to strengthen England. You could even make the argument that the break with the rest of Europe in kowtowing to the Pope led to the British Empire.
Now, Royal Shakespeare Company has brought Mike Poulton's absorbing two-part adaptation of Mantel's books, under the umbrella title of
Wolf Hall
, to Broadway after successful runs at Stratford-on-Avon and in London. A BBC TV version is also being broadcast on PBS, so we've got even more Tudormania on our hands. The two parts of the stage version run nearly six hours, but at a marathon bout of theatergoing to see both sections on the same day, I was riveted for every minute. Plot follows counterplot in rapid and fascinating succession. My only quarrel is Poulton's tendency toward overly broad bawdy humor, which pops up a bit too frequently.
Poulton's otherwise precise script and Jeremy Herrin's lightning-quick direction puts a huge cast of 23 playing more than 70 roles through its historical paces like champion thoroughbreds. The main racer is Ben Miles as Cromwell. Almost never leaving the stage in either part, Miles is never flashy nor obvious, as Leo McKern was in the 1966 film version of
A Man for All Seasons
. Miles subtly conveys this lower-class lawyer's thirst for recognition while never descending to melodrama. His Cromwell's motives are also mixed with a passion for what Cromwell regards as the truth and the greater good. Cromwell is also a loving husband and father, as well as a loyal friend to his mentor Cardinal Thomas Wolsey, whose failure to secure an annulment for Henry leads to his disgrace. Miles blends these elements together for a shaded portrayal of a figure usually painted in black and white.
But this is far from a one-man show. There are multidimensional offerings from the entire court. Nathaniel Parker captures King Henry's egotistic appetites for women, food, and power, but also the monarch's childish fears. Likewise, Lydia Leonard skillfully displays Anne Boleyn's arrogance as well as her insecurities. Lucy Briers is memorably defiant as Catherine of Aragon and delightfully malicious as Lady Rochford, Anne's gossipy sister-in-law. Paul Jesson is an earthy Wolsey, and Leah Brotherhead is outwardly meek but inwardly resolved as Jane Seymour, Henry's future wife, and Princess Mary, his daughter by Catherine. Even the smallest courtier and servant roles are full fleshed out.
With the exquisite lighting of Paule Constable for Part One and that of David Platter for Part Two, Christopher Oram's austere set transforms into taverns, palaces, dungeons, and riverboats for this intriguing event that is equal parts historical spectacle and political drama.
April 11, 2015
Fish in the Dark
Cort Theatre


Hand to God
Booth Theatre

Reviewed by David Sheward
Two new Broadway comedies feature obnoxious main characters. Ironically, the one made of fabric with sewn-on eyes is more complex than the flesh and blood one. Tyrone, the demonic sock puppet of
Hand to God
, Robert Askins's dark and scary examination of the souls in a tiny Texas town, exhibits a lot more depth than Norman Drexel, the latest iteration of Larry David's misanthropic TV persona in the star-writer's first work for the theater,
Fish in the Dark
.
Fish
, one of the biggest financial hits of the season, is really an extended sitcom. Norman, a grouchy urinal salesman, has a lot on his plate: His father is dying, his mother is moving in, his wife is moving out, his brother is putting him down, his daughter is driving everyone crazy practicing her accents for an amateur production of
My Fair Lady
, all his relatives are constantly kvetching, and his housekeeper has just revealed a tremendous secret. That's about it as far as the plot goes. As in David's
Curb Your Enthusiasm
series, the humor derives from his misanthropic character's total lack of self-awareness as he boorishly commits one social faux pas after another. In
Seinfeld
which David co-created, this role of chief schlemiel was taken by the George Castanza role played by Jason Alexander (who will replacing David as of June 19). If you find this sort of shtick funny for two hours, you'll get plenty of laughs, but it wears a bit thin for me.
This kind of light nonmusical entertainment used to be a staple on Broadway where you could include the kind of slightly racy antics that were not allowed on network TV. But then small-screen shows like David's broke down these barriers, and there was no reason for audiences to spend big bucks on Broadway when they could get the same easy, somewhat spicy laughs for free (or the price of a monthly HBO subscription).
Director Anna D. Shapiro demonstrates that her proficient style works as well with shallow comedy as with the pyrotechnic family confrontations in
August: Osage County
. David gives the audience what it wants: the same character as he played on
Enthusiasm
. Fortunately, Broadway veterans Marylouise Burke, Lewis J. Stadlen, Ben Shenkman, and Jayne Houdyshell offer a bit more in the way of characterization as Norm's batty extended family. Glenne Headley, filling in for a reportedly ailing Rita Wilson, is bubbly and charming as Norm's long-suffering wife, leading us to wonder what such a wonderful woman would be doing with such a schlubby husband.
While David delivers a TV retread, Robert Askins dives into the depths of demonic darkness while laughing hysterically on the way down. His
Hand to God
arrives at the Booth Theatre after downtown productions at Ensemble Studio Theatre and MCC Theatre, and brings with it a refreshingly brutal sensibility that rocks tired old Broadway.
Like Norman, shy teenager Jason is beset with problems. His father has recently died, his mother, Margery, is struggling financially and emotionally, he pines after the equally quiet Jessica, and he is tormented by the bully Timothy. But, unlike Norman, Jason has an outlet in the form of his raging sock puppet, Tyrone, innocently created so the lad can participate in a Christian puppet workshop at the church of Pastor Greg, who has a thing for Margery. Tyrone spews all the repressed emotions Jason conceals as well as revealing the hidden passions swirling within everyone else, challenging the pious hypocrisy of his community.
Directed with a fever-pitch intensity by Moritz von Stuelpnagel, who staged both Off-Broadway runs, the play is both wildly funny and terrifyingly honest. The five-person cast marvelously blends the outrageous with the sincere. Chief among the actors is Steven Boyer, delivering a double-barreled shotgun of a performance as the tormented Jason and the satanic Tyrone. He somehow manages to simultaneously convey the fear and longing of the puppeteer and the titanic fury of the puppet. Even though we see Boyer's mouth moves as he speaks Tyrone's guttural lines, he's also still convincing as the nerdy Jason. It's a colossal feat of acting. Not quite as dazzling, but equally truthful, are Geneva Carr's equally repressed Margery, Sarah Stiles's deadpan Jessica, Michael Oberholtzer's libidinous lunkheaded Timothy, and Marc Kudisch's well-meaning but ineffectual pastor.
Hand to God
is dangerously hilarious, forcing us to confront the very real monsters within, while
Fish in the Dark
reduces them to annoying little pests to chuckle over.
On the Twentieth Century
Roundabout Theatre Company at the American Airlines Theatre
Reviewed by David Sheward
Okay, let's just get this out of the way. Kristin Chenoweth is a goddess. Helen Mirren may be playing the Queen of England in
The Audience
, but in the Roundabout Theatre Company's revival of
On the Twentieth Century
, the 1978 screwball musical, Chenoweth is the Queen of Broadway. As the magnificently vain movie star Lily Garland, Chenoweth displays the rubber-faced antics of Carol Burnett, the vocal calisthenics of Audra McDonald, the timing of Estelle Getty on
Golden Girls
, and the versatility and quick-change artistry of Jefferson Mays of
A Gentleman's Guide to Love and Murder
.
Like such Broadway stars of previous generations such as Ethel Merman, Carol Channing, and Zero Mostel, Chenoweth is simultaneously her unique self and the character she inhabits. Lily Garland is a volatile headliner, torn between her independent status as a film icon and her longing to return to the stage and the arms of Oscar Jaffe, the equally narcissistic impresario who launched her career and now needs her back to bolster his sagging fortunes. Derived from plays by Ben Hecht, Charles MacArthur, and Bruce Millholland, the book and lyrics by Betty Comden and Adolph Green and music by Cy Coleman employ traditional musical-comedy idioms along with influences of operetta and Gilbert and Sullivan to fuel the battle between these two gigantic egos onboard a Chicago-to–New York 1930s train.
In the original production, John Cullum and Madeline Kahn (soon replaced by Judy Kaye) were equally prominent, but here the show is totally Chenoweth's. She informs every gesture and expression with subtext in this exquisitely outsized star turn. From her first entrance, when she seems to plead with paparazzi to stop snapping her but loving it all the while, she commands the stage. Then there's her transformation from mousy but sharp-tongued accompanist to sizzling femme fatale in Lily's first big break. Later she gets to have a nervous breakdown when choosing between a Noël Coward comedy and a religious epic. I could go on and on. Suffice it say this performance deserves a shelf full of Tonys.
Then there is the little matter of the remainder of the cast and the production itself. Director Scott Ellis sharply employs David Rockwell's glittering Art Deco set and a dexterous chorus performing Warren Carlyle's high-stepping choreography to keep the zany action moving at a breakneck clip. William Ivey Long's exquisite period costumes deserve praise as usual.
Peter Gallagher, a perfectly adequate singer and actor, is not quite up to Chenoweth's Olympian standards as Jaffe, Garland's sparring partner and former lover. He relies too much on generalized, theatrical poses and an affected "stage" voice in the manner of John Barrymore, who played the role in the 1934 film version. As a result, the romantic connection between the two leads is not as strong as it should be. The supporting stooges fare much better. Mark-Linn Baker and Michael McGrath as Jaffe's long-suffering henchmen offer just the right amount of wry commentary on the self-aggrandizing of the lead characters. Andy Karl athletically delineates the lunkheaded but gorgeous Bruce Granite, Lily's current paramour; and Mary Louise Wilson is daffily delightful as the insane passenger Mrs. Primrose who figures in Oscar's scheme to finance a comeback.
Marvelous as these performers and the staging are, Kristin Chenoweth is the motor that powers this train and it's a joy to watch her drive it along its crazy track.
The Audience
Gerald Schoenfeld Theatre
Reviewed by David Sheward
The Audience
, Peter Morgan's play about Queen Elizabeth II and her prime ministers, begins with the ever-so-upper-crust Geoffrey Beevers acting as combination tour guide and Buckingham Palace major-domo of protocol. He explains the concept of the weekly meetings between the sovereign and the head of her government, and he describes the royal room in which these confabs take place, with loving attention paid to the furniture's period and makers. As Bob Crowley's elegant set rolls in, we transition into the first of many short vignettes depicting these historic encounters, with Helen Mirren and Dylan Baker accurately made up and costumed to resemble Her Majesty and John Major, Conservative PM, 1990–97.
Morgan then crisscrosses through the years, switching from various leaders, as Mirren miraculously sheds and gains years as easily as she dons and discards Crowley's period-defining costumes. There are occasional side visits with a child version of the queen, confiding her struggles with awesome responsibilities to her older self. This tour-guide approach is fitting because Morgan's script is sort of a package-deal view of Elizabeth's seven-decade reign, while the Broadway theatergoers are cast as worshipful Anglophiles being treated to a greatest-hits medley of historic moments.
Morgan's screenplay for
The Queen
also starred Mirren in an award-winning monarchial performance (she copped the Oscar for that film, took the Olivier for the London run of
he Audience
, and will likely snatch the Tony for this Broadway engagement). That film concentrated on just one crisis in Elizabeth's long tenure—the death of Diana, Princess of Wales, and the British public's anger at the throne's perceived lack of sorrow—and the queen's connection with one prime minister, Tony Blair. This specific focus allowed for deeper insights into the monarch's personality, her feelings about her tradition-laden position in a modern world, and her place in posterity. (Tony Kushner's script for
Lincoln
was similarly pinpointed and sharp.) With
The Audience
, Morgan attempts to cover too much ground. As a result, we get a snapshot of recent English history and a brief peek at Elizabeth's psyche.
In spite of this smash-and-run approach, Stephen Daldry's staging is expertly smooth, and there are many effecting moments, facilitated by a proficient cast combining veterans of the West End run and Americans new to the show.
Among the British holdovers aside from Mirren, Richard McCabe is given the most opportunity to shine as the rough-hewn Labour leader Harold Wilson. In several scenes, McCabe adds color and quirk to Wilson's bond with the sovereign, which grows from guarded antagonism to genuine affection. Beevers is an effective master of ceremonies, and Michael Elwyn is elegantly deceptive as the tragic Anthony Eden, whose government was destroyed by the Suez Canal fiasco of the mid-1950s. Representing the American contingent, Dakin Matthews is a spry and mischievous Winston Churchill, Judith Ivey exudes no-nonsense authority that shakes even the Queen as a frosty and frosted Margaret Thatcher, and Dylan Baker tellingly illuminates Major's ambivalence toward his job and his doubts about the necessity of the monarchy.
First and foremost, of course, is Mirren, simultaneously regal and human. Her Elizabeth is much more than a figurehead, ever mindful of her impact upon her subjects yet intensely seeking to maintain a space for personal life. Mirren masterfully hits all the notes: from dry humor (watch as she reacts to a cell phone going off in her ever-present purse) to righteous anger (exploding at Major for suggesting the royal family pay income tax) to tricky political maneuvering (pleading with Churchill and Thatcher to achieve her ends, successfully and not so much).
Though her film version of Elizabeth gave us a more intimate look at the queen, and this stage edition is more of a condensed overview of her tenure on the throne, Mirren makes it a command performance.
March 11, 2015
Hamilton
Public Theater
Reviewed by David Sheward
American history gets a vigorous shot in the arm with
Hamilton
, Lin-Manuel Miranda's bracing new musical about the most abrasive of our founding fathers, now playing at the Public Theater. You could argue, and Miranda does, that outside of George Washington, Alexander Hamilton was the key figure in the birth of our new nation. Scrappy, ambitious, and sometimes obnoxious, he didn't care whom he offended as he fought at Washington's side and instituted the national debt as a means of financing our government. After being disgraced by a sexual scandal, he famously dueled with the power-hungry Vice-President Aaron Burr and lost his life at 47.
Already a sell-out hit and announced for a Broadway transfer,
Hamilton
—which Miranda wrote, composed, and stars in—takes the bold step of telling its audacious hero's story with largely hip-hop and rap, and recasting the historic roles with mostly African-American and Latino actors. By using the music of today's disenfranchised youth, Miranda reinforces the image of the young American rebels as dangerous outsiders. Hamilton, a bastard born in the Caribbean, is constantly derided as an "immigrant," drawing parallels to hot-button issue of the 21st century. In addition, the dueling machismo culture of Hamilton's era echoes the sometimes violent jousting amid contemporary rappers.
Miranda's score, brilliantly orchestrated by musical director Alex Lacamoire, incorporates a variety of styles to convey the diverse mixture of the new nation. Even the distant figure of King George III, played as a hilariously effete snob by Brian d'Arcy James, is given a signature leitmotif, a Beatles-style pop sound for his ballad of lost love for his former colonies.
This is an invigorating history lesson, but it's not a perfect one. Clocking in at close to three hours, it could do with cutting before it moves to Broadway, and Miranda is bit too much in love with his subject at the cost of just about everyone else. His Hamilton is almost too smart for the room; all the other main figures—except Washington—come across as jerks or cads such as the preening, shallow Jefferson, the doddering Madison, and the incompetent, unseen John Adams.
Despite the show's flaws, Miranda's overall achievement is staggering. He tells a complicated story in a sung-through work with a host of distinct voices, juggling political intrigue, passionate ideals, and interpersonal connections. Hamilton's complicated rivalry with Burr, his tragic family life, and his father-son relationship with Washington are given full weight and depth. Director Thomas Kail and choreographer Andy Blankenbuehler, who served in those capacities on Miranda's
In the Heights
, stage the sweeping epic with invention and energy. Howell Binkley's versatile lighting sets the scenes from battlefield to executive mansion.
Miranda intensely conveys Hamilton's quicksilver intelligence as well as his quick temper. Leslie Odom Jr. delivers a breakout performance as the nefarious Burr, equally convincing as a scheming politician and a loving father tenderly crooning to his baby daughter. Phillipa Soo, so moving in
Natasha, Pierre and the Great Comet of 1812
, is just as heartbreaking here as Hamilton's put-upon wife Eliza while Renee Elise Goldsberry gives off sparks of wit and passion as her sister Angelica, also smitten with the title treasury secretary. Christopher Jackson is a stalwart Washington, Okieriete Onaodowan is formidable as a rough rebel, and Daveed Diggs is delightfully bubbly as a party-boy Lafayette and a popinjay Jefferson.
Although this
Hamilton
is not quite as revolutionary as
Oklahoma!, Hair, Rent,
or even
1776
, it's an exciting sign that American musical theater is moving forward with the times even as it examines our past.
March 3, 2015
Lives of the Saints
Primary Stages at the Duke on 42nd Street
Brooklynite
Vineyard Theatre
Reviewed by David Sheward
There's a fine line between satire and realistic comedy, which two Off-Broadway productions attempt to walk.
Lives of the Saints
, David Ives's program of short plays from Primary Stages, and
Brooklynite
, a new musical from Vineyard Theatre, contain elements of parody and sketch-style work, as well as dashes of verisimilitude. While both raise chuckles for their more outlandish antics, they don't quite get us to identify with their pratfalling characters.
The Ives evening consists of six playlets (one was cut during early previews) examining human relations from a decidedly comic perspective. Three are from an earlier same-named edition, which had regional productions in Philadelphia and the Berkshires in 1999. Two of the older works and two of the new ones are one-joke premises stretched a tad thin. From 16 years ago, "Soap Opera" spins an amorous tale of a repairman in love with a washing machine that never breaks down (for younger folks, this is based on the then-famous Maytag washer commercials), and "Enigma Variations" pits a pair of identical patients with twin therapists. The former devolves into a series of puns related to detergent brand names, and the latter exhausts every possibility on the theme of dualism. Among the more recent pieces, "The Goodness of Your Heart" is a two-hander about the price of friendship, and "Life Signs" details a deathbed confession delivered after the body has officially expired. "Goodness" is a slight curtain raiser, and "Life Signs" has a hint of wistfulness amid the zany jokes mixing sex and mothers.
The two pieces that work best examine Ives's Chicago Polish roots and don't try so hard to tickle the audience's collective funny bone. The new "It's All Good" follows a writer encountering an alternative version of himself on a visit to his old neighborhood while the 1999 title piece peeks at two elderly church volunteers preparing a funeral breakfast. Both begin with gimmicks—"Good" employs a
Twilight Zone
trope of the protagonist entering a parallel universe where he made different life choices and "Lives" is performed without props or sets as a trio of onstage techies make the sound effects, perhaps to indicate that an unseen, benevolent force is looking out for those who give of themselves. In these bittersweet cameos, Ives goes beyond wisecracks and wordplay for two sensitive looks at the pain and joy of everyday existence.
Ives has successfully combined goofy premises with in-depth insights in previous sextets such as
All in the Timing
and
Mere Mortals
. Unfortunately, he achieves the perfect balance between the ridiculous and the sublime in only two of the offerings. Director John Rando, who delivered a snappy Primary Stages revival of Timing in 2013, is on the money again. Carson Elrod who sparkled in that production is on point once more as the hapless washing-machine fixer and other strugglers in life's mysteries. Liv Rooth and Kelly Hutchinson are particularly touching as the gossipy church workers, while Arnie Burton and Rick Holmes also find guffaws and pathos in multiple roles.
Similarly, the new musical
Brooklynite
at the Vineyard attempts to merge a wild riff on comic-book superheroes with characters we are supposed to care about. There are some genuinely funny bits about superpowered folks and the trendy titular borough in Michael Mayer and Peter Lerman's book, as well as Lerman's sprightly score, but they don't come together as a whole. In addition, Mayer's direction has a stop-and-start quality with slow builds toward punch lines that elicit only mild smiles. Among the zanier bits is the lameness of the weakest member of the Legion of Victory, Avenging Angelo, who can miraculously find a good parking space. (Sorta funny, but not comic gold.) As a self-confessed comic-book geek and former Brooklyn dweller, I was particularly disappointed, but there are pleasures to be had in this show. Matt Doyle makes for an adorably dweeby superhero wannabe, and Nicolette Robinson is a dynamic Astrolass, the object of his idol worship. Tony nominee Nick Cordero (
Bullets Over Broadway
) gets laughs as the thick-witted Angelo; Gerard Canonico is a bubbly, dancing Kid Comet; and any show benefits from the presence of the witty Ann Harada (
Avenue Q
and
Rodgers and Hammerstein's Cinderella
).
March 1, 2015
The Iceman Cometh
The Goodman Theatre at BAM/Harvey Theater
Reviewed by David Sheward
While its demanding running time doesn't exactly fly by, Robert Falls's mammoth revival of Eugene O'Neill's
The Iceman Cometh
will keep you fascinated for nearly five hours, quite a feat in our attention-deficient times. Now at the Brooklyn Academy of Music's Harvey Theater after a successful run at Chicago's Goodman Theatre in 2012, this bleak depiction of the self-deluding drunks at a last-chance saloon holds you in its hypnotic spell and doesn't release you until you're as exhausted as the pipe dreamers onstage. But you'll also be strangely exhilarated at having witnessed a great production of one of the greatest of American tragedies.
It begins, appropriately, in darkness. We can barely make out the shapes in Kevin Depinet's prison-like set (inspired by John Conklin's design) or hear the voices of the hungover habitués of the ironically named Harry Hope's bar in 1912 Lower Manhattan. Gradually, Natasha Katz's eloquent lighting reveals the crew of dreamers, each repeating a personal illusion of escaping his or her rock-bottom existence. They eagerly await the arrival of Hickey, the glad-handing salesman whose annual visit promises free drinks and feeding of fantasies. But this time Hickey brings cold hard reality, encouraging his pals to be honest about themselves, believing it will bring them peace. But it's the peace of the grave Hickey offers, as O'Neill shows that the drunks—a microcosm of the world representing all classes, races, and political persuasions—need their pleasant lies in order to live.
There are flaws in this giant of a play. O'Neill indulges in repetition, and there's an unnecessary, parallel subplot involving the whining Don Parritt, a former revolutionary, and his father figure, the misanthropic Larry Slade. But all the weaknesses are brushed aside in Falls's masterly staging. There's enough variety and energy in the galaxy of booze-guzzlers to keep the action from flagging, and each member of the large cast endows his or her role with individual quirks and subtext.
Musical comedy star Nathan Lane may seem an odd casting choice for Hickey; but as soon as he makes his big entrance well into the first act, it makes sense. Bursting into the bar's gloomy backroom, he displays a jolly showman's slick song-and-dance, only this time he's selling his idea of peace rather than good times. When the smiling mask slips and Lane reveals the heartache beneath Hickey's whimsical façade, it's shocking. As the life-weary Larry Slade, Brian Dennehy adds another indelible portrait of devastation to his gallery of O'Neill immortals from such works as
Long Day's Journey Into Night
and
Desire Under the Elms
. Even though Slade can be seen as static—his main action is pushing away Hickey and Parritt and begging to be left alone—Dennehy gives him a palpable vitality and a clear objective: to kill off his compassion and retreat from life though part of him still desperately wishes to partake.
Additional outstanding performances are delivered by Stephen Ouimette as the pugnacious bar owner Harry Hope, John Douglas Thompson as the rage-filled Joe Mott, Kate Arrington as the sentimental prostitute Cora, and Lee Wilkof as the anarchist Hugo Kalmar who goes in and out of a drunken stupor. But the entire company brings O'Neill's hopeless souls to blazing life in this glacier-sized
Iceman
.
February 15, 2015
A Month in the Country
Classic Stage Company
Reviewed by David Sheward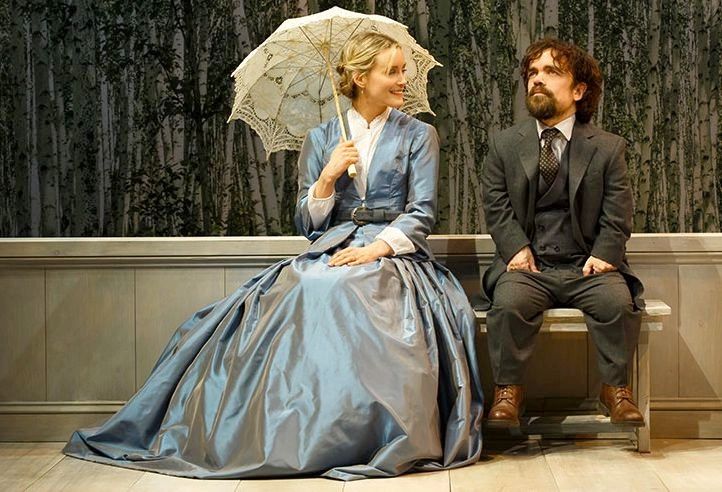 Taylor Schilling and Peter Dinklage
Photo by Joan Marcus

The Classic Stage Company production of Ivan Turgenev's
A Month in the Country
features high-wattage TV stars present and past: Taylor Schilling of
Orange Is the New Black
, Peter Dinklage of
Game of Thrones
, Megan West of
How to Commit Murder
, and Anthony Edwards of
ER
. It includes arresting moments courtesy of director Erica Schmidt. But it lacks the essential spark of passion. Like too many productions of plays by Turgenev's fellow Russian Anton Chekhov, this
Month
falls into the trap of portraying bored people in a boring way.
As in Chekhov's
Uncle Vanya
and
The Seagull
(though the Turgenev play was written about 50 years earlier), the action takes place on a rural estate where the indolent landowners and their guests suffer from ennui and frustrated emotions. Dazzling Natalya is locked in a loveless marriage with the banal but decent Arkady. She strings along the witty Rakitin, who wants more than a platonic relationship but never presses the matter out of consideration for Natalya's husband, his best friend. This delicate balance is upset when Natalya develops a Phaedra-like adoration for her young son's tutor, Aleksey. To complicate things, Natalya's girlish ward Vera is similarly smitten with the schoolmaster. On the edges of the action lurks cynical Dr. Shpigelsky, scheming to marry Vera off to his chum, the clumsy Bolshintsov, in return for three new horses.
The trouble is, there is no fire coming from Schilling's icy Natalya, who glides above the action like Tippi Hedren in a Hitchcock thriller. Similarly, the faun-like Aleksey of Mike Faist, who resembles a young Danny Kaye, is puppy-dog cute and endearing, but hardly charismatic enough to make us believe all the women are falling over themselves to get to him. Apart from one intense monologue describing his blighted romance, Dinklage's Rakitin is lackluster. Edwards makes Arkady more than just a cuckolded buffoon, but the smallness of the role gives him little opportunity to make much impact. Of the characters caught in the main love tangle, West's Vera is the most interesting, and West vivifies the girl's transition from joyful innocent to disappointed but wiser woman. Schmidt and costume designer Tom Broecker aid in this transformation by having Vera switch from childish play clothes to a somber, dowdy frock after Aleksey has rejected her and declared his feelings for Natalya. For an added touch, Vera's hair is now worn up, and the previously prim Natalya's locks are cascading like a mermaid's.
With the principal storyline rendered unexciting, the supporting players take over. Thomas Jay Ryan practically steals the spotlight with his rakish and brutally frank Shpigelsky. In a delightfully comic scene, he woos a sly Annabella Sciorra, as the spinsterish Lizaveta, by bluntly laying out all his faults and stating she is not likely to do better. Veteran character actor Elizabeth Franz is a vinegary Anna, Arkady's mother; and Peter Appel an appropriately doltish Bolshintsov.
The design elements are proficient, but set designer Mark Wendland has placed a huge barn-like set of walls over the characters. This is probably meant to convey the suffocated lives they lead, but it only succeeds in adding to the sense of claustrophobia the production induces.
February 7, 2015
Constellations
Manhattan Theatre Club and the Royal Court Theatre at Samuel J. Friedman Theatre
Reviewed by David Sheward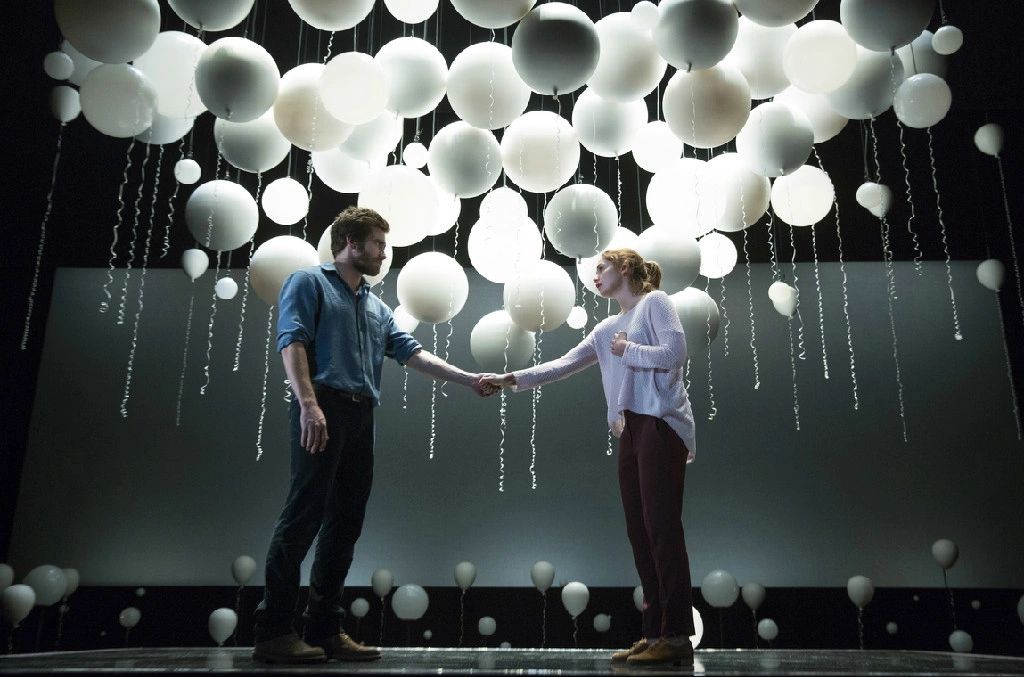 Jake Gyllenhaal and Ruth Wilson
Photo by Joan Marcus

The concept of multiple universes with infinite possibilities has been used as fodder for many sci-fi movies and TV shows. (Who can forget that
Star Trek
episode with the evil Capt. Kirk and Spock?) A few plays have tackled the subject, usually in which a couple plays out variations on the stages of their relationship. This type of playful playwriting can be fun for a brief comedy sketch (David Ives and Caryl Churchill have done effective short pieces on this theme), but any longer than 10 minutes and the gimmick wears thin.
So it's no wonder that Nick Payne's
Constellations
, a joint production from the Royal Court Theatre and Manhattan Theatre Club, feels a bit drawn out even at 70 minutes, possibly the shortest running time for a Broadway show since David Mamet's
The Anarchist
. On set designer Tom Scutt's bare, balloon-decorated stage, Jake Gyllenhaal and Ruth Wilson enact dozens of varying vignettes from the on-again, off-again romance between beekeeper Roland and scientist Marianne. I suspect Payne gave her that occupation solely so she could introduce the idea of flowing timespans with alternative versions of reality.
The duo meet cute at a barbecue, move in together, break up, reconcile, and face mortality as Marianne contemplates assisted suicide when she develops a brain tumor—or not. Each possibility is followed by an opposite outcome. Like the time-travelling Doctor Who, Payne skips back and forth between possible scenarios. In one, Marianne cheats on Roland; in another, it's the other way around. A later segment has Marianne eagerly accepting Roland's awkward proposal, followed up by her rejecting him. You get the general idea. The short scenes are broken up by flashes of Lee Curran's lighting or the balloons falling, which may represent shifting molecules or just balloons. Payne does deliver clever dialogue, and director Michael Longhurst and his two-person cast give the rapid sequences variety and punch.
Film star Gyllenhaal is the box office draw, and he turns in a fun, charismatic performance, but Wilson (fresh off her Golden Globe win for Showtime's
The Affair
) provides the electric current that keeps this toy-like play running. Through all the different storylines, her Marianne fizzes like a glass of soda about to flow over. Her fumbling attempts at breaking the ice with Roland are particularly hilarious, and the desperate anger she displays when the tumor cripples her ability to express herself is devastating.
Unfortunately, the play comes across as more of an acting exercise than a fully realized work. Gyllenhaal and Wilson's ability to create markedly distinct emotions and intentions with almost exactly the same words is admirable, but it's not quite enough to make up for the thin material. Plus asking Broadway prices for such a short, slight piece is pretty cheeky. An additional one-act curtain-raiser would have been most welcome.
January 13, 2015
Pocatello
Playwrights Horizons
Reviewed by David Sheward
"I don't know where I live," says Eddie, the misbegotten hero of Samuel D. Hunter's deceptively simple yet hugely affecting new play,
Pocatello
, at Playwrights Horizons. This shattering cry of despair is uttered in an even voice by T.R. Knight, who plays Eddie with painfully real insight, after he recites a seemingly endless list of local landmarks: Starbucks, Home Depot, Walmart, Staples, etc. Nothing is unique to the titular Idaho town, taken over by brand-name chain outlets, like the rest of America. Pocatello is probably best-known to showbiz types as the site where Judy Garland's character was "Born in a Trunk" in
A Star Is Born
. But, to Eddie, a manager of one of those generic restaurants, it's his home. His great-grandparents settled here, but his current family is distant, either physically, emotionally, or both, ever since the suicide of his father. His employees are rudderless. One of the waitresses remarks that theirs aren't the kind of jobs you care about, you just show up and try to have a good time while mindlessly performing your tasks. To compound his lack of community, Eddie is gay in a red state where the word
gay
isn't even mentioned.
He's not the only one with troubles. Waiter Troy (Danny Wolohan) is coping with an alcoholic wife (Jessica Dickey), a senile father (Jonathan Hogan), and a bulimic daughter (Leah Karpel), while former drug addict Max (Cameron Scoggins) is struggling to stay clean, and Isabelle (Elvy Yost) does her best to scrape together a living. It sounds like a soap opera, but Hunter, who has depicted other lonely Idaho souls in such plays as
A Bright New Boise, The Whale
, and
The Few
, turns it into a symphony of small-town angst. The expert liming of the 10-member cast and Davis McCallum's masterful direction gives full voice to each character's yearning and despair.
The opening scene is set in designer Lauren Helpern's detailed faux-Italian restaurant, perfect in its banal pseudo-hominess down to the salt shakers. Sound designer Matt Tierney's tinny Musak rendering of country hits plays over the loudspeakers. Two different dramas are taking place at once with dialogue often overlapping. Eddie's family including his complaining mother Doris (Brenda Wehle) and visiting brother Nick (Brian Hutchinson) and his sister-in-law Kelly (Crystal Finn) are at one table, while Troy's bickering clan is at another. The frazzled Eddie, trying to connect with and impress his relatives, is running in and out, as is the entire wait staff. In lesser hands this sequence would be incomprehensible, yet, in McCallum's hands, we understand each character, why they are there and what they want.
The entire company is first-rate, but Knight as the pathetic Eddie and Wehle as the crotchety Doris are especially heartbreaking. In the final scene, mother and son make a silent truce over a midnight meal of gluten-free pasta. They chat about their town's lack of community and the whereabouts of old friends as old wounds are quietly healed. It's a shattering and simple moment in one of the best plays of recent years.
December 23, 2014
The Elephant Man
Booth Theatre
A Delicate Balance
John Golden Theatre
Reviewed by David Sheward
Two current productions reflect a growing Broadway trend: all-star vehicles in their third Main Stem incarnation.
The Elephant Man
and
A Delicate Balance
are established dramatic fare in limited runs headlined by surefire box-office champs. They are satisfying evenings, but only the latter challenges its audience.
The Elephant Man
is Bernard Pomerance's 1977 biographical work of John Merrick, whose hideous deformity masked a gentle spirit. The play is a moving portrait of its subject (his real name was Joseph) and a scathing indictment of the puritanical Victorian era in which he lived. Merrick is rescued from a pitiable existence as a sideshow freak by prominent surgeon Frederick Treves, who attempts to give the misshapen man as normal an existence as possible by introducing him to high society. This includes the actress Madge Kendal. Her sympathetic visits culminate with a brief erotic display when she exposes her breast to Merrick, who has never been looked on with romantic tenderness before.
Director Scott Ellis emphasizes the sentiment and turns the spotlight on film star Bradley Cooper in the title role at the expense of Pomerance's cool observations. (Sean Mathias took a more objective stance in his 2002 revival.) Ellis chooses to eliminate the Brechtian song warbled by a pair of Belgian "pinheads" to Merrick just before he expires by sleeping on his back, letting his heavy head crush his windpipe, and then adds a syrupy finish by having Mrs. Kendal make a final entrance and embrace the dead Merrick.
It's laudable of Cooper to attempt this difficult role, and he carries it off with expertise and passion, twisting his muscular frame and handsome features into Elephant Man's pitiable form. Alessandro Nivola is commanding and compassionate as the conflicted Treves, expressing the doctor's desire for conformity and his doubts about his strict morality. Patricia Clarkson is delightfully droll as Mrs. Kendal but overplays her theatricality. Anthony Heald admirably doubles as the avaricious manager and a pious bishop, both of whom exploit Merrick for their own ends.
Timothy R. Mackabee's bare set resembles a stark exhibition hall, lit with unforgiving sterility by Philip S. Rosenberg, and the exterior of the Booth Theatre is decorated like a period circus. Ellis and company deliver a solid professional staging, but a deeper rendering of the script would have produced a richer experience.
Edward Albee's
A Delicate Balance
gets a more shaded interpretation in Pam MacKinnon's thoughtful revival. The 1966 play was received with quizzical shrugs by the press and audiences in its initial edition and closed after a brief run. It won the Pulitzer, but many saw that as a consolation prize after Albee had been denied the award for
Who's Afraid of Virginia Woolf?
Gerald Guitterez's 1996 Lincoln Center version gave fresh perspective to the drama, and MacKinnon adds even more in this nuanced revival.
The central conceit of Albee's play is wide open to interpretation. Wealthy suburban couple Agnes and Tobias, already dealing with the return of their much-divorced daughter Julia and the troubled residence of Agnes's alcoholic sister, Claire, find themselves in a ethical dilemma when their best friends Harry and Edna show up one night, asking to move in because they're frightened. The source of their terror is never explained, and the question becomes not what is scaring the refugees but what to do with them. Albee asks the difficult questions: What are the limits of friendship and what do we owe those close to us?
With the same insight she brought to her 2012 direction of
Virginia Woolf
, MacKinnon makes this existential conundrum very real. The relationships are believable and the cause of Harry and Edna's flight and fright is as tangible and yet as ephemeral as Godot. They don't want to die alone, and they believe their friends will save them from this fate. At least that's what I got from the marvelously specific acting of Bob Balaban and Clare Higgins as the terrified couple. John Lithgow is equally intense as the confused Tobias. At first Tobias is mystified by the problems besetting him and hides behind his newspaper and brandy, but this incisive actor gradually reveals the character's awareness of his isolation. His final entreaty for Harry to stay becomes a desperate plea for meaning. Lithgow makes us see that Tobias realizes that 40 years of friendship count for nothing when it comes to facing death, and it terrifies Tobias just as it does Harry and Edna. It makes Albee's sometimes obscure living room drama a searing confrontation with the unknown.
As the in-control Agnes, Glenn Close is coolly commanding but fails to show the tremors beneath her icy surface. Lindsay Duncan makes a marvelously acerbic Claire and doesn't take over the play as Elaine Stritch did in the 1996 version. Martha Plimpton keeps Julia from turning into a whining brat, but the actor affects a stereotypical "stagey" voice. Santo Loquasto designed the well-appointed set and Ann Roth provided the chic costumes, though Agnes appears as if she's headed for a Kennedy Center Gala rather than an evening dealing with life's biggest mysteries.
December 15, 2014
Off-Broadway Roundup II
Reviewed by David Sheward
As the year winds down, Off-Broadway has been unusually active with new American plays examining religious faith and family relations, as well as those reconsidering the Oedipus myth and our country's penchant for violence. Katori Hall's
Our Lady of Kibeho
at Signature Theatre and Sarah Ruhl's
The Oldest Boy
at Lincoln Center benefit from imaginative productions with exceptional design elements. The plays present questions about belief but offer no easy answers.
Kibeho
focuses on the real-life incidents of a trio of teenage girls receiving visitations from the Virgin Mary at their Catholic school in Rwanda in the early 1980s. Hall isn't as concerned with the validity of the girls' visions as with the reaction from the community and the Vatican. At first, the girls are treated with skepticism, then celebrated as a tourist attraction. But when they predict an upcoming devastating war, they are greeted with anger. Michael Greif delivers his usual excellent staging with exquisite lighting by Ben Stanton, mesmerizing video projections by Peter Nigrini, and evocative sound design by Matt Tierney. There are even flying special effects, realistically created by Paul Rubin. Hall's script effectively documents the story and fleshes out a fascinating cast of characters—from the innocent visionaries, each distinct, to the sympathetic priest, to the doubting expert from Rome. She draws no conclusions but leaves the central issue of belief up to the audience.
In
The Oldest Boy
, Ruhl presents a similar conundrum—this one fictional and relating to Buddhism and reincarnation. An American woman married to a Tibetan immigrant discovers her young son may have lived previously as a lama. When two visiting monks apparently confirm the boy's past life and wish to take him to live with them in Tibet, she must make a terrible choice. Like Hall, Ruhl does not probe deeply into the religious debate. Instead she zeroes in on the mother's dilemma, given full weight by Celia Keenan-Bolger's intense performance. Veteran actor Ernest Abuba brilliantly conveys the spirit of the boy (embodied by a puppet) as well as the lama. Rebecca Taichman's production is spare but powerful, benefiting from Japhy Weideman's eloquent lighting.
The heroine of Heidi Schreck's
Grand Concourse
, just closed at Playwrights Horizons, also deals with doubt. Sister Shelley, a nun running a soup kitchen in the titular Bronx neighborhood, times her prayers by a microwave since she has trouble speaking to the Lord for even a minute. Her crisis of faith comes to a head when mentally disturbed volunteer Emma disrupts the center, the staff, and the homeless people who depend on them. Schreck's play is sharp and funny, as well as penetrating in its observations of the obligations religion places on its followers. Schreck draws the radical conclusion that sometimes it's okay not to forgive. Kip Fagan's direction keeps the proceedings from getting too heavy, and Rachel Hauck's set design is accurate down to the kitchen sink. Quincy Tyler Bernstine masterfully chronicles Shelley's conflict, and Ismenia Mendes is a complex Emma.
Sharyn Rothstein's
By the Water
, about a Staten Island family dealing with the aftereffects of Hurricane Sandy, plays like a TV script, which should come as no surprise as Rothstein has numerous video credits. Her script is rife with plots, secrets, betrayals, and familiar father-son conflicts, all tidily wrapped up within 90 minutes. But as played by a veteran cast including Obie winner Deirdre O'Connell as the mother, it's an entertaining and occasionally moving hour and a half.
Also clocking in at the same running time is Sam Shepard's
A Particle of Dread
(Oedipus Variations), also at the Signature Theatre Center, mashing together different recastings of the classic tragedy in Ireland and California. At one point, the playwright unwisely has a character directly ask the audience if it is getting anything out of the play. Like most of Shepard's oeuvre,
Particle
is fragmented and somewhat obscure, so the question may have received a few negative responses. In a series of short scenes, we are introduced to various modern versions of Oedipus, Jocasta, Antigone, Tiresias, and others; then some characters disappear, while others meet the legendary unhappy ends. But Shepard's muscular style fascinates and creates a hypnotic American version of the blood-soaked story, indicting our obsession with violence, a topic that often grasps us more than religion does. Stephen Rea is gripping as the contemporary Oedipus in the climactic speech.
December 7, 2014

Father Comes Home From the Wars (Parts 1, 2, and 3)
Public Theater
Reviewed by David Sheward
The prolific Suzan-Lori Parks, who once wrote a 365-play project, continues her ambitious examination of American history and race with
Father Comes Home From the Wars
, a nine-play cycle stretching from the Civil War to the present. The first three parts are on display in a nearly three-hour single bill at the Public Theater. While there is much heavy-handed symbolism and a few overly obvious references to the
Odyssey, Father
sets off many dramatic sparks and in the second of the three works it really catches fire.
As she did in
The America Play
and
Topdog/Underdog
, Parks combines allegory and verisimilitude to scrutinize the African-American experience. This cycle follows the slave Hero who leaves his wife, Penny (read: Penelope), to serve as valet to his despicable master in the Confederate Army in return for his freedom. Greek classic parallels continue: Hero changes his name to Ulysses (after General Grant) upon emancipation, and his loyal dog named Odyssey (for "odd-a-see" because of crossed eyes), played by a human actor, accompanies him to war. There's also Hero's fellow slave Homer who longs to escape to the North but remains on the homestead because he loves Penny.
The first and third parts, which take place at the master's Texas plantation, drip with significance as each character seems to speak in capital letters, often addressing the audience directly. There's even a Greek chorus of slaves in Part 1 and of runaways in Part 3. But the middle part, called "A Battle in the Wilderness," is the juicy, satisfying entrée of this three-course meal. Hero's master, identified only as the Colonel, has captured a Yankee captain, and the three of them are separated from regiments of the other side. The captain encourages Hero to defy the Colonel and set both of them free, but Hero, suddenly confronted with the possibility of being on his own, fears the changes such liberation would bring. "Who would I belong to?" he asks.
Questions of race, identity, responsibility, and morality are hotly debated as the Colonel sadistically toys with both his slave and his prisoner who has several unexpected secrets of his own. It's a taut, three-sided boxing match staged with remarkable tension by Jo Bonney and fought with precision by Sterling K. Brown's passionate and ambivalent Hero, Ken Marks's sly and villainous Colonel, and Louis Cancelmi's deceptively simplistic soldier. Unfortunately, the first and third plays lack the same punch.
But the cast endows Parks's sometimes pretentious sections with gritty realism, and music director Steven Bargonetti performs tangy vocal and guitar accompaniments. Jacob Ming-Trent delivers a canine tour de force as Hero's dog Odyssey, relating their adventures. Jenny Jules is a compelling Penny and Jeremie Harris a noble Homer. Amid the high-flying verbiage, Parks makes many sharp observations on the messy course of our country's history. It will be interesting to see what she has to say in Parts 4 through 9.
November 5, 2014
The Death of Klinghoffer
Metropolitan Opera
Reviewed by David Sheward
Operas rarely make headline news, but the Metropolitan Opera's debut of John Adams's rich and complex 1991 work
The Death of Klinghoffer
has become an international sensation—not so much for what happens onstage but for the controversy it has ignited. Inspired by the real-life terrorist incident in which an American-Jewish tourist was murdered abroad a hijacked Italian pleasure cruise ship, the opera has been assailed by some factions as anti-Semitic, as well as sympathetic and even propagandistic in favor of the Palestinian cause. Hundreds of protestors gathered outside the Met on opening night and a few bought tickets and attempted to disrupt the show with catcalls. At the performance attended (the third), there were a handful of demonstrators carrying signs calling for the cancellation of the "racist" opera. Although several of the characters express anti-Jewish vitriol, the work is not anti-Semitic and attempts to explore the complex, never-ending Middle East crisis through compassion and poetry.
It doesn't entirely succeed. Alice Goodman's dense libretto often veers into obscure territory invoking agricultural and mystical imagery—at one point the passengers sing of a "lion-ant," whatever that is—rather than focusing on the devastating issues at hand. But Adams's rich and intense score brings us back to the terrible conflict and gives color and depth to the figures caught up in it. Tom Morris's thoughtful production combines the demands of opera and drama by giving constant movement to arias, group, and choral sequences while Arthur Pita's inventive and kinetic choreography delineates the raging emotions at work.
Most of the action is told in flashback. After a prologue with separate choruses of exiled Jews and Palestinians, survivors including the captain and first officer recall the horrifying takeover in what appears to be a panel discussion. Tony winner Paulo Szot (
South Pacific
) magnificently expresses the moral confusion and guilt of the captain, who feels he could have done more to prevent the murder of Klinghoffer but feared endangering the rest of the lives in his care.
This seminar sequence leads into scenes aboard the ship, alternating with mostly mystifying chorus numbers. Perhaps the most controversial moments involve those in which the four terrorists are presented as human beings—terrible, twisted villains, yes, but also real people with motivations behind their heinous actions. For example, Mamoud (the scary and moving Aubrey Allicock) sings of his favorite popular songs as he fiddles with a radio while guarding the captain. In the same bittersweet melancholy tones, he recalls seeing his brother's decapitated body and explains there can be no peace in the region. Jesse Kovarsky as the youngest hijacker, the one who pulls the trigger on the wheelchair-bound title character, expresses his violent urges through dance in an electrifying performance.
Klinghoffer
works best when capturing the small moments of the tragedy such as a grandmother calming her grandson, an Austrian woman's taking stock of her food while trapped in her cabin, or Marilyn Klinghoffer innocently chatting about medical problems as her husband is being killed on deck. Maria Zifchak, Theodora Hanslowe, and Michaela Martens illuminate the heartbreaking significance of the seemingly trivial details in these arias. Martens later delivers a devastating finale when Mrs. Klinghoffer learns of her spouse's fate and confronts the shattered captain.
The contrasting arias of the title character, beautifully performed by Alan Opie, exemplify the strengths and weakness of the work. In his first solo, the handicapped Klinghoffer bravely snaps back at the terrorists after a vicious vocal assault by the most venomous of the quartet (Ryan Speedo Green in an appropriately brutal turn). It's heroic, specific, and powerful. Then, after he is shot, Klinghoffer stands and sings the "Aria of the Falling Body." Opie performs it with great artistry, but Goodman's words are so vague and symbolic, we are left unmoved. That's
The Death of Klinghoffer
in summary—stunning one moment, cold and remote the next.
November 2, 2014
On the Town
Lyric Theatre
Reviewed by David Sheward
On the Town
, the iconic musical following three sailors pursuing romance while on a 24-hour leave in wartime Gotham, has had a strange life since its 1944 premiere. That watershed original staging marked the Broadway debuts of a quartet of talents whose collective influence on the American musical has been nothing less than seismic: composer Leonard Bernstein, director-choreographer Jerome Robbins, and book authors–lyricists Betty Comden and Adolph Green who also played leading roles. A weird hybrid of the sophisticated sensibilities of Bernstein and Robbins and the showbiz sketch humor of Comden and Green,
Town
was a smash-hit celebration of youthful exuberance having one last fling before facing the perils of war. But the 1949 MGM film version, starring Gene Kelly and Frank Sinatra, scrapped most of Bernstein's complex score, replacing it with Hollywood pablum. Revivals in 1971 and 1998 did not strike the right balance between high and low culture, received mixed notices, and achieved only brief runs.
In its latest incarnation at the newly renamed Lyric, director John Rando, who won a Tony for his outlandish staging of
Urinetown
, has restored the zany cartoon aspect of the show. The performances are mostly as broad as the character's names—Claire DeLoone, Pitkin W. Bridgework, Lucy Schmeeler, Professor Figment—but there is also just the right hint of sentimentality amid the shenanigans. For starters, the show opens with "The Star-Spangled Banner" rather than the traditional overture. Beowulf Borritt's comic-strip sets and projections, Jason Lyons's primary-colored lighting, and Jess Goldstein's Technicolor costumes create a kiddie-fantasy New York in which the sailors and their girls cavort.
But the biggest contribution toward blending the satiric with the humane is made by Tony Yazbeck as Gaby, the lovelorn serviceman. While his pals Ozzie (a comically macho Clyde Alves) and Chip (a sweetly naïve Jay Armstrong) make sexual conquests, Gaby hunts for a more idealization goal: the illusive Ivy Smith (the gorgeous Megan Fairchild, principal dancer with the New York City Ballet), Miss Turnstiles for June. He sees her poster on the subway and immediately falls in love. As singer, dancer, and actor, Yazbeck captures Gaby's intense longing for amorous connection, perfectly meshing virility and vulnerability. His intense rendition of "Lonely Town" accompanied by the chorus stationed throughout the theater, is achingly real. When paired with the magnificent Fairchild in choreographer Joshua Bergasse's extended ballet sequences,
Town
soars like an eagle. Completing the lead female contingent are the deliriously highbrow Elizabeth Stanley as a sex-mad anthropologist and Alysha Umphress as scat-singing cab driver, who cooks on "I Can Cook, Too," a double entrendre–laden ode to the character's kitchen and bedroom skills.
The always hilarious Jackie Hoffman pops up in multiple roles—including Ivy's alcoholic voice teacher, an irate old lady, and a pair of put-upon club singers. If she doesn't get a Tony nomination, there is no justice. There are also riotously effective contributions from a deep-voiced Philip Boykin, a pompous Michael Rupert, an antic Allison Guinn, and a versatile Stephen DeRosa. Altogether a wonderful
Town
.
October 20, 2014
It's Only a Play
Gerald Schoenfeld Theatre
Reviewed by David Sheward
Nathan Lane is a miracle worker. What other Broadway star—and he is one of the few whose name alone sells tickets—could breathe comic oxygen into a dated script and overcome a comatose co-star? Those two Herculean feats are accomplished by the amazing Lane in the revival of
It's Only a Play
, Terrence McNally's insider comedy about the opening night of a Main Stem flop. The castmate that Lane carries is Matthew Broderick, his compatriot from
The Producers
and
The Odd Couple
. The Lane-Broderick combination, along with four other big film and TV headliners, has cemented the production's status as a sold-out, limited-run hit before the reviews even came out. While Lane is energetic and clockwork-precise in his portrayal of a frustrated sitcom actor, Broderick is stiff, awkward, and tired as his best friend, a once-promising playwright who looks every minute of the actor's 52 years.
In addition, too many of McNally's gags about the state of the New York stage have passed their sell-by date.
Play
first appeared Off-Broadway in productions in 1982 (at Manhattan Punch Line) and 1986 (Manhattan Theatre Club) and before that it closed out of town in Philadelphia under the title
Broadway, Broadway
in 1977. I saw the Philadelphia and MTC productions. The current incarnation, which features several updates, revisions, and edits (a female cab driver delivering the much-awaited NY Times review has been dropped), is the least of those three. Perhaps it's because the characters are in a sort of weird time warp co-existing in the 1980s and 2014. Many of the conditions the characters complain about no longer exist or are no longer funny. Freeloading union musicians don't play poker backstage anymore, and gay actors are not constrained to stay in the closet. The chief theater critic of the Times is not as powerful as the position once was, and the current office-holder is not British. Internet forums are called chat boards now, not chat rooms, and David Mamet is not the only author who uses foul language.
Yet despite the tired quips, director Jack O'Brien and the brilliant Lane keep the audience howling. The actor lands every punchline at exactly the right moment, guaranteeing maximum guffaws. He accurately skewers almost every big name on Broadway—including his own. While Lane is onstage the fun never stops, and O'Brien keeps the pacing at a rapid clip. This is, until Broderick shows up and slows everything down. Totally lacking in vitally, the former Ferris Bueller seems to be phoning his performance in…from a hospital bed. The remainder of the cast delivers mixed results. As the neophyte producer, Megan Mullalley offers a stylish, clenched-jaw variation on her bitchy, ditzy Karen Walker from
Will & Grace
. Despite the use of a cane due to a knee injury, Stockard Channing is firing on all cylinders as a pill-popping, coke-snorting diva. Rupert Grint is effectively gruff as a nasty British director, the polar opposite of his nebbishy Ron Weasley persona from the Harry Potter films (By the way, the joke involving Grint and the cloak of invisibility falls flat). Grint needs to work on his vocal projection; too much of his dialogue was unintelligible. F. Murray Abraham is miscast but game as a snide theater critic. Newcomer Micah Stock is drolly deadpan as a fresh-off-the-bus coat-check boy.
Scott Pask's elegant Upper East Side set and Ann Roth's fashionable tuxes and frocks provide glamor to look at when even the magnificent Lane can't sustain the recycled jokes and celebrity name-dropping.
October 10, 2014
You Can't Take It With You
Longacre Theatre
Reviewed by David Sheward
Though it's nearly 80 years old and the leading man is even older than that, the new Broadway revival of that favorite of high-schools and community theaters,
You Can't Take It With You
, packs quite a kick. The comic template is familiar through variations from
The Munsters
TV series to
La Cage Aux Folles
. When the "normal" offspring of an outrageously eccentric family brings home the conventional parents of his/her beloved, all hell breaks loose. But the Pulitzer winning 1936 script by George S. Kaufman and Moss Hart holds up admirably while director Scott Ellis and a delightful cast of Broadway vets runs the mad antics like comic clockwork.
Written during the Depression,
You Can't
fulfills a fantasy of pursuing your passion, however frivolous, in spite of economic necessity and government interference. The Sycamore clan practices its outlandish hobbies including playwriting, snake collecting, ballet dancing, manufacturing fireworks, xylophone playing, and throwing darts in David Rockwell's wonderful knickknack-stuffed set. The family's only visible means of substantial support are provided by property income from retired Grandpa (a jovial James Earl Jones) and the salary earned by the practical daughter Alice (a sparkling Rose Byrne) as a Wall Street secretary who sets the comedy in motion when she falls in love with the boss's son, Tony Kirby Jr. (a dashing Fran Kranz). The inevitable clash between the fun-loving Sycamores and the stuffy Kirbys provides the plot, but main action is watching an enormous—by contemporary Broadway standards—company expertly cut up.
Best known for his dramatic turns, Jones displays a bubbly humor as the warmhearted Grandpa, particularly when convincing the ulcer-ridden broker Kirby Senior (the expert Byron Jennings) to relax a little and stop obsessing over wealth. In what could have been a drab ingénue role, Byrne gives Alice her own slight madness, showing she is truly a part of the same family as her nuttier relations. As Alice's mother, Penny, Kristine Nielsen—who has made a career of playing daffy mothers, sisters, and aunts—gives her expected brilliant turn, adding just the right inflection or gesture to accentuate Penny's goofy observations. She even manages to make uttering the word "potato" hilarious. Reg Rogers draws guffaws as the Russian ballet master Kalenkhov, stretching out his lines and loping around the stage like a Slavic Snagglepuss. Even the tiniest cameos shine brightly here with Johanna Day adding subtext to the snobbish Mrs. Kirby, Elizabeth Ashley imperially imposing as an exiled Russian duchess working as a waitress, and Julie Halston drunkenly lurching up the stairs as an alcoholic visitor.
But even in this glittering company, there are two standouts: Annaleigh Ashford and Will Brill as Alice's kooky sister and brother-in-law, Essie and Ed. Essie studies ballet with Kalenkhov while Ed accompanies them on the xylophone, and usually that's all we see them do. But Ashford and Brill give this crazy pair such a full, zany life, you can't take your eyes off them even they are standing to their and watching the main action. Ashford invents wild dance moves for Essie, creating a brilliantly funny portrait of a woman with two left feet who thinks she's Pavlova. Likewise Brill endows Ed with a pretended sophistication manifesting itself in riotously weird gestures and behavior. They are a perfect pair of lovable loons, happy in their own world, just like all the Sycamores and theatergoers lucky enough to catch them.
September 28, 2014
This Is Our Youth
Cort Theatre
Reviewed by David Sheward
Kenneth Lonergan first burst onto the theatrical scene in 1994 with an Off-Broadway production of
This Is Our Youth
, a scathing but ultimately touching update of
Rebel Without a Cause
. Like the 1955 James Dean movie classic,
Youth
focuses on a trio of teenagers struggling to find home and connection when the adults in their lives have let them fend for themselves. But unlike the leather-jacketed delinquents of
Rebel
, the youngsters here don't even have a motorcycle gang or other misfits with whom to form a makeshift family. Given tons of cash and no guidance by their parents, these kids run wild on the Upper West Side of the early '80s, sniffing coke, indulging in anonymous sex, and bouncing off the walls in Reagan's heartless America.
Nearly 20 years after its premiere, director Anna D. Shapiro has given the play a shot of adrenaline and a warm beating heart with Kieran Culkin and Michael Cera contributing mightily to both. The play opens in the squalid studio apartment of Dennis Ziegler (the electric Culkin), an arrogant alpha male who supplements his earnings as a bike messenger by dealing drugs to his fellow slackers. (The apartment is paid for by his parents—a famous painter and a strident social worker—to get him out of their hair.) Dennis' quiet is disrupted by the feverish buzzing of his best friend Warren Straub (a deceptively glassy-eyed Cera), a pathetic sycophant who hero-worships him. Warren has been thrown out by his abusive father, a lingerie tycoon with crime connections. But before Warren left, he boosted $15,000 from Pop. How that money gets spent and the duo's whacko plans to return it over a desultory 48 hours make up the action of the play.
But the loose plot is not really the driving force of this insightful character study. It's the push-pull, love-hate bond between Dennis and Warren. The two are like battling siblings with Dennis bullying and berating the younger, attention-hungry Warren who accepts his taunts and begs for more. They act like unruly, squabbling children, but there is a sort of love between them born of their rejection by self-centered parents. (The unseen adults are a subtle metaphor for the ego-driven larger society that has continued to be just as narcissistic.) The third character is Jessica Goldman, an equally alienated fashion student and Warren's not-so-secret crush. Lonergan does give Jessica depth and her own objectives, but she's secondary to the two main characters. Unfortunately, website whiz kid Tavi Gevinson, in her stage debut, plays her on a limited scale of notes from jittery insecurity to petulant anger.
Culkin and Cera are the main attraction here. Culkin manages to make the arrogant Dennis charming, even likable. It's easy to see why he attracts a ring of followers like Warren even as he berates them. (His scalding monologue over the phone to an overweight fellow dealer is a riot.) Cera's Warren is an amazingly multilayered portrait of a lost kid who's been beaten up psychologically and physically. At first, Warren seems like a laughable, infantile loser, tossing a football around and lovingly caring for the vintage toys he drags around in a cumbersome suitcase. But gradually, Cera reveals the guy's piercing intelligence that gives him insights into his dysfunctional world. The play ends with Dennis and Warren surrounded by the wreckage of their aimless weekend, commiserating over their broken homes. Hysterically funny and heartbreakingly sad, this is anything but a wasted
Youth
.
September 18, 2014
Henry IV, Parts I and II
Shakespeare & Company at Tina Packer Playhouse
Reviewed by David Sheward
In one of the riotous interludes of Shakespeare's
Henry IV
plays, the rascally, rotund knight Sir John Falstaff calls the innkeeper Mistress Quickly an otter because she is neither "fish nor flesh, a man knows not where to have her." So it is with Jonathan Epstein's one-evening adaptation of the two parts of
Henry
for Shakespeare and Company in Lenox, Mass. There are scenes of genuine passion, intensity, and humor in the staging by Epstein, who also plays the title role, but there are almost as many forced moments where the director's hand is more evident than the connection between the characters or the Bard's themes of father-son bonds and balancing humanity with the demands of leadership.
Epstein has also mixed modern elements with the Elizabethan milieu. Arthur Oliver's costumes are a weird hybrid of contemporary fashion and period clothes, and Prince Hal and his Eastcheap pals are arrayed in circus-like outfits as if they were in a road company of
Pippin
. Vital information is conveyed by iPhones and laptops, while battles are fought with swords and modern revolvers. The director notes in the program that in Shakespeare's day technologies and costumes from different eras were blended (Roman plays such as
Titus Andronicus
featured doublets and togas), but the bizarre melding of epochs leads to confusion. If the battling armies have guns, why not just use them instead of inefficiently hacking each other up? I would have preferred going all the way into today's world and the production making a strong statement about the devious, manipulative nature of power being just as true in our corporate, social-media driven times as it was centuries ago.
This mismatching leads to one of too many sore-thumb moments: the fiery Hotspur shooting his computer at the conclusion of the scene with his equally hot-tempered lady. The action made no sense. Apparently he does so in frustration at the machine's constant interruptions, but that was not conveyed by the actor (an otherwise fine Timothy Adam Venable) or the direction.
On the plus side, Epstein establishes a strong link with Henry Clarke's complex Prince Hal, the king's rebellious son. Their final deathbed confrontation is truly moving as the dying monarch passes on words of affection along with advice on ruling England by distraction in foreign wars—talk about relevance to today's political scene. The athletic Clarke spiritedly puts across Hal's youthful exuberance as well as his calculating machinations to use Falstaff and his cronies to advance his reputation once he has shunned them. Malcolm Ingram makes for a jolly and entertaining Falstaff, particularly when leading the audience in a "catechism" on the foolishness of honor on the battlefield.
There are also valuable contributions from Robert Lohbauer's precise Lord Chief Justice and Ariel Block's boisterous Mistress Quickly. The most affecting sequence in the production involves Ingram, Block as Justice Silence, and Kevin G. Coleman as Justice Shallow. All three as elderly compatriots attempt a merry dance from their youth. As they clumsily and comically execute the steps, we see a trio attempt to briefly recapture the joy of their earlier revels and note the cruelty of passing time. The reigns of both Henrys (father and son), Hotspur's meteoric rise and fall, Falstaff's mad carousing—all will pass in a blink, and this short dance encapsulates this speed of that passing. It's a moving, funny, and sad moment. If only there had been more like it in this uneven production.
August 11, 2014
Ariadne in Naxos
Glimmerglass Festival
Reviewed by David Sheward
Setting Richard Strauss's delightful dual-personality opera
Ariadne in Naxos
in 2014 doesn't sound like it would work, but the Glimmerglass Festival's sparkling modern take, staged by artistic director Francesca Zambello, somehow does. The original takes places in the 18th-century home of the richest man in Vienna, where an opera composer and his diva are forced to share the stage with a troupe of low-comedy dancers. The two factions clash during a prologue, and, in the second act, high art and popular entertainment blend as the composer's piece combines with the comic group's improvisations, led by the enchanting Zerbinetta.
With the aid of set designer Troy Hourie and costume designer Erik Teague, Zambello has transported the proceedings to a barn on an estate in upstate New York, somewhere in the vicinity of the real festival's location, Cooperstown. There's even a live goat and chicken to enhance the rural atmosphere. The composer, a trouser role written for a soprano voice, is played as a woman, which leads to a lesbian connection between the musician and Zerbinetta. The "modern" portions of the libretto (the prologue and the dancers' lines) are sung in English (the witty adaptation is by Kelly Rourke), and the opera-within-in-an-opera is sung in the original German.
Just as the diverse elements of Strauss's conceit complement one another, the contemporary setting accentuates the theme of grand music integrated with burlesque guffaws without distracting from it. Zambello skillfully puts across both the ridiculous and the sublime.
In the first category, the comedians led by Rachele Gilmore's raucously divine Zerbinetta, provide plenty of diversion. Gilmore lends sparkle and panache to Zerbinetta's extended aria that celebrates the character's
joie de vivre
. Wielding a pair of black ostrich fans like a Follies Bergère headliner, Gilmore is a dazzling charmer. Carlton Ford offers sturdy and sexy support as her chief sidekick Harlequin. Representing the sublime, Christine Goerke displays a masterful, rich dramatic soprano in her Ariadne moments of despair and yearning and is ticklishly amusing as the temperamental diva in the prologue. She definitely has a future playing Wagner's large-voiced heroines.
Corey Bix admirably fills the tenor role opposite Ariadne, and Catherine Martin expertly limns the composer's neurotic fussiness and her infatuation with Zerbinetta. Offering valuable contributions are Adam Cioffari as a savvy agent; Wynn Harmon as the officious manager of the estate; John Kapusta as a snippy choreographer; and Jeni Houser, Beth Lytwynec, and Jacqueline Echols as a trio of nymphs.
All opera directors should look at this production to learn how to successfully transpose classic works to modern settings.
July 25, 2014
Holler If Ya Hear Me
Palace Theatre
Reviewed by David Sheward
The advertising copy for
Holler If Ya Hear Me
proclaims the show as a groundbreaking new musical in the tradition of
Show Boat, West Side Story, Hair
, and
Rent
. There is some truth in this hype. This is the first Broadway show to fully employ the rap sound that has been dominating the music industry for two decades. (
In the Heights
contains rap elements, but its score is mostly in the conventional Main Stem vein.)
Holler
uses the music and lyrics of the late Tupac Shakur with very little traditional singing. Almost all of the songs are delivered in the talk-rap style; and Daryl Waters, credited with music supervision, orchestration and arrangements, has done an exemplary job of molding Shakur's dynamic, gritty anthems of love, rage, and frustration to a theatrical setting.
Though the form is indeed new—for Broadway that is—Todd Kriedler's book is as clichéd as a 1930s Warner Bros. flick. The central story of an ex-con attempting to go straight but being drawn back into his criminal past is as old as James Cagney, Humphrey Bogart, and the Dead End Kids. Instead of a biographical approach, à la
Jersey Boys
and
Beautiful: The Carole King Musical
, Kriedler uses Shakur's oeuvre to tell a fictional, familiar story. John, an aspiring poet and artist, has just been released from prison and wants only to earn enough at the local garage to pay his rent and be left in peace. But his friend Benny has been killed in a drive-by shooting, and Benny's brother Vertus, an enterprising drug dealer, is being shaken down by a rival gang of young upstarts. (Just like Tony being dragged back into the Jets in
West Side Story
.) Will John scrap his future and go back to those mean streets? Three guesses as to make happens. It's hard to care about these characters because the structure is so shopworn and undeveloped. Even the time and setting are vague. The program proclaims them as "Now" and "on My Block, a Midwestern industrial city."
Fortunately, director Kenny Leon (who won a Tony for his revival of
A Raisin in the Sun
) infuses the staging with vitality, and Wayne Cilento provides fresh, explosive choreography. Mike Baldassari's lighting and Zachary Borovay's projections provide exciting, concert-like effects and shift the scenes from realism to the fantasy world of John's lyrics and drawings. John Shivers and David Patridge's sound design is high in volume but too often gets blurry so the words are incomprehensible, a major drawback in a show celebrating words as a means of expression.
The cast also adds dimension to Kreidler's thin creations. Rap artist Saul Williams captures John's edgy fury, and his musical performances of Shakur's bombastic lyrics are like volcanic eruptions. Tonya Pinkins gives a new variation on the supportive mother role, and John Earl Jelks is infinitely moving as a brain-damaged street preacher. Saycon Sengbloh finds depth in the long-suffering girlfriend role and gives a lovely rendition of Shakur's hit "Unconditional Love" with Williams.
Shakur was a victim of the senseless violence depicted here, and it's refreshing to see that reality and a segment of America not usually reflected on Broadway. Too bad this
Holler
is more like a shout we've heard before.
June 30, 2014

Arrivals and Departures
Brits Off Broadway at 59E59 Theaters
Reviewed by Jerry Beal
For anyone who has ever sat in a theater and been transported to a place where words cannot express his or her feelings, the spell Alan Ayckbourn has woven here will be quite recognizable. At age 75, after nearly four decades of writing plays, with 78 now having been produced, he has managed to create yet another masterpiece.
An elaborate scheme to trap a supposed terrorist at a railway station is being rehearsed, as two unexpected parties to the event arrive. One is Esme, an expelled army officer (a brilliant Elizabeth Boag), who is there to guard the soon-to-arrive witness Barry (an equally brilliant Kim Wall) who, because of a prior unseen event, is in the best position to identify the suspect. Esme is clearly bearing heavy emotional baggage and does not want to be here; Barry is a wildly idiosyncratic blend of pixie, eccentric, child, and the person at any social gathering from whom everyone will do anything to get away. As Barry continually and unsuccessfully tries to make contact with her, scenes from Esme's past keep appearing, so we gradually learn what has brought her to her current state. By the close of the first act, she reveals the life-changing secret she has been carrying.
Then Act 2 begins, and the remarkable Ayckbourn pulls another rabbit out of his seemingly bottomless hat. At first, it appears we're going to watch Act 1 all over again, word for word, except for one change: Barry and Esme are on opposite sides of the stage from where we last saw them. And then we see why: Just as Esme's past life seems ready to unfold once again, this time it isn't Esme's past but Barry's that comes out, shifting the entire tenor of the action. The show becomes a balancing act between two hurt and searching souls. And as we move toward a climax, trying to imagine how all this will end, Ayckbourn once again removes the rug from under us, leaving a measure of shatter and uplift at the same time.
Supporting the two dazzling principals is a peerless Ayckbourn ensemble, seven of whom are also in
The Time of My Life
, in repertory here with a third evening of two shorter pieces. The author again directs, abetted by flawless set, lighting, and costume design. For those of us who can't survive without another Ayckbourn to see,
A Small Family Business
is currently at London's National Theatre, and a film of
Life of Riley
recently won a Silver Bear at the Berlin Film Festival. What more can this man do?
June 18, 2014
Just Jim Dale
Roundabout Theatre Company at the Laura Pels Theatre at the Harold and Miriam Steinberg Center for Theatre
Reviewed by David Sheward
At the end of his sleek and entertaining one-man show at Roundabout Theatre Company's intimate Laura Pels space, Jim Dale sings "I've done it all," and indeed he has. In 90 dazzling minutes, the Tony-winning British performer recounts his unique career from music-hall comic to teen pop crooner to Oscar-nominated songwriter (the lyrics for "Georgy Girl") to stage star of Broadway and the West End to the voice of the Harry Potter audio books. Directed with verve by Richard Maltby Jr. and accompanied with style by Mark York,
Just Jim Dale
is a fizzy, funny, and fine recap of a versatile life in this business we call show.
Still spry at 78, Dale articulates his limbs like rubber bands and manipulates his features into any number of comic masks. He can convincingly transform into a younger version of himself delivering the pratfall that got him cast in a touring revue featuring kid comedians, as well as merrily leading the audience in a nonsensical hit tune he wrote called "Dick-A-Dum-Dum." There are the expected excerpts from his Broadway shows, including numbers from
Me and My Girl
(he was taken to see the original version when he was a child and the show convinced him to become a performer) and
Barnum
. In the latter, after delivering them at full speed, he slows down the rapid-fire patter songs so that Mike Stewart's intricate lyrics can be understood.
Dale also displays his nonmusical talents with a fiery performance of the climactic monologue from Noël Coward's
Fumed Oak
in which the henpecked hero raises up against the tyrannous, respectable females in his family to declare his independence. We also get the opening speech from Peter Nichols's
Joe Egg
, featuring Dale as a besieged high-school teacher, the audience cast as his unruly class.
But the real highlights of the show take place between the numbers. These are Dale's sparkling backstage anecdotes, ancient but still-funny music-hall gags, and stories from friends in the biz. My favorites include a re-creation of his first day recording the Harry Potter books, the saga of getting the title song for "Georgy Girl" approved by two mysterious gangster-types associated with the film's director, and a joke set in a hospital provided by Dale's pal, actor Frank Langella. Oh, and did I mention the star is magnificent at impressions? He slips into Michael Caine and Laurence Olivier with ease. There's also an unexpected set piece listing all the words and phrases Shakespeare invented, which is almost as long and varied as Dale's life on the stage. We're so lucky he's sharing it with us.
June 8, 2014

2014 Tony Predictions and Preferences
Who will win and who should win (and why should you care)?
by David Sheward
For this year's Tonys, many of my preferences match my predictions. The biggest possible major upset could be
Beautiful: The Carole King Musical
snatching the Best Musical prize from
A Gentleman's Guide to Love and Murder
. The awards for Broadway's best will be handed out on Sunday, June 8, in a star-studded ceremony at Radio City Music Hall. Here are my choices for who will win and who should.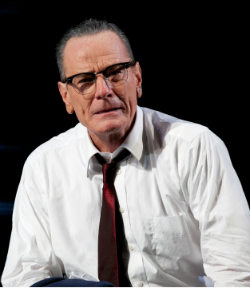 Best Play
Prediction:
All the Way
Preference:
All the Way
Robert Schenkkan's epic historical drama detailing the first year of Lyndon Baines Johnson's presidency has already won the Drama Desk, Outer Critics Circle, Drama League, and New York Drama Critics Circle awards. There really is no competition. Act One and Casa Valentina are non-profit productions at Lincoln Center Theater and Manhattan Theatre Club, so
All the Way
will go all the way.
Best Musical
Prediction:
A Gentleman's Guide to Love and Murder
Preference:
A Gentleman's Guide to Love and Murder
Gentleman's Guide
has won the Drama Desk, Drama League, and Outer Critics Circle awards. But there is strong support for
Beautiful: The Carole King Musical
, which is a favorite of the road producers, a powerful block of Tony voters.
Beautiful
has a score of familiar songs from a pop-music icon and tells an uplifting story of female empowerment.
Gentleman's Guide
is a dark comedy about death and features intricate Gilbert-and-Sullivan lyrics. Which is more appealing to Mr. and Mrs. Middle-of-the-Road Theatergoer? The voters may award
Guide
Best Book and Score and even Director, and still give Best Musical to
Beautiful
. A similar split occurred with
Urinetown
and
Thoroughly Modern Millie
, and years later with
Jersey Boys
and
The Drowsy Chaperone
. I'm hoping
Guide
, the far superior show, wins over the feel-good pop fest of
Beautiful
.
Best Revival of a Play
Prediction:
Twelfth Night
Preference:
Twelfth Night
Even though it's no longer running, the Shakespeare's Globe production captivated audiences, and there are promises of a return engagement.
Best Revival of a Musical
Prediction:
Hedwig and the Angry Inch
Preference:
Hedwig and the Angry Inch
There are only two other nominees:
Les Misérables
and
Violet
. Neil Patrick Harris's dynamite performance and Michael Mayer's spectacular production will push
Hedwig
over the top.
Best Actor in a Play
Prediction:
Bryan Cranston,
All the Way
Preference:
Bryan Cranston,
All the Way
The Emmy-winning lead of
Breaking Bad
is so much more than a TV star making his Broadway debut here. It's a brilliant physical transformation, as well as a stunning portrayal of the larger-than-life LBJ.
Best Actress in a Play
Prediction:
Audra McDonald,
Lady Day at Emerson's Bar and Grill
Preference:
Audra McDonald,
Lady Day at Emerson's Bar and Grill
There are those who quibble that McDonald should be in the musical category because her performance as Billie Holiday features 15 renditions of classic tunes. But that will not prevent voters from honoring her with a record-shattering sixth Tony.
Best Actor in a Musical
Prediction:
Neil Patrick Harris,
Hedwig and the Angry Inch
Preference:
Jefferson Mays,
A Gentleman's Guide to Love and Murder
These two tied for the Drama Desk Award and it could happen at the Tonys, but the voting body for the DDs is much smaller than that of the Tonys, so a tie is not very likely. NPH will likely triumph: He is onstage constantly and is a big TV star. Mays already has a Tony (for
I Am My Own Wife
), and no one's ever heard of him outside of NYC. But his incredibly versatile turn as all eight members of an aristocratic family was truly dazzling.
Best Actress in a Musical
Prediction:
Jessie Mueller,
Beautiful: The Carole King Musical
Preference:
Sutton Foster,
Violet
Audra McDonald is in the play category, so the musical leading-lady race is truly wide open. Mueller won the Drama Desk and will probably grab the Tony because road producers will want to give the show as much love as possible. But I preferred Foster's intense disfigured girl even though Foster already has two Tonys.
Best Featured Actor in a Play
Prediction:
Brian J. Smith,
The Glass Menagerie
Preference:
Mark Rylance,
Twelfth Night
Mark Rylance is a two-time Tony winner, so the voters will probably go for newcomer Brian J. Smith's endearing Gentleman Caller. But Rylance's Olivia was convincingly womanly. Possible spoiler: Drama Desk winner Reed Birney as the devious cross-dresser Charlotte in
Casa Valentina
.
Best Featured Actress in a Play
Prediction:
Celia Keenan-Bolger,
The Glass Menagerie
Preference:
Sophie Okonedo,
A Raisin in the Sun
Both are worthy, but I preferred Okonedo's searing Ruth in
Raisin
.
Best Featured Actor in a Musical
Prediction:
James Monroe Inglehart,
Aladdin
Preference:
Nick Cordero,
Bullets Over Broadway
Inglehart's tour-de-force turn as the Genie in
Aladdin
will overwhelm Cordero's deliciously vicious gangster with the soul of a playwright.
Best Featured Actress in a Musical
Prediction:
Laura Worsham,
A Gentleman's Guide to Love and Murder
Preference:
Linda Emond,
Cabaret
Worsham has a lovely soprano voice, but I preferred her co-star Lisa O'Hare as the waspish temptress in
Gentleman's Guide
, but the latter did not even receive a nomination. Of those in the running, Emond was the beating heart of her production. Her Fräulein Schneider was a real woman dealing with impossible choices.
Best Director of a Play
Prediction/Preference:
Tim Carroll,
Twelfth Night
Best Director of a Musical
Prediction/Preference:
Darko Tresnjak,
A Gentleman's Guide to Love and Murder
Best Book and Score of a Musical
Prediction/Preference
:
A Gentleman's Guide to Love and Murder
Best Choreography
Prediction/Preference
: Warren Carlyle,
After Midnight
For the remaining categories, my predictions and preferences are the same.
Best Orchestrations:
The Bridges of Madison County
Best Scenic Design:
Play:
Act One
Musical:
Rocky
Best Costume Design:
Play:
Twelfth Night
Musical:
Bullets Over Broadway
Best Lighting Design:
Play:
Machinal
Musical:
Hedwig and the Angry Inch
Best Sound Design:
Play:
Machinal
Musical:
Beautiful: The Carole King Musical
Check back after the ceremony and see how we did.
June 6, 2014

Cabaret
Roundabout Theatre Company at Studio 54
Reviewed by David Sheward
During "Wilkommen," the opening number of Roundabout Theatre Company's revival of its 1998 revival of
Cabaret
at Studio 54, Alan Cumming as the lascivious Emcee points to one of the sluttish chorus girls and tells the audience they danced together in the show in "the last century." This reference to Cumming's appearance in the previous production gets a laugh, but it yanks us out of the show's setting, a sleazy nightclub in pre-Hitler Berlin, and into the realm of commerce and showbiz. Instead being drawn into the world of the show, we're celebrating Cumming's ascension to American stardom and the status of this return engagement as a cash cow for Roundabout.
It takes awhile, but we're gradually pulled back into a Germany on a giddy, amoral spree just before the thugs take over. The 1998 staging by Rob Marshall and Sam Mendes rethought Harold Prince's 1966 original, which slowly seduced us into loving the fun and grime of the Kit Kat Klub, a microcosm for the country, and then bringing us up short with Nazi imagery. Marshall and Mendes brought the Third Reich front and center and made us confront it while enjoying the raucousness of the cabaret. This remounting is essentially that same show, which ran for almost six years.
Cumming is as deliciously decadent as ever, but there's a bit too much of the celebrity winking at the audience here. We can see the actor peeking at us underneath the makeup of white foundation and heavy eye shadow. Michelle Williams makes a delightfully gamine but ultimately narcissistic Sally Bowles. She received a slamming bya a majority of the press for a weak interpretation and less than stellar musical skills. Perhaps she settled into the role by the time I saw it, but she captures Sally's glittering attraction and insecurity. Also, her lack of song-and-dance polish works for the character, who is supposed to be a rank amateur, unlike Liza Minnelli whose performance in the film version was bafflingly razzle-dazzle. Why would this star be stuck in such a rinky-dink dive? Williams's Sally belongs there.
The supporting performances add depth as well. Linda Emond's Fräulein Schneider is a sage and weary survivor. Her "What Would You Do?" becomes a Brechtian accusation, as her character rationalizes her choice to abandon a marriage to the Jewish fruit seller Herr Schultz (an equally sensitive Danny Burstein). She seems to be directly asking the audience if it could possibly follow another path? Gayle Rankin transforms the usually throwaway role of prostitute Fräulein Kost, from a punch line to a complex woman desperately eking out a living with the only means she has. Bill Heck does much with the thankless role of Cliff Bradshaw, the American writer at the center of the narrative. His is the least flashy role; this version eliminates his solo number "Why Should I Wake Up?" but adds the character's bisexuality, inspired by the original Christopher Isherwood stories, and Heck gives full force to the inherent conflict.
So, yes, this production inspires déjà vu, but there's enough new blood to make this
Cabaret
a "wilkommen" choice.
May 26, 2014

The Cripple of Inishmaan
Michael Grandage Company at the Cort Theatre
Reviewed by David Sheward
Three is a lucky number for
The Cripple of Inishmaan
. Not only is this the third production of Martin McDonagh's dark comedy in New York (seen here in 1998 and 2008) and the first on Broadway, but it's also Daniel Radcliffe's third Main Stem appearance following
Equus
and
How to Succeed in Business Without Really Trying
. Radcliffe has been impressively growing as an actor since his
Harry Potter
film days, and McDonagh's farcical tragedy provides the perfect means for Radcliffe's most intensely felt performance yet.
He plays Billy, the titular fellow, a deformed outcast stuck on a lonely Irish island whose only means of escaping the cruelty of his fellow citizens—oddballs themselves—is to get to a nearby isle where a Hollywood film crew is shooting a documentary (the plot is inspired by the real-life making of
Man of Aran
in 1934). As McDonagh slowly reveals, all the residents are a strange combination of vulgarity and kindness. Radcliffe gives Billy a detailed physical and psychological life by contorting his body to convey infirmities and subtly limning the lad's hidden yearnings beneath a deceptively simple exterior. As it turns out, Billy is just as much a mixture of savagery and compassion as his tormentors are.
Even more impressive, Billy is not really the star of the play but just one member of McDonagh's crazy Gaelic crew. The other residents of Inishmaan have equal time and prominence, and the cast, imported from Michael Grandage's London production, paints in all their varying shades of grey. Sarah Greene is fiery and fierce as the egg-tossing Helen, the red-headed object of Billy's desire; and Conor MacNeill gets maximum comic mileage out of Helen's simplistic, telescope-obsessed brother. Pat Shortt hilariously embodies the town gossip. Gillian Hanna and Ingrid Craigie are endearingly daffy as the aunts who care for Billy.
With the aid of his designers Christopher Oram (sets and costumes) and Paule Constable (lighting), Grandage creates a small, craggy, harsh, but wildly funny world for the Inishmaaners to inhabit.
May 18, 2014

Hedwig and the Angry Inch
Belasco Theatre
Reviewed by David Sheward
Neil Patrick Harris is the new king, queen, or whatever royal personage you choose, of Broadway thanks to his electrifying performance in the title role of this revival of the 1998 cult rock musical. Descending from the upper reaches of the Belasco Theatre, looking resplendently decadent in Arianne Phillips's trashy-chic duds, Harris starts the evening off with a sleazy bang. As the 95-minute evening progresses, he banishes all thoughts of Doogie and Barney from
How I Met Your Mother
, the TV roles that made him famous, as he takes on the flamboyant Hedwig, a German transgender wannabe rock star. Combining standup comedy, dramatic intensity, and a hard-rock voice, Harris alternately dazzles and convulses us.
As in the original staging of this mock concert, the title character is performing a one-night stand while her ex-lover Tommy Gnosis is blasting out a sold-out gig next door. Only now instead of a little club, Hedwig is in a Broadway theater, conveniently available after a musical version of
The Hurt Locker
closed during intermission—Julian Crouch's brilliantly funny set incorporates elements of the fictional flop—while Tommy has taken over Times Square. In between Stephen Trask's blistering songs, Hedwig delivers her bizarre life story of enduring political upheaval in her native country as a "girly boy," falling in love with an African-American GI, and being mutilated in a botched sex change operation. The second half of the title refers to what is left of Hedwig's genitals and is the name of her band, lead by her Estonian-Jewish husband Yitzhak (a powerful Lena Hall in another example of cross-gender casting.) The book, by John Cameron Mitchell, who also originated the title role, still stings and has been tweaked with contemporary theater references.
The only problem here is the sheer wattage of Harris's luminosity and director Michael Mayer's colossal production. Filling the demands of a Broadway house and the expectations of a Broadway audience, Mayer has transformed the intimate original into a spectacle with explosive lighting effects by Kevin Adams and imaginative projections by Benjamin Pearcy for 59 Productions. Likewise, Harris is giving a magnificent star turn. But Hedwig is not a star, and her one-night concert is not a triumph. She is degraded by her former lover's abandonment, but she pulls herself together after stripping off her wig and feathers and staggers into the street almost naked. In the original production, Mitchell was heartbreakingly shattered at his final exit. But Harris's unstoppable Hedwig will no doubt go on to a magnificent career and the cover of Rolling Stone. Though this Hedwig is a rocking good time, it's as not as effective nor moving as the original.
May 5, 2014

Of Mice and Men
Longacre Theater
Reviewed by David Sheward
Okay, we all know that James Franco can do just about anything well—star and direct movies, write novels, act on a soap opera, study Romantic literature in grad school, host the Oscars (well, maybe not that last one so well). Franco can now add Broadway debut to this eclectic list of accomplishments, and he wisely chose not to make it in a flashy star vehicle like, say,
Hamlet
. Instead, he's a part of a nearly seamless ensemble in a sterling production of
Of Mice and Men
, John Steinbeck's American classic of loneliness during the Great Depression.
Derived from Steinbeck's novella,
Mice
premiered on Broadway in 1937 and its misfit migrant-worker heroes—the clever and compassionate George and his mentally challenged but colossally strong companion Lennie—entered the mythos of popular culture. Not only is the book a staple of middle-school English classes, but the images of the mismatched pair spinning tales of owning their own place and tending to the soft rabbits Lennie loves has permeated into our mindhive thanks to innumerable parodies in comedy sketches and Warner Bros. cartoons. Director Anna D. Shapiro returns this tale of friendship amid economic deprivation to its roots, emphasizing that this is a story of disconnected people seeking a home.
George and Lennie have been cast adrift by the country's financial ruin but seek to save up enough to buy their own place together. As they settle into a new ranch, it appears they may realize their dream with the cooperation of the elderly Candy, who has saved up a few hundred dollars of compensation money thanks to a disfiguring accident. But when the foreman Curley's flirtatious wife, who isn't even named, starts making trouble, their ambitions are dashed.
All of the other characters are mystified by George and Lennie's connection—the nasty Curley even hints it may be a gay relationship. What they are is envious of the unlikely pair's bond. Each of the others is alone. Candy's only friend is his old dog, who is put down by the other workers for smelling bad. The black stable hand Crooks is ostracized because of his race. Even Curley's desperate spouse longs for company and is accused of being a tramp because the only people she can talk to at the ranch are men. As Shapiro did with
August: Osage County
, she mines the misunderstood striving for connection between volatile characters to create theatrical fireworks. She is aided by Todd Rosenthal's poetic set, which blends specific details with a vast depiction of the empty spaces of California farmland.
Franco gives an understated but convincing account of George and allows the spotlight to shine on his fellow players. Irish actor Chris O'Dowd captures Lennie's sweet, childlike nature and the savage rage that occasionally emerges; he's sort of like a cute baby with the strength of the Incredible Hulk. Jim Norton is tragically intense as the forlorn Candy. The blank look on his face as his dog is being executed is shattering. As the resentful Crooks, Ron Cephas Jones is equally adept at conveying his character's isolation. Leighton Meester of TV's
Gossip Girl
as Curley's wife gives the only shallow performance in this otherwise top-notch cast.
April 20, 2014

Bullets Over Broadway
St. James Theatre
Reviewed by David Sheward
It seemed like such a terrific idea: a musical version of Woody Allen's hilarious 1994 Jazz Age film comedy
Bullets Over Broadway
, directed and choreographed by the ever-imaginative Susan Stroman, with flavorful songs from the period for the score. But there have been a couple of slips between conception and execution. Rather than an enjoyably zany cartoon along the lines of the original movie or Stroman's delightfully oofy theatricalization of Mel Brooks's
The Producers
—another cinematic gem with a showbiz story—the stage
Bullets
is closer to Allen's disappointing 1996 patchwork musical movie
Everyone Says I Love You
. In both Woody misfires, individual pieces succeed in tickling the funny bone but fail to fit together into an integrated whole.
The basic plot, derived from the screenplay by Allen and Douglas McGrath, is still ingenious: the only way struggling dramatist David Shayne can get his play on Broadway is to cast Olive Neal, the talent-free moll of Nick Valenti, the show's mobster backer, as a brainy psychiatrist. During rehearsals, David discovers Olive's brutish bodyguard Cheech is a masterful instinctive playwright and allows him to surreptitiously improve the script.
The big problem with this musical is that score of standards from the 1920s. Rather than commission original songs that would have flowed into Allen's libretto, melodies such as "I'm Sitting on Top of the World" and "A New Day Dawning" are shoehorned in, stopping the action cold and offering generic expressions of character such as "I'm happy now" or "Things seem to be improving." There are a few additional new, situation-specific lyrics by music supervisor Glen Kelly, but they go don't far enough to redress this near-fatal flaw.
To compound the musical oddness, the song choices don't always fit the characters. It just sounds weird rather than funny to have the upper-crust leading lady Helen Sinclair break into a Bessie Smith number, "I Ain't Gonna Play No Second Fiddle," or Nick the gangster-moneyman wrap up the whole crazy proceedings with the novelty number "Yes We Have No Bananas." (Strangely, even Allen's way with a one-liner fails him, and half the spoken gags fall flat.) One of the few numbers that works is Cole Porter's deliciously risqué "Let's Misbehave," delivered by the screechy-voiced Olive and the play's overweight leading man Warner Purcell, thanks to Stroman's clever choreography and performer Brooks Ashmanskas who manages to make a three-dimensional person out of a walking sight joke with his droll performance.
Another spot-on sequence is a dynamite tap number danced by a blistering Nick Cordero as Cheech and a chorus of pinstriped thugs. Like Ashmanskas, Cordero is solid in his characterization, as is Zach Braff as the put-upon playwright, exhibiting an attractive singing voice (which he sometimes demonstrated on his TV series
Scrubs
) and a light comic touch. He wisely avoids imitating Allen in this obvious Woody-surrogate role.
The rest of the ensemble is wildly uneven. Marin Mazzie's Helen is over-the-top even for this outrageous alcoholic and sex addict. Helene York's Olive is one-note. As David's fiancée Ellen, Betsy Wolfe puts over her two big numbers with punch, but the character is lifeless when she isn't singing. Likewise, the sparkling Karen Ziemba is wasted in the throwaway role of the dog-loving ingénue. Vincent Pastore is asked only to repeat
Sopranos
shtick as Nick, and Lenny Wolpe does what he can with the stereotypic producer.
At least we have William Ivey Long's dazzling costumes and Santo Loquasto's intricate sets to distract us from the jumbled script, which even the inventive Stroman can't salvage.
April 18, 2014

A Raisin in the Sun
Ethel Barrymore Theatre
Reviewed by David Sheward
When it was first announced that Denzel Washington would be headlining a revival of
A Raisin in the Sun
, I was skeptical. The classic 1959 Lorraine Hansberry drama of a Chicago family fighting poverty and racism had been revived not too long ago with rap musician-actor Sean Combs in the lead under the same director, Kenny Leon. In addition, Washington, at 59, was 20 years older than the role of Walter Lee Younger as written, and the glamorous Diahann Carroll was set to play Lena, Walter's no-nonsense mother. It appeared the producers were more interested in star casting than in finding the most appropriate actors for the leads. Then Carroll dropped out to be replaced by the lesser-known but more down-to-earth LaTanya Richardson Jackson.
Not only does Jackson deliver a warm, glowing performance as the loving, sometimes domineering matriarch of the Younger family, and Washington prove that he can surmount the age gap between himself and his character, but Leon conveys startling new insights more than justifying another look at
Raisin
. In Leon's previous production, Combs was not equal to his co-stars Phylicia Rashad and Audra McDonald; here all the performers are at the same high level.
It's clear this a new, vital take on a classic even before the show starts. We hear the voice of Hansberry in a radio interview with Studs Terkel, stating that the American stage shouldn't be confined to six blocks in Manhattan and calling for a national theater. (Fifty-five years later, her plea is still largely unheeded.) The lights come up on Sophie Okonedo as Ruth, Walter's exhausted wife, standing behind a scrim center stage in designer Mark Thompson's enclosed box of a set. An alarm clock pierces the silence, the scrim rises, and another day of drudgery has begun. The household slowly wakes, and Hansberry brilliantly depicts the tension among them through gritty monetary details. The couple's young son needs 50 cents for school. Walter Lee needs a dollar for carfare. By emphasizing these details and placing the Youngers in such a small, dark space as their home, Leon creates a heartbreaking picture of the family trapped by economic pressure and driven to despair, a condition not unfamiliar to Americans of all races in 2014.
At the performance attended, Washington's entrance was greeted with whoops of approval, but this is no movie star turn. Thwarted by prejudice, Walter longs to escape his menial job as a chauffeur and invest the family's anticipated insurance funds in a liquor store. When he starred in August Wilson's
Fences
, Washington lacked the dramatic weight to convince as the bitter ex-baseball player Troy Maxson, and his charm worked against him. Here his boyish energy is used to convey Walter's gnawing frustration and immaturity. He paces the cramped apartment like a young tiger trapped in a cage. The character's age has been raised to 40, and he is totally convincing as a man forced to play a boy's role not only by white society but also by his steel-willed mother.
As mentioned, Jackson is perfect as the iron-fisted-velvet-gloved Lena, sweetly maternal, yet authoritative. You can see it's hard for her to relinquish control of the family. In the play's final moments, she cedes power to her son and lets him confront the bigoted representative of the white community the Youngers plan to move to, and a mix of emotions and memories plays across her face.
The rest of the ensemble is expertly balanced so that Washington and Jackson do not dominate. Okonedo captures Ruth's weary striving and yearning for a home where she doesn't have to brave roaches or share the bathroom with the rest of the building. Anika Noni Rose is an electric wire as the impulsive, idealistic, college-age sister Beneatha. Sean Patrick Thomas and Jason Dirden are equally intense are her two very different suitors, a Nigerian exchange student and a nouveau riche snob. Stephen McKinley Henderson has a blazing cameo as Walter's business partner, eloquently recounting how both have been scammed. David Cromer handily avoids stereotype as the white visitor, creating a frightening real, dangerously banal portrait of American racism. But Hansberry's play goes far beyond this one issue and is not a simple political tract. Leon's new production illuminates all the aspects of this complex work, giving us a blazing
Sun
.
April 12, 2014

If/Then
Richard Rodgers Theatre
Reviewed by David Sheward
Heaven knows Idina Menzel is talented enough to play two different roles in a massive Broadway musical, but even she cannot save the bifurcated and bipolar
If/Then.
The show is an artistic failure, but it will probably be a financial success; it's selling out thanks to Menzel's
Wicked
and
Frozen
fans. (It's also too long by a good 20 minutes.)
Borrowing heavily from the 1998 Gwyneth Paltrow film
Sliding Doors
, this well-intentioned but ultimately befuddling and clichéd tuner follows two different possible life-paths for Elizabeth, a 40-ish city planner just moved to New York after 12 years of marriage in Arizona ended in divorce. The action starts in Madison Park as the heroine must chose between hanging out with impulsive and spunky new lesbian neighbor Kate (the sparkling LaChanze) or attending a protest meeting with her politically driven, bisexual college chum Lucas (the endearing Anthony Rapp). The premise: Seemingly insignificant choices like this one can alter your life. The script splits in two from there.
In one scenario, the protagonist goes off with Kate, who rechristens her Lizzie, and she finds the man of her dreams, a gorgeous doctor named Josh (the robust but bland James Snyder). In the other she joins Lucas, who says she should be known by the more serious moniker Beth—so we can tell them apart, get it?—and is rewarded with a fulfilling government job but must pay for it with unhappy love affairs. Oh, and she wears glasses as Lizzie, to further help us differentiate between parallel plotlines.
Despite slick, clever staging by the always imaginative Michael Grief (Menzel and Rapp's helmer on
Rent
) and fun, quirky choreography by Larry Keigwin, it's often hard to tell what's going on and even harder to care. There are some memorable songs by the
Next to Normal
team of composer Tom Kitt and lyricist Brian Yorkey, as well as witty spoken dialogue from Yorkey, but the musical seems to be saying you can either have love or career, ladies, not both.
And then there is Menzel. She is seldom offstage, and her powerful voice fills the Richard Rodgers. Her dramatic skills go far to add dimension to Lizzie and Beth, half characters not even adding up to a single whole one. She runs the gamut from comically flummoxed after sleeping with the wrong man ("What the Fuck") to coping with an avalanche of mixed emotions as her spouse must leave her for a tour of duty in Iraq ("I Hate You"). It's a colossal performance that just might win her a second Tony and push the confused and confusing
If/Then
into the profit zone.
April 9, 2014

I Remember Mama
Transport Group Theatre Company at the Gym at Judson
Reviewed by David Sheward
Entering the Gym at Judson for Transport Group's revival of
I Remember Mama
, John Van Druten's nostalgic 1944 play about a Norwegian immigrant family in turn-of-the-century San Francisco, feels like walking into a church rummage sale. Set designer Dane Laffrey has arranged 10 antique tables, each covered with separate collections of items from a bygone era—such as paperback classics, typewriters, handkerchiefs, silverware, and black-and-white photographs. Then Barbara Barrie, a veteran actor in her 80s, enters, sits down at the table full of typewriters, and, as the narrator Katrin, summons up the figures from the play, enacted by nine other women, each with decades of experience on the stage.
Previous Transport Group productions have made equally ingenious uses of space.
The Boys in the Band
placed the audience in an actual apartment for a raucous birthday party.
Hello Again
was set in a mysterious nightclub.
See Rock City
had everyone in folding beach chairs in a vast open environment for its examination of tourist spots. Here, director Jack Cummings III's concept is just as imaginative and stunning in its simplicity. The setting is like an attic full of memory-evoking curios where the actors seemingly conjure up the fragments of the Andersons's past.
The episodic nature of Van Druten's script, based on Kathryn Forbes's fictionalized memoir and later made into a hit movie and TV series and a short-lived musical, lends itself to this scrapbook-style approach. Starting with the family's Saturday night ritual of counting out Papa's meager wages, we go from incident to incident, led by Barrie, a writer composing a story not unlike Forbes's. Barrie delivers her monologues as if she were searching her character's mind to find the threads of the past and weave them into her novel.
The all-female cast effortlessly shrugs off its years and becomes teenagers, children, boys, men, and meddling aunts. Barrie miraculously shifts between the mature writer and the self-dramatizing adolescent version of Katrin. Barbara Andres exudes maternal warmth and wisdom as the resourceful and loving Mama of the title. Despite her diminutive stature, Lynn Cohen convincingly transforms herself into the domineering Uncle Chris of whom the entire family is frightened. She also makes for an elegantly shabby Mr. Hyde, a grandiose but lovable con-man boarder.
I also loved Phyllis Somerville's cuddly little sister, Rita Gardner's jittery Aunt Trina, Heather MacRae's placid Mr. Thorkelson, and Dale Soules's steady Papa. Along with Susan Lehman, Louise Sorel, and Alice Canon, they create a memorable memory play.
April 9, 2014

Tales From Red Vienna
Manhattan Theatre Club at NY City Center Stage I
Reviewed by David Sheward
Manhattan Theatre Club's production of David Grimm's
Tales From Red Vienna
, a so-so drama set in the early 20th century with heavy references to previous plays, gave me a touch of déjà vu. Earlier this season, MTC presented Sharr White's
The Snow Geese
, a so-so drama set in the early 20th century with heavy references to previous plays.
Snow Geese
took place in upstate New York during World War I and contained echoes of O'Neill's
Long Day's Journey Into Night
and Ibsen's
The Wild Duck
—with some of Chekhov's
The Cherry Orchard
thrown in. Tales takes place in Vienna not long after World War I and contains echoes of O'Neill's
Anna Christie
and Ibsen's
A Doll's House
. Fortunately,
Tales
contains three stellar performances by the leading actresses; rhythmic, dance-like direction by Kate Whoriskey; and gorgeous period sets by John Lee Beatty and costumes by Anita Yavich.
In addition to the previously mentioned references are influences of Arthur Schnitzler's sly sexual comedies such as
La Ronde
. Helena Altman, a war widow, is forced to sell her body to pay the rent. One of her clients, Hungarian journalist Bela Hoyos, is also the lover of her best friend, the ditzy, deposed countess Mutzi von Fessendorf. When Mutzi asks Helena to pretend to court Bela to cover up her own affair with him, naturally the fake tryst becomes a real one. The political climate of post-Empire Austria is evoked through the crumbling status of these former elites, as well as through acidic commentary by Helena's sage housekeeper Edda and the anti-Semitic taunts suffered by Jewish delivery boy Rudy. Through a bizarre plot twist, Helena's secret is exposed and she must defend her scandalous life choices, not unlike Ibsen's Nora or O'Neill's Anna. But these heavily imposed incidents seem like the playwright talking to us rather than the characters living their lives.
Nina Arianda, whose sexual intensity in
Venus in Fur
won her a Tony Award, is equally blazing here. But now she is a real woman rather than the embodiment of sensuality in the former play, which also had an MTC production. The reliable Kathleen Chalfant offers a sharp Edda, and Tina Benko is delightfully featherheaded as the shallow Mutzi. These ladies go far to make this Viennese waltz passably entertaining, but they do not make up for the familiarity of the tune.
April 4, 2014

Les Misérables
Imperial Theatre
Reviewed by David Sheward

When I mentioned to my partner I was reviewing
Les Misérables
, he asked, "Why? Did it ever close?" He was under the impression the popular blockbuster based on Victor Hugo's gargantuan novel of redemption in 19th-century France had been on Broadway continuously since it first opened there in 1987. That's easy to understand. Only three years after that initial production closed down in 2003, another opened and ran for more than a year. Then Tim Hooper's 2012 movie version was released and, thanks to endless renditions of several of the songs on such TV shows as
Glee
,
The Voice
, and
American Idol
, the show has never long been out of public consciousness.
Now yet another version, a touring one originating in 2010, has found its way onto Broadway, and the undeniable strength of Hugo's story and the rich score by Claude-Michel Schönberg, Alain Boublil, Jean-Marc Natel, and Herbert Kretzmer still have the power to hold and move an audience for three hours. Recast with Broadway and London A-listers, this
Les Miz
is definitely worth a look, whether you're a newcomer to the show or a veteran. Directed like a locomotive by Laurence Connor and James Powell, it lacks the massive feel of the original with its huge turntable, but it achieves a grittier intimacy via Matt Kinley's lived-in set and atmospheric projection design (the latter "realized" by Fifty-Nine Productions), inspired by Hugo's paintings. Paule Constable's lighting manages to convey the gloom of the downtrodden denizens without becoming too shadowy.
The two male leads provide the emotional and vocal engine to this enterprise, giving the familiar cat-and-mouse conflict between the virtuous ex-convict Jean Valjean and his relentless pursuer Inspector Javert a fresh supply of adrenaline and testosterone. Ramin Karimloo, an Iranian-born Canadian who has played the Phantom of the Opera and several
Les Miz
roles in London, endows Valjean with blood, sweat, tears, and a soaring voice. He starts off strong with his wronged hero snarling and biting like a feral dog and then, after the character is shown kindness by a priest, transforming into an angelic savior in movement and tone. Will Swenson as Javert reveals a steely spine unseen in his previous Broadway outings as the feckless heroes of
Hair
and
Priscilla, Queen of the Desert
.
Caissie Levy and Nikki M. James are heartbreaking as the equally tragic Fantine and Eponine, while Cliff Saunders and Keala Settle provide much-needed comic relief as the avaricious Thenardiers. (Settle's stunned reaction to a luscious wedding cake is one of the highlights of the show.) Andy Mientus and Samantha Hill are somewhat colorless as the lovers Marius and Cosette, as is Kyle Scatliffe as the student revolutionary Enjorlas. But Gaten Matarazzo makes the street urchin Gavroche a believable rascally kid as opposed to the obnoxious showoff we usually get.
The only major problem with this tough, intense revival is the tendency to
American Idol
-ize the solos with loud, prolonged "money notes." The classic tale of faith triumphing over injustice does not require this pandering to the crowd. It's not a competition.
March 24, 2014

A Doll's House
Brooklyn Academy of Music
Reviewed by Jerry Beal
Before a German duke from the small town of Saxe Meiningen established his own acting company in the mid-19th century, the importance of the role of the director was barely recognized. But with the current New York theater season graced by the dazzling rethinking of
The Glass Menagerie
and
Twelfth Night
, and now by the arrival of the London Young Vic's gift of
A Doll's House
, even a theater neophyte can appreciate how a directorial imagination—in this case that of Carrie Cracknell—can thoroughly transform a classic into something fresh, invigorating, and altogether new.
The moment one enters the Harvey Theater at Brooklyn Academy of Music, it is clear we are about to experience that
Doll's House
in a different light. A living room sits diagonally across the front of the stage, leaving space behind and on either side. As the lights dim, a mix of classical and melodramatic music accompanies the revolving of the set to reveal, first, husband Torvald (Dominic Rowan) working in his office, then wife Nora (Hattie Morahan) and her two children and a deliveryman carrying a selection of Christmas presents.
In a pantomimed sequence, Nora tips the man and instructs the children to hide any indication of the booty from their father. Thus, before an audible word has been spoken, we have seen Nora's childlike and spendthrift ways, and the sense of isolation and secretiveness that will play a major role in the unfolding of the play's central relationship. The other two areas of the set reveal the parents' bedroom, usually never seen, where two key scenes later occur, and the living room, which is usually the only room we do see. The revolving stage is a steady motif of the production, which not only puts us on edge from beginning to end, but also keeps reinforcing the tension and loneliness that have permeated the house for the eight years of the marriage, unrealized by either Nora or Torvald.
What adds to the sense of watching the play as if for the first time is that the cast is English. While we have certainly heard and experienced rough-hewn Britishers, the sound and feel here are not that. The biggest effect of this element is on our perception of Krogstad, traditionally the villain of the piece. As played by Nick Fletcher, he is articulate, clear, and almost upper-class in physical and vocal manner, which humanizes him and makes him a much more sympathetic character than is customary. Especially next to Rowan's patronizing and aggressive Torvald, Fletcher's Krogstad is a man whose plight becomes quite understandable.
The production is filled with images, silences, and genuine pain. Even within the naturalistic confines that Ibsen brought to the theater, this version recalls Harold Pinter. Indeed, at times it feels like a stage production of his screenplay for
The Servant
. The work also feels noir, with Torvald as the femme fatale predator and Nora as the victim.
Morahan's turn here is star-making. From her first appearance, we see the strength and determination that allowed Nora to forge her father's signature years ago to get the money to save Torvald's life. Her Nora may have been treated and been behaving like a child throughout her marriage, but this woman has a core and power beyond what we are accustomed to seeing. Together with a stellar group of actors, and that haunting combination of music, set design, and staging, this
House
, while definitely not a home, is worth a visit.
March 17, 2014

Interview
The Queen's Company Is No Drag
Artistic director Rebecca Patterson helms distaff production of Aphra Behn's 'Sir Patient Fancy.'
by Simi Horwitz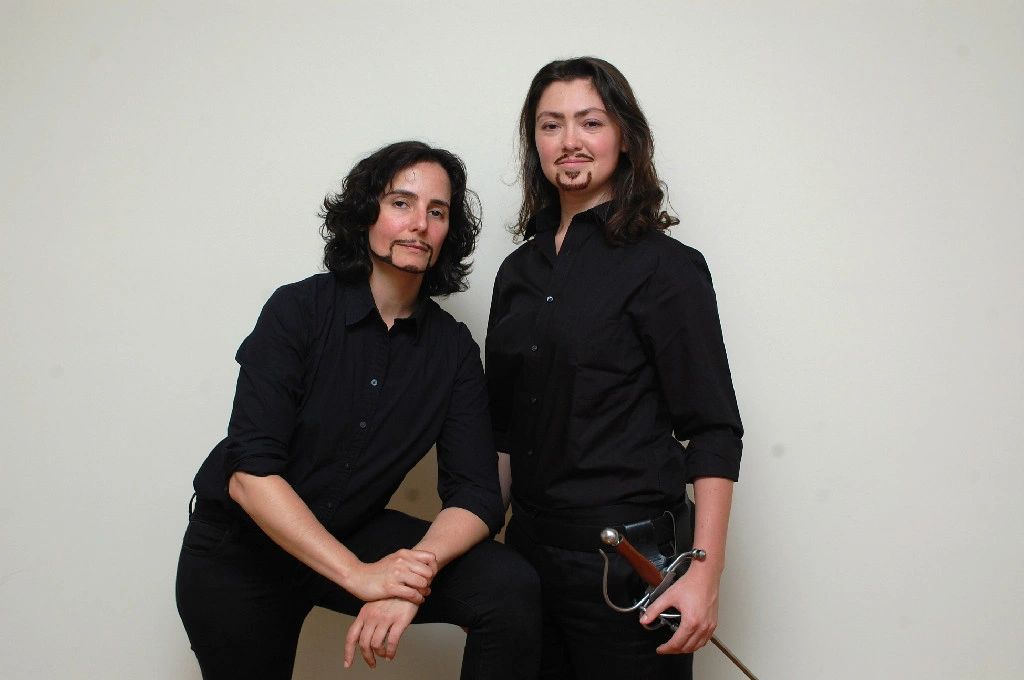 Virginia Baeta and Elisabeth Preston of The Queen's Company, in costume for
Sir Patient Fancy
Photo by Bob Pileggi

NEW YORK—Rebecca Patterson is not saying her all-female productions shed new light on classical texts, but rather that they reveal what's already there in a way that most current co-ed productions do not. Patterson is the founder and artistic director of The Queen's Company, the 14-year-old New York based distaff operation that has mounted such classics as
The Taming of the Shrew
,
School for Scandal
,
The Duchess of Malfi
, and now Aphra Behn's Restoration comedy
Sir Patient Fancy,
which will bow March 15, Off-Broadway at the Wild Project.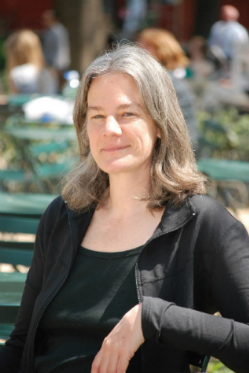 "Theatergoers have told me that after seeing one of our plays, they understood it for the first time," she says. "That's the best compliment I can get."
Exquisite male actors are alive and well—most notably Ian McKellen—she says, but generally, "A female actor has the added edge in evoking the humanity of the classical male character who has a strong and accessible inner life.
"Contemporary women have a lot more in common with the renaissance man than does the contemporary man, who is discouraged from expressing an inner life," she adds.
Passing and Tackling
Patterson directs her female actors to "pass" as men if, indeed, they're tackling male characters. Camp is usually discouraged. The women spend time mastering a man's body language—posture, gait, and stride—while liberating themselves from a woman's fear of taking up too much space.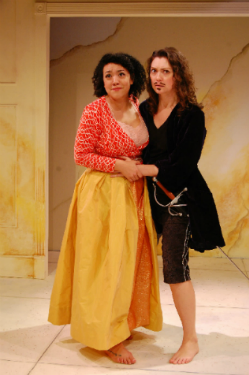 "Instead of bouncing on their toes and tucking in their elbows, the women allow their arms to swing freely and they learn to walk heel down, heel down," she explains. "Vocally, there isn't that much for the women to do in terms of preparation. If they're playing their characters truthfully and know how to project, they will suggest men vocally as well."
Patterson is every bit the feminist—"unapologetically so," she insists—and happy to give female actors the chance to play more roles, suggesting that relatively few major parts exist for women in the classics. She also acknowledges the impact drag performers have had in stretching gender boundaries and helping to inform her esthetic. Dubbing the troupe "The Queen's Company" is at least in part a nod to the female impersonator, she admits.
Motherly Reinvention
Patterson didn't always have her sights set on a theater career. Indeed, the Vancouver-bred director thought she'd be a marine biologist, before launching a short-lived acting and finally directing career, earning her MFA in directing from UCLA. From the outset, she was drawn to the classics, thanks to the scale and range of the characters' emotions revealed through intelligent and beautiful language. Not that she planned to forge a classical—let alone all-female classical—theater. But following her distaff production of
Macbeth
, conceived as an experiment and very well-received, creating The Queen's Company was the logical next step. It has shared national attention with New York's The Judith Shakespeare Company, as well as the Los Angeles Women's Shakespeare Company.
With the help of local and state grant money, Patterson workshops two productions per year and stages one production every two years, featuring a racially and ethnically diverse cast of approximately 10 actors, who play multiple roles. She picks works that speak to her artistic sensibilities and subtly resonate with contemporary concerns.
Sir Patient Fancy
, for example, explores, among other issues, how money—or the lack thereof—defines family and romantic relationships. That's a theme that never goes out of date, she points out. "It's raw, vital, and it's about people following their hearts, surrounded by people attempting to control them," she of the play. "I feel that I'm almost stepping into the world of the 1960s when people were reinventing themselves."
Fancy Pants
Sir Patient Fancy
marks Patterson's sixth Restoration and fourth Behn play and, like the others, it has added appeal in light of Behn's striking biography. She was a spy, ended up in debtors prison where she started to write plays, and is acknowledged as the first woman playwright to make her living at it. She was a 17th-century high-powered career gal and, on top of that, her plays are a lot of fun to do. Still, the multiple storylines and, at times, daunting language are challenging. "Unlike Shakespeare that has a definite rhythm and structure, this does not," Patterson says. "It's harder for actors to memorize."
Down the road, she hopes to revisit
The Taming of the Shrew
, this time focusing on how Petruchio has evolved and, in the process, made his relationship with Kate more egalitarian. "Nobody should control anybody," Patterson insists. "They love each other as equals as opposed to swapping roles."
Without changing a word of dialogue, Patterson knows she has her work cut out for her. But she welcomes the challenge. She also looks forward to the time when a distaff theater is no longer necessary because gender-blind casting will exist across the board. But that won't happen anytime soon, she notes with regret.
March 9, 2014

All photographs by Bob Pileggi
Rebecca Patterson
Tiffany Abercrombie and Elisabeth Preston in
Sir Patient Fancy
Amy Dreisler and Julia Campanelli in
Sir Patient Fancy
The Bridges of Madison County
Gerald Schoenfeld Theatre
Reviewed by David Sheward
Robert James Waller's novella
The Bridges of Madison County
is an icon of low culture, a trashy romance, and a smashing popular success. A bestseller in 1994 and a hit movie starring Meryl Streep and Clint Eastwood in 1996, the property was reviled by most critics as sentimental claptrap but gobbled up by the masses. The story is thin and trite, but does it work as a Broadway musical? Book-writer Marsha Norman has fleshed out what is essentially a two-character piece, and songwriter Jason Robert Brown has composed a lush and memorable score, yet, as written, this is still a
Bridge
too far. Fortunately, director Barlett Sher has created a fluid and moving production, and Kelli O'Hara brings quivering life and a soaring voice to the cliché-ridden leading role.
Italian-born Iowa housewife Francesca is bored with her decent but dreary husband, Bud, who rescued her from poverty-stricken Palermo during World War II. While Bud and their two teenagers are off to the state fair for four days, Francesca meets and falls in love with National Geographic photographer Robert not long after he asks her for directions to one of the bridges of the title. After a candlelit dinner, dancing to the radio, jumping in bed, and a clandestine daytrip to Des Moines, they vow to run away together. But Francesca forgoes happiness and sexual ecstasy to stay on the farm and keep her kids on the right path. Isn't she noble and tragic? Robert keeps a torch for her for decades until his death and he sends her a teary final letter, which she reads as the curtain falls. Isn't he just as noble and tragic?
To alleviate the ridiculousness of Waller's story, Norman has created an extended community for Francesca to inhabit. Now instead of just the two lovers canoodling in the kitchen, the entire town and figures from their pasts are hanging around amid the vegetables and silverware. With the aid of Michael Yeargan's breakaway set and Donald Holder's shifting lighting, Sher places figures from the couple's imagination to horn in on their liaison. The effect varies the action but doesn't contribute much otherwise. We learn that Francesca's neighbors are a helpful lot when the crops fail, but not much else. Same for Robert's ex-wife, who shows up to sing a Joni Mitchell–style ballad (beautifully delivered by Whitney Bashor), which doesn't reveal much information about their relationship.
O'Hara, a Broadway headliner who has reinvented established roles in
South Pacific
and
The Pajama Game
, pours passion, regret, and intensity into Francesca. Her opening number "To Build a Home," in which she describes the character's odyssey from war-torn Italy to safe but flat Iowa, becomes a complex and moving aria, supported by Brown's beautiful violin-rich orchestrations. Steven Pasquale has the necessary silver tenor and hunky physique to portray Richard as her love-object, but he lacks dramatic weight and comes across as a boyish drifter rather than the serious lover for whom Francesca would abandon everything. Cass Morgan does quite a bit with the nosy but caring neighbor Marge, giving a whole life to a throwaway role. She, O'Hara, and Brown make this a
Bridge
worth crossing, but there's a toll of excess sentiment you'll have to pay.
February 28, 2014

Dinner With Friends
Roundabout Theatre Company at the Laura Pels Theatre at the Harold and Miriam Steinberg Center for Theatre
Reviewed by David Sheward
How ironic that this revival of Donald Margulies's
Dinner With Friends
opened the day before Valentine's Day, since it pulls back the veneer of romantic love to reveal the sometimes twisted true nature of marriage. Friendship comes in for a harsh examination, as well, when two couples are forced to re-evaluate their unions and their relationships with each other. Director Pam McKinnon has gone down this path in somewhat more explicit terms with her staging of
Who's Afraid of Virginia Woolf?
There, Edward Albee's George and Martha conducted their living-room war with live ammunition. The two pairs in Margulies's play are subtler in their exchanges—less explosive combat but just as moving.
While visiting with her best friends Gabe and Karen, Beth reveals that her husband Tom is leaving her for another woman. The hosts automatically side with Karen as the victim, but all is not as it seems. Tom makes his case that Karen has been cold and withholding and their marriage was suffocating him. Then, in a flashback to their first meeting when Gabe and Karen introduced them during a weekend on Martha's Vineyard, we learn Tom and Beth were incompatible from the beginning. As Beth and Tom seem to be blossoming after their divorce, Gabe and Karen question their own marriage and slowly drift apart from their formerly close friends.
Nothing as dramatic as the deadly one-upmanship games of
Virginia Woolf
occurs here.
Dinner With Friends
chronicles the everyday changes people go through and the disappointments and compromises entailed in most friendships and marriages. McKinnon keeps the temperature low, making the small cracks in the unions all the more heartbreaking.
The four-person cast perfectly balances Margulies's funnier and heavier moments. Heather Burns captures Beth's neediness, and Darren Pettie has Tom's frustration down pat. Marin Hinkle comically limns Karen's self-righteousness without turning her into a shrew. As Gabe, Jeremy Shamos has the most difficult assignment. This suppressed guy is able to articulate his emotions about food and cooking, but when it comes to feelings about his wife, he clams up. So the actor has to convey a lot between the lines. Shamos delivers Gabe's repressed reactions to the chaos around him with underplayed skill and spot-on comic timing.
With Allen Moyer's tasteful, suggestive sets, Jane Cox's evocative lighting, and Ilona Somogyi's character-defining costumes, this
Dinner
is a complex meal worth sampling.
February 17, 2014

Billy Budd
Glyndebourne Festival Opera at the BAM Howard Gilman Opera House
Reviewed by David Sheward
Too many opera productions emphasize the beauty of the music and the voices, not the truth of the story that contains them. Michael Grandage's magnificent staging of Benjamin Britten's 1951
Billy Budd
for the Glyndebourne Festival, now at the Brooklyn Academy of Music for a too brief stay, certainly delivers a lush performance by the London Philharmonic Orchestra under the sensitive hand of Sir Mark Elder. But it also places the audience right in the belly of Herman Melville's heartrending drama of men at sea torn between duty and justice.
The opera opens with the brilliant Mark Padmore standing in a single spotlight amid darkness, as the tormented Captain Vere recalling the events of 1797 aboard his ship the Indomitable. Then Paule Constable's painterly lighting reveals Christopher Oram's massive set re-creating the oppressive atmosphere of the vessel. There is no sky or sea visible, and an ominous wooden ceiling is lowered during the scenes taking place below decks, creating an even more claustrophobic atmosphere. Oram's prison-like design and Grandage's muscular direction perfectly convey the hothouse setting, which produces the opera's tragic events. Handsome, kindhearted new recruit Billy Budd is beloved by all his shipmates and the officers, but not by the sadistic Master-at-Arms Claggart, who makes it his mission to destroy the angelic Billy. Many scholars have found a homoerotic subtext in Claggart's fixation on Billy. Grandage wisely hints at it, but does not overplay this explosive connection. When Billy accidentally kills the twisted Claggart, Capt. Vere must chose between his strict maritime code and compassion.
Grandage's thrilling staging puts us right in the hold with the struggling sailors and above decks with their conflicted officers. The exciting battle sequence featuring the entire crew, a huge cast including several small boys playing "powder monkeys" bringing up the fuel for a brace of canons, is as blood-quickening as any shoot-'em-up Hollywood action movie.
Jacques Imbrailo delivers an intense, layered performance as the title character, dramatically and vocally. His light, soaring baritone channels Billy's innate sweetness and joy for life in his earlier arias as well as the soft, sad acceptance of the young sailor's execution for murdering Claggart. Brindley Sherratt's dark-as-Darth-Vader bass is the ideal instrument to give life to the obsessive Master-at-Arms. His delivery of Claggart's solo explaining why Claggart hates Billy is truly frightening. But the real heart of the production is Padmore's Vere. The tenor pours the warring emotions of the tormented commander into the demanding role. What could easily have been melodrama becomes a painful journey of an intelligent, moral man seeking the correct path in a dangerous, cruel world (the libretto by E.M. Forster and Eric Crozier often describes the ship as a microcosm of the entire universe).
There is also admirable work by Jeremy White as the wise old salt Dansker, Peter Gijsbertsen as the spineless Novice, and Stephen Gad and Darren Jeffrey as two of Vere's gung-ho officers.
This stunning production is an example of the power of opera, but unfortunately it is playing BAM for only a few more performances. So, hurry before this ship sails.
February 9, 2014

Little Me
City Center
Reviewed by Jerry Beal
Neil Simon. Cy Coleman. Carolyn Leigh. Bob Fosse. Sid Caesar. Put them all together and the result is this 1962 piece of musical theater insanity, which, 52 years later, with a glorious cast working under John Rando's inspired direction, still produces nearly three hours of audience hysteria.
The faux memoir by Patrick Dennis (
Auntie Mame
) on which this show is based consists of the retelling of the life and loves of Belle Poitrine (dust off your French dictionary). From a shack in Venezuela, Ill., to fame in vaudeville after the shooting of her 88-year-old paramour (
Chicago
, anyone?), to a transatlantic voyage on which her amnesiac French husband drowns while forgetting how to swim, to Hollywood stardom as an actress then director when her washed-up German director–turned–delicatessen delivery man inadvertently stabs himself with a real knife because the prop man couldn't find a fake one anywhere in Hollywood, Belle manages to survive and prosper. And within all of this breathless craziness is a sharp satire of fame and tell-all confessional writing, abetted by a score that matches the tone with an exquisite array of jazz-inflected numbers.
Book-writer Simon and his fellow creators had little doubt that the incomparable actor-comedian Caesar was the only choice for the seven lovers. But while there may never again be anyone who can match the energy, rhythms, versatility, and just plain brilliance of Caesar, Christian Borle brings his own vast array of skills to the roles. The burlesque humor that defines the show may have a very Jewish feel, but Borle, with occasional lapses while essaying two much older characters, is more than up to the task. Without having to fill shoes nearly as large, Rachel York as Young Belle is a wonder. Her singling, timing, and stage presence make the show about Belle. Judy Kaye brings her shine to Older Belle, and the support of Broadway stalwarts Tony Yazbeck ("I've Got Your Number"), Lewis J. Stadlen and Lee Wilkof ("Be a Performer"), Harriet Harris, David Garrison, and a remarkable group of dancers makes this an ensemble of the first order.
Little Me
came as the oft-named Golden Age of Musicals was coming to a close; it lost steam from arriving in the midst of a newspaper strike, and its competition was another of the great farces,
A Funny Thing Happened on the Way to the Forum
. As Encores artistic director Jack Viertel, in addressing an audience filled with school groups, said, "I have no idea what educational value you'll get from this show. But it will show you the value of laughter at any time."
February 6, 2014

King Lear
Chichester Festival Theatre at BAM Harvey Theater
Reviewed by David Sheward
The final scene in the Chichester Festival Theater's production of
King Lear
is a bold variation on one of the most familiar endings in all of Shakespeare. Instead of carrying on his dead daughter Cordelia as most Lears do, Frank Langella drags her lifeless body in from the wings. The first sight of them together is shocking, sad, and perfectly logical. The formerly mad monarch is in his 80s and has just slain his daughter's assassin, so it makes sense that he would not have the strength to pick her up. Most Lears take this climactic moment to draw attention to themselves with a curtain-falling histrionic display, but Langella focuses on the character's weakness as he futilely shakes Cordelia's nonresponsive form, desperately attempting to bring her back to life. It's a truly heartbreaking finale.
But, this innovative climax is the one of the few startlingly intense sequences in an otherwise by-the-numbers production from director Angus Jackson. The American Langella is supported by a competent British cast, but they fail to elicit the passion and purpose to make an oft-produced classic come to new life. There is a spark of bad-boy humor in Max Bennett's evil Edmund and a nasty, oft-center quirk to Lauren O'Neil's crafty Regan, but these are not enough to lift the production to above-average status.
Luckily, Langella is fascinating to watch in the aforementioned ending and in a frightening mad scene. After having been driven insane by his thankless daughters Goneril and Regan, Lear encounters the blind Gloucester on a desolate beach. The two men, abandoned by their offspring, counsel each other with seeming gibberish that is strangely wise. Langella effortlessly switches from pitiful old fool to psychotic madman. One minute he is tenderly cradling the pathetic Gloucester, and the next he is strangling him while laughing maniacally. Langella also conveys the king's strength hobbled by the infirmities of age as he stoops and shuffles slowly.
Jackson's is a perfectly valid production, it's just not very exciting or involving. Robert Innes Hopkins's wooden set resembles a lodge in a mountain resort. Late in the action, a series of dark beams lowers a few inches to convey the desolation of the realm. Oooo, scary! There is also full-blown storm with tons of real water as Lear rages at his fate, but all that rain doesn't make a convincing tragedy blossom.
January 23, 2014

David Sheward's Best of 2013
Our critic names his top ten New York productions
Twelfth Night/Richard III
Shakespeare's Globe at the Belasco Theatre
Mark Rylance tackled a pair of diverse roles in repertory at the Belasco Theater after a smash hit run at Shakespeare's Globe in London. In keeping with Elizabethan tradition, all the female roles are played by men, and Rylance makes a convincingly icy Olivia who melts into a giddy lovestruck gal in
Twelfth Night
and a tyrannical usurper with an evil sense of humor in
Richard III
. In both roles, Rylance creates the illusion that these immortal lines are being spoken for the first time, a feat worth the price of two admissions.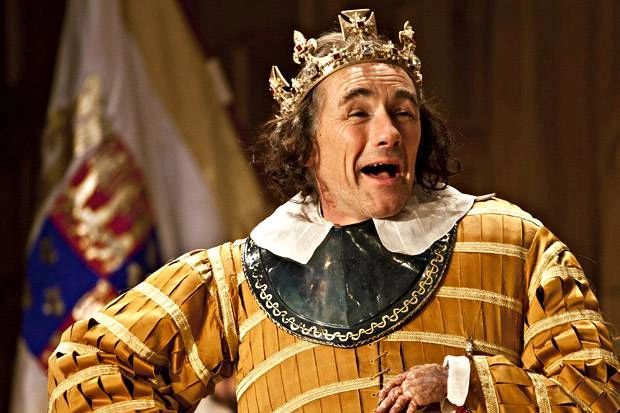 Here Lies Love
Public Theater
Pop, rock, disco, politics, and stunning theatrical imagination combine in this innovative bracingly original event—one hesitates to call it something as ordinary as a show—which stretches the musical genre in form and content. Conceived by David Bryne of Talking Heads fame and employing a richly evocative score by Byrne, Fatboy Slim, Tom Gandey, and J Pardo,
Love
tells the story of Imelda Marcos's relentless rise to power as First Lady of the Philippines. The audience mixed and mingled with the actors, becoming part of the story.
Fun Home
Public Theater
We've had many musicals about gay men finding their identities, but this moving and insightful tuner puts the spotlight on a lesbian's coming-out story. The score features warm, sweet music by Jeanine Tesori and clever, character-defining lyrics by Lisa Kron. Michael Ceveris, Judy Kuhn, Beth Malone, Alexandra Socha, and Sydney Lucas give powerful performances in one of the best musicals on or Off-Broadway in recent years.
Natasha, Pierre, and the Great Comet of 1812
Kazino
An electro-pop musical based on a section of
War and Peace
? Sounds like a recipe for disaster, but Dave Malloy's eclectic score strikingly tells the 19th-century story in 21st-century terms. The action, staged with dexterity by Rachel Chavkin, unfolds all around you in a dinner-theater setting. Passion, Napoleonic battles, and vodka shots, what more could you want?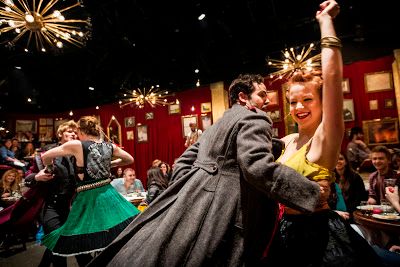 Photo by Chad Batka

Matilda
Shubert Theater
Based on Roald Dahl's beloved children's book, this hit from London offers a nasty, twisted, and totally joyful view of youngsters and the adjustments they face on the path to adulthood. Bertie Carvel in drag as the hideous Miss Trunchbull nearly stole the show. Resembling the living gargoyle from a famous episode of
Jonny Quest
, Carvel created a grotesque monster who still retains a touch of femininity. It's a brilliantly funny performance in a brilliant family musical that doesn't talk down to kids.
The Glass Menagerie
Booth Theater
This beloved Tennessee Williams classic has been produced so many times, it's hard to imagine anyone breathing new life into it. But director John Tiffany has stripped the play of its externals and delivered it to us, fresh, alive, and powerful. Cherry Jones, Zachary Quinto, Celia Keenan-Bolger, and Brian J. Smith offer career-defining performances.
Mr. Burns, a Post-Electric Play
Playwrights Horizons
In this bizarre, brilliant play, playwright Anne Washburn shows that by telling and retelling the same stories—in this case, episodes of
The Simpsons
in a post-apocalyptic future—art in general and theater in particular rejuvenates the human spirit. That's a bit weighty and belies the seemingly trivial nature of much of the action. Yet, thanks to Steve Cosson's simultaneously dark and hilarious staging and the unself-conscious performances of a tight ensemble, it somehow works.
A Gentleman's Guide to Love and Murder
Walter Kerr Theatre
The dazzling Jefferson Mays playing eight murder victims is not the only highlight of this witty musical derived from the novel that also inspired the classic film comedy
Kind Hearts and Coronets
. There's also the dashing and charismatic Bryce Pinkham, the gorgeous and razor-sharp Lisa O'Hare, the sweet and charming Lauren Worsham, the delightfully droll Jane Carr, a hardworking and fun-loving six-person ensemble, plus the cleverest staging and the most enjoyable score in quite some time.
The Night Alive
Donmar Warehouse at Atlantic Theater Company
Many of his previous plays have supernatural elements, but there are no ghosts, vampires, or devils in Conor McPherson's new play about downtrodden Dublin folk. But this tale of a lonely drifter and a pathetic prostitute is haunting nonetheless.
Macbeth (Alan Cumming version)
Barrymore Theatre
Not to be confused with the middling Ethan Hawke production now at Lincoln Center. Set in a bleak isolation ward of a mental facility, this bold staging casts Cumming as a patient acting out Shakespeare's tale under the watchful eyes of several surveillance cameras and two attendants. Through the harrowing tales of both the driven Thane and the tormented mental case enacting the story, Cummings unsparingly leads us into dark and frightening corridors of the human mind.
December 31, 2013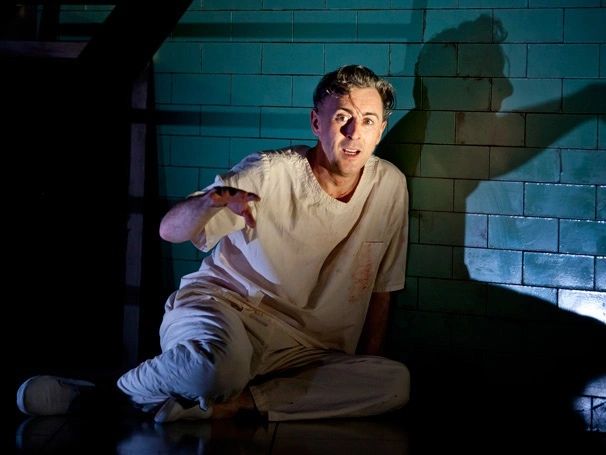 Macbeth
Lincoln Center Theater at the Vivian Beaumont Theatre
Reviewed by David Sheward

The real balance of power in Jack O'Brien's gimmicky but flabby staging of
Macbeth
at Lincoln Center's Vivian Beaumont Theatre is revealed during the famous Act IV confrontation between the thane and the weird sisters. Macbeth demands to know his complete future; and, when the witches demur, he threatens them with an eternal curse. In most productions, the ghastly women are frightened of this powerful mortal and give in to him. Here, they scornfully laugh at the Scottish tyrant as if to say, "Back off, bitch, we're in charge here!" Similarly, Ethan Hawke's puny Macbeth is no match for seasoned pros Byron Jennings, John Glover, and Malcolm Gets cross-dressing and camping it up as the three witches. In addition, these hags are backed by Hecate, their satanic leader, a character who is usually cut, and a coterie of acrobatic demons crawling all over Scott Pask's elaborate set.
O'Brien, who has given us a magnificent combination of the two parts of
Henry IV
, also at the Beaumont, stumbles here. He piles on numerous pieces of spooky stage business as if the Shakespearean classic were a Steven King novel, diminishing the impact of the Bard's theme of hubris and human destiny. For example, as Macbeth is offstage dispatching King Duncan, a bouquet of roses artfully sheds scarlet petals (blood, get it?). The rain of petals continues as the thane and his fiend-like spouse deliberate on their gruesome actions, totally distracting us from their conflict.
But even the most overblown production can be saved by a strong leading man. Unfortunately, Hawke is not that savior. Though impressive physically and still strikingly handsome, the film star has a limited vocal and emotional range. He has only two levels on his actor's barometer: mumbling incoherence and child-like temper tantrums. So we don't get Macbeth's slow transformation from decent, loyal solider to conniving plotter to doomed madman. British actor Anne-Marie Duff, making her American debut as Lady Macduff, has strong moments, but she's mostly overwhelmed by O'Brien's devices. In the sleepwalking scene, he has Hecate double as the handmaiden, and Francesca Faridany as the wicked spirit steals it.
Likewise, Jennings, Glover, and Gets as the witches appear in many other guises—including the bloody soldier, the porter, and various messengers. This is a perfectly valid choice, displaying the otherworldly influences on the action. But these stage vets have such a ball whooping it up and acting all "witchy," they and Faridany take over the whole show. In the large supporting cast, only Brian d'Arcy James emerges with an intense, believable characterization for his Banquo, but then O'Brien overdoes that too by having about a dozen knives sticking into his ghost's throat.
This
Macbeth
is a fun Halloween scarefest, but for a searing insight into the complex mind of a man ruined by ambition, I'll take Alan Cumming's near-solo version from last season or wait for Kenneth Branagh's production due next spring.
December 20, 2013
And Away We Go
The Pearl Theatre Company
Reviewed by David Sheward
Terrence McNally has written about his love of opera in such valentines to the genre as
The Golden Age, Master Class,
and
The Lisbon Traviata
. Now he waxes rhapsodic on his native form, the theater, in a pastiche history lesson called
And Away We Go
, written especially for the Pearl Theatre Company, one of the few Off-Broadway companies to employ a roster of resident actors. The play opens with the six-member ensemble kissing the stage, revealing their favorite and least favorite roles and a cute anecdote about themselves. Then we launch into a zigzag History of Performance from ancient Greece to a modern financially strapped regional company with both groups staging the
Oresteia
. There are stops along the way in Elizabethan England, pre-Revolutionary France and Russia, and at the Coconut Grove Playhouse in Coral Gables, Fla., for the pre-Broadway tryout of Beckett's
Waiting for Godot
.
The set, by Sandra Goldmark, is a gigantic backstage workshop–rehearsal area–green room where the lives of the theater folk overlap and intersect. The concept is cute, sweet, and charming, but
Away
fails to convey the passion of the plays it references. McNally's figures are pale shadows of the House of Atreus, King Lear, Treplev and Arkadina, and Estragon and Vladimir. Perhaps that was McNally's intention: a light, loving tribute to the great theater practitioners without taxing the audience's emotional muscles.
Despite the zippy direction of Jack Cummings III, even at an intermissionless hour and 45 minutes, the play feels stretched out with the sketchy vignettes of behind-the-scenes drama unable to bear the heavy weight McNally imposes on them. The cast, most of whom are members of the Pearl Resident Acting Company, have great fun playing multiple roles and occasionally achieve a tangible reality beyond the amusing accents. Carol Schultz imparts the devastation of dashed dreams as the head of the contemporary company facing bankruptcy. Rachel Botchan is fiery and fierce as a female enthusiast forbidden from participating onstage during the Greek drama festival. Donna Lynne Champlin is tough as nails as the protective wife of an offstage Bert Lahr, hiding in his dressing room after the disastrous
Godot
.
Sean McNall has a sleek elegance as a French actor as concerned with court and bedroom intrigue as his performance. Dominic Cuskern lends austere dignity to several roles, including an officious messenger of Louis XIV and the imposing patriarch of an Elizabethan acting clan. Micah Stock is a riot as a fussy playwright and a revolutionary delivery boy. They are clearly enamored of the theater, as is McNally, but the script is a paper-thin valentine rather than a searing love letter.
December 3, 2013

No Man's Land and
Waiting for Godot
Cort Theatre
Reviewed by David Sheward


At the curtain call for Sean Mathias's production of
Waiting for Godot
, Patrick Stewart and Ian McKellen perform a soft-shoe in which the headliners seem to be saying "Isn't it wonderful that we two stars are here on Broadway, entertaining you lovely people with this cute and funny play?" The same crowd-pandering antics infuse the entire preceding production of Samuel Beckett's bleak, existentialist classic. Yes, there is comedy in
Godot
, and the author envisaged clowns like Laurel and Hardy to play his woebegone tramps Estragon and Vladimir who are eternally waiting for the never-arriving title character. But the harrowing despair they experience is totally missing here. The greatness of
Godot
comes from its ambiguous view of life as shatteringly sad and screamingly funny. Mathias and company give us plenty of funny, but no sorrow.
There are brief moments when we see the two viewpoints. At the opening of the second act, Stewart as Vladimir executes a brief, desperate vaudeville song and dance, but keeps breaking down as his character struggles to maintain a jolly façade masking his recognition of the futility of existence. Stewart and McKellen deliver impressive vaudevillian turns as the drifters wrestling entertainment from nothing to fill the endless void left by the mysterious Godot, who represents the purpose they are seeking. But their underlying terror of the emptiness symbolized by Stephen Brimson Lewis's post-apocalyptic set is missing.
The choices made by Shuler Hensley as the pompous traveler, Pozzo, compound the comic emphasis. Hensley gives Pozzo a Foghorn Leghorn–like Southern accent and plays him as broadly as that cartoon rooster. Billy Crudup as Pozzo's animal-like servant, Lucky, achieves a despairing intensity in a rambling monologue; but without an overall tragic subtext,
Godot
becomes a divertissement rather than an achingly profound statement of the human condition.
Mathias may have chosen to lighten up this
Godot
because it's playing in repertory with another dark tragicomedy featuring the same four-man cast: Harold Pinter's
No Man's Land
, and he and the producers may not have wanted audiences who are seeing both to get too gloomy. Unlike the Beckett, the Pinter piece comes off as a proper balance between hilarity and horror.
Like Vladimir and Estragon, elderly poets Spooner (McKellen) and Hirst (Stewart) are trapped in an existential wasteland where identity and memory are fluid and unreliable. Hirst appears to be a prosperous literary figure attended by two young thuggish handlers, Foster (Crudup) and Briggs (Hensley). Spooner is a down-at-heels has-been who may or may not have known Hirst during their college days at Oxford. As Hirst drowns in an ocean of booze, Spooner strives to hold on to his dignity despite bullying attempts by the two attendants to push him out of the house.
Here the four cast members are equally uproarious and heartbreaking. You can see Hirst's brilliant mind underneath the alcoholic wreckage in Stewart's sensitive performance. McKellen is shatteringly pathetic in depicting Spooner's guarded attempts to get out of this baffling situation intact. He seems like a whipped dog, wincing at every movement of those around him. Crudup and Hensley keep Foster and Briggs from being mere menacing brutes, endowing them with goals and aspirations beyond frightening the two older characters. All render Pinter's potent dialogue with devastating humor and scary power when appropriate.
Final score: full marks for
No Man's Land,
half for
Waiting for Godot
.
November 24, 2013


A Gentleman's Guide to Love and Murder
Walter Kerr Theatre
Reviewed by David Sheward

You would think one actor playing eight roles would be the highlight of any musical production, especially when the actor is Jefferson Mays, who took on 40 personages in the one-person
I Am My Own Wife
. Though Mays is amazingly dexterous as an entire eccentric upper-crust British family in
A Gentleman's Guide to Love and Murder
, now on Broadway after runs at Hartford Stage and San Diego's Old Globe Theatre, he's not the only reason to rush to see this highly polished comic gem. There's also the dashing and charismatic Bryce Pinkham, the gorgeous and razor-sharp Lisa O'Hare, the sweet and charming Lauren Worsham, the delightfully droll Jane Carr, a hardworking and fun-loving six-person ensemble, plus the cleverest staging and the most enjoyable score in quite some time.
All of these elegant elements are in service of an equally elegant and somewhat familiar story, derived from an obscure 1907 novel,
Israel Rank
, which also serves as the basis of the classic 1949 British film comedy
Kind Hearts and Coronets.
Impoverished artist Monty Navarro discovers he is ninth in line to the fabulous D'Ysquith fortune and earldom. To obtain the glittering prize, he murders all eight distant relations standing in his way. In the movie, this octet was played by Alec Guinness; here, Mays takes on the daunting task.
Woven throughout the witty and well-structured book by Robert L. Freedman are the sparkling songs featuring Steven Lutvak's wide-ranging music and intricate lyrics by Lutvak and Freedman that recall the driest and funniest of Gilbert and Sullivan and Noël Coward.
Employing Alexander Dodge's toy-theater set that resembles an Edwardian-era music hall, director Darko Tresnjak devises endlessly inventive stage business to accomplish each of the murders, involving rapid-fire changes of Linda Cho's exquisite period costumes and mad backstage dashing by Mays. It's a breathtaking tour de force for star and stager. Mays manages to draw laughs with raised eyebrow or an upward inflection, creating a gallery of hilarious grotesques.
But, as stated above, this is far from a one-man show. As Monty, Pinkham never leaves the stage and carries the narrative along with unflappable style and virile charm. Though his role is considerably less flashy than Mays's, Pinkham creates a believable and sympathetic serial killer, which is no mean feat. Complicating Monty's schemes are the seductive Sibella Hallward, married but on the make, and the innocent Phoebe D'Ysquith, a distant cousin. Both are madly in love with the would-be earl. O'Hare makes a sinfully delicious Sibella and Worsham an irresistibly adorable naïf. The high-voiced Carr is the scene-stealing Miss Shingle, a sly and secretive family retainer out to aid Monty. The small, versatile chorus shines in multiple roles; Joanna Glushak gets a stand-out cameo as the shrewish wife of the last relative Monty knocks off. She delivers as full and wacky a performance as Mays. When a supporting player, and the entire cast, is on a par with your showstopping star, you know you've got a hit.
November 23, 2013

Twelfth Night/Richard III
Shakespeare's Globe at the Belasco Theatre
Reviewed by David Sheward
In a dazzling tour de force, two-time Tony winner Mark Rylance tackles a pair of diverse roles in repertory at the Belasco Theater after a smash-hit run at Shakespeare's Globe in London. In keeping with Elizabethan tradition, all the female roles are played by men, and Rylance makes a convincing Olivia in
Twelfth Night
. She's an icy lady whose mournful exterior melts when she encounters a beautiful youth who happens to be a maiden in disguise. Rylance brilliantly conveys Olivia's haughty reserve melting into schoolgirl giddiness worthy of a Justin Bieber fan as she falls in love. In
Richard III
, the actor endows the tyrannical usurper with a devilish sense of humor, all the more horrifying when contrasted with his evil machinations, including murdering half his family to get to the throne. In both roles, Rylance creates the illusion that these immortal lines are being spoken for the first time, a feat worth the price of two admissions.
The star is delivering a pair of the most naturalistic performances I've ever witnessed, yet the impeccable staging by Tim Carroll, the faithful period set and costumes by Jenny Tiramani, the imperceptible lighting by Stan Pressner, and the gorgeous music by Claire van Kampen played on 16th-century-style instruments place us in a highly artificial world. The audience, many of whom are seated onstage, is even treated to a preshow ritual of watching the cast don their elaborate duds and makeup, reinforcing the theatrical construct. Yet somehow this oft-kilter combination of substance and make-believe works. Carroll has created a magnificent Elizabethean playground, and his intuitive headliner plays in it like a child totally convinced it's the real world rather than a wooden O.
Though the rest of the cast doesn't even approach Rylance for daring and spontaneity, it is a solid, inventive ensemble. Samuel Barnett makes a lovely Viola, the gender-bending page, and a formidable Queen Elizabeth who is one of the few royals able to stand up to the ravenous Richard. Paul Chahidi nearly steals
Twelfth Night
as the saucy serving maid Maria and lends dignity to the double-crossed Hastings and sliminess to the murderer Tyrell. The leonine Angus Wright uses his height and noble bearing for comic effect as the buffoonish Sir Andrew Aguecheek and, for stark contrast, to the handsome but treacherous Buckingham. Colin Hurley is a riotously raucous Sir Toby Belch, and Stephen Fry is a dry and foppish Malvolio. But the center of both shows is Rylance, who is sure to win a third Tony Award; the only difficulty voters will have is to decide for which performance.
November 14, 2013

The Jacksonian
The New Group at the Acorn Theatre
Reviewed by David Sheward
Beth Henley has always had a dark side. Even her sunniest comedy, the breakthrough Pulitzer Prize winner
Crimes of the Heart
, is shadowed by death and destruction. Thirty years after the Broadway premiere of that kooky tale of three eccentric Southern sisters, Henley has a much gorier tale of a bipolar dentist and his equally wacko wife. Set in 1964 Mississippi,
The Jacksonian
, playing Off-Broadway in a New Group production after an earlier staging at Los Angeles's Geffen Playhouse, has plenty of killing, pedophilia, racism, and blood to go around, but it all seems gratuitous.
Tooth doctor Bill Perch resides at the titular motel during a trial separation from his depressed spouse, Susan, who blames him for consenting to a hysterectomy for her while she was under the ether. Their acne-scarred, teenage daughter Rosy is just as gloomy during her visits. The motel staff doesn't prove any more cheerful. Fred, the bizarre barman, is attempting to escape a murder rap and the clutches of the bubble-headed, bigoted chambermaid Eva.
The play opens with Rosy, wrapped in a blanket and sobbing to the audience about surviving a Christmastime accident. From there, we flashback to May when this dysfunctional family's downhill slide started. As if we are in Rosy's confused head, we move back and forth in time as Bill loses his practice, Susan loses her mind, and Rosy loses her innocence. Suffice it to say, it doesn't end well.
Henley has gripping themes going concerning her Southern roots: The dentist's offstage father appears to be a klansman, and there are many references to lynchings and African-American churches being fire-bombed. There are also heaping helpings of the playwright's trademark black humor, but the characters aren't sufficiently developed beyond their surface quirks.
Director Robert Falls keeps the grotesqueries from overwhelming the story while the powerhouse five-person cast largely tries for a similar balance. Ed Harris is truly dangerous as the deranged dentist, particularly in a blowup scene where the doctor is down on himself while high on nitrous oxide. Bill Pullman takes a fascinating flight from his usual nice-guy roles as the tightly wound, perverted Fred. Even his hair is scary. Amy Madigan tries her best to make more of Susan than a shrill shrew, but she isn't given enough with which to work. Glenne Headley has a few striking, off-kilter moments as the daffy Eva. Juliet Brett plays every Southern stereotype as the misfit Rosy, as if she were enacting literary images from Carson McCullers, Flannery O'Connor, and Eudora Welty, rather than being a real person. Unfortunately, that's only as deep the play goes.
November 7, 2013

Betrayal
Ethel Barrymore Theatre
Reviewed by David Sheward
Trust Mike Nichols to find the laughs in adultery. After all, in collaboration with Elaine May, he created and performed one of the most hilarious sketches on the subject during the legendary comedy duo's nightclub days. They played three different cheating couples—American, British, and French—exposing the national character of each as they negotiated their way to a hotel room. Now, Nichols, who became the most successful stage and film director of his generation after his standup stints, makes this painful subject painfully funny in a brilliant revival of Harold Pinter's
Betrayal
. A previous Broadway production (the 2000 Roundabout staging, I didn't see the first American production in 1980) was dark and sinister, full of the predictable Pinteresque pauses. Nichols's staging is just as evocative of the menace the Nobel Prize–winning playwright found in everyday situations like meeting for lunch or visiting friends, but Nichols also mines the hilarity inherent in these occurrences. It doesn't hurt that he has three sexy headliners—Daniel Craig, the current James Bond; Craig's real-life wife, Rachel Weisz; and, best of all, Rafe Spall, making his Broadway debut—as the devious and conflicted sides of Pinter's romantic triangle.
The play opens with the melancholy meeting between Emma (Weisz) and Jerry (Spall), clandestine lovers whose adulterous affair ended two years earlier. With a few sideways detours, we then move backward in time to the beginning of the liaison. During the journey, we see how Emma, Jerry, and Robert (Craig), Emma's husband, have betrayed each other in numerous ways, yet they almost never speak directly about this treachery. Seemingly insignificant incidents like Jerry's tossing of Emma's little daughter in the air and small props such as a lace tablecloth, take on deeper resonance as we find their original meaning in chronologically earlier, but later played, scenes.
Each of these smart people is articulate about books, art, and society, but, as in many other Pinter works, they mask their feelings behind small talk. Here's where Nichols cleverly uses comedy to display the difference between the surface calm and the inner turmoil. The characters' passionate actions belie their dry dialogue. Watch the way Jerry nervously eats a melon as Robert sadistically hints he may know about the affair. The audience uproariously guffaws and then is startled into silence when Robert nearly screams in anguish.
Craig and Weisz sharply play the contrast between their characters' calculating manipulations and their civilized exteriors. Both these film stars show they have serious stage chops, but the real find here is Spall, a British actor new to the American stage. Though it initially appears his Jerry is the biggest deceiver of all, it turns out he's the victim of Emma and Robert. Spall feelingly displays all of Jerry's complex motivations—genuine love as well as lust for Emma, affection for Robert—and the agonizing ache when all is taken away from him and his emotions were spent on a pair even trickier than himself. Add the malicious wit Nichols provides, and this is a perfect Pinter.
October 30, 2013

Marie Antoinette
Soho Rep
Reviewed by David Sheward
At first, it seems as if David Adjmi's
Marie Antoinette
will run out of steam after about 20 minutes. The basic premise is to have the 18th-century Queen of France and her court speak and act like contemporary Kardashians, entitled bubbleheads complaining about the burdens of wealth and fame and totally clueless as to why the peasants are revolting. ("They're always angry," whines Marie.)
But as the distant cries of discontent turn into the screams of terror and Marie is gradually stripped of her luxuries, the downtrodden monarch becomes a pitiful lost figure, an uncomprehending victim of history. As she is about to be beheaded, she engages in a dream-like debate with a sheep on the topics of democracy, class, and politics, which is eerie and frightening in its unsparing depiction of the forces of destiny. Marie explains she had no choice but to become a thoughtless figurehead, that's how she was brought up. The sheep rails back that she can't even take care of herself so how can she take care of an entire country? The dizzy, obvious comedy of the early scenes gives way to dispassionate reality, revealed in a hallucination.
Director Rebecca Taichman masterfully balances the disparate styles of satire, fantasy, and verisimilitude, as does a skillful cast. But the chief burden is placed on Marin Ireland in the title role, and she carries it off as magnificently as she wears costumer Anka Lupes's lush ballgown and wig designer Amanda Miller's towering headdress. From the moment Ireland's Marie rushes onstage at the opening, whispering an apology for being late (totally in character), to Marie's final epiphany just before she loses her head, Ireland finds seemingly infinite variations on narcissism. She becomes a screaming, spoiled child when thwarted, a charming coquette to achieve her aims, an imprisoned lioness when her son is taken from her, and a dozen other versions of the same fascinating woman.
Steve Rattazzi is equally complex as her ineffectual, infantile husband, King Louis XVI, and David Greenspan manages to make the sheep an intriguing symbol of the forces uprooting Marie's world.
The play was previously presented in more elaborate productions at Yale Repertory Theatre and American Repertory Theatre. It's now at the intimate Off-Broadway Soho Rep, where set designer Riccardo Hernandez has reconfigured the space as a long, shallow strip with a stark white backdrop featuring the title royal's name in raised white letters. With the aid of Stephen Strawbridge's lighting, the confining environment transforms from a gilded cage to a stark prison with ominous shadows stretching across the blank wall. Matt Hubbs's sound design frighteningly re-creates the sounds of the bloodthirsty mob.
October 24, 2013

The Winslow Boy
Roundabout Theatre Company at the American Airlines Theatre
Reviewed by David Sheward
The Roundabout Theatre Company has a winner with this finely tuned revival of Terrence Rattigan's
The Winslow Boy
in a production by Lindsay Posner previously presented by London's Old Vic company and recast for New York. Premiered in 1946, the play is set in the veddy proper Kensington drawing room of the upper-middle-class Winslow family on the eve of World War I (the properly understated set and costumes are by Peter McKintosh). Youngest son Ronnie has been expelled from a prestigious naval academy for allegedly stealing a postal order worth a few shillings. His stubborn father, Arthur, risks the family's financial stability and reputation to clear the boy's name.
The effects of the case are catastrophic: Placid mother Grace is driven to distraction, elder brother Dickie is forced to quit college and get a banking job, and sister Catherine's engagement to a promising military officer is endangered. Even the beloved, slightly dizzy maid Violet may lose her position. All seems lost until the celebrated, icy advocate Sir Robert Morton swoops in just before the intermission and, after a brilliantly theatrical cross-examination of Ronnie, agrees to take the case. Guess which side wins?
It may sound a bit like an old episode of
Upstairs, Downstairs
, but the battle of a wronged citizen fighting an oppressive bureaucracy has contemporary resonance. Posner does somewhat indulge in stiff-upper-lip clichés with some broad comic staging, but, for the most part, he has steered his sterling cast to taking the proceedings with the utmost seriousness. Though the crime Ronnie is charged with may seem petty, the principle of having his day in court is passionately defended as vital to a free society.
Roger Rees displays the tender heart beneath Arthur's blustering exterior and skillfully documents the stubborn father's physical decline as the character's infirmity increases with each act. Alessandro Nivola effectively captures Sir Robert's cool demeanor and biting wit. Charlotte Parry as the politically radical sister is the anchor of the play, providing much of the motivation for action, and she does a splendid job steering the plot's course. Michael Cumpsty is endearingly oafish as her clumsy suitor and Chandler Williams is dashing and determined as his rival, the military officer.
Mary Elizabeth Mastrantonio gets more than her fair share of comic and emotive moments as the mother. Spencer David Milford conveys Ronnie's desperate protestations of innocence as well as his vignettes of being a typical youngster more interest in going to the pictures than in his trial. Zachary Booth has the difficult assignment of playing the feckless Dickie who is mostly inserted for comic relief, but the actor handles this task with aplomb. Henny Russell steals many of her scenes as the eccentric maid. Even the tiny walk-on roles such as superficial reporter (Meredith Forlenza) and her photographer (Stephen Pilkington) are perfectly cast in this top-drawer revival.
October 19, 2013

Bad Jews
Roundabout Theatre Company at the Laura Pels Theatre Company at the Harold and Miriam Steinberg Center for Theatre
Reviewed by David Sheward
Religion and relatives clash in Joshua Harmon's blistering comedy
Bad Jews
, now at the Roundabout Theatre Company's Off-Broadway Laura Pels Theater after a limited run at the company's Underground space last season. Set in a crowded but expensive Manhattan apartment, this politically incorrect power play pits ultra-observant Daphna Feygenbaum against her spoiled secular cousin Liam Haber. Even their names are at opposite poles—Daphna was born Diana but rechristened herself after a visit to Israel, while Liam bears an Irish moniker though his Hebrew name is Schlomo. These diametrically opposed antagonists are in a death match over their just-deceased grandfather's chai necklace, which was carried through the Holocaust.
Daphna feels she should have it because she's unquestionably the most religious of the grandchildren, while Liam stakes his claim as the eldest male and he wants the keepsake to propose to his Gentile girlfriend, Melody. Liam's quieter brother Jonah seems to only desire a good night's sleep as all four including Melody must share quarters the night before shiva for grandpa.
Harmon asks difficult questions about cultural conflicts, including how important it is to preserve Jewish tradition in an increasingly nondenominational, melting-pot world. He doesn't provide answers, and the characters, endowed with Harmon's pungent and pithy dialogue, are an intensely realistic mix of petty and pure. Daphna is insufferably self-righteous but fiercely intelligent and sincere in her push for preservation. Liam may be entitled and nasty, but he's also open and loving toward Melody, who is more than a bit shallow yet kind toward Daphna—at first. Only Jonah's emotions remain hidden, until a startlingly climactic revelation.
Director Daniel Aukin uses Lauren Helpern's elegantly confined space to its best advantage. The battling four must crawl over sofa beds and inflatable mattresses, constantly butting up against each other literally and figuratively.
Tracee Chimo miraculously keeps the obnoxious Daphna from descending into caricature. She puts across the young woman's anger and narcissism, but also her deep insecurities. Her physical choices are also fascinating. Watch as she channels Daphna's rage through combing out her tangled hair, venting years of indignation at Liam and his side of the family with every brutal brushstroke. Michael Zegen skillfully displays Liam's fiery temper but also presents the young man's side of the struggle passionately. Molly Ranson gives us an interesting mix of ditziness and determination. Philip Ettinger has probably the most challenging assignment, since Jonah is mostly reactive throughout the play and his final statement of allegiance is a silent one, yet he conveys this internal struggle with mute eloquence. They're a brilliant quartet of
Bad Jews
.
October 14, 2013


The Glass Menagerie
Booth Theatre
Reviewed by David Sheward

The Glass Menagerie
is one of those American classics that has been staged so many times, it's difficult to imagine a production breathing new life into it. But just as he did with
Once
, director John Tiffany has stripped Tennessee Williams's 1944 career-maker of any extraneous elements and delivered it to us, fresh, alive, and powerful. This bracing production is now at the Booth Theatre after a run at the American Repertory Theater in Cambridge, Mass.
Tiffany takes his central concept from the opening moments of the play. The narrator Tom, a stand-in for the young Williams, explains he has "tricks in his pockets." Through the magic of theater he then re-creates the miserable St. Louis flat where he lived with his overbearing mother, Amanda, and pathetic, crippled sister, Laura. Tiffany emphasizes the magical and illusionary nature of Williams's script. Laura emerges like a phantom from the sofa. Amanda suddenly appears from behind a screen. As in a dream or memory, there is barely any furnishing and no props except for a single tiny unicorn as a representative of Laura's titular collection. The characters move with unrealistic, ballet-like gestures as if dancing in a fantasy.
In addition, Tiffany imagines Tom is recalling his painful past while standing on a dock gazing at a dark body of water. After all, Williams explains, the narrator has left his family to roam the world as a merchant seaman. Thus set designer Bob Crowley, with the immeasurable aid of Natasha Katz's poetic lighting, creates a bare series of platforms surrounded by a moat of black liquid. This is the only exit route, apart from an M.C. Escher-esque fire escape leading nowhere. When Laura retreats into her imaginary world, she staggers downstage and almost plunges into the inky depths. That water is the unreal realm she and Tom long to inhabit, away from the harsh sphere of typing classes and shoe factories.
In this production, Amanda, usually portrayed as an unreasonable if comical harridan, is the realistic one. In a career-defining performance, Cherry Jones tempers Amanda's every movement with love for her children and knowledge of what it takes to survive. This is no dreamer lost in revelry of her genteel Southern girlhood. Although those monologues of Amanda's past are delivered with vivifying detail, taking up the dance theme she moves as if she were still leading a cotillion. When Amanda learns the long-awaited gentleman caller, intended as a beau for the pitiful Laura, is already engaged, Jones's face is frozen in a mask of civility. But the emotional turmoil underneath is clearly visible in the way she straightens the caller's lapel and holds onto it for a few extra seconds, as if grasping her last hope for her daughter's happiness before it vanishes.
As Tom, Zachary Quinto is wonderfully funny when exasperated with Amanda's fussing. He also inhabits the character both in the moment and the future as he looks back and regrets deserting her and Laura. It's a brilliant feat of acting. Celia Keenan-Bolger is equally dazzling as his forlorn sister, making her world of glass animals and sweet music a very real place. Brian J. Smith is compassionate and endearing as Jim, the gentleman caller.
September 29, 2013

Carcass
New Worlds Theatre Project at HERE
Reviewed by Simi Horwitz
Even a groundbreaking play may die with good reason, and resurrecting it serves no purpose short of reminding the viewer why it died in the first place. Regrettably, that's the problem with Peretz Hirshbein's 1906
Carcass
, produced by the 7-year-old New Worlds Theatre Project, whose laudable mission is to present lesser-known or rarely produced Yiddish dramas that have stood the test of time and can appeal to a diverse audience through an accessible English-language translation and contemporary staging.
In this instance that includes a lack of specificity as to when and where the play is taking place; current vernacular scattered throughout the dialogue; and a racially mixed cast of actors playing members of the same family. None of that is bothersome. The objection is to the play itself: a relentlessly overwrought—at moments, violent—family drama heavy on symbolism. All the characters in this brutal and brutalized family are the walking dead. They are all carcasses.
Born in Russia in 1880, Hirshbein was dubbed "the Yiddish Maeterlinck" because many of Hirshbein's plays centered on mood rather than narrative, and he was a seminal figure in paving the way for the Yiddish theater art movement that began after the end of World War I. He made a name for himself in New York with
Hidden Corner
and later
Green Fields
, thanks to their low-keyed simplicity in an era that favored melodrama on stage. Clearly,
Carcass
is of the
Sturm und Drang
esthetic.
Directed by Paul Tackas and translated by Ellen Perecman, the story centers on the evolving relationships among Avrush, a drunken, tormented shell of a man (David Greenspan); his wretchedly disappointed son, Mend'l (Alvin Keith); his abusive, shrewish wife (Kathryn Rossetter), who beats her adult daughter Reyz'l (Rebekah Levin); Reyz'l's hapless boyfriend (Thomas Preece); and Avrush's dying ex-wife (also played by Rossetter).
The acting is uneven. Though the three actors and Preece attempt to be believable, Greenspan and Keith emerge from another universe altogether. They rage and wail and howl but, oddly enough, may well be a whole lot closer to the true spirit of the play than the women struggling at plausibility. The best moments center on Mend'l channeling Marlon Brando in
On the Waterfront
, plaintively recalling the major regret in his life, "I couldha been a tailor," and later Nina in
The Seagull
, comparing himself to animal remains, "I am a carcass."
The unintentional comedy does not lighten the proceedings. The play is leaden and the production feels endless though it only runs 75 minutes. Still, it's undoubtedly of cultural interest to Yiddish theater aficionados, and unlike so many productions this one is memorable.
September 18, 2013

The Old Friends
Signature Theatre at the Pershing Square Signature Center
Reviewed by David Sheward
The plays of the late Horton Foote (
The Trip to Bountiful, The Orphans' Home Cycle,
dozens of others) are marked by the quiet desperation of small-town life, usually set in his fictional Harrison, Texas. But two of the leading females in
The Old Friends
, a posthumously premiered work now at Signature Theatre, are anything but quiet. (The play was first written in 1965, and Foote was revising it off and on until the time of death, in 2009.) Best frenemies Gertrude and Julia are rich, destructive, and loud. Gertrude throws her money around and manipulates her social circle to accommodate her whims, while Julia constantly quarrels with her crass husband, Albert, and her mother, the long-suffering Miss Mamie. Both these nasty ladies drink like fishes, drunkenly falling out with each other, usually over men, only to kiss and make up once they sober up.
Into this den of vipers walks Sybil, who must piece her life back together after the death of her husband, Hugo, Miss Mamie's wastrel son. The main conflict is between Sybil and Gertrude over the attractive Howard, the manager of the widowed Gertrude's vast farming empire who wants to strike out on his own. But there are numerous other storylines involving property, jewelry, and multigenerational family squabbles. Though the action can sometimes resemble an episode of
Dallas
, Foote's poetry of the everyday still shines through. It's there in the small details—Sybil leafing through her beloved books shipped from South America where she followed Hugo as he sought his fortune in the oil business; Miss Mamie recalling the tragedies and joys of her long life in Harrison; Howard describing the liberating feeling of flying his own plane, sold long ago to pay off mounting debts.
The histrionics of Gertrude and Julia verge on Tennessee Williams–esque excess. Like Blanche DuBois, Gertrude cannot keep her hands off younger men, is sensitive to bared lightbulbs, and is eventually forced to confront her wasted and drunken self in a mirror. Albert threatens to shoot the flirtatious Julia more than once and almost carries out his threat. Fortunately, longtime Foote director Michael Wilson keeps the proceedings on an honest footing—forgive the pun—and even the most melodramatic moments, such as Gertrude's volcanic trashing of Sybil's home, have a grounded reality.
Though Gerturde and Julia are the flashier roles, the center of the play is Sybil and, as with most New York productions of Foote's work, that core is beautifully enacted by the playwright's daughter Hallie. Though we have seen variations on this performance in her work in her father's other plays, she sensitively portrays Sybil's journey from the sudden shock of losing her spouse to pulling herself together to reluctantly rekindling her romance with her former beau Howard. The quaver in her voice as she quotes a line from Sybil's favorite poet, Pablo Neruda, fills volumes of subtext. Betty Buckley makes exquisite use of her golden voice as the narcissistic Gertrude, shifting from seductive would-be temptress to spoiled, screaming brat when thwarted. Veanne Cox is also deliciously vile as the mean-spirited Julia. Cotter Smith is valiantly virile as Howard, struggling to escape Gertrude's clutches.
The remaining roles are not as well developed. Miss Mamie is bit too much like Miss Carrie of
The Trip to Bountiful
. She even has a valise all packed to flee from rude in-laws, just like that homespun heroine. Even so, Lois Smith manages to suggest decades of Harrison history with her slightest inflection, while the reliable Adam LeFevre rescues the shadowy Albert from one-dimensionality. Likewise, the violent clashes of these characters could have been staged as faux Williams, Albee, or Inge, but in the capable hands of this Signature company, they are pure Foote.
September 13, 2013

Anna Christie
Berkshire Theatre Group at the Fitzgerald Main Stage
Reviewed by David Sheward
The massive dramatic works of Eugene O'Neill can be a challenge for modern theatermakers and audiences. While the undeniable tragic force of powerhouses like
Long Day's Journey Into Night, The Iceman Cometh,
and
A Moon for the Misbegotten
compensates for somewhat creaky structure and dialogue, some of the more rarely performed plays can succumb to their melodramatic limitations if not handled properly. One such piece is
Anna Christie
, O'Neill's 1922 Pulitzer Prize winner detailing the emotional triangle among the title character, a reformed prostitute; her Swedish seafaring father, Chris; and Matt, the brawling Irish stoker who, ignorant of her shady past, falls in love with her.
Anna
is probably best known from the 1931 MGM film version that provided Greta Garbo with her first speaking role. More-recent Broadway revivals starring Liv Ullman and Natasha Richardson have emphasized Anna's proto-feminism. When she is forced to reveal her former profession, she defiantly castigates her father and suitor for their moral outrage. Haven't they been guilty of the same "sin" by patronizing the type of establishments she was forced to work in?
Unfortunately, the play is loaded with hokey stage devices, long talky scenes, and Chris's repetitious ruminations on the evil influence of "dat ole devil sea," which he believes has ruined the lives of all involved. In Berkshire Theatre Group's production in Stockbridge, Mass., director David Auburn (playwright of
Proof
) nearly succeeds in overcoming these flaws to deliver a passionate, believable tale of three people struggling to make the best of the bad hand fate has dealt them. Auburn and the solid cast can't quite compensate for cobwebbed plot machinations—Chris gets a delayed letter from Anna on the same day he is to meet her after 15 years apart, Matt declares his intention to marry Anna just minutes after he first lays eyes on her, etc. Yet the staging and limning are so simple and direct, we almost forget these old-fashioned tricks.
Rebecca Brooksher carries Anna's damaged past around like a sack of dirty laundry. She wants to hide it but is clearly ready to swing it at anyone who challenges her. The weight and anguish of her father's abandonment can be seen in her every gesture and inflection. Yet she forcefully conveys Anna's objective: to discard that laundry bag and get on with her life despite her dad's obsession with the sea. Jonathan Hogan makes for a lovable, rascally Chris; he even manages to make the character's endless declamations against the ocean bearable. Derek Wilson finds the vulnerability beneath Matt's muscular bluster, keeping him from turning into a bragging bully. Alison Fraser (
The Secret Garden, Romance/Romance
) is especially moving as Marthy, the veteran waterfront dame sharing digs with Chris. Beneath the tattered rags and whisky-soaked growl, you can see the enchanting young girl she once was.
One quibble about the casting: Brooksher and Wilson are so good-looking and well-scrubbed even when they're supposed to be covered with grime, it's a little hard to believe them as working-class stiffs. Yet they illuminate the emotional truth of O'Neill's downtrodden lovers.
August 28, 2013

First Date
Longacre Theatre
Reviewed by David Sheward
My blind date with the first new musical of the 2013–14 Broadway season did not sound promising: a 90-minute comedy about the pitfalls of romantic fix-ups, written by a TV scribe and a songwriting team whose major credits included Disney animated films and a Folgers commercial. From the press release and reports on an earlier production at Seattle's 5th Avenue Theatre, I was dreading stale jokes about mismatches, swishy gay best friends, pushy Jewish mothers, and this newfangled web-thing called Google. But I was pleasantly surprised and actually enjoyed most of
First Date
.
While the show is guilty of trotting out tired comic tropes, a game cast led by an assured Zachary Levi of TV's
Chuck
in his Broadway debut, and the always delightful Krysta Rodriguez, who managed to outshine Katharine McPhee on
Smash
, gives the material a fresh bounce. Bill Berry, producing director of the 5th Avenue Theatre, stages the show with economy and wit, and, apart from a lapse or two, this short summer fling passes agreeably, if not memorably.
The premise is simplicity itself: Nebbishy, conventional Aaron (Levi) is set up by a co-worker with edgy, artistic Casey (Rodriguez). Both have been burned in the dating wars and are wary of this new encounter. They meet in a restaurant-bar, and their waiter (of course he's gay and has show-business aspirations) and four fellow diners play all the roles in Aaron's and Casey's heads. The book, by Austin Winsberg (
Gossip Girl
), is fairly predictable—awkward initial chit-chat, inevitable conflict, final lip lock—and the songs, by Alan Zachary and Michael Weiner, have more than a bit of pastiche to them. Almost all of the secondary characters are straight from Stereotype Central. In his mind, Aaron's grandma rises from the grave like Fruma-Sarah in
Fiddler on the Roof
and threatens to break her grandson's "matzo balls" if he marries the gentile Casey. Meanwhile, Casey's extremely nelly BFF repeatedly and annoyingly calls her cellphone as a bail-out option.
But Levi and Rodriguez are so refreshingly honest in their interplay, we wind up rooting for them to get together despite the hokey world they inhabit. Levi displays a self-deprecating charm, which he wisely underplays, and shows off a decent set of singing and dancing chops. He avoids treacle in a syrupy ballad about Aaron's dead mother and really goes to town in a funny revenge number sung to his haughty ex. Rodriguez has the harder task of making the brittle and defensive Casey likable. She pulls it off brilliantly, slowly exposing Casey's vulnerability while peeling off cynical wisecracks. This works especially well in her solo "Safer," an interior monologue on the emotional walls her character builds.
The versatile supporting company goes far to flesh out the comedy-sketch roles. Blake Hammond sparkles as the perky waiter, particularly in "I'd Order Love," a kinda corny but sweet piano-bar tune. Only Sara Chase as Casey's nagging sister leans too heavily on the kind of sitcom delivery that
First Date
mostly manages to sidestep.
August 13, 2013

The Flying Dutchman
Glimmerglass Festival at the Alice Busch Opera Theater
Reviewed by David Sheward
If you think opera is dry and boring, check out the opening production of the 2013 summer season of the Glimmerglass Festival in Cooperstown, N.Y. In an intense staging by artistic and general director Francesca Zambello, Wagner's
The Flying Dutchman
has probably never been so sexy. During a fierce duet in the second act, the leads could barely keep their hands to themselves, and I marveled at how they were able to hit their high notes while practically ravaging each other. That kind of sensuality percolates beneath the action and finally explodes as the maiden Senta gives in to her obsession for the titular character, a ghostly sea captain doomed to roam the ocean until he can find a woman brave or crazy enough—depending on your point of view—to spend eternity with him.
After a passionate performance of the surging overture from conductor John Keenan and a magnificent orchestra, Zambello starts off with libidinal Freudian imagery. As the curtain rises, we see Senta thrashing about, entwined with ropes on a barren bed in the midst of a sexual dream. The ropes are repeated in James Noone's stark set as the scene seamlessly shifts to the ship of Daland, Senta's father, bound for home after a long voyage. The crew continually pulls on the rigging and this barely concealed erotic action is repeated with less subtlety among the sailors' sweethearts as they weave similar ropes dangling from the flies and sing of their long-awaited reunions. Zambello has them practically whip themselves into an orgiastic frenzy.
But the main friction is between Senta and the Dutchman who strikes a bargain with the greedy Daland for his daughter's hand in return for the rich cargo the Dutchman has amassed during his endless travels. But Daland is unaware that his prospective son-in-law is a damned spirit seeking redemption in the form of a girl's mortal love. By lucky coincidence, Senta is enchanted by the Dutchman's legend and falls eagerly into his arms. Zambello endows this ethereal alliance with musky earthiness by having bass-baritone Ryan McKinny got up by costume designer Erik Teague as if the wandering captain were ready to hit an S&M leather bar. It doesn't hurt that McKinny's rich and resonant voice is matched by a powerful physique and his bare chest is covered with a huge tattoo of the Dutchman's mystical vessel. This is one earthy ghost.
Soprano Melody Moore is equally riveting as the addictive Senta. Her soaring, clear tone conveys idealistic romanticism and physical yearning. When McKinny and Moore clash, vocal and sexual sparks fly. Jay Hunter Morris, who made a striking impact in the Met's recent
Ring
Cycle, keeps Erik, Senta's discarded fiancé, from paling beside the dark and rugged Dutchman. Peter Volpe makes for a sturdy and somewhat comical Daland; Deborah Nansteel lends strength to Mary, the village matriarch and weaving mistress; and Adam Bielamowicz makes the most of the small role of the steersman.
July 9, 2013

The Unavoidable Disappearance of Tom Durnin
Roundabout Theater Company at the Laura Pels Theatre at the Harold and Miriam Steinberg Center for Theatre
Reviewed by David Sheward
The program describes the setting as "The American exurbs. Sam's Clubs and SUVs and Caribou Coffee and the eerie, shuttered windows of foreclosed strip malls." That's a bit pretentious, but, fortunately, this Steven Levenson play avoids similar writerly clichés in its depiction of an America and a family ravaged by economic blight and emotional dishonesty. The titular character is a white-collar criminal, recently released from prison after a five-year sentence for a multimillion-dollar fraud. Through a series of deceptions that parallel his Madoff-like Ponzi scheme, Tom attempts to reconnect with his alienated family. "I just want my life back!" he roars in frustration as his family and colleagues reject his advances and ultimately tell him to just disappear again.
That cry of pain is delivered by David Morse in the most intense moment of a searing performance. Equally piercing is the long-suppressed rage of Tom's son James, given equal smoldering fire by Christopher Denham who takes on the difficult task of playing a burnt-out character barely able to express his buried desires and passions. James is the protagonist; he is the one who goes through a change. Stuck in a dead-end job selling medical equipment, scarcely keeping his head above water financially, and recovering from an ugly divorce, James seeks escape by enrolling in a writing class and creating an elaborate fiction about two men driving endlessly through Ukrainian mountains. Levenson's craft is so subtle, we don't realize until the play is almost over that this seemingly unrelated novel-in-progress is James's idealized version of reuniting with his father. After Tom moves in with his son and basically wrecks James's already fragile living situation, the young man seeks to reconcile his damaged past with his uncertain future and his father regretfully disappears again.
Besides the heartbreaking father-son thread, several other relationships work their way through the script. Levenson fleshes out each with fascinating and convincing detail, executed with compassion and dimension by director Scott Ellis and a finely tuned cast. Sarah Goldberg gives Katie, James's equally woebegone short-story writing classmate and potential new girlfriend, a dithery manner and a little-girl voice. She could have easily become a comedic, Goldie Hawn–like stereotype, but Goldberg plays her with honesty and warmth, avoiding the sitcom extremes.
Likewise, Rich Sommer as Chris, Tom's sad-sack son-in-law and former subordinate, is buffoonish and moving. In one hysterical scene, Chris explodes at Tom's manipulative behavior and, a split scene later, complains about having to attend his tiny daughter's ballet recital. It's a brilliantly specific moment in which a seeming petty incident clashes with outsize emotion, and Sommer is achingly real in depicting it. Lisa Emery has only two scenes as Karen, Tom's estranged wife, now married to a successful dentist, but Emery brings all of Karen's rage, love, and sorrow to blazing life.
Designer Beowulf Borritt's set of disheveled living rooms and broken-down billboards completes the picture of a wrecked family desperately attempting to heal itself, but the members' remedies push them further apart.
July 3, 2013

3 Kinds of Exile
Atlantic Theater Company at the Linda Gross Theater
Reviewed by David Sheward
The concept of
3 Kinds of Exile
sounds intriguing, on paper anyway. Quirky and insightful playwright John Guare (
The House of Blue Leaves, Six Degrees of Separation
) employs three different examples—two based on reality and one totally fictional—to examine the effects of being forced to leave your homeland and reside permanently abroad. Each of these short vignettes contains fascinating ideas, but, onstage in this Atlantic Theatre Company production, they come across as untheatrical.
The relatively brief evening begins with a monologue titled "Karel" in which Martin Moran relates the story of a man covered with a seemingly incurable Kafka-esque rash. After visiting a psychiatrist, he realizes the skin condition is a manifestation of his childhood fear when he left an unnamed Eastern European country for England during World War II. This curtain-raiser is short, direct, and simply delivered by an understated Moran.
In "Elzbieta Erased," the centerpiece of the program, the playwright Guare and Polish actor Omar Sangare narrate the volatile expatriate experience of real-life Polish actor Elzbieta Czyzewska, who came to New York after marrying American journalist David Halberstam, the Warsaw bureau chief for the New York Times during the 1960s. A star in her own land, Czyzewska ("My name is like a bad hand in Scrabble," she once joked) struggled to find roles in American theater and films. She found work and acclaim at Yale Repertory Theater and even won an Obie for Mac Wellman's
Crowbar
in an Off-Broadway production. But, ultimately, her attempts to achieve the kind of recognition she had in Poland were frustrated. Guare and Sangare knew and worked with the subject, yet the events are still told in the third person. The saga is full of conflict—political, personal, and artistic—but Neil Pepe's flat direction and the second-hand nature of the piece render it static. Sangare's thick accent and Guare's unpolished performance add to the distancing.
The program concludes with "Funiage," inspired by the satiric autobiographical works of Witold Gombrowicz, who traveled from Poland to Argentina for a cultural exchange program in 1939 and decided to stay when Hitler invaded his homeland. This dark fantasy employs Brecht-Weill-like musical numbers and fantasy elements to convey Gombrowicz's broiling dissatisfaction with his oppressive native country and the seductive allure of South America. The title refers to a combination funeral and marriage ceremony threatening to encase the protagonist in a symbolic union with Poland. He breaks free and joins in a joyous dance with the free-spirited Argentineans led by a Mephistopheles figure played by Sangare. There is vitality and wit here, especially in David Pittu's snappy rendering of Witold, but the point of the piece is made early on—Poland is stuffy and mired in the past, Witold wants to get out—and much of the action is repetitive.
The basic material and themes of these three pieces have potential, but they are not sufficiently developed to be compelling stage works. Perhaps a series of essays would have been more effective.
June 15, 2013

Tonys Predictions 2013
Our popular prognosticator prophesizes the prizes.
by David Sheward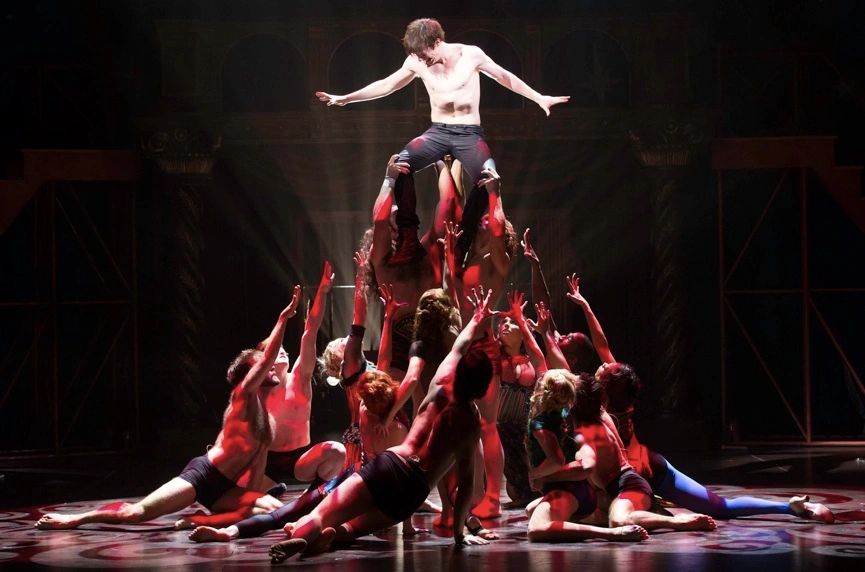 Pippin
This year's Tony Awards, scheduled for Sunday, June 9, at Radio City Music Hall and broadcast by CBS, appears to be a horse race, unlike most years when the winners are fairly predictable. Here are my choices for who is likely to triumph and who I believe deserves to.
Best Play
Prediction:
Vanya and Sonia and Masha and Spike
Preference:
Vanya and Sonia and Masha and Spike
For a while, I thought
Lucky Guy
would be the frontrunner because of double-Oscar winner Tom Hanks's name on the marquee and the desire to pay tribute to its late author, Nora Ephron. But
Vanya
has won all the other awards (Drama Desk, Outer Critics, NY Drama Critics Circle, Drama League) and is the likely winner here.
Best Musical
Prediction:
Kinky Boots
Preference:
Matilda
This category is a battle between
Kinky Boots
and
Matilda
. The other two nominees
Bring It On
and
A Christmas Story
had limited runs earlier in the season and have long since closed. There is an anti-
Matilda
backlash for some reason. I hear some Tony voters are complaining they can't understand the thick British accents of the cast. Maybe the accents in
Kinky Boots
, which won the Outer Critics and Drama League awards, aren't as heavy. But the tone of
Boots
is sentimental and conventional while
Matilda
celebrates edginess. When offered a choice, Tony voters go for the former over the latter.
Best Revival (Play)
Prediction:
Who's Afraid of Virginia Woolf?
Preference:
Who's Afraid of Virginia Woolf?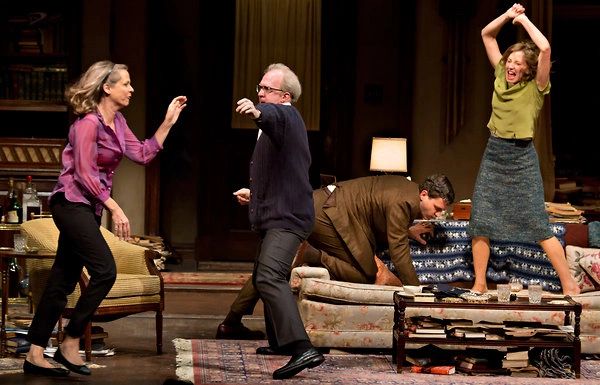 Who's Afraid of Virginia Woolf?
The recent brouhaha over the brochure sent to voters by
Woolf
producers is a tempest in a teacup. If anything, it will gain sympathy for the Albee play because the Tony Administration Committee's regulations over promotional material are so silly. It also makes producer Nelle Nugent (
The Trip to Bountiful
), who called for a special committee meeting on the matter, seem petty.
Best Revival (Musical)
Prediction
:
Pippin

Preference
:
Pippin

A foregone conclusion.
Director (Play)
Prediction:
George C. Wolfe,
Lucky Guy
Preference:
Pam MacKinnon,
Who's Afraid of Virginia Woolf?
Wolfe manages to turn Nora Ephron's episodic, screenplay-like script into a theatrical event, but MacKinnon had the subtler task of staging Edward Albee's classic in a whole new way.
Director (Musical)
Prediction:
Diane Paulus,
Pippin
Preference:
Diane Paulus,
Pippin
Choreography
Prediction:
Chet Walker,
Pippin
Preference:
Chet Walker,
Pippin
Actor (Play)
Prediction:
Tom Hanks,
Lucky Guy
Preference:
Tracy Letts,
Who's Afraid of Virginia Woolf?
Letts won the Drama Desk and Nathan Lane the Outer Critics Circle, but I still think the majority of Tony voters who are producers want to see more big-name movie stars on Broadway, and a Tony for Hanks will encourage that trend.
Actress (Play)
Prediction:
Cicely Tyson,
The Trip to Bountiful
Preference:
Laurie Metcalf, T
he Other Place
Tyson was wonderful, but Metcalf had the more difficult role as the scientist suffering from brain disease. Unfortunately,
The Other Place
had a relatively short run as part of Manhattan Theater Club's season. Kristine Nielsen miraculously combined satire with pathos as the lonely Sonia in
Vanya and Sonia
, but Tyson, already the winner of the Drama Desk and Outer Critics awards, will triumph.
Actor (Musical)
Prediction:
Billy Porter,
Kinky Boots
Preference:
Bertie Carvel,
Matilda
Carvel should be in the featured category where he was placed by the Drama Desk and won. He would win a featured Tony in a walk for his hilariously menacing Miss Trunchbull.


Bertie Carvel in Matilda
Actress (Musical)
Prediction:
Patina Miller,
Pippin
Preference:
Patina Miller,
Pippin
Many of the best performances in this category weren't eligible because they were Off-Broadway—Lindsay Mendez in
Dogfight
, Ruthie Ann Miles in
Here Lies Love
, Phillipa Soo in
Natasha, Pierre, and the Great Comet of 1812
—which only goes to show that the Tonys are not truly representative of all New York theater.
Featured Actor (Play)
Prediction:
Richard Kind,
The Big Knife
Preference:
Tony Shalhoub,
Golden Boy
Courtney B. Vance is also a possibility to win just because he's in
Lucky Guy
and industry Tony voters may want to give that show something extra. But I think it will be Kind, whose malevolent movie studio boss gets to rampage with gusto in
The Big Knife
. Tony Shalhoub's more heartrending Italian-immigrant father was in
Golden Boy,
which closed months ago, and not all the voters may have seen it. If Tom Sturridge of
Orphans
were in this category instead of leading, he'd probably win as he did at the Outer Critics.
Featured Actress (Play)
Prediction:
Judith Light,
The Assembled Parties
Preference:
Judith Ivey,
The Heiress
Light who won last year in the same category for
Other Desert Cities
, will win her second Tony thanks to the Richard Greenberg wisecracks she so skillfully delivers in
The Assembled Parties
. Judith Ivey showed more shading and complexity in what could have been a minor role: the interfering aunt in
The Heiress
. Ivey showed all the conflicting motivations behind the aunt's questionable actions. If Kristine Nielsen of
Vanya
were in this category, she would have won it as she did at the Outer Critics, but she truly is a leading lady.
Featured Actor (Musical)
Prediction:
Terrence Mann,
Pippin
Preference:
Will Chase,
The Mystery of Edwin Drood
Mann will probably win in recognition of his longevity, having been on Broadway for such a long time (
Cats
, the original
Les Misérables
,
Beauty and the Beast
) without a Tony, but I was more impressed by Chase's devilishly funny turn in
Drood
.
Featured Actress (Musical)
Prediction:
Andrea Martin,
Pippin
Preference:
Andrea Martin,
Pippin
Lesson No. 1: If you're over 60, learn a trapeze act and the Tony is yours.
Book of a Musical
Prediction:
Harvey Fierstein,
Kinky Boots
Preference:
Dennis Kelly,
Matilda

I really want Dennis Kelly's clever and sharp adaptation of Roald Dahl's classic children's story to win, and it might be the consolation prize
Boots
voters are willing to concede it. But I have a feeling
Boots
will kick
Matilda
to the curb and sweep the major awards.
Best Score
Prediction:
Cyndi Lauper,
Kinky
Boots
Preference:
Tim Minchin,
Matilda
Just as Tony industry voters want more movie stars like Tom Hanks to come to the New York stage, they also want more pop stars like Lauper to write Broadway scores so Top 40 fans who would never otherwise attend the theater will plunk down their $100 to hear the songs penned by their favorite rock icons.
The design categories just include predictions since they pretty much match my preferences:
Set
Design
(Play):
The Nance
(Musical):
Matilda
Costume Design
(Play):
The Nance
(Musical):
Cinderella
Lighting Design
(Play):
Lucky Guy
(Musical):
Pippin
Sound Design
(Play):
The Nance
(Musical):
Motown, the Musical
Orchestrations
Cinderella
June 5, 2013

Check back after the ceremony and see how we did....
Nikolai and the Others
Lincoln Center Theatre at the Mitzi E. Newhouse Theater
Reviewed by David Sheward
Russians are dominating the New York stage these days. First we had
Vanya and Sonia and Masha and Spike
, Christopher Durang's wild takeoff on Chekhov, which is the frontrunner for the Best Play Tony. Then
Natasha, Pierre, and the Great Comet of 1812
, Dave Malloy's inventive, immersive pop-opera based on a section of Tolstoy's
War and Peace
. Now with
Nikolai and the Others,
Richard Nelson, one of our finest playwrights, focuses on a group of artistic émigrés adjusting to life in post–World War II America. Nelson, whose work includes fresh takes on historic figures (
The General From America, Two Shakespearean Actors
), also echoes Chekhov in this thought-provoking examination of art, politics, sex, and the meaning of home.
Like many of Chekhov's theatrical works, Nikolai takes places at a country home during a gathering of friends and relations whose amorous and artistic ambitions come into conflict. It's 1948, and Lucia Davidova is hosting a weekend at her Westport, Conn., home, just for her fellow Russian exiles. The most prominent of these are the choreographer George Balanchine and the composer Igor Stravinsky, who are collaborating on a new ballet based on the Orpheus myth. There's also Stravinsky's wife, Vera; her ex-husband Sudeikin, once a prominent artist, now a broken old man; Vladimir Sokoloff, an actor consigned to "exotic" roles; and the protagonist, Nikolai Nabokov, a composer working for the American government in its cultural Cold War against the former homeland of the guests. There are many other characters and dozens of plots and subplots, but the main one is provided by Nicky's efforts to aid his fellow Russians in their various problems with passports and finding work, and Nicky's passionate desire to return to his music and drop his diplomatic chores.
These wishes are stymied by a surprise visitor, Charles "Chip" Bohlen, a state department official determined to keep Nicky in the employ of Uncle Sam. Nelson subtly weaves these threads together in a fascinating tapestry depicting the complex juxtaposition of the joy of art and the nitty-gritty of everyday life. All of these geniuses need the somewhat vulgar Chip to survive in their new home, and the push-pull of passion versus necessity is exemplified in Nicky's dilemma. So they knuckle under to Chip's pressures to become patriotic, anti-Communist Americans while creating beautiful dances, pictures, and music. Orpheus's lyre becomes a symbol of their undying need to create art, but Nelson doesn't hit us over the head with it.
There are an astonishing 18 actors on the intimate Newhouse stage, and director David Cromer moves them around Marsha Ginsberg's cozy farmhouse set with the choreographic skill worthy of Balanchine. It's exciting to see so many fine performers in a nonmusical play in these budget-strapped days. Each delivers a colorful and vital piece to this masterful mosaic. But special mention should be made of Stephen Kunken's torn-up Nicky, Alvin Epstein's feisty Sudeikin, John Glover's egotistical Stravinsky, John Procaccino's comic Vladimir, and Michael Rosen and Natalia Alonso as the graceful principal dancers in the ballet in development.
May 27, 2013

Natasha, Pierre, and the Great Comet of 1812
Kazino

Reviewed by David Sheward

It sounds like a recipe for disaster: a sung-through musical adaptation of a section of
War and Peace
employing a contemporary pop-rock vocabulary and preceded by a dinner service in a nightclub atmosphere. But this challenging immersive experience manages to capture the raw universal emotions of Tolstoy's sweeping classic in an intimate setting. It's as if each audience member is in the opera box next to naïve Natasha Rostov when she first catches a glimpse of the devastatingly handsome Anatole Kuragin or in the sweaty, vibrant club where cerebral Pierre Bezukhov challenges the arrogant Dolokhov to a duel.
After a limited run at Ars Nova, the production has transferred to a specially constructed tent site near the West Side Highway. Patrons are squeezed together at tables and receive a preshow traditional Russian meal complete with borscht and vodka shots. The action, staged with dexterity by Rachel Chavkin, unfolds all around the audience and focuses on a few chapters in the massive novel—specifically, those concerning Natasha's aborted romance to the already-married scoundrel Anatole and the efforts of Pierre, Anatole's brother-in-law, to save the young girl from ruin. Mimi Lein's colorful set, Paloma Young's period costumes, and especially Bradley King's poetic lighting contribute to the authentic atmosphere.
Dave Malloy's score and orchestrations run the gamut from pop to rock to country and western, all in the modern vein. One might not think 21st century sounds would be effective in telling a 19th century story, but they succeed in delineating the passions and urges of Tolstoy's characters, making them as real and immediate as any found in a hit HBO series or current box-office blockbuster. The harsh backbeat behind the tense first meeting of Natasha and Mary, her fiancé Andrey's sister, perfectly conveys their animosity. Helene, Pierre's sluttish wife, is given a Beyoncé-like anthem to the joys of Moscow nightlife; while Sonya, Natasha's devoted cousin, delivers a soulful, country ballad that one can imagine Taylor Swift crooning.
Malloy also plays Pierre; his sandpaper baritone and bearish demeanor are ideal for the awkward yet tenderhearted would-be philosopher. The magnificent Phillipa Soo passionately depicts Natasha's conflicting desires, first sentimental attachment for Andrey who is off fighting Napoleon, then intoxication for the devilish Anatole, and finally crushing despair when both desert her. The final scene between Natasha and Pierre where the latter confesses his love for the former, is accompanied by a simple piano progression. Malloy and Soo give it an equally direct rendition and it left me sobbing. Kudos as well to Brittain Ashford's moving Sonya, Amber Gray's sassy Helene, Lucas Steele's charismatic Anatole, Gelsey Bell's appealing Mary, Blake Delong's sensitive Andrey, and Grace McLean's haughty Marya D., Natasha's godmother.
Along with
Here Lies Love
and
Murder Ballad
,
Natasha and Pierre
is charting new territory in musical staging, and adventurous theatergoers will want to make the journey.
May 19, 2013

Here Lies Love
The Public Theater
Reviewed by David Sheward
Pop, rock, disco, politics, and stunning theatrical imagination combine in this innovative musical now at the Public Theater. This bracingly original event—one hesitates to call it something as ordinary as a show—stretches the musical genre in form and content. Conceived by David Bryne of Talking Heads and employing a richly evocative score by Byrne, Fatboy Slim, Tom Gandey, and J Pardo,
Here Lies Love
tells the story of Imelda Marcos's relentless rise to power as first lady of the Philippines. It's significant that Byrne does not indulge in an obvious comedy number about his subject's famous shoe collection. Neither he, his musical collaborators, nor the ingenious staging of Alex Timbers stoops to such clichés.
Timbers, who has done similarly creative work with such productions as
Bloody Bloody Andrew Jackson
and
Peter and the Starcatcher
, and set designer David Korins have reconfigured the Public's LuEsther Hall into a disco floor. Moving platforms are taken apart and fit together like jigsaw puzzle pieces to provide multiple playing areas for the story of Imelda's progression from small-town beauty queen to ruthless queen bee of her husband's brutal administration. Peter Nigrini's graphic projections and Justin Townsend's flashy lighting augment Timbers's ingenious staging and Annie-B Parson's 1980s-flavored choreography. The small audience—the space only holds 160—remains standing throughout the piece's 90 minutes and becomes a part of the action as the actors move through the crowd, involving them in dance patterns, political rallies, and finally, an unspeakably passionate and simple tribute to the slain opposition leader Aquino and a celebration of the eventual overthrow of the Marcos regime.
The lead role is given complexity and depth by Ruthie Ann Miles, who manages to make this monster of privilege somewhat sympathetic. Her Imelda is not the usual Cruella De Vil stereotype with a shoe fetish but an entitled, attractive brat who believes what's best for her is best for her country. The score's catchy Top 40 sound makes ironic commentary on Imelda's narcissistic relationship with her adoring public. Like a softer, gentler Evita, she seduces the population with tender, soothing melodies and caressing lyrics, while Ferdinand Marcos, her ruthless spouse, is made into an equally charismatic, deceptively romantic figure by the glitteringly handsome Jose Llana. Aquino (a dynamic Conrad Ricamora) is given more intense, forceful rallying cries, and Imelda's childhood friend Estrella (a soulful Melody Butiu) delivers yearning ballads imploring her former pal to return to her modest roots.
Along with a vibrant ensemble playing multiple roles, these principals create a shattering, highly stylized history of a national tragedy, which somehow leaves you singing and dancing as you exit the theater. That's a rare feat and one that deserves to be experienced by as large as an audience as possible. Hopefully,
Here Lies Love
will rise and have a life beyond its limited run.
May 12, 2013

Orphans
Gerald Schoenfeld Theatre
Reviewed by David Sheward
It's easy to see why the 1985 Off-Broadway production of this Lyle Kessler play launched the reputation of Chicago's Steppenwolf Theatre Company, had such a long run, and inspired so many productions across the US and around the world. It has both economy and excitement: three characters, one set, a running time of less than two hours, and lots of opportunities for the kind of pyrotechnic dramatic violence that Mamet and Pinter have made famous. In its Broadway premiere, we get to see some of those thespian fireworks, but the full impact of Kessler's shattering tale of little boys lost is lost amid the craving for audience affection.
The simple plot entails the kind of power plays and sketchy relationships seen in Mamet's
American Buffalo
and Pinter's
The Homecoming
. Siblings Treat and Philip, abandoned by their parents and having fallen through the cracks of the system, live a feral existence in a rundown North Philadelphia row house. Overprotective and sociopathic Treat steals to supply his animal-like kid brother with tuna fish and mayonnaise. Gentle Philip is terrified of leaving this hovel (designed with ramshackle artistry by John Lee Beatty) because Treat has convinced him he's allergic to everything outside.
The dynamics in this dysfunctional, makeshift family change when Treat kidnaps blustering businessman Harold, who turns out to be a gangster. The seemingly benevolent Harold is a cold, calculating killer who could eat these boys for breakfast. But, being an orphan himself, he longs to become a father figure to them and moves in. Gradually, Treat becomes jealous of Harold's role as Philip's mentor and protector and he rebels with catastrophic results.
For this new production, director Daniel Sullivan strives to balance the potentially hilarious Tarantino-like antics of the characters with their heartbreaking yearning to connect with each other. But he's thwarted by the real muscle of the venture, Alec Baldwin. As Harold, the popular sitcom star and Capitol One pitchman cravenly plays for our laughs and love. Baldwin seems to saying, "Look at this guy, isn't he a kook?" with his obvious performance.
Fortunately, Ben Foster and Tom Sturridge sink into their roles of Treat and Philip rather than standing aloofly outside of them as Baldwin does. Foster is truly frightening as the powder-keg elder brother, ready to go off at the slightest provocation. But he'll rip your heart out when Treat's fragile support system is pulled away and he has nothing to hold on to. Sturridge is equally moving, and he gives Philip a fascinating physical life, a combination of monkey and cat as he leaps from couch to chair to stairway. These two actors give rich life to Kessler's work and almost make up for Baldwin's mugging.
April 30, 2013

The Trip to Bountiful
Stephen Sondheim Theatre
Reviewed by David Sheward
"How did we get to this place?" Carrie Watts asks her son Ludie as they stand before the ruined house they used to live in. It's a shattering question, as both have arrived at miserable stations in life through unlucky circumstances. Since her farming land played out, the elderly Carrie has turned into a quarrelsome crone, confined in a stuffy city, while Ludie is just now getting back on his feet after a long-term illness cost him his job. In the new revival of Horton Foote's
The Trip to Bountiful
, the question has added resonance because the Watts family is cast with African-American actors. The weight of racism is subtly suggested in Michael Wilson's moving staging of this 1953 drama, yet it's definitely there. But the nontraditional casting is just one element in a splendid revival that provides a triumphant return to Broadway for Cicely Tyson, whose age has been reported as anywhere from 79 to 88. No matter what her true age is, Tyson gradually sheds years as Carrie rediscovers her dignity on her journey.
The role has proved a showcase for such luminous stars as Lillian Gish (the 1953 original TV version and Broadway adaptation the same year), Geraldine Page (an Oscar winner for the 1985 film), and Lois Smith (an Obie and Drama Desk winner for the 2005 Signature Theatre revival, also helmed by Wilson). It's no wonder. Carrie gets to comically spar with her disagreeable daughter-in-law, reveal her tragic girlhood romance in a long monologue, physically confront a sheriff, and undergo an epiphany of understanding as she accepts her situation and makes the best of it.
Not much happens in Foote's poetic evocation of ordinary lives. Carrie cannot stand sharing a two-room Houston apartment with Ludie and his self-absorbed wife, Jessie Mae. With her pension check safely secured in her bra, Carrie takes a bus ride to Bountiful, the now-deserted town of her youth on the Gulf of Mexico. Along the journey, she meets a lonely Army bride and that sheriff who turns out to be sympathetic, and finally confronts her past dreams. At the bus station, we encounter the signs of the segregated South where Carrie must wait in the "colored only" area and purchase her ticket from a separate counter from white passengers. Wilson and his set designer, Jeff Cowie, wisely downplay these elements and let them just be a natural part of the Watts's world.
Tyson overplays the comic aspects of Carrie early on—hiding her pension check with an elaborate flourish, for example. But she gradually abandons this tact (as Wilson does in his staging) and allows Foote's simple eloquence to seep into her performance. When she directly delivers the soliloquy explaining why Carrie never married the man she really loved, you can feel her heart breaking, and yours will too. By the end of the trip, Tyson is truly luminous, radiating Carrie's joy after redeeming her self-worth. Cuba Gooding Jr., in his Broadway debut, fully exposes Ludie's sorrow at his perceived failures, but he also remembers this man really loves both his burdensome mother and his selfish wife. Vanessa Williams keeps the contentious Jessie Mae from becoming a villain. This is a woman in middle age who was a beauty queen and is still used to be treated like a princess because of her looks.
Condola Rashad has many sweet and understated moments as Thelma, Carrie's traveling companion, as does Tom Wopat as the sheriff with an unexpected love of birds. Veteran Arthur French makes the small role of a train station attendant memorable. Along with Cowie's evocative setting and Rui Rita's romantic lighting, the cast and director weave a tapestry of ordinary Americans, seeking home and making due when dreams are no longer sustainable.
April 24, 2013

The Assembled Parties
Manhattan Theatre Club at the Samuel J. Friedman Theatre
Reviewed by David Sheward
"It's like the sets of those plays you love with the breezy dialogue," says Jeff, an earnest young man describing the elegant and cavernous Upper West Side apartment belonging to the parents of his school friend Scotty, in
The Assembled Parties
, Richard Greenberg's sweet but ultimately uneven new play on the yearning for familial connection. Jeff, who is visiting for Christmas in 1980 and on the phone to his mother, is attempting to capture the enchantment the apartment and its inhabitants, the Boscovs, have for him. The playwright is also self-consciously referencing a style of theater—long gone even in 1980—where patrician characters exchange scintillating quips over martinis. Greenberg, like Jeff, longs for that kind of world and mourns its passing in this play, as he has in others such as
The American Plan
and
The Violet Hour
, which were also presented by Manhattan Theatre Club.
The main source of Jeff's idolization is Scotty's graceful mother Julie, a former film star who seems to effortlessly glide through life, thanks in part to her wealthy husband, Ben. Her biggest disappointment is charismatic Scotty's noncommittal attitude toward his future, but even that doesn't upset her too much. Not so lucky is Ben's sister Faye, saddled with an unhappy marriage to the brutish Mort and a terrible relationship with her intellectually challenged daughter Shelley. As the clan gathers for the yuletide feast while Scotty's little brother Timmy is in bed with the flu, additional strands of plot involving blackmail, prostitution, and intrigue between Ben and Mort are revealed. After intermission, we jump ahead 20 years to Christmas 2000, and seeds planted in the first act bear fruit. Jeff, now a corporate lawyer, has assumed the role of family caretaker, Julie and Faye are widows, Scotty has died (apparently of AIDS from a tainted blood transfusion), and the grown-up Timmy has a pregnant girlfriend. Despite financial troubles, the survivors resolve to live together in the huge apartment as ends are tied up a bit too neatly.
Greenberg delivers numerous dazzlingly funny bits of dialogue ("Republican Jews? What is that—It's like skinny fat people," complains Faye), but there are an equal number of stilted lines. The multiple plots, especially one involving a mysterious piece of jewelry, and the arched references come across as pretentious and contrived. The author touches on the characters' conflicted sense of identity and their attitudes toward their Jewishness but fails to develop this theme. The question of their celebrating Christmas rather than Hanukah is never quite addressed. Jeff, the emotional core of the play, is underdeveloped. Other than the one phone call to his mother, we find out very little about him. Does he really have nothing else going on in his life other than the tribulations of a school chum's family?
Greenberg is primarily interested in his leading ladies, Julie and Faye, and fortunately, they are brought to warm, vital life by reliable veterans Jessica Hecht and Judith Light respectively. Hecht manages to make Julie's obliviousness endearing, and Light expertly delivers Faye's numerous wisecracks. Jeremy Shamos endows Jeff with reams of subtext the playwright fails to provide and almost succeeds in getting us to care about him. Lauren Blumenfeld gives the dim Shelley a welcome nasty bite. Jonathan Walker and the excellent Mark Blum are largely wasted in the roles of Ben and Mort. Jake Silberman does differentiate his dual roles of Scotty and Tim, and strongly peruses the latter's objective—hiding his girlfriend from his family.
The production, directed with a sure and loving hand by MTC's artistic director Lynne Meadow, is gorgeously realized by set designer Santo Loquasto and costume designer Jane Greenwood. Meadow skillfully paces and blocks the family on Loquasto's set, which revolves in Act 1 and remains stationary in Act 2. Sensitively lit by Peter Kaczorowski, the world of the play is indeed seductively beautiful, suggesting a society based on faded but alluring chic. But when a stage apartment is more interesting than the people in it, that's a problem.
April 18, 2013

Motown the Musical
Lunt-Fontanne Theatre
Reviewed by David Sheward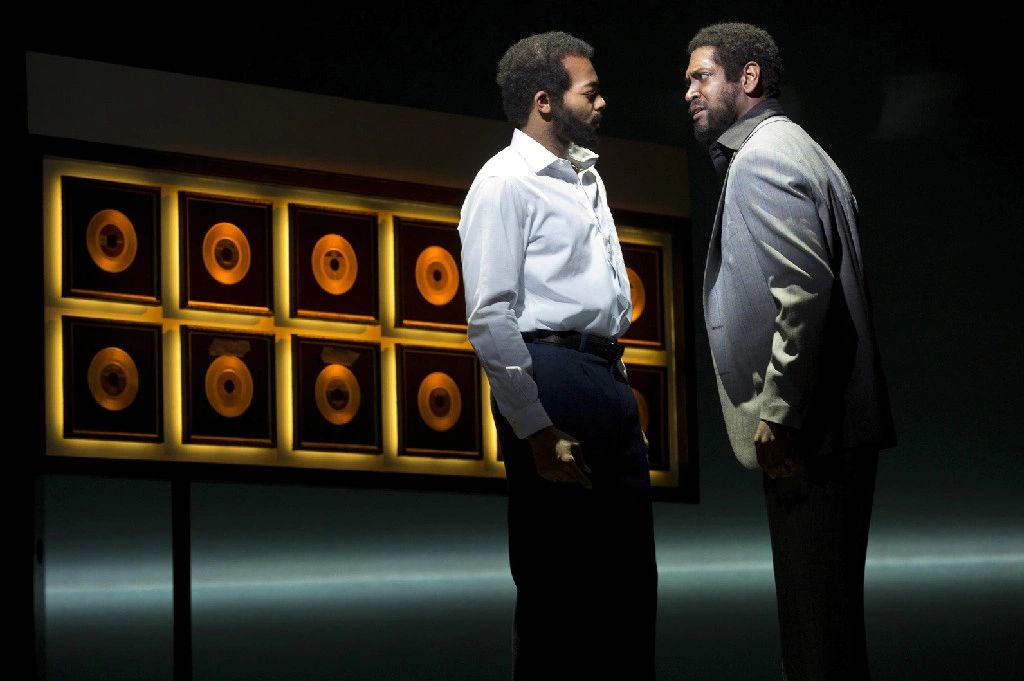 Brandon Victor Dixon and Bryan Terrell Clark
Photo by Joan Marcus

The song list alone is staggering. More than 50 titles are crammed into
Motown the Musical
, the new retrospective jukebox musical celebrating the legendary R&B entertainment giant. If this were a revue, there would be no problem with the embarrassment of riches. But it's a book musical purporting to tell the story of Motown's founder Berry Gordy Jr., from his early days as a struggling songwriter to his final triumph as head of a multimillion-dollar brand. Gordy is not only the main character, he's also the author of the book, which is based on his memoir
To Be Loved: The Music, The Magic, The Memories of Motown
. His libretto, dotted with dozens of hits from the label's stunning history, comes across as an antidote to
Dreamgirls
, the fictional version of the label's rise and that of its biggest stars Diana Ross and the Supremes. In that fabulous show, the Gordy character is conniving and manipulative. Here he's a saint whose worst flaw is his tremendous work ethic.
The story starts with the conventional choice of a TV special commemorating Motown's 25th anniversary. An embattled Gordy, fighting to keep his company from being swallowed up by conglomerates, refuses to attend. As his numerous co-workers and artists including Smokey Robinson attempt to persuade Gordy to make an appearance, he naturally flashes back to his Detroit childhood in 1938 and we're off on a memory tour. We race through the beginnings of Motown, tours through the segregated South, guest shots on
The Ed Sullivan Show
, Gordy's stormy romance with Diana Ross, the turbulent '60s, race riots, the discovery of the Jackson Five, movie production with
Lady Sings the Blues
, reinvention with funk, and on and dizzingly on.
So much music and incident is stuffed into the show's two hours and 45 minutes, it's like one of those PBS fundraisers on which hot groups from the past alternate with testimonials on how wonderful the producing entity is. But
Motown
's main audience probably will not be musical theater purists but fans of the catalogue who will want to relive their youth. That's the appeal of still-running smashes that include
Mamma Mia!
and
Jersey Boys,
and
Motown
will probably be joining them on the hit list.
Thanks to a spectacularly talented cast, efficient direction by Charles Randolph-Wright, Peter Hylenski's superb sound design, and the flashy choreography by Patricia Wilcox and Warren Adams, even though the book falls short,
Motown
does not disappoint musically. The re-creation of gold-plated standards "Stop in the Name of Love," "My Momma Told Me," and "Do You Love Me" at least evoke the originals. There are a few moments that are more than just "Greatest Hits" retreads, though. Bryan Terrell Clark channels the aching despair of Marvin Gaye's "What's Goin' On," while young Raymond Luke Jr. (who alternates with Jibreel Mawry) delivers an amazing Michael Jackson on "I'll Be There." Marva Hicks, Saycon Sengbloh, and Ariana DeBose also display impressive voices. The sequence depicting the Motortown Revue's 1962 performance in a hostile Birmingham, Ala., imparts simmering racial tension and breaks out of the show's breakneck, "Let's hit all the high points" pattern.
Valisia LeKae has Diana Ross's vocals down pat, but in her extensive book scenes, LeKae is imitating Ross rather than playing her. As Gordy, Brandon Victor Dixon has the onerous task of carrying the heavy storyline while the rest of the company gets to cut loose and just sing their lungs out. An experienced professional, Dixon pulls his difficult assignment off with flair, endowing this cardboard version of a real-life showbiz icon with grit, passion, and some of the complexities Gordy left out of his book.
April 14, 2013

Tackling the Assassination of an International Icon
Anna Khaja tells the story of Benazir Bhutto and the Pakistani people's complex struggles while exploring her own roots and culture ambivalence.
By Simi Horwitz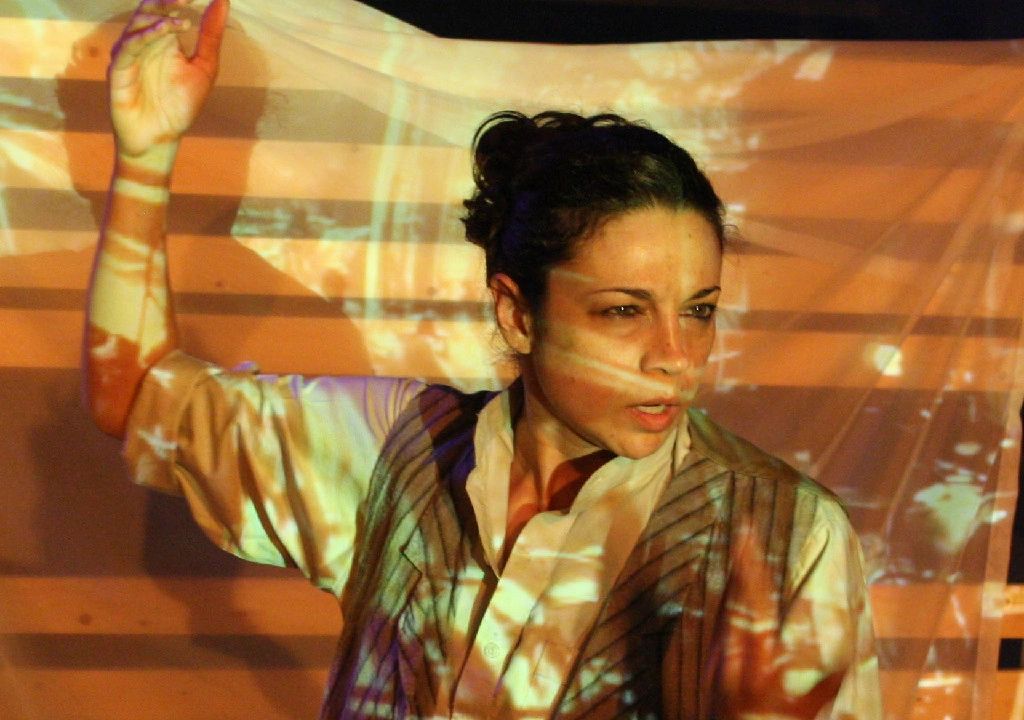 Anna Khaja moves seamlessly from character to character in her solo show,
Shaheed: The Dream and Death of Benazir Bhutto
. It's set on Dec. 27, 2007 when the two-time prime minister of Pakistan was assassinated. Khaja evokes eight discrete figures—some fictional, others historical, including Bhutto—bringing to life a complex, contradictory, and corrupt society. Depending on viewpoint, Bhutto was a democratic savior, the victim of Muslim fundamentalism, an American puppet or, perhaps, a combination thereof.
Shaheed
, meaning martyr in Arabic, had a sold out run in Los Angeles in 2010 at the Stephanie Feury Studio Theatre and is now enjoying an extension at Off-Broadway's Culture Project, a theater dedicated to addressing social and political issues. The intense and thoughtful Khaja acknowledges that Bhutto and, indeed, the evolution of Pakistan are open to interpretation. If nothing else, she hopes theatergoers want to explore the topic more fully. "I love it when people say to me after seeing the show, 'I'm going home to Google Bhutto,'" Khaja says.
Allan Buchman, founder and artistic director of the Culture Project, explains what drew him to Shaheed: "In the psyche of the American global awareness, Pakistan is perhaps the least understood of all the major powers. The more we become familiar with a culture other than our own, the greater the likelihood of our ability to build bridges of understanding.
He notes Khaja, though half Pakistani, had no fundamental understanding of her culture as she grew up without the benefit of the presence of her Pakistani father. "Therefore," he says, "the intensity and urgency of her quest to grasp her roots bring a unique and compelling insight to the subject."
A League of Her Own
The genesis of the piece was long in the making. A Castro Valley, Calif., native, Khaja was raised without any religion, despite her father's Muslim background and her American mother's Catholicism. Indeed, her parents were children of the '70s and far more interested in native cultures than in their own traditions.
"My dad was not forthcoming about his family or culture," Khaja recalls. "He really embraced Western culture and raised me with little exposure to his culture. I was brought up with zero attention to gender identity and that was a good thing."
At the same time something was missing. Khaja recalls experiencing cultural ambivalence throughout much of her life, feeling connected to her Pakistani origins and simultaneously cut off. "I was the 'other,'" she says. "I felt foreign to myself. I had a cousin who said I had the mind of a Westerner and the soul of an Easterner. The day after Bhutto's assignation, I felt compelled to tell her story."
Initially, Khaja planned to play only Bhutto. But as her research and writing evolved, the other characters simply materialized and took on a life of their own. "It just felt right to include them," she notes. "They emboldened the story I wanted to tell about the soul of the Pakistani people's struggle for freedom and democracy. But, of course Bhutto, who was an iconic figure, was certainly the center of the struggle."
Taking on multiple characters in a solo show is daunting, most pointedly the internationally recognizable Condoleezza Rice who makes a none-too-attractive appearance. With a pleasant veneer, she is nonetheless brittle and conniving. Khaja says she hopes to capture the former secretary of State's essence without impersonating her.
"She's friendly, but we have to sense her manipulation of Bhutto," Khaja notes. "Part of my problem is that Rice is nebulous. I've tried to find her essence, her energy, and I still keep hitting walls."
Also doing a one-person piece "is incredibly lonely," Khaja says. "What most prepared me was David Hare's advice that when you're doing a solo show, it's all about the audience, and it's my job to envelop that audience even if I'm not addressing the audience directly. It's very different from the traditional actor's approach."
Make no mistake, Khaja is well-versed in traditional acting, having appeared in a host of plays, including Hare's
Stuff Happens
and an array of TV and film roles—including appearances on
House M.D., Private Practice, Criminal Minds, The Closer, Weeds
, and a recurring role last season on
True Blood
, among others. Khaja still defines herself mostly as an actor and dreams about playing Hedda Gabler on Broadway. But she also has her sights set on a screenwriting career and is currently working on a script about a female Arab-American drone pilot who is surveying a militant combatant in Pakistan and then ordered to assassinate him, eliciting complicated emotions. Khaja dreams of playing the lead, she says.
Claiming Her Power
Like most actors, Khaja's journey has not been smooth sailing. After earning her B.A. in theater at UCLA, Khaja worked as a schoolteacher for a number of years—saving money and fortifying herself emotionally—before launching her acting career at age 27. The late start didn't help, she admits.
Despite limited opportunities, Khaja was not open to every role that came her way. Frequently cast as a Latina or Middle Eastern woman—"never a regular unidentified Caucasian"—she was keenly sensitive to ethnic typecasting and turned down roles she found stereotypically offensive.
"I was cast as a Palestinian mother who sent her children off to be martyrs," Khaja recalls. "Because she lacked depth and the explanations for her behavior were black-and-white and racist, I refused to play that part. I believe a character like that could be depicted in an interesting way, and I might play it if the message was acceptable."
An artistic turning point was learning to trust her own instincts and to "stop giving my power away to those who 'knew better,'" she says. "I had to stop allowing teachers and directors to dictate how to play a role or what was valuable or not valuable in acting. I made a conscious decision to let my excitement and journey guide me."
Equally important, she says, was perceiving of herself as a business entity who makes contacts and creates work for herself. Recognizing the element of luck, Khaja nonetheless believes determination plays a role in one's success. Either way, "I think about being on my deathbed and wondering, 'Did I do everything I could? Did I give it my all or did I let fear stop me?'"
At the moment her thoughts are centered on
Shaheed
and her hope that audiences "have their hearts opened up to the struggle of the Pakistani people and not just see them as 'the other,'" she asserts. "That's what I love about theater and story telling [as opposed to essays and works of non-fiction]. It travels through the brain, but its aim is the heart and triggers compassion."
March 31, 2013

First photo by Maia Rosenfeld
Second and third photos by Hunter Canning
Ann
Vivian Beaumont Theatre
Reviewed by David Sheward
Texas governor Ann Richards is probably best-remembered for her powerhouse speech at the 1992 Democratic convention in which she attacked then-President George H.W. Bush for being "born with a silver foot in his mouth." Her no-nonsense demeanor and down-home delivery helped fire up the Democratic base for Clinton, defeating the incumbent and earning the wrath of the Bush family. The son George W. trounced Richards in her bid for re-election and was in a prime position to reclaim his father's position as chief executive. But Ann, the snappy, crackling solo play written by and starring Holland Taylor, does not even mention the Bushes or that famous speech. It's as if that episode and her defeat were mere interludes in a life of public service and political excitement.
Taylor, best-known as the sharp-tongued mother on
Two and Half Men
and the sexually aggressive judge on
The Practice
, is letter-perfect as Richards right down to the Texas twang and the jiffy-pop coiffure (designed by Paul Huntley) referred to as "her Republican hair." The play begins rather conventionally with the former governor addressing graduates at an imaginary college. After a few wisecracks and anecdotes, she launches into a biography tracing the subject's journey from Depression-era small town to the executive mansion in a state the size of France.
Then the play breaks the mold and ventures into imaginative territory. The bulk of the evening is now given over to a typical day in Richards's life. With the marvelously tart Julie White providing the offstage voice of a secretary, Taylor's Richards deftly juggles a dozen phone lines. She switches from discussing the sentence of a death row convict for murdering and raping a nun to joking with President Clinton to corralling her difficult children for a weekend fishing trip and choosing up sides for charades, all without missing a beat.
This whole sequence is directed with precision and attention to detail by Benjamin Endsley Klein and flawlessly executed by Taylor both as author and performer. The play could have ended right there and I would have been happy, but she adds an unnecessary epilogue on Richards's post-political life and even throws in a memorial service wrap-up, delivered from beyond the grave presumably. That's the only bit of fat on the otherwise lean and mean Ann.
March 26, 2013

Hands on a Hardbody
Brooks Atkinson Theatre

Reviewed by David Sheward
What a challenge for director Neil Pepe and choreographer Sergio Trujillo! The central action of
Hands on a Hardbody
—the twangy, gritty, and just-plain-wonderful new musical—consists of 10 people standing around. Originally produced at the La Jolla Playhouse, the show is based on a 1997 documentary focusing on an endurance competition at a Texas Nissan dealership to win a new pickup truck. The contestants must keep their hands on the prize with only brief bathroom breaks every six hours. The last one left standing wins the truck. How are you going make a Broadway musical with singing and dancing out of a static event like that?
The great news is Pepe and Trujillo, who is credited with musical staging rather than choreography, pull it off, as do book-writer Doug Wright (
Grey Gardens
) and Amanda Green and Phish front man Trey Anastasio who are responsible for the eclectic and vibrant score. The stagers solve the problem by moving the truck all around Christine Jones's spare but versatile set, as Trujilo invents infinitely variable movements around the four-wheeled focus of attention. Kevin Adams's lighting also aids in creating multiple moods and states of mind from blazing noon to dreamy twilight to exotic fantasies. The writers address the problem by giving us three-dimensional, identifiable characters for whom to root. There's nary a redneck stereotype in the bunch.
Each has a believable stake in the contest, mostly motivated by the harsh realities of a souring economy. Hispanic veterinary student Jesus plans to sell the vehicle in order to pay his tuition. Churchgoing Norma needs transportation for her husband and kids. Scrappy seniors Janis and Don are barely scraping by. Even the dealers Mike and Cindy desperately require the publicity to generate sales for their failing lot or they'll be out of work.
Wright's compassionate book and the lively score (lyrics by Green who collaborates on the music with Anastasio) paint a canvas of achingly real middle-class, everyday Americans, people rarely seen on Broadway. The score's sounds of country, rock, and gospel are also welcome visitors to the Main Stem, tangily orchestrated by Anastasio and Don Hart.
Almost every number is a show stopper, but particularly good is Norma's a cappella "Joy of the Lord," accompanied by the cast beating out rhythms on the cherry-red truck; "I'm Gone," a sweetly yearning ballad of longing to escape the confines of a UPS job; and "Used to Be," an ode to the long-gone uniqueness of small towns, now swallowed up by the national uniformity of Starbucks and Wal-Mart.
The 15-member cast couldn't be better. It's difficult to single out any one of them, but Keala Settle (a gospel-shouting Norma), Hunter Foster (the obnoxious and rowdy past winner Benny Perkins), and Jacob Ming-Trent (a candy-loving contestant whose sweet tooth does him in) should be remembered at Tony time.
March 23, 2013

Rodgers and Hammerstein's Cinderella
Broadway Theatre

Reviewed by David Sheward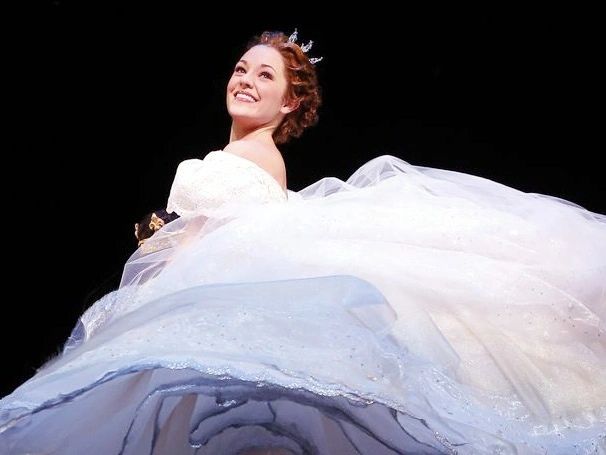 Laura Osnes
You would think
Rodgers and Hammerstein's Cinderella
on Broadway would be a slam-dunk. One of the most beloved television programs of all time with the iconic team's loveliest score—in my humble opinion, anyway—on the Great White Way for the first time, what could possibly go wrong? Overthinking, that's what. The creative team behind this elaborate fairy-tale couldn't make up its collective mind as to how to treat the material, and the result is a beautiful-looking and beautiful-sounding mess.
Rodgers and Hammerstein first adapted the traditional folk tale as a 1957 TV vehicle for Julie Andrews, then the hottest thing since sliced bread thanks to
My Fair Lady
. It was restaged for the small screen in full color in 1965 with Lesley Ann Warren and again in 1997 with teen idol Brandy. New York City Opera mounted stage versions in 1993, 1995, and 2004 with a script that hewed to the TV version.
For this Broadway mounting, witty playwright Douglas Carter Beane has come up with a whole new book. Carter has proven himself adept at giving a campy fresh spin to overly familiar or unpromising material such as the grade-Z movie musical
Xanadu
and an updating of the Greek comedy
Lysistrata
. But he seems to have lost his way here. While there are some witty lines, the book erratically shifts gears among the satiric, the sentimental, and the political.
To flesh out the story, a pair of secondary lovers has been added. Cinderella's gawky but basically good-hearted stepsister now has a suitor, the bumbling but lovable social activist named Jean-Michel. There's also a silly plot thread involving the Prince's chief advisor, the flamboyant Sebastian, acting like a Republican and stealing the peasants' land, which clumsily introduces a sort of
Afterschool Special
lesson on democracy. Cute woodland creatures and a cartoon-ish chase scene are thrown in for good measure. Beane and the usually adept director Mark Brokaw fail to balance these kiddie-friendly Disney elements with the more adult
Into the Woods
themes and the satiric edge that keeps cutting in. We're supposed to think these characters are cute caricatures; and then, all of a sudden, they get all real-world on us. For example, Harriet Harris is as campy as hell as the wicked stepmother (referred to here as "Madame") for most of the evening. But, after the disappointment of both of her daughters losing the Prince's hand, she instantly transforms into Joan Crawford from
Mildred Pierce
, without the irony.
The humor doesn't quite work either. Though in Brothers Grimm territory, the characters often spout contemporary jargon ("Thanks for the heads-up," "Quit that, you!"). This is perfectly acceptable in small doses, but the gag soon wears thin after multiple uses. Beane and Carter should have chosen one tone and stuck with it.
On the plus side, Laura Osnes manages to be sturdy yet winsome as the plucky heroine, and Santino Fontana gives us a quirky, unconventional prince who is not a cardboard cut-out. Victoria Clark doubles as a daffy beggar and a glamorous fairy godmother with professionalism and sweetness. Peter Bartlett as Sebastian and Harriet Harris give it their best comic shtick but the mixed messages from the book and direction work against them. As the nicer stepsister, Marla Mindelle reprises her awkward nun bit from
Sister Act
, which Beane also worked on, and Greg Hildreth does a nice job with the schlubby but earnest Jean-Michel. Best of all is Ann Harada as the nastier of Cinderella's siblings (not the one with the boyfriend). She steals the show with a hilarious delivery of the "Stepsister's Lament," which is now a solo number with chorus rather than a duet.
So this is definitely a mixed bag, but man does the show look gorgeous. Tony-winning costume designer William Ivey Long would win hands down if this were a
Project Runway
challenge to create dresses that could switch from rags to riches in a blink of an eye. Plus, Cinderella's wedding gown would fly off the racks at Vera Wang or David's Bridal. Anna Louizos's woodland set is charming and versatile, lit like a dream by Kenneth Posner. Kids will probably not have a problem with the confusing libretto, and all will love hearing these marvelous R&H songs again, but don't expect a perfect
Cinderella
.
March 3, 2013

The Revisionist
Rattlestick Playwrights Theatre at the Cherry Lane Theatre
Reviewed by David Sheward
In her Playbill bio for
The Revisionist
, Vanessa Redgrave states she is "immensely excited by the script…which she accepted as soon as she read the play." That's perfectly understandable. Her role of Maria, a Polish Holocaust survivor, affords plenty of juicy theatrical opportunities. She gets to tells her harrowing story, crack jokes, mangle English a bit in a heavy accent, fuss over and then yell at her visiting young American cousin. But the play containing Maria is a predictable sketch that comes across as an exercise for a college playwriting course.
This is actor-writer Jesse Eisenberg's second play for Rattlestick Playwrights Theatre in which he is also starring. He's essentially playing the same character as in his first effort,
Asuncion
: an intelligent, condescending young man, who harms a female relative through his insecurity. In that play, Eisenberg was a jittery college student assuming his new Filipino sister-in-law is a prostitute. This time he's David, a blocked writer staying with his elderly cousin Maria in Poland. In a credulity-stretching plot point, he's there in order to finish revising his science-fiction novel, a follow-up to his debut work that was published when he was in his early 20s. David fears he will never be able to repeat his previous success and ignores the doting Maria who idolizes her American relations. It's as if the playwriting class assignment were to put two opposite characters in the same small space and see what happens (John McDemott designed the cramped, lived-in apartment set). Naturally, they come into conflict, get drunk on vodka, and reveal deep, dark secrets. At first, it appears the title refers to David, but during the drunk scene, we discover it really describes Maria. Without revealing too much, she has altered her history as a result of her harrowing childhood experiences.
To mix things up a bit, Eisenberg brings in Zenon, a gruff taxi driver who likes to shave Maria's legs. Yes, this stage business is as ridiculous as it sounds and feels like Eisenberg jammed it in to provide some comic relief.
Eisenberg is a talented playwright and actor. He has a sharp sense of dialogue and basic structure. Plus he provides some fascinating, life-like details such as an endless series of phone calls from a charity for the blind. But there are too many plot holes to ignore. (Would David really not know the names and connections of his distant relations so that Maria has to explain them?) As a performer, he plays David as such a whining brat ("Poor me" is his whole subtext), it's difficult to sympathize with him.
Fortunately, Redgrave creates a living, breathing woman out of melodramatic clichés. As Maria retells her tragic story, Redgrave doesn't go for the obvious weepy histrionics. Like a wound that has never healed, Maria's past is painful to touch, and Redgrave skirts around the sore, coughing and pausing, then after knocking back several shots of vodka, she rips the scab off and relives the agony. Then she quickly covers it back up by asking David to recite a comedy routine. You can almost see Maria's thoughts forming on Redgrave's eloquent features as she caresses family photos, fights with David, scowls at a plate of tofu, or just watches CNN. Dan Oreskes creates a zesty and swaggering Zenon, though the role is small and almost entirely in Polish. Kudos also to Kip Fagan for staging the contrived action at a steady clip.
The main fault here is Eisenberg's underdeveloped and unbelievable script. Ironically, this
Revisionist
is in need of revising.
March 1, 2013


Luck of the Irish
LCT3/Lincoln Center Theater at the Claire Tow Theater
Reviewed by David Sheward
Kirsten Greenidge examines racial and class divisions across the decades in her intelligent but slightly flawed play Luck of the Irish, now at Lincoln Center's intimate rooftop space, the Claire Tow Theater, after a run at the Huntington Theatre Company in Boston. Shifting back and forth from the 1950s to the early 2000s, the story centers on a familiar theme in theatrical literature: possession of a house and what it symbolizes. In the present, an African-American family has moved back to a home in a predominantly white suburb after the death of both grandparents. But as the family soon discovers, the house was "ghost" purchased by an Irish-American couple to avoid discrimination. The "real" buyers, now in their 70s, are claiming the property. The current tenants cannot find the deed and the ambiguous circumstances of the sale are played out in flashbacks.
As the play switches time settings—smoothly handled by director Rebecca Taichman—we discover that despite all the apparent progress in race relations, there is still a lot of prejudice in America. Hannah, the owner in 2000, hates feeling like a token and anxiously worries about her young son who is constantly misbehaving at school. The uncertainty about the house parallels her feelings of not belonging as she deals with subtle forms of racism. Meanwhile, back in the '50s, her grandparents the Taylors—Rex, a prosperous doctor, and the refined Lucy—are struggling with more blatant discrimination. They reach out to the working-class Donovans to act as a front for the purchase of their dream house in return for $1,500. Joe Donovan is content with the sum and sees the deception as a means of striking a blow for equality, but the angry wife, Patty Ann, refuses to give the Taylors the deed until the Donovans get more compensation.
Much of the play is strong, particularly the scenes in the past in which the Donovans and Taylors clash over the ownership of the house. The most powerful vignette takes place in a restaurant where Patty Ann lets her economic resentment pour out in a barely contained explosion, which Lucy meets with icy disdain. There are some lapses in writing, mostly in the modern segments. Hannah's husband, Rich, and her sister, Nessa, are barely developed and seem to be onstage mostly to feed Hannah cue lines. In addition, some of the sentiments come across as those of the author rather the characters.
Despite these flaws,
Irish
is an insightful portrait of the changing American landscape through the experiences of one group of people who must work around the barriers of racism. There are many solid performances in the expert ensemble, particularly Marsha Stephanie Blake's confused and conflicted Hannah and Amanda Quaid's bitter and exhausted Patty Ann.
February 13, 2013

The Other Place
Manhattan Theatre Club at the Samuel J. Friedman Theatre
Reviewed by David Sheward
When I saw Laurie Metcalf's searing performance in Sharr White's
The Other Place
presented Off-Broadway by MCC Theatre in 2011, I didn't see how it could have been better. But in a Broadway transfer from Manhattan Theatre Club, Metcalfe has done the difficult feat of improving upon perfection. As Juliana, a brilliant, sharp-edged research scientist, she goes even deeper into the dark realm of dementia and loss. Although the MTC's Samuel Friedman Theatre is larger than the Lucille Lortel where it played two years ago for the MCC production, Joe Mantello's staging is more intimate and immediate, allowing us to get closer to Juliana's desperate plight.
As you enter the Friedman, Metcalf is onstage, seated in the center of Eugene Lee and Edward Pierce's jungle-gym set depicting the spooky labyrinth of the human mind, while Fitz Patton's ominous music plays. Once the lights dim, she stands and takes us on Juliana's torturous journey through darkness and confusion. It begins with a sales pitch for a drug to treat senility at an island resort. She sees a mysterious girl in a yellow bikini in the audience of doctors and then slips into a jangled world where nothing is as it seems. She recalls her daughter who ran away 10 years ago and now seems to be reappearing. She has paranoid visions of her loyal husband, Ian, cheating on her. And who is the woman in the bikini? What's real and what's a product of Juliana's degenerative mental condition, which ironically could be treated with the very drug she has developed and is selling?
Perhaps it's because Metcalf's real-life daughter Zoe Perry is now playing all the other female roles, but Metcalf now makes a makes a stronger connection with the material. She vividly portrays Juliana's devastating wit, white-hot rage, formidable intellect, and dumbstruck confusion over what's happening to her. In the space of 80 minutes when she never leaves the stage, she goes from a self-assured, take-no-prisoners captain of the pharmaceutical industry striding the stage in high heels to a shattered, blubbering child huddled on the floor.
The rest of the cast is new to the play. Daniel Stern feelingly taps into Ian's frustration, sensitively portraying his deep love for his wife and his overwhelming sense of powerlessness to help her. John Schiappa makes the most of his multiple male roles. Perry lends distinction and flavor to three separate roles, including a bitter divorcée. In a wrenching scene with Metcalf near the play's end, Perry delivers a true supporting performance, giving full life and subtext to a seemingly minor character yet ceding the stage to the star. It's a dazzling and moving mother-daughter act.
January 17, 2013


Golden Boy
Lincoln Center Theater at the Belasco Theatre
Reviewed by David Sheward
It's a knockout, a kayo, a roundhouse right, an upper cut. Pick your ringside cliché. The Lincoln Center Theater revival of Clifford Odets's 1937 boxing drama
Golden Boy
fits them all.
There is a danger with this play and all of Odets's work to lean on the stereotypes of noble progressive proletariat oppressed by Depression-era economics. As he did with his LCT production of Odets's
Awake and Sing
, director Barlett Sher handily slugs these tired tropes to the mat in the first round. His production is a powerful portrait of three-dimensional citizens struggling against the temptations of gilt-edged success and its accompanying brutality.
The story is a familiar one, popularized in the 1939 Hollywood version starring William Holden and Barbara Stanwyck, and dozens of ringside films since. Scrappy Joe Bonaparte is a rising young fighter, but he also has a magnificent gift for the violin. In the desperate 1930s, he must choose between making millions with his fists and starving for his art. If he pursues a fighting career, Joe will most likely damage his hands and never play his beloved fiddle again. Odets's symbolism is more than a bit heavy handed (mob-fueled sports versus long-haired music), but Sher acknowledges it, staging the play as a Shakespearean epic. Played against set designer Michael Yeargan's imposing backdrop of grim tenement edifices and poetically lit by Donald Holder, the play becomes a titanic battle for one man's soul rather than a naturalistic kitchen-sink melodrama.
The cast couldn't be better. From Seth Numirch's white-hot comet of a Joe to Vayu O'Donnell's no-nonsense fight official who only appears for a few minutes, each performer is at the top of his game, rattling off Odets's somewhat dated but still-tough vernacular like a crack squadron of sharpshooters. Numrich is a ball of energy as the conflicted fighter, adeptly conveying Joe's interior war while convincing he can knock out any opponent. Yvonne Strahovski is a perfect sparring partner as Lorna Moon, the girl who is just as impossible to possess as the satellite that bears her name. The actor endows Lorna with a keen set of street smarts and an even sharper sense of self-preservation. Strahovski also makes it clear that Lorna is truly in love with Joe and with his much older manager Tom Moody (a blunt and yet sympathetic Danny Mastrogiorgio), making her dilemma that much more intense.
Tony Shalhoub is passionate and loving as Joe's immigrant father, and Dan Burstein is flinty and feisty as a trainer. Ned Eisenberg is explosive as a club owner, while Anthony Crivello is full of dark menace as a gangster with more than a financial interest in the young fighter.
Early in the play, Lorna describes Joe as being "full of fireworks." She could be talking about this spectacular
Golden Boy
.
December 22, 2012

Glengarry Glen Ross
Gerald Schoenfeld Theatre
Reviewed by David Sheward
It's the Al Pacino Show at the Gerald Schoenfeld Theatre. The attraction may be advertised as a revival of
Glengarry Glen Ross
, David Mamet's 1983 Pulitzer Prize–winning ensemble piece about ruthless real estate salesmen, but the star and his director Daniel Sullivan have shifted the balance to Pacino and his character, Shelley Levine, a broken-down hustler desperate to remain on top of the sales board. The original Broadway production and a 2005 restaging evenly disturbed the playwright's profanity-laced opportunities for dramatic pyrotechnics. Here, Sullivan has placed Pacino squarely center stage, figuratively and literally, and given the actor a free pass for his excesses—lengthy pauses, mugging, overreacting , etc.
It's a very uneven performance. Despite these self-indulgent stretches, there are also moments of shattering honesty. When Levine realizes his career is over, Pacino visibly deflates like a tire with a slow leak. You can see the light vanish from his eyes as he stumbles off. Yet in the first act, Pacino throws away his opening scene, never making eye contact with office manager John Williamson, played with just the right amount of desperate jitteriness by David Harbour (Williamson is usually portrayed as a blank-slate idiot, so it's refreshing to see him given some dramatic life).
In previous incarnations, Joe Mantegna, Liev Schreiber, and Pacino in the film version stole the show as the shark-like Ricky Roma. Here Bobby Canavale opts for a smoother Roma, pouring on the charm in his Act 1 sales pitch to pigeon James Lingk (a suitably wimpish Jeremy Shamos). It's an interesting choice but fails to reveal Roma's gargantuan hunger for dominance and closing the sale. Canavale kicks up the volume in the second act, but he still cedes the spotlight to Pacino. Thus, Act 1 is taken over by John C. McGinley's explosive Dave Moss, a nasty nefarious colleague of Levine and Roma. His scene with the Richard Schiff's dyspeptic and frustrated George Aaronow is the only one to full capture the complexities of Mamet's labyrinth of double talk and macho bravado.
The second act captures some of the testosterone-fueled conflict, but too much focus is given over to Pacino's mannerisms. With the author's below-par
The Anarchist
shuttering just a few doors down at the Golden, it's not been a merry holiday season for Mamet fans.
December 8, 2012

The Anarchist
John Golden Theatre

Reviewed by David Sheward
"I thought this meeting would go differently," says Patti LuPone as Cathy, a former radical confronting Debra Winger's Ann, a rigid prison official, in David Mamet's
The Anarchist
. Audience members may have a similar reaction to this brief new play at the Golden Theatre. From
American Buffalo
to
Glengarry Glen Ross
to
Oleanna
to
Race
, Mamet's previous works have always given off intense heat. It wasn't just the profanity-laced dialogue; there was always a vital connection and conflict. You may not have liked the characters or agreed with the playwright's point of view, but the plays were always engaging. While almost all the earlier Mamet plays are hot and juicy,
The Anarchist
is icy and dry. The author stages it with all the excitement of an Ethical Cultural Society lecture, and it feels far longer than its intermissionless 70 minutes.
The basic premise has potential for dramatic fireworks. Cathy has been in prison for 35 years for shooting two guards when she was a young counterculture warrior and is now asking for parole based on her professed conversion to devout Christianity. Ann, her warden, has the power to grant Cathy's freedom, but she remains unconvinced of the ex-anarchist's sincerity unless the prisoner is willing to inform on a former conspirator who was also her lover. That's the crux of the play, and it could have been a fiery mash-up between authority and nonconformism.
But Mamet's script is so stilted and heady, it's totally passionless. Cathy and Ann could be chatting about the weather instead of a life-or-death decision. Religion, politics, homosexuality, philosophy, and redemption are all touched on, but since there is no personal connection made to any of these topics, the weighty words fall flat. In addition, the abrupt ending, which will not be revealed here, doesn't make any sense given the characters' behavior.
LuPone in a rare nonmusical role at least supplies a measure of devious guile to Cathy. You can see the wheels turning in this crafty woman's head beneath her calm and well-coiffed exterior. But Cathy's burning need is buried so far beneath the surface, it fails to light a spark under the play's dry wood. Winger, making her Broadway debut after a long hiatus from her film career, is stiff and uncomfortable as the upright Ann. She occasionally stumbles over Mamet's intricate sentences. In this play they sound as unnatural as those in his other works sound remarkable realistic, so the actor is not entirely to blame. Winger also fails to convincingly pursue Ann's objective: to find out the truth behind Cathy's motives. It seems like Ann doesn't care what happens to Cathy, and therefore it's not important to us.
Mamet appears to be expressing rage here at the excesses of 1960s radicalism and killers who use religion to escape justice, just as he railed against political correctness in
Race
. That's a worthy subject, but his arguments are dully expressed and unfeelingly played. He's an important enough figure in the theater to merit a Broadway production for even a weak play, but don't expect to see
The Anarchist
in many venues outside of acting classes.
December 2, 2012

Vanya and Sonia and Masha and Spike
Lincoln Center Theater at the Mitzi E. Newhouse Theatre
Reviewed by David Sheward
In a program essay, Christopher Durang describes his new play
Vanya and Sonia and Masha and Spike
, now at the intimate Mitzi E. Newhouse at Lincoln Center, as Chekhov in a blender. That makes it sound as though this wacky yet touching work is a parody, but as the playwright goes on to explain in the essay, it's not. The inventive author of such wildly funny pieces as
Sister Mary Ignatius Explains It All for You
and
Betty's Summer Vacation
employs numerous references to all four of Chekhov's major plays, but these are only a starting point for an insightful and compassionate profile of a family coping with loss and confusion in the digital age. But, don't worry, it's hilarious too.
Just like their Chekhovian namesakes, depressed siblings Vanya and Sonia may have their Bucks County home sold out from under them by an unfeeling well-off relative: their sister Masha, a glamorous movie star who has just arrived with her boy toy, Spike. Meanwhile, the cleaning lady Cassandra lives up to her moniker by foretelling disaster every five minutes, and a lovely visiting neighbor, Nina, much like the ingénue in
The Seagull
, forms an attachment with this troubled clan.
There are wild and woolly take-offs on the Russian master's tendency to feature sad protagonists, but Durang's mixed-up characters are far from caricatures. The performances by a splendid cast and even-handed direction by Nicholas Martin wisely avoid overplaying the funhouse-mirror aspects of the script and keep the emotions honest.
In two heartrending monologues, Vanya and Sonia expose their aching, unfulfilled souls. Set off by Spike texting during a reading of Vanya's play (based on the abstract piece written by Treplev in
The Seagull
), the unhappy brother launches into a tour-de-force diatribe on the shallowness of the Facebook age and his longing for the simpler pleasures of his 1950s childhood. Middle-aged Sonia's aria of despair comes during a one-sided phone conversation with her first potential boyfriend as she takes frightened, tentative steps out of her shell.
Both these shattering vignettes are delivered with just the right combination of subtlety and flash by David Hyde Pierce and Kristine Nielsen, respectively. Both create real people with wants and desires existing in a bizarre literary-reference universe. Nielsen, a frequent Durang collaborator, is especially proficient at conjuring up these dual realities, knowing just when to drop her voice an octave or raise an eyebrow for maximum effect. She makes Sonia both a giggle-inducing Debbie Downer and a complex, lonely woman.
Sigourney Weaver, another Durang favorite, does a screamingly funny portrait of an exaggerated version of herself—a narcissistic film star battling aging and self-doubt as she clings to Spike and pushes away the admiring and much younger Nina. Billy Magnussen's Spike is a gloriously clueless stud, intoxicated with his own beauty, and Genevieve Angelson makes for a charming and sweet Nina. Squeaky-voiced Shalita Grant cleverly keeps Cassandra from being a one-joke pony. Similarly, this show could have been an extended skit, skewering vodka-drenched depressives, but the inventive Durang hasn't settled for easy comedy. Instead he has written a winking tribute to Chekhov and a piercingly moving family play.
November 25, 2012

Live and Learned
How Michael Learned rode the wave from
The Waltons
to
The Outgoing Tide
By Simi Horwitz
NEW YORK—Michael Learned admits it took her time to find the complexity in the role of Peg, the wife of feisty Gunner (Peter Strauss), who is suffering from dementia and declining rapidly. Peg is seemingly unkind, but she's also deeply in love with her husband, explains Learned. The actor initially wasn't even sure she wanted to tackle Bruce Graham's
The Outgoing Tide
, now playing Off-Broadway at 59E59. Ultimately the play's power and resonance trumped any reservations she might have had.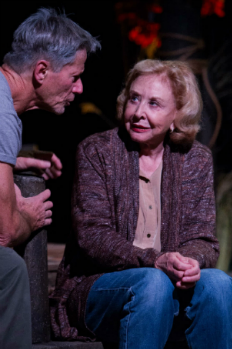 The three-character family drama (also starring Ian Lithgow as the son) centers on the crisis that emerges when mom can no longer care for dad and is determined to move with him to an assisted living facility, knowing the next step for him will be its nursing home. He makes it clear he'd rather be dead.
Like many in the audience, Learned has been a caregiver and has thought about quality of life issues and the pain entailed in letting go of someone you love. "I relate to her anger, frustration, and what it's like to dedicate your life to someone," says Learned." "I was a '50s housewife, and, even after I was a working actress, I had 'housewife' on my passport. I modeled myself after Mrs. Cleaver."
Learned hasn't been Mrs. Cleaver for a long time. Best known for her long-running stint as Olivia Walton on
The Waltons
, Learned boasts impressive credits—from starring in her own TV show,
Nurse
, to appearing in such Broadway productions as
Gore Vidal's The Best Man, The Sisters Rosensweig
, and
The Three Sisters
, among many others. Learned has starred in national tours and guest-starred in a host of major television programs.
Listen and Learned
Still, playing Peg is awash in acting challenges even for a veteran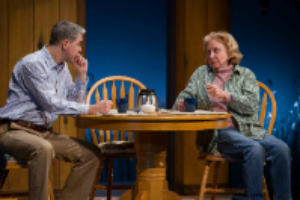 actor like Learned. "Peg is never explained, and, like many female characters, she's there as a device for the male lead," says Learned. "She's a reactor and an active listener, which is what acting is all about. But I've had to struggle to flesh her out. I've thought about what I identify with in her and who she reminds me of. But I'm mostly tabula rasa and figure it out on stage in the moment. Also, I never did a play with flashbacks. It's a challenge to step out of time and place."
Learned's method has evolved with no one epiphany, though she speculates, "As I've become freer as a woman, I've become freer as an actress and more willing to take chances on stage. I was well-trained early on, but I was also very self-conscious. I guess a turning point was playing Miss Daisy in
Driving Miss Daisy
. For the first time, I didn't need to be liked on stage."
A native of Washington, D.C., Learned grew up in Connecticut and later moved abroad. Her father, who worked with the State Department, was a spy, she admits matter-of-factly. Learned had her sights set on a dancing career, and her parents sent her to a performing arts boarding school in Hertfordshire, England, where she decided to focus on acting instead.
Learned has worked steadily without the benefit of career strategies, she says. "I think my life was pre-ordained, but then I see that more and more in so many people's lives. They end up doing what they were supposed to do."
Learned the Hard Way
Part of her life's trajectory was her early marriage to actor Peter Donat at the age of 17 and setting up a home in Canada, where the young couple focused on his acting career, though Learned worked as well, occasionally on Canadian television, but mostly at the Stratford Festival in Ontario with such theater luminaries as Paul Scofield and Christopher Plummer. She and Donat spent a number of years performing in repertory with American Conservatory Theater in San Francisco, which also served as a wonderful training ground, she says.
Not long thereafter, Learned was divorced and a single mom with three young sons. As she tells it she was in dire straits—"living in a motel and crying myself to sleep each night"—when the extraordinary occurred. Her agent sent her to audition for a new TV show,
The Waltons
. Television was never her ambition, but she reluctantly showed up, thinking even if she landed the part, the series wouldn't last long anyway. The big virtue would be having an LA-based TV credit on her résumé, she recalls.
Olivia Walton entered the public imagination and brought Learned high-profile recognition, ample income, as well as six Emmy nominations (three wins). It was also a learning experience. "TV teaches you how to be still and how to listen as an actor," Learned says. "You cannot lie in front of the camera. After you get over the ego-deflating experience of seeing yourself on screen, you do learn."
She likens acting on television to "plowing a field," as opposed to the experience of "running the race" in theater. A major regret is that at the height of her TV career, she didn't have the opportunity to do more theater. "When I started out, you were either a film, television, or theater actor," she notes. "You didn't do all three. I think it's great today for actors to move back and forth."
Time and Tide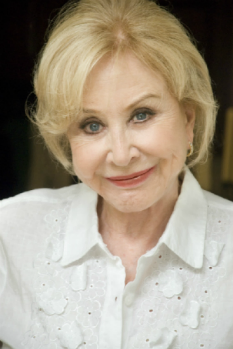 Like many actors who've been on a long-running hit series, the experience was life-altering in the most wonderful ways. Yet, following the long run, Learned suffered from typecasting and did not work steadily, at least not on television. But happily, there was never any shortage of opportunities in theater for her and she has not found a diminishing of acting opportunities with age.
Still, Learned wishes mature female characters were written with a little more complexity. "I dread the day I'm cast to play Anfisa in
The Three Sisters
," she says, laughing. Plays she'd love to tackle include
The Visit, Come Back Little Sheba
, and anything by Edward Albee.
Asked what she'd do differently if she could redo her career, she pauses a moment before commenting, "I was naive and success was thrust upon me. I was not into the 'business' aspect, the publicity, the diplomacy, or even knowing how to network. I think if I had been more responsible in those areas I'd be doing a lot more TV work now."
Learned is not complaining. After all, she's performing in a three-dimensional play in New York as the city gears up for the holidays. "I love being here, especially at Christmas time," she says. It can't get better than that.
November 14, 2012

Top photo: Peter Strauss and Michael Learned in
The Outgoing Tide
, photo by Matt Urban
Middle photo: Ian LIthgow and Learned in
The Outgoing Tide
, photo by Matt Urban
The Heiress
Walter Kerr Theatre
Reviewed by David Sheward
Jessica Chastain is one of the most powerful and talented young actors in movies. In 2011, she appeared in an astonishing six films, playing vastly different women—from the tough-as-nails Israeli intelligence agent in
Debt
to the child-like mother in
Tree of Life
to the flighty and slightly trashy young bride in
The Help
. Her Broadway debut in a revival of
The Heiress
, a 1947 vehicle that brought a Tony Award to the magnificent Cherry Jones in a 1995 production, was anticipated as a major event of the season. Unfortunately, Chastain is not as polished a stage performer as she is a screen thespian, and Moisés Kaufman's elegant production (gorgeous set by Derek McLane and costumes by Albert Wolsky) is a disappointment.
Based on Henry James's novel
Washington Square
and set in that fashionable NYC neighborhood in the 1850s, the plot focuses on painfully shy and physically plain Catherine Sloper, the heiress of the title. Dominated by her cruel father, an eminent doctor who has never forgiven her for causing his beloved wife to die in childbirth, Catherine believes she is unworthy of romantic love and hides behind her embroidery. That is until the dashing and penniless Morris Townsend sweeps her off her feet. But is he only after her money? When the couple's whirlwind courtship ends in tragedy, Catherine transforms into a dignified and controlling woman unafraid of going after what she wants.
The story is more than a tad melodramatic, but, with the right cast, Catherine's crushing disappointment and subsequent devastating revenge can be rousingly theatrical. Kaufman fails to strike the right balance between Catherine and the forces assembled against her. Chastain, while luminous on screen, is as stilted as her character. It's a difficult assignment to convey awkwardness without succumbing to it and then transitioning to a powerful self-possession. The star only manages to get across an indication of emotions by putting on exaggerated expressions of fear, passion, and anger, as if she were in her first acting class.
To further upset the play's balance, the subtle David Strathairn is so multidimensional as Catherine's unbending father that he winds up being the sympathetic one. Instead of the harsh brute as embodied by Ralph Richardson in the Hollywood film version, Strathairn delivers a complicated and imperious man torn by his love of his late wife and concern for his daughter. For the play to work, we have to believe Dr. Sloper does not care about Catherine, but Strathairn's father obviously does.
In addition, the luminous Judith Ivey takes the supporting role of Catherine's silly aunt and makes her in a fascinating and rich conspirator with motives of vicarious romanticism. Dan Stevens, best known for his recurring role on
Downton Abbey
, adds to the off-kilter quality of this production by giving a so-so rendition of Morris. When the villain and the character woman are the most interesting people on stage, you know you're in trouble.
Despite the shortcomings, it's refreshing to see a Broadway nonmusical show with a relatively large cast; and Virginia Kull, Dee Nelson, and Caitlin O'Connell lend shaded performances in smaller roles. Too bad the leads did not go as deep.
November 9, 2012

Who's Afraid of Virginia Woolf?
Steppenwolf Theatre Company at the Booth Theatre
Reviewed by David Sheward
It's hard to believe that Edward Albee's
Who's Afraid of Virginia Woolf?
is exactly 50 years old. In Pam MacKinnon's bracingly fresh production, now on Broadway after acclaimed runs at Chicago's Steppenwolf Theatre Company and Washington, D.C.,'s Arena Stage, the vicious battle between middle-aged marrieds George and Martha is as scary, intimate, and real as ever. Apart from a few references to the Cold War and the couple's past from Prohibition to the 1940s, this cauldron of love, hate, alcohol, and recrimination could have been brewed this morning.
Contemporary actors taking on this titanic pair inevitably come up against the memory of Richard Burton and Elizabeth Taylor in Mike Nichols' jittery and intense 1966 film. (Arthur Hill's and Uta Hagen's original Broadway performances are preserved in an audio recording, but they haven't seeped into the public consciousness the way Burton's and Taylor's have—thanks to cable TV, DVDs, and streaming video.)
Fortunately, Tracy Letts and Amy Morton banish all thoughts of the Burtons as the current performers slash and tear at each other in a new way. In the film and most stage productions, the balance of power shifts to Martha for much of the late-night marathon booze-up with a younger couple. Martha gets to be obviously predatory as she strikes out at anything in her path and uses the two guests Nick and Honey as weapons to get at her husband, while George's strategy is more subtle and therefore not as flashy. But here it's an equal battle, Letts's cunning George proving just as primed for the jugular as Morton's sexy Martha.
Letts, best known as a playwright (
August: Osage County
), creates a deep and complex subtext for George's sadomasochistic behavior. You can read the history of the characters' crushing and codependent marriage on his features as every sting and barb hurled at George registers. Both actors remember that these two combatants need each other and hate themselves for this need. Morton stays away from the strident bossiness that marks most Marthas, retaining a hint of the girlish charm that must have attracted George in the first place. This Martha is can be a charmer and clearly is a hit at all those faculty parties. She's fun and flirty, but there's a soft center of self-pity and depression beneath her hard, bright shell.
Madison Dirks gives the smirky Nick a relaxed charisma with only the slightest edge of the necessary arrogance, while Carrie Coon is hilarious as the simpering Honey, playing up how easily she gets drunk and how vulnerable she is to attack.
Todd Rosenthal's cluttered, book-crammed set, Nan Cibula-Jenkins's understated costumes, and Allen Lee Hughes's unobtrusive lighting provide the right slightly shabby, lived-in environment for this deathless deathmatch.
This
Virginia Woolf
is indeed frightening as all great drama is, but it's nothing to be afraid of.
October 19, 2012


Cyrano de Bergerac
Roundabout Theatre Company at the American Airlines Theatre
Reviewed by David Sheward
When Douglas Hodge in the title role of Roundabout Theatre Company's revival of
Cyrano de Bergerac
bursts into the American Airlines Theatre from the street entrance, it's a surprising and refreshing coup de theatre. However, instead moving his leading man right down the aisle and into battle with a pompous popinjay, director Jamie Lloyd has Hodge travel all around the back of the theatre and apparently into the balcony (it was difficult to tell from the audience), where we can hardly hear his lines, before charging onto the stage. It's a missed opportunity, lessening the impact of a first appearance, and emblematic of Lloyd's energetic but muddled production.
Lloyd injects this beloved warhorse about the dazzling romantic hero encumbered by an enormous nose with a healthy dose of earthiness. In this version, Cyrano's fellow guardsmen and poets would be more at home at a NASCAR rally than in 17th century Paris. Soutra Gilmour's costumes are ragged and wearable, and her set resembles a deserted warehouse. Ranjit Bolt's profanity-laced verse adaptation of the Edmond Rostand original is equally gritty. Gone are the stylized, staid poses of most
Cyrano
remountings. But also missing are vital elements: clarity of diction and intent. The actors rush through Bolt's streetwise dialogue, and Lloyd's helter-skelter staging often confuses the action. This kitchen-sink
Cyrano
is more naturalistic and rough than the usual, but it obscures Rostand's glorious poetry and damps down the protagonist's heroic stature.
It's clear that was partially the objective of star and director—to make the brilliant Cyrano a bit more human. Just as he did in his turn as the divine drag queen Alban in the 2010 revival of
La Cage Aux Folles
, Dodge brings a potential stereotypical stage icon down to earth. He makes Cyrano into a high-velocity standup comic, tossing quips and anecdotes as fast as he lunges with his epee. Dodge's stamina and inventiveness are admirable and he also conveys the broken heart beneath the devil-may-care exterior. But with all that running around and muddy delivery, we lose too much of Cyrano's shattering charade of hiding his love for his beauteous cousin Roxanne. By the play's end, we're just as exhausted as the hero, who collapses in a prolonged death scene.
Clemence Poesy's Roxanne and Kyle Soller's Christian, the young cavalier who woos her with Cyrano's words, are too bland to register either physically or emotionally. This is a fatal casting flaw, as both characters are supposed to be dazzlingly attractive.
Oddly, the most interesting performance is given by the villain, Patrick Page as the lecherous Comte de Guiche. This veteran of numerous Broadway cad roles such as the Green Goblin in
Spider-Man: Turn Off the Dark
, Scar in
The Lion King
, and Dr. Seuss's
The Grinch
, takes this usually thrown-away part on a transformative journey from vain buffoon to tender, sympathetic friend. Maybe this production should have been called
De Guiche
instead of
Cyrano
.
October 11, 2012

An Enemy of the People
Manhattan Theatre Club at the Samuel J. Friedman Theatre
Reviewed by David Sheward
Henrik Ibsen's
An Enemy of the People
can be a bit preachy and heavy-handed. The play's central premise of a Norwegian town's toxic waters paralleling the citizens' moral corruption is somewhat obvious symbolism; and its hero, Dr. Thomas Stockman, is so noble and enlightened, he comes across as more of a saint than a plausible hero. Perhaps that's why the play is so infrequently revived. There have been only three major New York productions in the past 52 years. Frederic March headlined an adaptation by Arthur Miller in 1950, which drew parallels to the McCarthy witch hunts. Philip Bosco starred in a Lincoln Center Theater production in 1971, which echoed concerns of the newly popular environmentalist movement. Now Manhattan Theatre Club is mounting a new version by British playwright Rebecca Lenkiewicz (presented in London in 2008), and with Doug Hughes' muscular direction and Boyd Gaines's unflinching lead performance,
Enemy
becomes a complex, pulse-pounding examination of political pressure and courageous action.
When Stockmann discovers the town's spa, the source of its new prosperity, is polluted and causing illness among the guests, he believes he will be hailed for bringing a menace to light. But the forces of complacency, led by his brother Peter the mayor, chose to ignore his warnings and label him as a crank, a revolutionary, and finally, the epitaph of the title. Ibsen then turns Stockmann into a slogan-spouting spokesman for progressive thought in a provincial society and the character loses his human dimension.
Fortunately, in Lenkiewicz's version, Stockmann's flaws are emphasized, and Gaines gives shadings to the doctor's pomposity and narcissism, as well as his nobility. This guy's no angel. He drinks excessively, loves to hear the sound of his own voice, and bears grudges, especially against his more conventional sibling, played with oily smoothness by Richard Thomas. You can believe these two are brothers; both have huge egos. It's easy to imagine them as children fighting over toys. Gaines and Thomas remember that there is love between them, and their confrontational scenes are charged with twisted affection, as well as rage.
Two more reasons for few
Enemy
productions are the expense of its relatively large cast and the fact that the supporting characters can be seen as one-sided representatives of community segments: the working class, the press, the intellectuals, the bureaucratic elites, etc. Lenkiewicz solves the first problem by slimming down the cast, banishing Stockmann's two little boys offstage and reducing the crowd at the town meeting. Director Hughes and some skilled actors take care of the second by infusing the roles with reams of subtext. As Aslaksen, an opportunistic printer, Gerry Bamman is particularly adept at creating a realistic sniveling cravenness, as well as a convincing drive to protect Aslaksen's most highly prized possession: his personal property. Michael Siberry makes an intense impression in two brief scenes as Morten Kiil, a grasping miser who runs the tannery causing the water poisoning. Kathleen McNenny goes beyond the cliché of the doting wife as Mrs. Stockmann to build a strong figure in her own right.
John Lee Beatty's ominous revolving set, Ben Stanton's sculptural lighting, and David Van Tieghem's bone-chilling original music and sound design create just the right repressive world for this unexpected and powerful production. With all the talk of haves and have-nots in today's news,
Enemy
is as startlingly relevant as ever.
September 27, 2012

In Living Black-and-White
Rain Pryor is developing her own voice as storyteller and performer in her solo show at the Actors Temple Theatre.
by Simi Horwitz
NEW YORK—Rain Pryor knows how complex and fluid racial/ethnic identity may be. She defines herself as an African-American and a Jew, "though because of my physicality—my big hair and olive skin, I
suppose I define myself more as an African-American, unless I'm in Israel where I look like everyone else," she says. "Some people call it 'code-switching,' meaning I become like the people I'm with. I'm one thing with Bubbee and something else with my friends in Bed-Stuy. I don't plan that. It just happens."
Her dual identity is the lens through which she views the world, and nowhere is that more evident than in her solo show,
Fried Chicken and Latkes
Off-Broadway at the Actors Temple Theatre. Interspersed with a few songs and spot-on mimicry, the piece focuses on Pryor's experience of growing up emotionally dislocated in Beverly Hills. She is the biracial child of a Jewish activist mother (a go-go dancer–turned-scientist) and the iconic comic Richard Pryor. Despite the humor, in the end
Fried Chickens and Latkes
is sad.
Forging the play posed multiple challenges, not least maintaining honesty while playing with stereotypes and straddling the thin line between parody and celebration. Most daunting was not allowing the story to become sensationalized. "Many people wanted to hear about my life with Richard Pryor," notes his affable daughter. "But that's not what this is about. He had a unique presence in my life and is part of my story. But it was more interesting for me to talk about Mama [paternal grandma who was a prostitute], Bubbee, and my mom and how they related to me as a biracial child."
Pryor has been performing the piece in various incarnations for more than seven years, its evolution reflecting her growth as an artist and person. Before her father's death, in 2005, the show was cabaret in style with comic banter and many more songs. When the act re-emerged following his death, it still had its comedic elements but was darker in tone. "I delved deeper into who the characters were and what they were saying," she comments. "Now people have to think. The angle is different."
Among other developments Pryor grew increasingly accepting of her biracial identity and had the freedom, perhaps for the first time, to be who she was on stage and off. Further, she was able to address the issues head-on. "When I was young, I wanted to be anyone other than myself—either blond with blue eyes or very, very dark," she recalls. "I'm no longer afraid to be who I am. And I now talk about race."
Type Caste
As a youngster, she wanted to act, and her parents fully supported her ambitions. Nonetheless, Pryor earned a certificate as a relapse-prevention therapist, and she ultimately worked in a drug rehab center. Still, she felt divided, aspiring to middle-class respectability, while craving the less than stable life as an actor. In the end she had both. But it was by no means smooth sailing.
Like the children of many celebrities, Pryor was helped and hindered by her lineage. Her dad's name opened doors but also placed her under great scrutiny. After spending a number of years on the sitcom
Head of the Class
, she found herself typecast as a comic. "People don't understand that serious actors may not be able to do comedy, but if you're comedic, you tap into the pain," Pryor insists. "I can do drama, I can do Shakespeare, but everyone assumed that I was only a comic. As Richard Pryor's daughter they believed I was really a standup comic. I never did standup comedy."
As a bi-racial actor, Pryor faced further obstacles in the industry. "I was not white enough to play a white role or black enough to play an African-American," she says. Contrary to received wisdom, she does not believe the "ethnically ambiguous," actor is hot. Indeed, she suggests the term is dishonest. "Ethnically ambiguous means having straight hair, Anglo features, and olive-colored skin," she says. "When they start casting actors who look like me, then we can talk about 'ethnically' or 'racially ambiguous.'"
Despite the challenges, Pryor boasted a number of gigs over the years, such as playing Sarah Palin's makeup artist Angela in the TV movie
Game Change
and a principal role as the lipstick lesbian drug addict on the Showtime series
Rude Awakening
, opposite the late Lynn Redgrave. Pryor's guest-starring stints included appearances on
The Division
and
Chicago Hope
. On stage she played the title role of Billie Holiday in the UK tour of
The Billie Holiday Story
and Ella Fitzgerald in the UK premiere of
Ella, Meet Marilyn
. Among other productions, she has performed in
The Exonerated
,
The Vagina Monologues
, and
The Who's Tommy
at La Jolla Playhouse.
But her most significant role is "being a mom," to her 4-year-old daughter, Lotus. Pryor is married to a police officer and is based in the Baltimore area, where she currently serves as the artistic director of the Strand Theater, a woman-centric company. Pryor has no regrets about wanting a family, but she is sorry she was not career-savvy enough e
arly on to have "followed through on some of the opportunities," she muses. To this day, she does not have an agent. "Of course I want one," Pryor emphasizes. "I'm Off-Broadway, getting great reviews. You'd think…." The sentence remains incomplete. "The game has changed so much since I did a sitcom 20 years ago. I could ask my celebrity friends what I should do, but I'm weird about that. They assume I have an agent. No, I don't have a manger either. Everything I've done, I've done on my own."
She's hopeful this time around her luck will change. But whether or not she lands that elusive representation, performing
Fried Chicken and Latkes
is a transforming experience. "It's made me more aware of how race is so on the surface today," she says. "Six years ago, audiences didn't react the way they do now. That's because we have a black president. We can't hide it. We can't run from it. We can't sweep it under the rug. And we're not past it. And we won't be until we see it and deal with it. And then we'll be able to discard it."
August 27, 2012

Production photos by Peter Zimmern
Keeping Dad's Legacy Alive in Harrison, TX
Hallie Foote is thrilled to appear once again in the work of her late father, Horton Foote.
by Simi Horwitz
NEW YORK—Hallie Foote is keenly identified with the work of her late father, playwright Horton Foote, and proud of it. Indeed, most of her career, spanning more than 30 years, has been spent acting in his plays, including
The Orphans' Home Cycle
,
Dividing the Estate
,
The Trip to Bount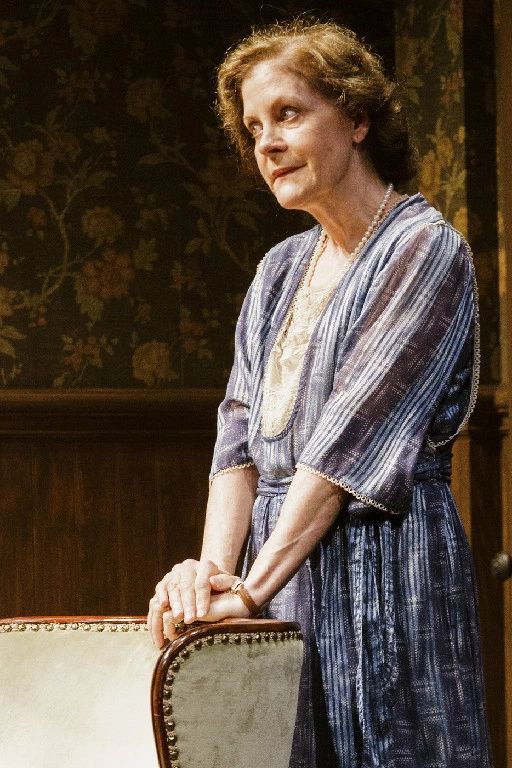 iful,
and
The Last of the Thorntons
, among many others. Currently she's tackling two roles in Harrison, TX: Three Plays by Horton Foote, at Primary Stage at 59E59 Theaters. [Show closed Sept. 10.]
Set in the titular town, the three one-acts—
Blind Date
,
The One-Armed Man
, and
The Midnight Caller
—explore the yearnings of ordinary townsfolk. The first two pieces take place in 1928, and the third unfolds in 1952. In
Blind Date
, Foote takes on a well-intentioned busybody aunt attempting to make her uninterested niece ready for a date, while in
The Midnight Caller
, she plays a world-weary boarding-house owner whose tenants are the lost and lonely. Jayne Houdyshell, making her Horton Foote debut, also stars in
The Midnight Caller
.
Foote boasts other credits, but performing in her father's work has special resonance—and not simply because she has earned myriad honors, including a Tony nomination, for those roles. She loves his writing and the world he evokes, which is at once haunting, lyrical, dark, and comic. She finds inhabiting his characters deeply satisfying, and the challenges continue to excite her.
"He's not easy to do," says the soft-spoken Foote during a phone conversation. "His style is deceptively simple, but the complexity reveals itself quickly. You have to be an actor who enjoys investigating and peeling away the layers. His themes have universal resonance. They're not regional." The danger is over-simplification, playing these characters as quaint Southern relics, she adds.
Since her father's death in 2009, she is more determined than ever to keep his legacy alive. Not coincidentally, she and her siblings, including playwright Daisy Foote, have launched the Horton Foote Legacy Foundation, the mission of which is "to encourage other writers and educate people about my father's work," she says. "He is an important writer, and we want to make sure his work is produced and expand his visibility."
A Child of the '60s
Born in New York City, Foote grew up in Nyack, NY, before moving with her family to New Hampshire when she was 16. Though she briefly toyed with the idea of being an opera singer—having studied voice at Juilliard—at the University of New Hampshire she majored in English literature with no particular goals in mind. "I liked to read, and it was the late '60s, and we didn't think in terms of plans," she says. Her decision to act came as an epiphany several years after she graduated from college. As she recalls, "I was sitting in the car with my father, and said 'I want to try acting.' There was a pause and then he said, 'Start with a good acting teacher.'"
At dad's suggestion Foote studied with the Los Angeles–based Peggy Feury, a Lee Strasberg disciple. Foote trained with her intermittently for three years. In preparation for a class showcase, Feury urged Foote to do a scene from one of her father's plays. When he saw his daughter perform, "He went back to my mother and said, 'I've found my Elizabeth for
The Orphans' Home Cycle
," Foote remembers, enjoying the moment even in retrospect. She launched her professional acting career in a production of
Orphans
at Herbert Berghof Studio in the late '70s. In 2009–10, Foote took on several of the more mature roles—by turns quirky and prosaic—in a revival of the play staged at the Signature Theatre.
Looking back, Foote concedes she has worked fairly steadily, thanks in large part to the roles her father afforded her. She emphasizes she has never been a career-driven strategist or had her sights set on film or television. Still, she'd like to have the chance to appear in a play by John Guare, Tony Kushner, Sam Shepard, or Will Eno.
A Family Affair
Foote is slated to appear in
Him
, a drama centering on family relationships and the nature of legacy, written by her sister, Daisy. It is not unlike dad's work in its unexpected depth, says Foote, who previously performed in Daisy's
God's Pictures
and the title role in
When They Speak of Rita
, the latter directed by their father.
Him
will bow at Primary Stages, Sept. 25.
Foote clearly enjoys working with her family.
Harrison, TX
features, not coincidentally, her husband, actor Devon Abner, who also starred in
Orphans
and
Diving the Estate
. Pointing out that many actors love to perform in her dad's plays, Foote is hopeful theatergoers appreciate Harrison as much as she and fellow cast members do.
Asked what challenges she faces in performing her father's plays precisely because she is his daughter, she says, "Not trying to control everything. It's easy to feel I have to micromanage. I now realize I can get out of the way. I don't have to appear in every one of his plays."
August 14, 2012