Opera review
The Love Potion
Long Beach Opera at Warner Grand
Bernard Holcomb and ensemble
Photo by Keith Ian Polakoff

Reviewed by Dany Margolies
If so far you've enjoyed about a dozen versions of
The Marriage of Figaro
, or decided you've sat through your last
Ring
cycle, or even seen a production or two of Richard Wagner's
Tristan und Isolde
, then the West Coast premiere of
The Love Potion (Le Vin Herbé)
may pique your opera-going interest. On the other hand, if you're new to opera, know that this one is not your grandparents' grand opera. Currently it's in production by Long Beach Opera at San Pedro's Warner Grand, its next outing on May 19.
As in the medieval saga on which
Potion
is based, Tristan is a knight from Cornwall, tasked by his uncle the king to bring the princess Isolde from Ireland for King Mark to marry. Onboard the ship, Isolde and Tristan are given a love potion, ostensibly by accident, and fall deeply, irreversibly and eternally in love.
The Love Potion
premiered in 1942 with music by Frank Martin and libretto by Joseph Bédier, here in an English-language translation by Hugh McDonald. The music seems not quite atonal but certainly not melodious to the average opera-going ears.
Directed by Andreas Mitisek, the production mesmerizes and intrigues, musically and visually. Projections (Mitisek) set the scene, starting with a bas-relief of the two lovers overlain with a video loop of gentle ocean waves. As that fades, 12 black straight-backed chairs appear in a line onstage. The 12 singers enter from the aisles, each carrying a tall wooden pole. These poles become oars, weapons, bramble branches, tent poles and whatever else is needed to create a scene, backed by projections of Cornish cliffs, the roiling waters of St. George's Channel, a crumbling castle, a birch forest and more. The singers wear black slacks and loose-fitting black cardigans over black T-shirts. To distinguish characters, a shawl is draped or a soft cloak is wrapped.
Though the setting is timeless, the whole feels set in the mists of the middle ages despite the more-modern orchestrations under the baton of Benjamin Makino, who conducts a mere octet of two violins, two violas, two cellos, bass and piano. The storytelling, sung in English with English supertitles that often prove helpful to our comprehension, includes narration, sometimes enacted and sometimes not, as well as dialogue.
And so this version of the tale should feel thoroughly immediate. It does not. The whole feels distancing, objective, bloodless. Why are we not sobbing by the end of this story of two people who can neither live nor die without each other, so in love that neither geographic distance nor threat of death nor actual death can even dim their passion, albeit perfectly unfulfilled?
Voices, this being opera, are quality here, particularly tenor Bernard Holcomb as Tristan, appearing opposite soprano Jamie Chamberlin as Isolde. Especially impressive are Alejandra Villareal Martinez as Isolde's handmaid Branghien and Roberto Perlas Gomez in the chorus. They appear alongside Bernardo Bermudez as King Mark, Kira Dills-DeSurra as Tristan's unloved wife Isolde With White Hands, Gibran Mahmud as Tristan's servant Kaherdin (Kurwenal in Wagner's version), Lindsay Patterson as Isolde's mother, and Scott Ziemann as the duke, along with Danielle Corella and Alexandra Martinez-Turan.
What is the love potion of the title? Is it a liquid mixed by sorcery, consciously administered? Or is it that substance our bodies create in us, permanently magnetizing us for better or worse to another person?
And why did Martin choose Joseph Bédier's version that introduces a magical cause of love rather than letting the cruelty of our own subconscious minds bring Tristan and Isolde irretrievably to this tragic romantic fate? Perhaps Martin thought he'd warn his fellow man against this kind of indeliberate passion. In McDonald's translation, the word "disaster" appears several times.
So a cautionary tale teaching us to heed our smarter minds when that potion fills our souls is of more use to us than being lured into a Hallmark movie that would send us reaching for hankies and chocolate to ease our painful empathy.
May 15, 2018

Reprinted courtesy of
Daily Breeze
Classical Music Review
New West Symphony
January 2014

Fred Kavli Theatre for the Performing Arts
Reviewed by Dink O'Neal


There is no better way to enjoy the intricacies of orchestral compositions than by attending a symphonic concert in person. As evidenced by the New West Symphony's most recent offering during a three-venue mini-tour from Oxnard to Thousand Oaks and on to Santa Monica, this is a remarkable assemblage of musicians offering the highest caliber of performances. Under the baton of New West's laureate conductor, Boris Brott, this was an exciting bill of fare kicked off by Paul Dukas's
L'Apprenti Sorcier (The Sorcerer's Apprentice)
followed by impressive presentations of works by composers Maurice Ravel and Camille Saint-Saëns.
Setting the magical tone Dukas intended, New West's woodwind section handled the delicacy of his familiar theme with ease. Following suit, the remaining instruments joined in as the ever-increasing swell of the piece spun chaotically toward its sharp conclusion. Though its use as inspiration for a section of Walt Disney's visual smorgasbord
Fantasia
is notable, the opportunity to enjoy this work in a purely aural setting is even more engaging.
At this point, the remainder of the concert's first half belonged to the symphony's guest artist, violinist Danielle Belen, whose interpretations of Ravel's
Tzigane, Rhapsodie de Concert
and Saint-Saëns's
Introduction and Rondo Capriccioso
, Opus 28, were breathtaking. Demonstrating an almost surreal ability to coax the broadest of ranges from her instrument, a 1709 Allesandro Gagliano violin on loan from the Mandell Collection of Southern California, Belen earned double standing ovations from the audience at the Kavli Theatre in Thousand Oaks on the night reviewed.
Belen was equally at home whether capturing the Ravel's lower, viola-like range, and its mind-boggling, two-handed pizzicato, or in handling the Saint-Saëns, which requires left-hand fingering that goes so high as to almost invade the instrument's bowing space. Adding to this stunning performance was Belen's dramatic physical interpretation, which imbued both works, backed up admirably by Brott and his musical charges, with an attention-seizing emotional sensitivity.
The concert's second half revisited these two composers, as Brott led the orchestra through Saint-Saëns's
Symphony No. 2 in A Minor
, Opus 55, and Ravel's signature piece,
Bolero
. Moving through the quartet of sections making up Saint-Saëns's symphony was a tour of the overall ensemble. Highlighted were the solo violin talents of concertmaster Marisa Sorajja, the broad strokes of the orchestra's timpanist Judy Chilnick, and the concluding freneticism afforded the strings in the piece's final section,
prestissimo
.
One would be hard-pressed to find a concluding piece better suited than the ever-popular
Bolero
. Slowly building upon the seductive strains bandied about by the woodwind section, Brott developed Ravel's intentionally increasing crescendo with momentum. Most assuredly earning her stripes was Marie Matson, New West's percussionist extraordinaire, whose rhythmic performance on the snare drum gave this piece just the right illusion of an exotic parade approaching from afar—perfect capper to an evening of beautiful music, leaving all in attendance looking forward to this organization's next series of concerts, slated for Feb. 21–23.
February 3, 2014

www.newwestsymphony.org
Classical Music Review
Le Salon de Musiques
November 2013
Dorothy Chandler Pavilion Fifth Floor
Reviewed by Helen Peppard
François Chouchan
In the second of this season's monthly chamber concerts at the Music Center, Le Salon de Musiques took a look at love music, specifically that of two composers of late Romantic persuasion. It was a beguiling concept, brought to commendable fruition by eight splendid musicians—one of the benefits of living in a metropolis the size of Los Angeles is the abundance of truly stellar musicians. The composers comprised Richard Wagner, whose swooning harmonies are epitomized in his
Siegfried's Idyll
, and Arnold Schoenberg, represented here by his über-Romantic
Verklaerte Nacht
. Rounding out the program was Wagner's
Wesendonck Lieder
. To add to their interest (though perhaps not their effectiveness), the three works were performed in less-familiar configurations, all having been rearranged, some several times, by their composers, as well as other composers.
The
Wesendonck Lieder
represent the epitome of Romanticism: mournful laments couched in nature's realm, alluding to and somehow basking in unrequited love. Soprano Tracy Cox has the perfect voice for this music: opulent, dramatic, expressive, with a golden sheen that is nothing short of breathtaking. Still young and developing her presentational skills, she will one day certainly be in the top ranks of dramatic sopranos. I'm tempted to say Wagnerian sopranos, but she admits to favoring Verdi personally, so that may be her forte. She was ably accompanied by Salon founder François Chouchan, whose musicality didn't quite compensate for the fact that he had only a piano and not an orchestra to work with. Cox's voice and the voluptuousness of the songs cry out for a fuller, richer underpinning.
Wagner originally wrote
Siegfried's Idyll
for a small group of instruments, though not a string quartet. Again, the lushness of the music and of course familiarity with the full orchestra arrangements, so frequently heard today, make the small ensemble sound somewhat dry by comparison. It was well-performed nevertheless, and interesting to hear in this configuration.
The pièce de résistance of the program was Schoenberg's
Verklaerte Nacht
, performed in its original instrumentation for string sextet. Though the music is more familiar in its string orchestra version, this ensemble of six produced a rich, full sound that was perhaps more appealing and certainly more interesting than that of the larger group. The composer uses each player as a soloist, bouncing the melody and the ornamental fancies from one to another in a totally egalitarian fashion. It's almost as entertaining to see as to hear. Indeed, if you have an opportunity to hear a live performance, don't miss it—especially if the ensemble is as musically sophisticated as this one. Members included violinists Tereza Stanislav and Anna Landauer, violists Rob Brophy and Shawn Mann, and cellists John Waltz and Armen Ksajikian.
One of the bonuses of these salons is the informative comments preceding the concerts and the delightful discussions following. In this case, musicologist Julius Reder Carlson provided interesting comments about the music and the two composers. And if you've always wanted to know something about the musicians who have played for you, you have here a chance to ask them about how they view the music, or prepared for the performance, or whatever.
Next month a string quartet plays music of Glière and Grieg.
November 9, 2013

Opera Review
Dulce Rosa
LA Opera and The Broad Stage at Broad Stage

Reviewed by Dany Margolies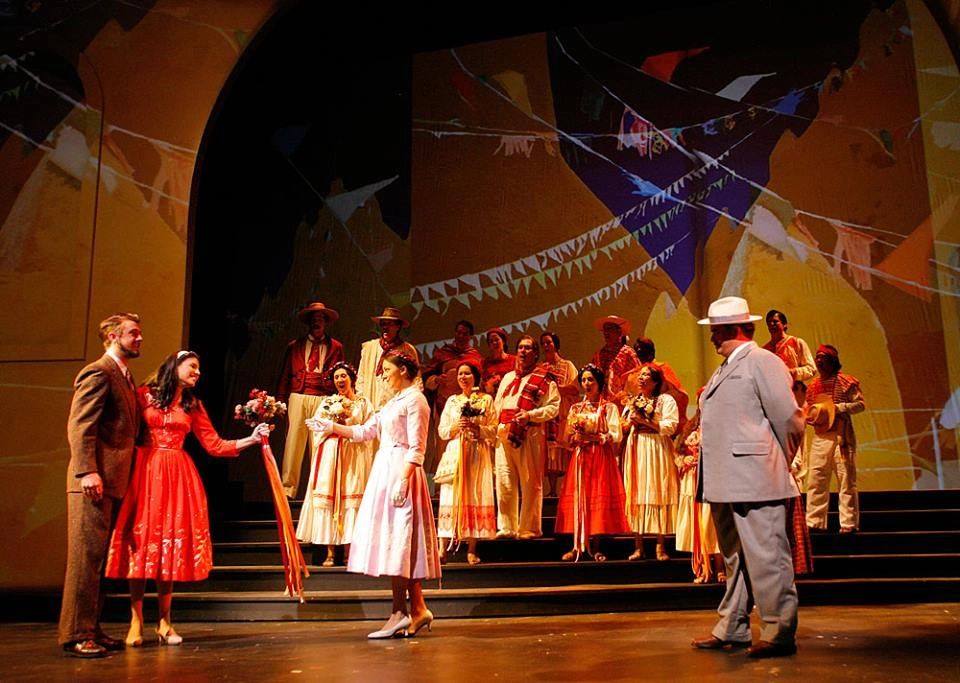 In the foreground: Benjamin Bliss, María Eugenia Antúnez, Peabody Southwell, and Greg Fedderly
Photo by Robert Millard

This opera might as well be Verdi's, with its inevitably tragic story, the compelling melodies, the swelling choruses. However, this world premiere is very much of the New World: by composer Lee Holdridge and librettist-director Richard Sparks, based on Isabel Allende's short story "Una Venganza (An Act of Vengeance)," and produced in the charmingly intimate and freshly acoustic Broad Stage in our own Santa Monica, Calif.
To err is human, to forgive some things is nigh impossible. In Allende's story and the opera (the endings differ, we'll not say more), lovely sweet Rosa Orellano adores and is adored by her father, who is a retired and beloved senator. They live on a beautiful estate, somewhere in South America. Guerrillas being who they are, and opera being what it is, the lives of the Orellanos are irreversibly changed by the guerrilla leader Tadeo Cespedes. He kills papa and rapes Rosa. Rosa resolves to live for revenge.
Because this is opera, or more precisely because the composer went for a classic opera feel, characters are added to the short story's. Here, Orellano has a protégé: an evilly manipulative chap named Juan Aguilar. And here, Rosa has a suitor named Tomas and a nanny named Inez. The characters add mezzo, tenor, and bass-baritone voices to the mix and allow for a stirring sextet.
Sparks and Holdridge trust the audience and don't spell out every idea. When papa sings, "I will grow old…in the house where I was born," the music lets us know there's not a chance he will. When Aguilar makes an oh-so delicate request of Tomas to inform on fellow students, Aguilar reveals his villainy without moustache-twirling.
The music consists of appealing melodies and harmonies that are classical and "modern." It feels as much like a 19th century Italian work as it does, at moments, like Stravinsky or, in the case here of a simple church hymn rather than an ornamental mass, Copeland.
Sparks's staging creates discrete playing spaces that help set the scene and give feelings of expansiveness or secrecy, as needed, and his tableaux are glorious and endlessly visually interesting. Durinda Wood's costume design is part the perpetual look of Latin America and part the full-circle skirts and tie bars that hint at the 1950s.
Singing the role of Rosa, María Eugenia Antúnez has a hearty soprano, and her physicality beautifully switches from girlish to vengeful. In one of two spoken moments in the opera, she makes highly potent the line "Let me live, and I will avenge you." She shares an exquisite duet with Greg Fedderly as Orellano, "The Heart of My Life." When Alfredo Daza sings Cespedes's revelatory "I need nothing from that world," the audience knows a miserable childhood preceded his character's monstrous behavior. Peabody Southwell sings Inez, Benjamin Bliss is Tomas, and Craig Colclough brings his bass-baritone voice to the villainous Juan Aguilar.
Jenny Okun's projections are another star of this opera, and not merely for their beauty and evocativeness. They constantly, subtly, shift views. And pointedly as the rape ensues (handled operatically, of course), the projected images of saints look down, always silent and unmoving.
Dulce Rosa
is sung in English with projected English supertitles. The supertitles are certainly not needed by the leads from Latin America, who enunciate beautifully as they sing, bringing to opera one of the perqs of musical theater. Plácido Domingo conducts, adding cachet as well as his contagiously vibrant musicality.
May 28, 2013

Classical Music Review
Le Salon de Musiques
Dorothy Chandler Pavilion Fifth Floor
Reviewed by Helen Peppard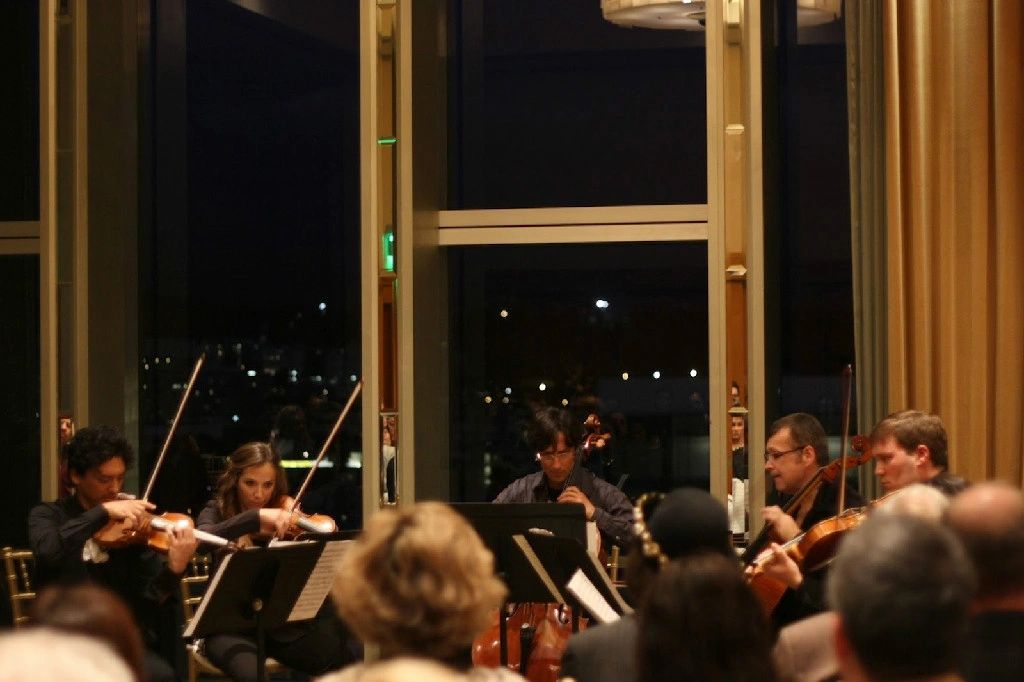 For those who like their classical music abetted with a bit of erudition, Le salon de musiques, a monthly offering of chamber music now in its third season, tucked away on the fifth floor of Dorothy Chandler Pavilion, is well worth taking a look at.
The vision of French pianist François Chouchan and well-known local (and Pacific Trio founder) cellist John Walz, the concerts comprise insights into the music and its composer(s) alla a brief talk by musicologist Julius Reder Carlson, performances by leading local musicians, and conversation with the artists over champagne and refreshments. A delightful Sunday afternoon bonbon, n'est-ce pas?
The third concert of the current season (Dec. 9) featured the two Salon founders, Chouchan and Walz, with violinist Searmi Park in a pair of Schubert piano trios: one a slight but charming warmer-upper, the
Sonatensatz in D
28, followed by one of his masterpieces, the
Piano Trio No. 2,
Op. 100 in E-flat Major D 929.
Schubert's customary felicity was especially in evidence in the sonatensatz; one could imagine him happily wandering the wooded hills of Vienna, occasionally reflecting on the tragedies of life, his life in particular, but always regaining his high spirits in the end. The D 929 takes a more in-depth look at life, pondering the vagaries of fate and accepting submission to the will of the Almighty. It seems in fact an investigation into all of the experiences of his full and productive life and how they come together to speak of who he is and what his place in the totality of things might be.
Chouchan and Walz came to the performances as veterans, giving secure and polished renditions especially notable in the piano trio. Demanding passages were tossed of with precision (oh, those repeated chords in piano!) and authority. Park, who admitted this was her first time performing the major work, brought singing musicality to Schubert's glorious melodies and added a welcome freshness to the proceedings. This was altogether a high form of music-making, one that would appeal to both connoisseur and casual music-lover looking for a new treat.
All three musicians generously interacted with audience members over the delicious repast, and attendees seemed to depart on a definite high. The next concert is on Jan. 13, a markedly different program of Bach, Schumann, and Scharwenka.
LeSalondeMusiques.com