Follies
NT Live broadcast
Reviewed by Jonas Schwartz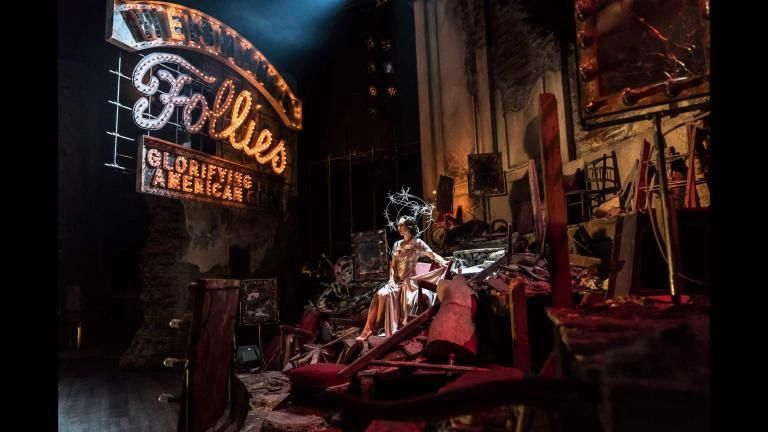 Part of the NTLive series, in which featured productions at the National Theatre in London are broadcast worldwide in movie theaters and auditoriums, Stephen Sondheim's
Follies
receives a new mounting starring Imelda Staunton. The musical, which lost money in its original 1971–1972 run, has always been a polarizing show. It won acclaim and several Tonys, including Best Score for Sondheim and Direction for Hal Prince and Michael Bennett, yet audiences were unprepared for an evening of ruminations and broken dreams. Over the years, particularly thanks to an all-star staged reading in 1985 at Lincoln Center that was aired on PBS and released on Home Video, the show has won a cult following. This production directed by Dominic Cooke dazzles visually, but the uneven performances sap the play of its insights.
It takes place in 1971, some 30 years after the Weisman Follies has closed its doors. The impresario gathers surviving cast members for a first and final reunion as the building is being demolished to make room for a shopping mall. The former chorus ladies reminisce and reenact their signature numbers, while the marriages of two couples who had met at the Follies in 1941 unravel. Ben (Philip Quast), a wealthy politico, treats his wife, Phyllis (Janie Dee), as superfluous. Sally (Staunton) has obsessed about Ben for 30 years and wishes she had married him instead of Buddy (Peter Forbes). The four air their frustrations and hostilities until the ghosts of the Follies transport them to "Follies," a magical musical world where their desires and foibles play out in song. All the characters in
Follies
are shadowed by their past selves, and the audience gets a glimpse of the younger Sally, Buddy, Ben, and Phyllis fostering the mistakes that haunt them still.
Sondheim's score is still remarkable. With pastiches of major musical forms, he guides the audience though a history of early-20th-century music. "Broadway Baby," "I'm Still Here," and "Losing My Mind" are standards, but every song masterfully sets the scene and motivations.
James Goldman has written very complicated characters who in the right hands can be lost souls desperate to be found and in the wrong hands can come off as putzes. Forbes, as the schlubby Buddy, finds the perfect blend of endearment and sleaze as the salesman with a girl on the side who knows his wife never loved him. Dee castrates the bullshit, particularly Ben's, giving a brutally honest performance of a woman who gave up everything for a man who never paid attention to her and is now on the attack. Quast, who's only seven years older than his 53-year-old character, plays him as if he were 70. His Ben is not suffering from a midlife crisis but is a crusty, obstinate sexagenarian with one foot in the grave. This lifeless portrayal leaves nothing for anyone to play off of. Staunton revs up Sally's emotions too high. She appears so nuts that Norma Desmond would smack her upside the head and tell her to get a grip. A collection of grimaces and hyperactivity, her Sally does not relate as a human being.
Of the supporting cast, Di Botcher is a hilarious earth mother as Hattie who belts the heck out of "Broadway Baby." Tracie Bennett gives oomph to "I'm Still Here," however she does bring too much Judy Garland baggage from her role in the biographic
End of The Rainbow
. The voice and the mannerisms reflect the inner workings of Garland's last years. At least now audiences know how Garland might have tackled Carlotta had she lived to 1971.
Cooke stages the piece haphazardly so that even when not warranted, the staging seems chaotic. Video director Tim Van Someren has one trick up his sleeve: a bird's-eye view pull-back from the stage to the roof and then jump-cut to mid-shot. The first time, it seems apropos, but after the 20th time, it grates.
Jonathan Tunick's orchestrations are lush. The wailing saxophone in "Losing My Mind" and syncopations of "The Story of Lucy and Jessie" are highlights. Bill Deamer's choreography is inventive. "Lucy and Jesse" features a sexy and spirited jitterbug that allows Dee to erupt while "The God-Why-Don't-You-Love-Me Blues" is a frantic, deliriously fun burlesque routine for Forbes.
NTLive and Fathom Event filmed productions, allowing universal audiences to witness great live theater, is a godsend. But when removed from the stage and the collaborative energy between a cast and its audience, even a production that received raves when performed may appear flat when filmed. Without being at the National Theater for a performance of
Follies
, this reviewer can only judge the filming, and some of the critically lauded performances, like Staunton's, may have shaken the rafters at the National, but on the big screen they come off as erratic and unfulfilling.
December 18, 2017
Imelda Staunton and Janie Dee, photo courtesy NT Live
The ladies of
Follies
, photo courtesy NT Live
Broadcast Review


'She Loves Me'…for very good reasons
Filmed broadcast of this year's production of the 1960s musical will warm the good old wintertime.
Reviewed by Jonas Schwartz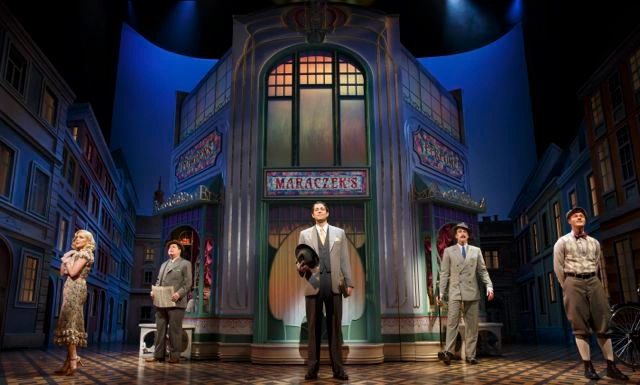 Zachary Levi and fellow cast members
Photos by Joan Marcus

BroadwayHD brought Broadway into the new millennium with its live stream of a Broadway production,
She Loves Me
, on June 30, 2016. That evening has been edited and presented at movie theaters through Fathom Events. The outstanding Roundabout Theatre Company revival has been blissfully preserved and brought to many unable to come to New York to see the now-closed production.
Based on the 1940 MGM comedy
The Shop Around the Corner
, as well as an earlier play by Miklós László,
She Loves Me
tells a familiar story of two colleagues. Georg (Zachary Levi, TV's
Chuck
) and Amalia (Laura Benanti,
Gypsy
) work together at a Hungarian perfumery and have hated each other since their first meeting. Unbeknownst to either, the two have been corresponding through a lonely-hearts club, and each is quite smitten with the other's letters. If only they knew their "Dear Friend" was their worst enemy.
The original production lasted only 250 performances, yet all the elements of
She Loves Me
are in top form. Written by the Pulitzer Prize–winning team of Jerry Bock and Sheldon Harnick (Fiorello), directed by impresario Harold Prince, based on a favorite Jimmy Stewart film, starring Barbara Cook, and featuring a Tony-winning performance by Jack Cassidy,
She Loves Me
should have been a blockbuster. Mandelbaum's book is filled with plenty of shows created by masters who just failed to capture magic, but all the elements of
She Loves Me
are at top form. The score is a classic, including a cabaret favorite "Ice Cream," a riff on Christmas standard "Twelve Days to Christmas" and sexy tango number "A Romantic Atmosphere." Joe Masteroff's book is funny and charming, and despite having two protagonists at war, both characters are loveable and never grate on the audience's nerves. The show always smelled like a hit. Luckily, both a successful 1993 and last year's revivals burned the flames for
She Loves Me
adoration.
Both productions were directed by Scott Ellis and his admiration for the score and book are apparent. Every joyous moment leads to big smiles, as he makes the characters irresistible.
The latest cast is luminous. Benanti never fears looking silly. She'll dance on a bed, bounce around like Tigger from
Winnie the Pooh
, and do anything for a fresh joke. Her soprano voice as always is pristine. Levi makes a winning Georg. His voice is strong, he acts like Peck's bad boy when taunting Amalia, and he even manages summersaults in the title number. Jane Krakowski, always a delight, is darling as the shop worker romancing caddish Gavin Creel. She focuses on the little gestures. She taps her fingers each time she says "optometrist" to make sure she pronounces it correctly. During "Twelve Days to Christmas," her ritual of prancing into a cloud of perfume like Giselle gets hilariously more labored as the store gets chaotic in last-minute shopping. Creel is devilish as the snide and hypersexual Kodaly.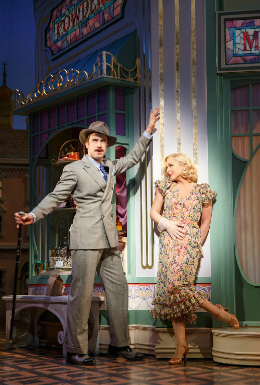 David Rockwell's set is a doll house that opens up into the sparkling perfumery. Though this is not a heavy dance show, Warren Carlyle's choreography is sprightly and sexy, particularly when Krakowski and Creel tango and at the restaurant when the patrons turn dinner into a PG-rated orgy.
This fathom filming, directed by David Horn and edited by Gary Bradley and Laura Young, is never intrusive. The filmmakers allow the performers breathing room and don't turn the presentation into an MTV rapid-fire horror show in which the audience cannot follow the action because of quick edits and confusing cinematography. The director trusts the production to delight audiences.
For the glory of theater, one performance from every show should be filmed and broadcast to theaters. So many splendid performances are missing and haven't been savored by more than several hundred a night. One hopes that this trend will expand over time and even to performances from past decades that had been filmed for posterity: Angela Lansbury in
Gypsy
, or John Raitt in
Carousel
, or even some of the notorious bombs like
Grind
or
Taboo
.
December 6, 2016
Middle photo: Laura Benanti and Zachary Levi
Bottom photo: Gavin Creel and Jane Krakowski
Editor's note: This review was revised to delete an inaccurate reference to "Not Since Carrie."
Broadcast Review
The Audience
NT Live
Reviewed by Jonas Schwartz
Helen Mirren as Queen Elizabeth II
In a move that should be more widespread for the sake of our culture, the National Theater Live, through Fathom Events, broadcasts original-cast productions taped before live audiences, airing them in movie theaters around the world. Widening exposure to great performances for people who may never have the opportunity to see acting talents like Benedict Cumberbatch, Johnny Lee Miller, Helen Mirren, and James Corden in live theater, is a godsend. However, seeing a filmed play has its limitations, even an esteemed play like Peter Morgan's
The Audience
starring Helen Mirren. A performance that may have dazzled theater audiences doesn't always translate to the filmed medium.
Expanding beyond the relationship between Tony Blair and Queen Elizabeth II explored in Morgan's film
The Queen
,
The Audience
focuses on Queen Elizabeth's dealings with most of the other 11 prime ministers she worked with from 1953 (Winston Churchill) to 2016 (David Cameron). As a courtesy, once each week, the sovereign meets privately with the current PM to catch up on the week's activities. Morgan's play presupposes what conversations Queen Elizabeth partook with the 11 men and one woman who held the elected post and constitutionally outranked her. The Broadway version included a scene with Blair; however the original London production, filmed here, excludes him. Morgan's play may be a feast for anglophiles; but, for those not up on all the machinations of 20th- and 21st-century UK history, scenes may confuse them. Because the movie audience do not receive playbills, chyrons on screen of dates and name of the prime minister in each scene would have been helpful. Though a keen observer will eventually catch on, viewers may overthink these details when they should be listening to the dialogue.
Morgan intercuts the sequences between Elizabeth and her PMs with imagined conversations she has with three younger versions of herself. Because Elizabeth was once a scared girl, unprepared to be heir presumptive, these scenes are touching and draw the audience toward the protagonist. Because Morgan is fictionalizing unrecorded historical moments, the audience must have pure faith that his imagination fits the facts. Some of the dialogue and moments, like Elizabeth nodding off mid-conversation, do not ring true.
Shockingly, however, the biggest issue here is Mirren's performance. Because she played the role for four months at the Gielgud Theatre in the West End before this particular performance was taped, her voice modulations and facial expressions were formed for those in the back rows. Her stage performance does not modulate for the camera zoomed up close. She repeatedly mugs for the camera. She also trips over her lines several times. Her Elizabeth appears inconsistent from scene to scene, not like a woman maturing but like multiple personalities. In one scene, she seems to be channeling Nancy Kulp's butch Miss Jane Hathaway from
The Beverly Hillbillies
.
The rest of the cast is excellent, particularly Richard McCabe, as her favored PM, Harold Wilson, whose small-town sensibilities and compassion make him a darling character. Though overshadowed by Meryl Streep's definitive performance in
Iron Lady
, Haydn Gwynne is hilarious as the supercilious Margaret Thatcher, who treats the queen like a naughty little child. Maya Gerber, Bebe Cave, and Nell Williams are rambunctious but heartfelt as the younger versions of Mirren's character.
Because of the nature of filming, this broadcast lacks the spark of live theater felt between an actor and the audience. It's also dangerous when the filming director chooses the angle and the specific character the audiences should focus on. For example, the play emphasizes the ingenuity of changing Mirren's costumes and aging or regressing her in plain sight. The broadcast even has a segment during the intermission spotlighting the magic of these changes. However, in one transition, before Elizabeth clashes with Thatcher, her costume change, though onstage, is not on camera.
Filmed performances—including
The Audience
and other NTLive programs
Frankenstein
,
Hamlet
, and
One Man, Two Guvnors
, are gateways to expose youth and other audiences to theater in its prime. Hopefully, after viewing one of the screenings, people will journey to their local theaters, or Broadway, or the West End, to witness that magic of the live stage. Though the NTLive shows are a great introduction, there is nothing more thrilling than the symbiotic relationship between an actor and its audience.
July 22, 2016