Summer: The Donna Summer Musical
Pantages Theatre
Reviewed by Melinda Schupmann
Dan'Yelle Williamson and the ensemble
Photo by Matthew Murphy

Termed a "jukebox musical" by most critics when it debuted at La Jolla Playhouse in 2017 and on Broadway in 2018,
Summer: The Donna Summer Musical
was roundly panned by most reviewers. It played a total of 289 performances on Broadway before closing. Nonetheless, it set out immediately on a national tour in 2019 with a new cast but helmed by the original creative team. The disappointment is that despite comments by critics, the team didn't attempt to address its weaknesses, counting on love for Summer to carry the show.
Directed by Des McAnuff with tepid results, it purports to shine a light, however superficial, on Donna Summer's life and career and deliver 20 or so musical numbers. The problem is all the spotlights dazzling the audience (more than 20) can't detract from the scattershot life story attempted by three authors: Colman Domingo, Robert Cary, and McAnuff.
Its conceit is to show three stages of Summer's life: Diva Donna played by Dan'Yelle Williamson, Disco Donna by Alex Hairston, and Duckling Donna by Olivia Elease Hardy. Diva Donna is the narrator with some expository add-ins, and she offers the audience the chance to stand, sing, or join in. As the show progresses, the three are seen separately in various vignettes, but they also often perform onstage side by side as musical numbers are featured. They are strong performers, though Williamson probably gets the edge, as she dominates with her powerful stage presence.
Male influences like plural husbands, record executives, and her agent are cartoonish rather than meaningful. Locations jump from Munich to New York, to Boston's Grant A.M.E. Church, to the West Coast, and so on. At each spot, a tantalizing glimpse of pivotal moments in Summer's life are highlighted but not explored in any meaningful way in favor of showcasing the singers and creating a loose narrative with the songs. Summers had abusive relationships, turned a child over to her parents to raise, fought the music industry, developed cancer, and died prematurely at 63, but the message seems to be that she was the Disco Queen, and that is how she should be remembered.
After a spirited opener, "The Queen Is Back," the evolution of Summer's music is rolled out. From "Love to Love You Baby," "On the Radio," and a particularly poignant "MacArthur Park," the case is made for her perseverance and drive in the music business. "Last Dance" rounds out the performance, and it is what the audience is waiting for. Enhancing the show is the band, led by conductor-keyboardist Amanda Morton, with associate conductor-keyboardist Lisa LeMay, keyboardist Makeena Lee Brick, guitarist Larry Esparza, and drummer Jesse-Ray Leich. Also attempting to dazzle is the ensemble: Jennifer Byrne, Jay Garcia, Tamrin Goldberg, Cameron Anika Hill, Brooke Lacy, Trish Lindstrom, Dequina Moore, Kyli Rae, Crystal Sha'Nae, De'ja Simone, Sir Brock Warren, Candace J. Washington, and Brittany Nicole Williams.

They execute the numbers with enthusiasm, but Sergio Trujillo's choreography looks inserted rather than integrated. So that women could be front and center, many numbers are strangely androgynous where men might have been cast. It is not effective.
Overall, this tour will likely be successful, as Summer is beloved and represents a period in music that breeds nostalgia. It provides no insights, though, and you leave with regret at the missed opportunities for capturing the heart and soul of a woman who made an impact on the industry.
November 13, 2019
Nov 5–24. 6233 Hollywood Blvd. Tue-Fri 8pm, Sat 2pm & 8pm, Sun 1pm & 6:30pm. $39–$149, "prices may fluctuate." (800) 982-2787.
Neil Simon's Musical Fools
Open Fist Theatre Company at Atwater Village Theatre
Reviewed by Harker Jones
James Byous and Jason Paige
Photo by Darrett Sanders

Neil Simon was a legendary playwright and screenwriter. He won a Pulitzer Prize for
Lost in Yonkers
, the Mark Twain Prize for American Humor, three Tonys (for
The Odd Couple
,
Biloxi Blues
, and
Lost in Yonkers
, in addition to a special Tony for his contribution to theater), and a Golden Globe for
The Goodbye Girl
. He was nominated for four Oscars (
California Suite
,
The Goodbye Girl
,
The Sunshine Boys
, and
The Odd Couple
) and for four Emmys, and was a Kennedy Center honoree. His plays were turned into hit films and television series, cementing his place in popular culture. He was a towering figure in entertainment.
Then, in 1981, there was
Fools
. Apparently written in the midst of a nasty divorce in which his estranged wife would receive the profits from his next show, Simon churned out a project he was sure would be a disaster. And quite a disaster he conceived. It lasted only 40 performances, even with EGOT winner Mike Nichols at the helm.
Oddly, the show was adapted into a musical — seemingly three times, including this production with music and lyrics by Phil Swann and Ron West, who directs, for Open Fist Theatre Company. The story follows Leon (James Byous), a young tutor, as he travels from Moscow to Ukraine in 1893 to teach in a rural village. When he gets there he finds that all of the town's citizens live under a curse that has made them stupid. Like stupid stupid. Imagine a village where Jim Carrey and Jeff Daniels rule the roost in their Dumb and Dumber personas. The postman can't find the right houses, the shepherd loses his sheep, and people can't remember their own names. These people are practically drooling.
Sadly, the one-note joke is repeated ad nauseam, to diminishing returns from what is a paltry setup in the first place.
The curse can be lifted if the doctor's daughter, Sophia (Clare Snodgrass), simply accepted the marriage proposal of the villainous, crooning Count Gregor (Ben Goldberg), who lives in the castle on the hill. Complicating matters, Leon has fallen for Sophia. Insanity ensues.
The actors give it their all, but the energy just isn't there. And while most of them are capable of singing (like most of us are), they don't appear to be accomplished vocalists (considering they're in a musical and so much of this story is told through song), and they don't project enough to make up for any weakness in vocal ability. Snodgrass has a fantastic voice, but she doesn't have the presence to be the central love interest around which almost the entire story revolves. Cat Davis (as a street vendor) brings some loopy humor to the stage, and Derek Manson and Robyn Roth as Sophia's parents are solid comic actors.
While parallels can be drawn to the current political climate and people so simple they tenaciously guard their right to vote against their interests, the script is just so sophomoric (and that's being generous) that it never takes off. Even Leon, our straight man, can't help when his entire romance with Sophia is predicated solely on her beauty. He tells us explicitly and repeatedly, he only "loves" her because of her looks. It's difficult to root for a romance based on something so shallow.
The sets, by Jan Monroe, are colorful, with murals depicting the pastoral life of the village. The four-person band — bassist, keyboardist, drummer, clarinetist/saxophonist — are game, but the score never really pops. It's not bad, it's just forgettable.
Perhaps if West had elevated the story from its ignominious foundation, it would play better. Then again, Simon created this specifically to fail, so perhaps there really isn't a better story buried in its misguided sitcom's roots.
October 24, 2019
Oct 12–Dec 1. 3269 Casitas Ave. Sat 8pm, Sun 4pm, Mon 8pm. Running time 2 hours, plus intermission. $25–$35. (323) 882-6912.

Latin History for Morons

Ahmanson Theatre

Reviewed by Harker Jones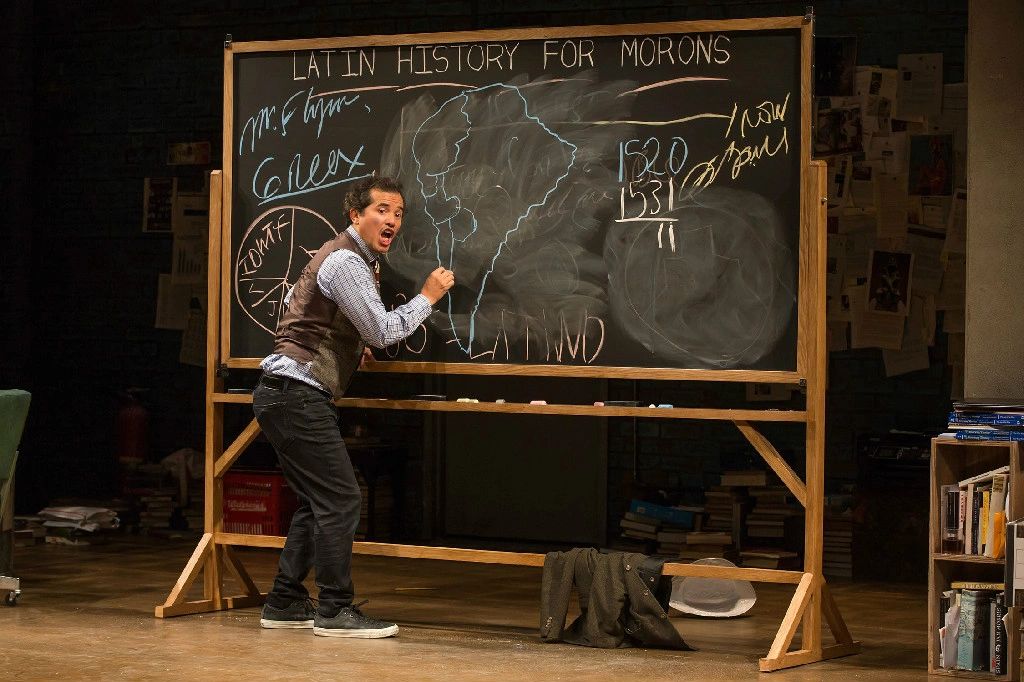 John Leguizamo
Matthew Murphy

John Leguizamo has been successful in film (the John Wick series, Romeo + Juliet, Moulin Rouge!), on television (ER, Bloodline), and on stage (Freak, which won him a Drama Desk Award; Pimps, Hos, Playa Hatas, and All the Rest of My Hollywood Friends: My Life, based on his memoir of the same name, which won him both Outer Critics Circle and Drama Desk awards).

But now the Emmy- and ALMA-nominated performer is angry and wants to teach us something in what is likely the most entertaining class you'll ever attend. The whitewashing of Latin history is well-known, but what's less-known is what exactly was erased, and Leguizamo is intent on filling in those blanks and setting straight the misconceptions and revealing the outright lies.

With the framing story of his eighth-grade son being bullied at his tony prep school in Manhattan and also seeking a true Latin historical hero for an assignment, Leguizamo introduces us (and his son) to 3,000 years of Latin history (from the Mayans 1,000 years ago until now), in a straightforward classroom setting with a blackboard (which he utilizes liberally) and various props (his simple transformation into Andrew Jackson is both clever and hysterical). He inhabits countless characters, driving home trenchant and sometimes sobering truths all told with pointed humor and oftentimes dance breaks.

He's an electrifying performer who can hold an audience in thrall, eliciting loud and sometimes vociferous reactions, including cheers, laughter, and the occasional "Preach!" His characters are all distinct, and he paints them all—even the villains, such as Christopher Columbus, whom he calls a "genocidal, pedophilic rapist" and "the Donald Trump of the New World"—in broad, colorful strokes.

The only sour note is when he portrays Montezuma as a mincing, lisping pansy when Cortés is invading. Whether Montezuma was homosexual or not is irrelevant. Why play him as such an outdated stereotype? Leguizamo claims it's okay because his brother is gay. It's not.

Written by the Colombian–Puerto Rican star and directed by Tony Taccone, the show (nominated for the Tony for Best Play in 2018) is engaging and entertaining, not to mention educational without being preachy. At an hour and 50 minutes, it's a bit long for a one-man show, but it breezes by fairly quickly. Leguizamo has energy that never flags.

While poking fun at Latin stereotypes and concurrently celebrating its history (almost none of which is taught in US schools), he is smart, raunchy, outrageous, and, in the end, enlightening. While there is a 90-minute iteration streaming on Netflix, that won't give you the same electrifying feeling of being in his presence, reacting with a live audience. This is theater, best experienced in the flesh.
September 19, 2019
Sept 5–Oct 20. 135 N Grand Ave, downtown LA. See website for show dates and times. Running time 110 minutes, no intermission. $35–$145. 213-972-4400.
Into the Woods
Hollywood Bowl
Reviewed by Jonas Schwartz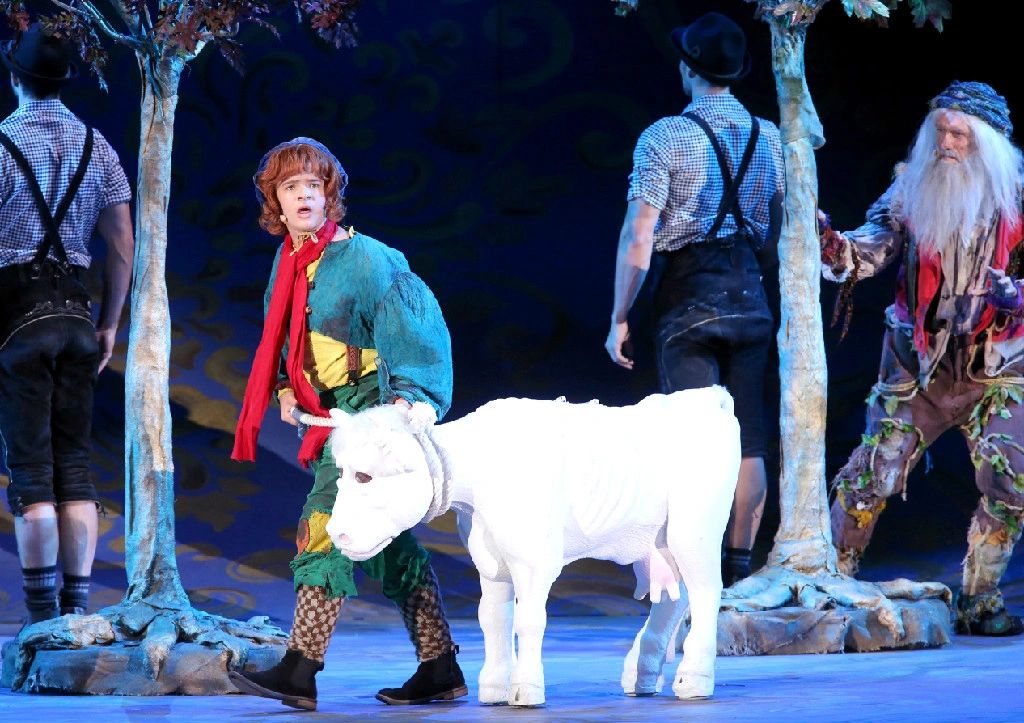 Gaten Matarazzo as Jack (and Milky-White as Milky-White)
Craig T. Mathew and Greg Grudt/Mathew Imaging

Dreams can come true. The Hollywood Bowl, under the auspices of Broadway director Robert Longbottom, has collected remarkable talent to present the classic
Into the Woods
. The actors invest in their roles and treat this vast arena as an intimate space, providing almost 16,000 audience members a giant thrill.
The three popular fairy tales of Jack (Gaten Matarazzo) and the Beanstalk, Cinderella (Sierra Boggess), and Little Red Riding Hood (Shanice Williams) intertwine with an original tale of a Baker (Skylar Astin) and his barren Wife (Sutton Foster), frantic to break the spell of a hideous witch (Patina Miller). The Witch demands four ingredients for a potion (hair as yellow as corn, a slipper as pure as gold, a cape as red as blood, and a cow as white as milk) in order for the Baker's Wife to have a child. In their quest, the Baker and the Baker's Wife muddle up everyone else's story as they wander into the woods. Because it's a fairy tale, all the good people live happily ever after—at least until Act 2.
The collaboration of James Lapine (book) and Stephen Sondheim (score) reflects a complex world hidden behind simplistic fairy tales. Musical motifs and familiar stories comfort the audience in Act 1 only for Act 2 to lose its sheen and become darker and more Jungian. While Sondheim's songs in Act 1 capture a childlike innocence, Act 2 features adult themes about parenthood, community, and responsibility. With his witticisms, rhyme schemes, and wisdom, Sondheim's words are morsels to be savored.
The cast is impeccable. As the Witch, Miller is wickedly funny and sings her heart out in "Last Midnight" and "Children Will Listen." Foster captures the Baker's Wife's defiance, her nurturing as well as her wayward nature. Astin evolves from an indecisive and tyrannical husband into a caregiver. His rendition of "No More" is affecting. Matarazzo and Williams are hilarious as the two delinquent youths. Boggess is luminous as the future princess Cinderella, being coy in "On the Steps of the Palace" and fostering in "No One Is Alone." As two egocentric princes, Chris Carmack and Cheyenne Jackson are a perfect pair.
Director Longbottom uses projections to expand the forest and give the illusion of terror when the Giant strikes. Shadows of the beanstalk and Rapunzel's tower are effective. The costumes, by Ann Hould-Ward, are elegant, particularly the Witch's purple couture and the wolf's furry Chippendale-dancer body suit. The orchestra sounded lush and included interesting instruments, notably a harpsicord.
The shadow of the Giant (voiced by Whoopi Goldberg) is less effective. Inconsistencies in the video images made the character stilted, and there was a lack of menace. Technical issues also caused minor consternation. The sound was out of sync with visuals, particularly when Cinderella's mother was projected onto the moon. Her faulty synchronization called to mind the dueling cavaliers comedy sequence in the movie Singin' in the Rain.
The Hollywood Bowl has been putting on Broadway night for many years, and though
Into the Woods
features one of the smallest-size casts, this show feels more epic and consistently professional. For those who consider the Sondheim musical beloved or for those who new to the show, this experience will be magical.
July 27, 2019
Falsettos
Ahmanson Theatre
Reviewed by Jonas Schwartz
Thatcher Jacobs and Nick Blaemire
Photo by Joan Marcus

Falsettos
is a master class in acting modulation. The characters are self-involved, sometimes violent, energy vampires. An actor must be true to author William Finn's vision of Marvin and his clan, revealing warts and all, but compel the audience to accept and forgive those who need eons of therapy. A wise actor can create a Marvin who is vicious and complicated and snippy but loving and nurturing and lost. But can even the most nuanced actor, which Max Von Essen clearly is, make audiences forgive such a toxic male in these hopefully more enlightened ages?
The musical spans two years in a tumultuous time in America, when the free-loving, wild-drinking, drugging and love-making 1970s crashed into that hangover that was the Reagan-ified, yuppy greed-feeding 1980s. In 1979, Marvin (Von Essen) has just abandoned his neurotic wife Trina (Eden Espinosa) and adolescent son Jason (Thatcher Jacobs at the opening performance) for a hunky young man, Whizzer (Nick Adams). Trina turns to Marvin's psychiatrist, Mendel (Nick Blaemire), for support and they fall in love. Despite being the catalyst for the divorce, Marvin becomes enraged when he discovers his wife and psychiatrist engaged.
In 1981, this new form of family attempts to coexist. Mendel and Trina have married, and though he ruined his relationship with Whizzer two years past (or an act ago), Marvin wins back his lover. The characters rebuild their lives while suffering with the stresses of planning an elaborate Bar Mitzvah for Jason, something that can cause consternation between even the happiest of couples.
Falsettos, a collaboration between Finn and James Lapine, began Off-Broadway as three separate programs, In Trousers (1979), March of the Falsettos (1981) and Falsettoland (1990), which were edited into Falsettos for a Broadway run in 1992, winning Tonys for Lapine and Finn's book and Finn's score. The musical still feels ahead of its time, even though portions of the play were written almost 40 years ago. Nakedly honest about evolving families in the late 20th-century, Falsettos can be brutally honest about its characters, none more than Marvin, who spoils everything he touches but still manages to be forgiven.
The book is a collection of song-stories woven together. Finn is one of the last of the great lyricists from the 20th-century. He conveys raw emotion in his tender songs, such as "What Would I Do," and tongue-twisting hilarity with "I'm Breaking Down" and "A Day in Falsettoland." The musical is distinctly gay and distinctly Jewish, as the opening number "Four Jews in a Room Bitching" and the second-act "The Baseball Game" can attest, yet, like
Fiddler on the Roof
, immensely universal. Finn gives Marvin his humanity through his songs. "Father to Son" and "What More Can I Say?" show a man who's damaged but self-aware.
In the wrong hands, Marvin can be ugly, but Von Essen, while still exposing Marvin's many faults, still exudes tenderness. Espinosa, known for her strong belt as Idina Menzel's replacement in Rent and Wicked, is not given many opportunities to reach the ceiling with Trina's songs, so she instead spotlights her apt comedic timing. She turns "I'm Breaking Down" into a psychotic showstopper.

Jacobs, as the confused child, displays professionalism and takes control of the evening so that Jason emerges as the central character, growing while being bounced around by crazy parents. Blaemire is hilarious as the anxious psychiatrist who has spent most of his younger life married to work, only to become an instant husband and father figure. Both Bryonha Marie Parham and Audrey Cardwell are warm as the lesbians next door.
The play's sore spot is the performance by Nick Adams. Whizzer needs to be lovable. A woman whose marriage he helped destroy and a boy who has watched his family collapse because of this man still love Whizzer and welcome him into their extended family, despite their wish to hate him. Adams's characterization is cold. He primps like a peacock and displays no humor nor naiveté nor vulnerability. Whizzer feels vacuous here, which it throws the production off, since everyone's relationship to Whizzer fuels the second act.
Jennifer Caprio's costumes fit the era and demonstrate the different personalities of the characters. David Rockwell's set, a Tetris-like stack of shapes that turn into beds, tables, and toppling doorways, is clever and functional.
A beloved musical but one that still centers on a problematic protagonist,
Falsettos
carries more baggage than it even did when the revival opened in '16. After #metoo and the exposed practices of the poisonous male culture, it's still unclear if audiences should forgive a man so unrestrained, he smacks his wife. With that question looming, this production features a wonderful score and solid performances.
April 19, 2019
April 16–May 19. 135 N Grand Ave, LA. Tue-Fri 8pm, Sat 2 & 8pm, Sun 1 & 6:30pm (added perf. 2pm May 16). Running time 2 hours and 50 minutes, including intermission. $30–$135. 213-972-4400.
Bus Stop
AmerIcon Monroe, in conjunction with Robo & Bash Productions and Cryptic Entertainment at Avery Schreiber Playhouse
Reviewed by Harker Jones
Katy Jacoby and Shelly Snellman
Photo by Albert Ortega

Pulitzer Prize winner William Inge (
Picnic
;
Come Back, Little Sheba
) specialized in writing earthy characters in the Midwest, and 1955's
Bus Stop
is no exception. While not as acclaimed as the two aforementioned scripts, it garnered four Tony nominations and spawned a 1956 film version with Marilyn Monroe and Don Murray, and a 1982 performance filmed for HBO.
At Grace's Diner, which is, essentially, the titular bus stop, a group of people traveling from Kansas City are stranded overnight by a March blizzard. It's a motley crew, including Bo (Mike Bash), a hotheaded cowboy; Cherie (Jessica "Sugar" Kiper, who also did costumes), a 19-year-old aspiring singer; and Dr. Gerald Lyman (Joe Dalo), an engaging yet alcoholic philosophy professor.
There they meet Grace (Katy Jacoby), the owner of the diner; Elma (Shelly Snellman), a high-school girl working as a waitress and looking to expand her horizons; and Will (Jeff Newman), the town sheriff. Forced to spend a few hours together, their secrets are unveiled and romantic entanglements ensue.
The play is very much of its time. The sexual mores alone are quaint, at best, but within its context of 1955 Kansas, much can be forgiven, even if Lyman's pursuit of Elma should have been considered skeazy in any period. And Bo's dogged hounding of Cherie, with whom he hooked up in Kansas City, attempting to coerce her to moving to his Montana ranch, is caveman-like and wouldn't even play on the broadest of sitcoms these days.
It would be difficult to tweak some of those things, but bus driver Carl was changed to Carla (Ivy Khan), who has a lesbian relationship with Grace, so director Vanessa Waters wasn't afraid to make changes to update the story a bit. One other tweak that should have been made: Cherie's age. She says she's 19 when Kiper—who displays a sexy intelligence—is clearly many years older than that. All she had to do was claim to be mid-30s and it would have made perfect sense and not changed the story or her arc.
That said, the play still has its charms, and though it's couched as a comedy, a melancholy runs through it as well, which gives it heft and heart. Snellman is that heart. She invests Elma with smarts and a kindness, and she has a true interest in learning about other people and expanding her horizons that Snellman channels with personality and poise. Dalo, however, is the standout as the erudite drunk doctor. He gives a complex, natural performance and is in character stealing the show even when he's passed out on the floor of the diner.
Things wrap up a little neatly and quickly, but overall
Bus Stop
is a charming enough ensemble that's worth getting snowed in with.
February 19, 2019
Feb 8–24. 4934 Lankershim Blvd, North Hollywood. Fri-Sat 8pm, Sun 3pm. Running time 2 hours, including intermission. $30.
The Cripple of Inishmaan
Antaeus Theatre Company
Reviewed by Jonas Schwartz
Anne Gee Byrd and JD Cullum
Geoffrey Wade Photography

Playwright Martin McDonagh has mastered the art of slamming razor-sharp dark humor into sentimentality. The humor is always fierce, but he allows the audience to connect with the characters even in his works' most perverse moments. Antaeus Theatre Company's current production of
The Cripple of Inishmaan
is a perfect example, wickedly dissecting the drudgery of small-town life and portraying how escape can be futile.
In 1934 Ireland, Cripple Billy (Matthew Grondin) glumly accepts the taunts of his townmates and their misassumptions that his physical deformities translate to mental incapacity as well. An obviously wise and sensitive young man, Billy uses the filming in a nearby community by Hollywood documentarian Robert Flaherty to seek a new existence. In a community where everything is everyone's business, Billy's departure becomes big news.
McDonagh, a successful playwright as well as film screenwriter and director, takes a minor story and packs it with compelling characters and relatable struggles. Billy has much in common with a small girl in Kansas who needed to fly over the rainbow to learn what she had waiting for her at home. But unlike the child who clicked her ruby slippers three times to return, Billy's troubles follow him to Hollywood, and also await his return to pummel him. Like many of McDonagh's stories, The Cripple runs on secrets, some that deserve to be revealed and some that are better off concealed. He fills the stage with gossips, ruffians, and cold relatives who feel the need to hide their love for each other because it is the Irish way.
Director Steven Robman has assembled a remarkable cast, each actor finding nuances in their roles. Besides twisting his body into a pretzel for two acts, Grondin treats Billy with pride. His Billy knows he offers kindness and intellect, but he doesn't broadcast it. As his two aunties, Kitty Swink and Mary-Pat Green are daffy and aloof, and a bit rough around the edges with their ward, but both women convey their characters' adoration for him. JD Cullum is hilarious as the neighborhood snitch, who treats his chatterings as if he were a dignified journalist. For added humor, Anne Gee Byrd, as Cullum's drunk Mammy, has a blast sparring with her meddlesome son. Abby Wilde reveals all the scars and warts of a young girl living in the sticks. With enough emotional armor to protect the Irish Navy, she picks at everyone else's insecurities, and is downright abusive, as a defense mechanism.
Costumer Garry Lennon chooses burnt colors—browns and other muted tones—portending Billy's existence restricted by his physicality and his situation. The stone-laid walls of John Iacovelli's set resemble a prison, a cell where a gifted boy like Billy has served immeasurable time.
Hysterical, haunting, and challenging, Antaeus' production of
The Cripple of Inishmaan
is not to be missed.
(Like most Antaeus productions, this one has been double cast. The Fripple Frapples cast is reviewed here.)
January 30, 2019
Death House
at Road Theatre
Reviewed by Harker Jones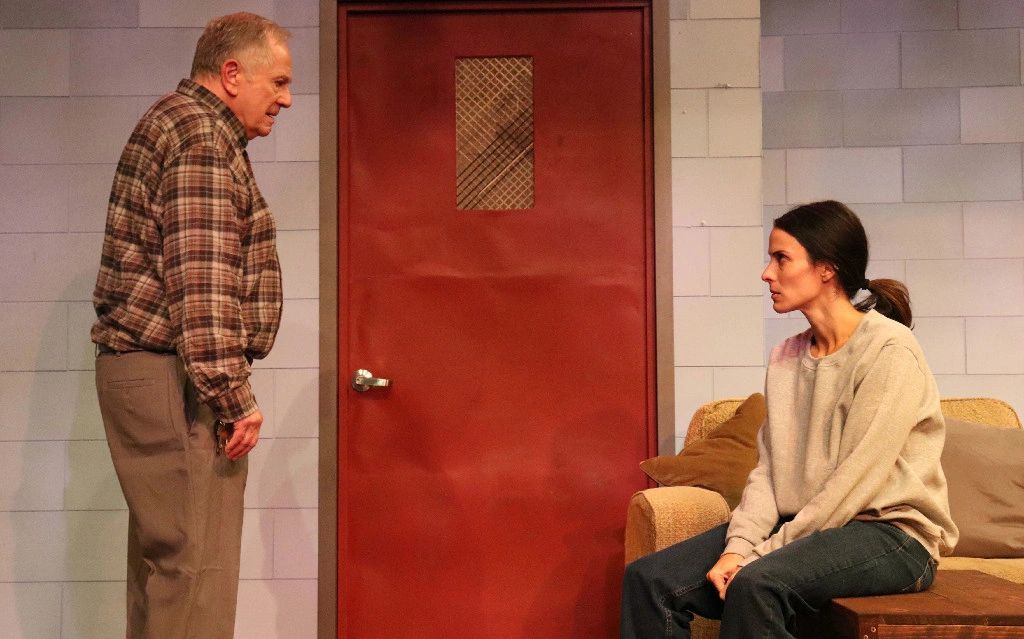 Sam Anderson and Verity Branco
Photo by Brian M. Cole

The death penalty ignites emotions in everyone, whether pro or con. It's a complicated and complex subject, just like Jason Karasev's world-premiere play
Death House
, which tackles the topic from many angles with compassion, intelligence, and insight.
Sam Anderson plays George, a prison chaplain being forced to retire. When his replacement, a young, brash Allen (Chase Cargill), comes to learn the ropes from him the day of a prisoner's (Verity Branco's) execution, they're set on a journey of discovery of blistering truths that is riveting, raw, and revealing.
Karasev's script is tight and weighty. and explores all three characters in such depth, it's exceedingly moving without being preachy. He's not afraid to show both sides of the debate, coming from political as well as emotional viewpoints, which makes for fully realized roles, people who are flawed and even broken. They change and, through their own trajectories and histories, change the others as well.
It's a very quiet show despite some of the emotional fireworks, and director Michael Peretzian uses that quiet to allow George, Allen, and Liliana space to grow, to breathe. And the actors luxuriate in that. The dialogue and the themes are heavy, and the actors meet the text with everything they have, giving modulated and layered performances. Branco gives a stunning, six- to eight-minute monologue that is devastating; she leaves you breathless with each word, giving Liliana intelligence, strength, and a sense of grace.
Anderson's George has the appropriate gravity of a man bearing the weight of decades of deathbed confessionals and who is broken from a lifetime of death. And in the showiest role, Cargill is the perfect mix of smugness and smarminess. He's magnetic and has incredible presence. He gives Allen a depth a lesser actor might not be able to achieve. Starting off glib and condescending, Cargill changes Allen's entire countenance as his layers are pulled away. He practically crumples into himself and is compelling in his own monologue.
David Mauer's scenic design has the stifling sense of a prison cell: the action takes place entirely in a holding room for the convicts set for execution, with essentially just a sofa, a chair, and a table. The sound design by David B. Marling and the lighting by Derrick McDaniel are stark and add just the right punctuation to an already potent atmosphere. Even the fight choreography, directed by Bjorn Johnson, seems brutal and real, something which rarely comes off smoothly in a live production.
It all adds up to a shattering experience. You go on a journey with George, Allen, and Liliana, and though there are no easy answers or happy endings, it's a journey you'll be glad you took.
January 29, 2019
Jan 18–March 10. 5108 Lankershim Blvd, North Hollywood. Thu–Sat, 8pm, Sun 2pm. Running time 2 hours, including intermission. $15-$34, Sundays are pay-what-you-can. (818) 761-8838.
Cabaret
Celebration Theatre
Reviewed by Harker Jones
Christopher Maikish and Talisa Friedman
Photo by Matthew Brian Denman

Based on the play
I Am a Camera
by John Van Druten (itself based on Christopher Isherwood's novel
The Berlin Stories/Goodbye to Berlin
),
Cabaret
is a legendary musical: both the eight-time Tony-winning 1966 Broadway production and the eight-time Oscar-winning 1972 film adaptation.
Those are big shoes to fill. But the Celebration Theatre in Hollywood is ace at taking huge, splashy shows and doing them justice in the tiniest of spaces — case in point, the recent production of Priscilla, Queen of the Desert. And this theater does it again with Cabaret.
Taking place in 1931 as the Nazis are beginning to take over Berlin on the eve of World War II, the show is set in and around the seedy, sexy, sleazy Kit Kat Klub, a nightclub where just about any desire is fulfilled, no matter one's sexuality.
Here we meet the mesmerizing Emcee (Alex Nee), who's the Puck of the club, mischievous, canny, and artful, moving the characters along their trajectories and acting as a sort of Greek chorus; and the impetuous and flighty Sally Bowles (Talisa Friedman), a British ex-pat and the star of the club, who has lost her way even if she isn't willing to accept it yet. They and the rest of the club's denizens party their days and nights away, burying their heads in the sand to avoid the oncoming political events for as long as they can before they're eventually swept along by the winds of change.
Director Michael Matthews gets energetic and layered performances from his cast. Nee, in particular, is outstanding as the Emcee. He is magnetic and has an effortless carnality. He channels a darkness that's both titillating and terrifying. He's reminiscent of John Cameron Mitchell circa Hedwig and the Angry Inch. He owns every scene he is in and is a worthy successor to Joel Grey and Alan Cumming who originated and made this role his own, respectively, and both of whom won Tonys for their efforts.
Friedman is a hoot as Sally, though she may be playing her just a little more talented than she's supposed to be. June Carryl as Fraulein Schneider, a landlady who falls in love with a Jewish fruit vendor, brings down the house with every number (her "So What" solo stops the show). She has an earthiness and warmth that grounds her while decadence swirls around her.
Choreographer Janet Roston gets a stunning amount of action on such a small stage. The energy never flags as the ensemble uses every inch available to them. The scenic design by Stephen Gifford brings to life the Kit Kat Klub in all its opulence and also has it stand in for the foyer of a boarding house, a train, and a bedroom, among other things. Michael Mullen's costumes evoke all the gaudy grandeur of the time, and the house band is a fantastic ensemble.
Sadly, the main thrust of the narrative—the last heady days before war—is still relevant in today's America. It's all happening again, which gives a chilling veneer to the usually bittersweet proceedings. That said, it's still a fantastic way to go out, loving and singing and living.
July 3, 2018
May 25–Aug, 5. 6760 Lexington Ave., LA. Thu-Sat 8pm, Sun 2pm. Running time 2 hours, including intermission. $40–60. (323) 957-1884.
Clybourne Park
Laguna Playhouse
Reviewed by Melinda Schupmann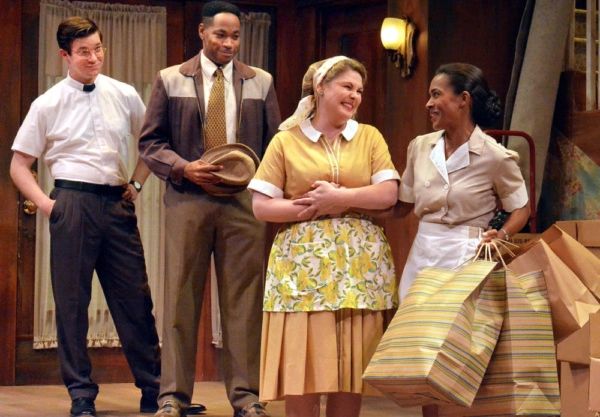 Bryan Porter, Jay Donnell, Heather Ayers, and Jennifer Shelton
Photo by Ed Krieger

Though it's not necessary to be familiar with Lorraine Hansberry's seminal
A Raisin in the Sun
, it provides a subliminal backdrop for Bruce Norris's sharply satiric view of the machinations surrounding a house in a segregated neighborhood in the 1950s that allows for the examination of racism in America. Hansberry's profoundly hopeful story chronicles the tale of the Younger family who have just received a life insurance check after the death of the family patriarch. Their decision to leave their apartment in the South Side of Chicago and move into Clybourne Park, an entirely white neighborhood, hints of possibilities, even though a neighborhood association has offered the Youngers a sizable amount of money to stay away.
At the play's opening, Norris takes us into that house, where Russ (JD Cullum) and Bev (Heather Ayers) are packing after the sale for their move to a new home to be closer to Russ's new job. Their son has committed suicide there, and the memories are too much to bear. A frenzied Karl Lindner (Christian Pedersen), the one character common to both plays, has arrived to try to persuade Russ to negate the sale, because common wisdom of the time was that if African-Americans moved into a neighborhood, property values would diminish and might even precipitate white flight. Russ refuses.
Karl is accompanied by his very pregnant and deaf wife, Betsy (Jennifer Cannon). Her inclusion allows for some bewildering and funny exchanges. Also on hand are Francine (Jennifer Shelton), the family maid; her husband, Albert (Jay Donnell), who has come to pick her up; and Jim (Bryan Porter), a well-meaning but largely clueless pastor who offers platitudes in place of wisdom. The dynamic among the group allows for varying viewpoints on the subject of race, which are almost eerily timely in this political year.
Act 2 is set in the same house 50 years later. Lindsey and Steve (Cannon and Pederson) have bought the house in what is now a largely troubled black neighborhood and plan to tear it down and rebuild. Lena and Tom (Shelton and Donnell), residents of the Park, are less than thrilled about the specter of gentrification and the loss of the history it destroys. In Act 2, political correctness is thrown to the wind, and the characters engage in often hilarious but unnerving verbal sparring that lays bare prejudice in its many forms.
It is easy to see why this well-crafted play won so many awards, including the Tony, Pulitzer, and Olivier. It is sharp, funny, and clever, and it explores a plethora of issues surrounding prejudice. That 2018 has brought so many changes to our national debate about equity and fairness, it is a stimulating choice for Laguna to end its 97th season with.
The ensemble tackles the characterizations zealously, and Norris's long, slow curve eases us into the diverging issues as we discover the anxieties and dilemmas facing this diverse group. Director Matt August handles both the wit and drama of the story with a fine touch, allowing each character to shine. Cullum is remarkable as the grieving father who has bottled up his torment, and Ayers skillfully delivers the slightly dim but well-meaning wife whose simplistic viewpoints make a nice foil for the ratcheting tension developing as the first act builds to a boiling point.
Lindner is a pivotal character in both time periods. He is suitably smarmy as he tries to lead the Clybourne Neighborhood Improvement Association, and his outrageous attempts later in the play at blasting social norms are cringe-worthy.
Shelton is a standout in both time periods, especially as she tackles Lindner's moronic protestations of modern racial sophistication. Donnell and Porter are excellent in understated roles that allow them to be observers and wry participants when called for.
D Martyn Bookwalter's dual sets in both time periods add to the mood of the story. His graffiti-charged contemporary house helps show passage of time. Ann Closs-Farley's costumes and Chris Rynne's lighting also are effective.
This is a play that is exhilarating in its execution and allows for post-play reflection. It functions as an exercise in how we perceive all hot-button issues of race and gender. The varying viewpoints delivered will keep this play relevant for a long time.
June 13, 2018