SAGE AWARDS
for theater in 2018
Rosencrantz and Guildenstern Are Dead, at A Noise Within
Photo by Craig Schwartz
Welcome to the sixth annual Sage Awards!

Yes, the Los Angeles theater critics of ArtsInLA have once again managed to agree on something. This time it's that the productions, writers, directors, designers, and performers named below are the most meritorious of the many we saw in the Southland in 2018.
If your name is here, we heartily congratulate you. Your work stayed with us through the year.

If you are a theatermaker but your name is not here, we still congratulate you for managing to continue despite the never-ending roadblocks and travails of the art. After all, ultimately, you are part of the community of Los Angeles theater, where, truly, we are all on the same side.

PRODUCTION
The cast of Come From Away

Photo by Matthew Murphy

Charles Dickens' A Christmas Carol
, Geffen Playhouse
Come From Away
, Ahmanson Theatre
Rosencrantz and Guildenstern Are Dead
, A Noise Within
Sell/Buy/Date, at Audrey Skirball Kenis Theater at Geffen Playhouse and at The Los Angeles LGBT Center's Lily Tomlin/Jane Wagner Cultural Arts Center
PLAYWRITING
Sarah Jones in
Sell/Buy/Date
Sarah Jones
,
Sell/Buy/Date
, at Geffen Playhouse and at LGBT Center
ADAPTATION
Anna Stromberg and Burt Grinstead, Dr. Jekyll & Mr. Hyde, The Los Angeles LGBT Center's Lily Tomlin/Jane Wagner Cultural Arts Center
MUSICAL SCORE
David Hein and Irene Sankoff, Come From Away, Ahmanson Theatre
DIRECTION
Jefferson Mays in
Charles Dickens' A Christmas Carol
Photo by Chris Whitaker

Michael Arden, Charles Dickens' A Christmas Carol, Geffen Playhouse
Geoff Elliott, Rosencrantz and Guildenstern Are Dead, A Noise Within
Michael Matthews, Cabaret, Celebration Theatre
Anna Stromberg, Dr. Jekyll & Mr. Hyde, LGBT Center
CHOREOGRAPHY
The cast of
Ain't Too Proud
Photo by Craig Schwartz

Janet Roston
,
Cabaret
, Celebration Theatre
Sergio Trujillo, Ain't Too Proud, Ahmanson Theatre
Sergio Trujillo, On Your Feet!, Pantages Theatre
MUSIC DIRECTION
Ian Eisendrath, Come From Away, Ahmanson Theatre
Kenny Seymour, Ain't Too Proud, Ahmanson Theatre
Anthony Zediker, Cabaret, Celebration Theatre
SCENIC DESIGN
Caroline Stefanie Clay, Kelly McCreary, and Amari Cheatom in Skeleton Crew
Photo by Chris Whitaker

Rachel Myers, Skeleton Crew, Geffen Playhouse
LIGHTING DESIGN
Burt Grinsted in Dr. Jekyll & Mr. Hyde

Elizabeth Harper, Sell/Buy/Date, Geffen/LGBT Center
Matt Richter, Dr. Jekyll & Mr. Hyde, LGBT Center
Andrew Schmedake, Native Son, Antaeus Theatre Company at Kiki & David Gindler Performing Arts Center
Ben Stanton, Charles Dickens' A Christmas Carol, Geffen Playhouse
COSTUME DESIGN
Terri A. Lewis, The Little Foxes, Antaeus Theatre Company at Kiki & David Gindler Performing Arts Center
MAKEUP DESIGN
Klint Flowers
,
Rosencrantz and Guildenstern Are Dead
, A Noise Within
SOUND DESIGN
Jeff Gardner, Native Son, Antaeus Theatre Company
Cricket S. Myers, Cabaret, Celebration
Joshua D. Reid
,
Charles Dickens' A Christmas Carol
, Geffen Playhouse
PERFORMANCE IN A PLAY
Raphael Goldstein and Kasey Mahaffy in
Rosencrantz and Guildenstern Are Dead
Photo by Craig Schwartz

MaameYaa Boafo, School Girls; Or the African Mean Girls Play, Kirk Douglas Theatre

Rafael Goldstein, Rosencrantz and Guildenstern Are Dead, A Noise Within
Tom Hanks, Henry IV, Shakespeare Center of LA at West Los Angeles Veterans Affairs Campus Japanese Garden
Kasey Mahaffy, Rosencrantz and Guildenstern Are Dead, A Noise Within
Anna Stromberg
,
Dr. Jekyll & Mr. Hyde
, LGBT Center
PERFORMANCE IN A MUSICAL
Becky Gulsvig in
Come From Away
Photo by Matthew Murphy

Becky Gulsvig,
Come From Away
, Ahmanson Theatre
ENSEMBLE PERFORMANCE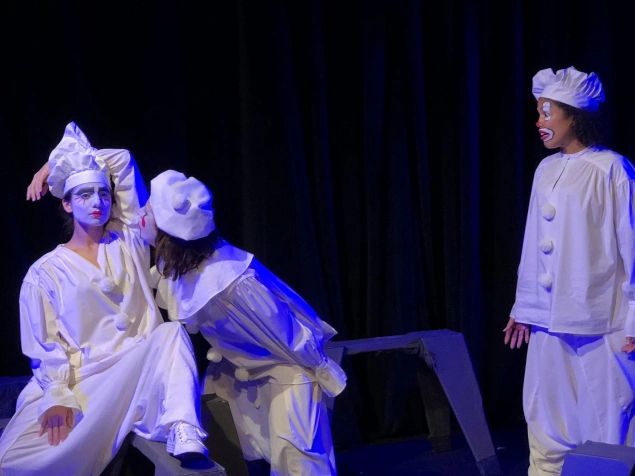 Claudia Doumit, Kim Hamilton, and Karla Mosley in
The Giant Void in My Soul
Photo courtesy Ammunition Theatre Company
Come From Away
, Ahmanson Theatre: Kevin Carolan, Harter Clingman, Nick Duckart, Chamblee Ferguson, Becky Gulsvig, Julie Johnson, Christine Toy Johnson, James Earl Jones II, Megan Mcginnis, Andrew Samonsky, Danielle K. Thomas, and Emily Walton
The Giant Void in My Soul
, Ammunition Theatre Company at Pico Playhouse: Claudia Doumit, Liza Fernandez, Kim Hamilton, and Karla Mosley
SOLO PERFORMANCE
Sarah Jones, Sell/Buy/Date, Geffen Playhouse and LGBT Center
Jefferson Mays, Charles Dickens' A Christmas Carol, Geffen Playhouse
February 2019